A classic recipe for sour cherry hand pies with a buttery amaranth crust and a tangy homemade cherry pie filling.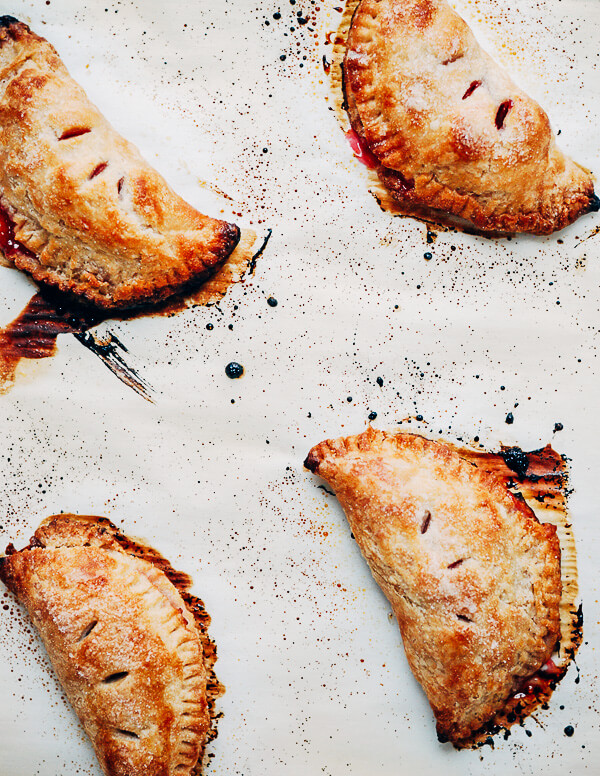 I don't mention it much here, but in my past life, I was a painter. Not the kind who paints rooms, though I'm decent at that too, but the kind who paints pictures. I've even done a few turns adjuncting here and there, but never really showed anything because my work was always almost ready. It was a kind of permanent dissatisfaction, my aesthetics lagging behind my fumbling fingers.
These days, my Williamsburg, Brooklyn studio has been traded for a Charlottesville storage unit. The passion for mushing one vibrant color into another remains, but the time and space for idyll or exploration does not. For now. My youngest is nearly three, and soon, I think I'll recover some of the parts of myself that have been given over to parenting.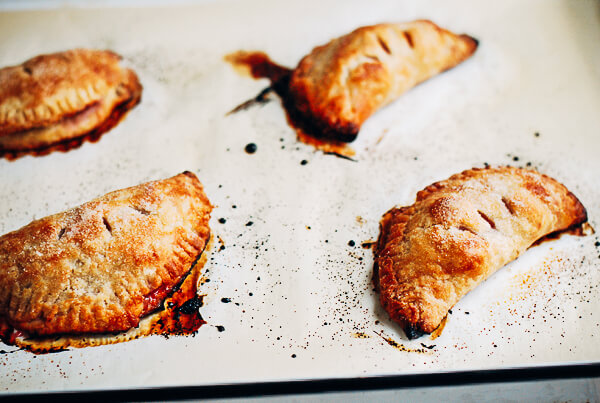 It's funny, though. Because the silly perfectionism that infects (and, frankly, poisons) my art is not present in the least here. This blog was always intended to be a carefree space. It was a hobby. Food is a necessity, in the truest sense of the word, and art is not (romantics, be damned). But in the food blogging world, food as an aesthetic experience often trumps food as a necessity. Pictures, even mine, are staged and styled. Perfectly good plates of food are made in the middle of the day just to be photographed, and then served cold to actual hungry humans after the fact. It's a lame state of affairs. Over on Simple Bites, Aimee had some wise words on the matter. For now, I'm still mulling over the best balance to strike between presenting food that looks good and presenting food that's real.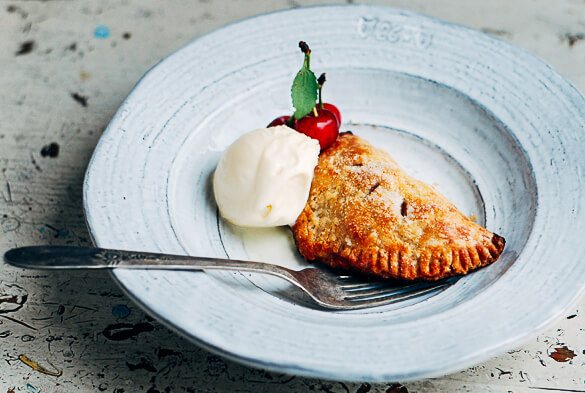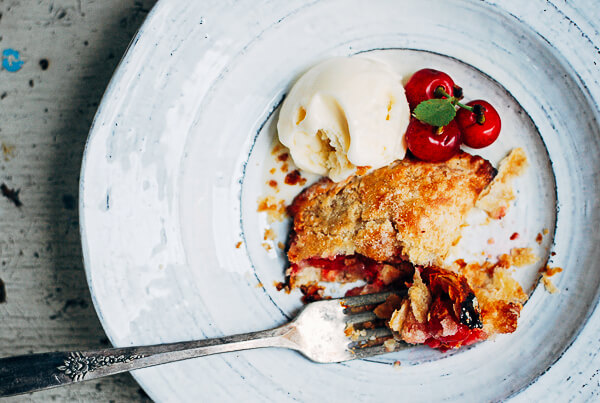 I'm not sure what the answer is, but I think these sour cherry hand pies are a start. They're the kind of food I love to make, rough around the edges but perfect in flavor. They also came into our possession in typical southern fashion –– Brian saw sour cherry pies for sale at the butcher who told him the cherries were from our friends' backyard. Brian got in touch with them and spent a muggy Friday afternoon chatting with them in their backyard about the books they were reading and the baby they're expecting while he picked a grocery sack full of sour cherries.
In the kitchen, I kept things simple. Just zest and sugar for the filling, with an easy crust that puffs up beautifully and shatters with flakiness as forks or teeth sink into the pie. Having acquired some for an upcoming post about my friend Erin's excellent new cookbook (stay tuned!), I thought amaranth flour would lend a nutty sweetness to the crust, and it's subtle presence was perfect.
After years of sticking by my tried-and-true food processor method, I tried something new this time – shredded butter – and loved the results.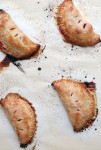 Sour Cherry Hand Pies
A classic sour cherry hand pie recipe with a buttery amaranth crust and a tangy homemade cherry pie filling.
Makes
:
18
small hand pies
Ingredients
Amaranth Dough
2

cups

unbleached all-purpose flour

1/2

cup

amaranth flour

2

tablespoons

sugar

, plus more for sprinkling

3/4

teaspoon

sea salt

16

tablespoons

unsalted butter

, cold

3/4

cup

ice water
Sour Cherry Filling
3 1/2

cups

whole, pitted cherries

(note: cherry pitters rule!)

1/2

cups

sugar

(go up to 3/4 cup for a sweeter hand pie), plus more for sprinkling

2

tablespoons

pulverized instant tapioca

(use a spice or coffee grinder for this)

Zest of 1 large lemon

Generous pinch sea salt

Pinch of ground cinnamon

1

egg

, lightly beaten
Instructions
Mix the flours, sugar, and sea salt in a large bowl. Working quickly, shred the butter into the flour mixture. Mix with fingertips until the butter is well incorporated and the mixture has a sandy texture. Drizzle in 1/2 cup water, a little at a time, turning and gently pressing dough until things stick together. If needed, add 1 - 2 tablespoons more water to help the dough stick together. Turn dough out onto a lightly floured surface and gather into 2 balls. Flatten each ball into a small disc, wrap tightly with plastic, and chill for an hour. Meanwhile, make the filling.

In a large bowl, mix all of the filling ingredients together. Set aside while you roll out the dough.

Preheat the oven to 450 degrees F. Line a baking sheet with parchment paper.

Remove a disc of dough from the refrigerator, break off half the disc, and place remaining dough back in the fridge.

On a lightly floured surface, roll dough out into an oval. Use a biscuit cutter or bowl to cut out 4 inch rounds.

Set 2 tablespoons filling into each round (tip out any excess liquid as you scoop the filling). It's tempting to overfill the pies – resist or they'll get soggy. Wet edges, fold dough over into a half moon, and carefully seal the edges, first with fingertips and then with the tines of a fork. Use extra dough to patch any holes that might arise.

Quickly brush each pie with the beaten egg and sprinkle a generous pinch of sugar over each. Use a sharp paring knife to cut 3 tiny slits in the tops.

Set pies on prepared baking sheet. Slide into the oven, immediately turn oven temperature down to 425 degrees F, and bake 14 - 16 minutes, or until pies are a deep golden hue. Repeat until you have a mess of hand pies.

Cool briefly and serve, maybe with a little scoop of vanilla ice cream.