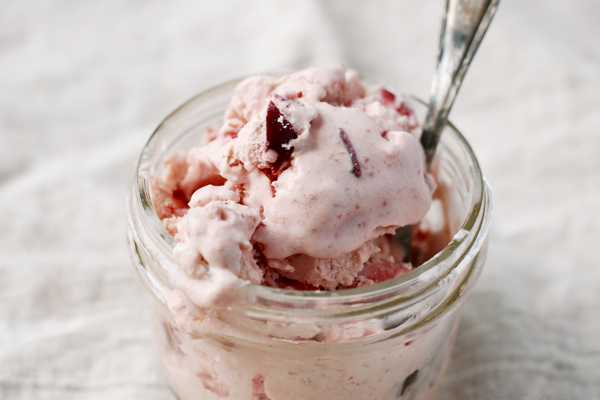 A lightly sweet, wonderfully tart sour cherry ice cream recipe that highlights the flavors of fresh sour cherries beautifully. Jump to recipe. 
Look, I owe you something savory, and I have a tagine, a fennel dish, and a tasty purslane salad all ready to go. In case you're worried about our health, I promise we are happily eating our way through our CSA vegetable share.
But, fruit! I cannot get enough. I spent $30 on blueberries alone last weekend, and never even made anything. We've been enjoying the blueberries by the handful, just as they are. This year's fruit season is going by fast, and fruits that usually hang out for at least a few weeks are disappearing quickly. The flip side of early fruit is that the season ends early too. So I just had to share this divine sour cherry ice cream with you before sour cherries disappear.
I made it for a casual gathering with a couple of friends on the Fourth, and it couldn't have turned out better. This is a simple ice cream, without a custard base. Minimal sugar and lemon zest upped the tang quotient, and the summery taste of fresh sour cherries permeated each delicious bite.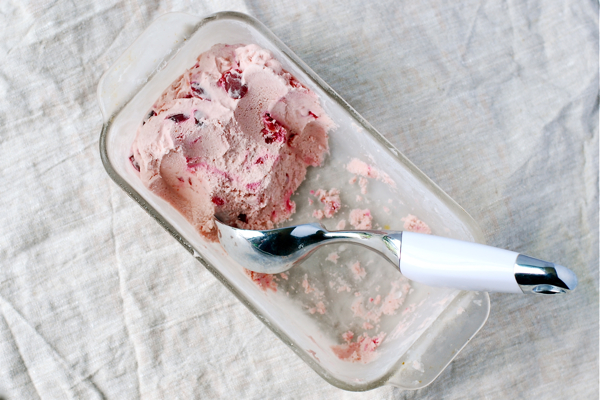 If you can't get your fill of sour cherries either, check out this sour cherry pie with lime.
A few notes on the recipe: after some feedback from readers and re-testing, I've upped the amount of sugar I recommend to a full cup. This recipe is meant to highlight fresh sour cherries, and as such, is lightly sweetened. Because the tartness of cherries can vary wildly, it's also important to taste the mixture to make sure tart and sweet notes are in balance.
This recipe is a simplified ice cream and does not have a rich and creamy custard base. As such, the texture is still creamy and scoop-able, but more akin to sherbet than a traditional custard-based ice cream.
A properly chilled mixture is essential to the texture of your ice cream. I've given instructions for an ice bath which gets the temperature down much faster, but if you're not in a hurry, skip the ice bath and chill overnight for best results. Also, I tried the recipe with booze and without. Without, the flavor is still fantastic, but a bit more crumbly – if you do omit it, just allow ice cream to soften up a bit before scooping.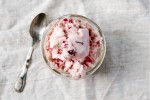 Sour Cherry Ice Cream
A lightly sweet, wonderfully tart sour cherry ice cream recipe that highlights the flavors of fresh sour cherries beautifully.
Ingredients
2 1/2

cups

sour cherries

, pitted (sour cherries canned in water can be substituted, though the flavor of fresh is greatly preferred. Use roughly half the cherry water from the can, along with the drained pitted cherries.)

1

cup

milk

2

cups

heavy cream

1

cup

sugar

, go up to 1 1/4 cups for a sweeter ice cream or if using very tart cherries

1/4

teaspoon

sea salt

1/4

cup

vodka or kirsch if you have it

2

tablespoon

vanilla extract

zest of 1 lemon

1

teaspoon

lemon juice
Instructions
In medium sauce pan, combine 1 cup of cream, all of the milk, sugar, and salt. Stirring frequently, heat over medium heat just until a bit of steam starts to curl up from the mixture. Set aside until mixture has cooled.

Meanwhile, puree 1 1/2 cups of the cherries. Set aside remaining cup of cherries for later.

In a large bowl, combine cream mixture, pureed cherries, remaining cream, vodka or kirsch, vanilla extract, lemon juice and zest. Mixture may separate or curdle a bit, but things will be fine. (Before chilling, taste the mixture to make sure the tart and sweet flavors are in balance.) Set bowl over a larger bowl of ice water and set in the fridge to chill for at least 2 hours (longer without the ice bath).

Process the ice cream according to your ice cream maker's directions. Meanwhile, slice remaining cherries into paper thin slices, reserving any juice. Just as ice cream starts to set up (think milkshake texture), quickly scrape sides, and stir in sliced cherries and any reserved juice. Continue processing until ice cream has thickened up.

Spoon mixture into a container and freeze for 2 hours, or longer for a complete cure.
Recipe Notes
Recipe updated July 26, 2017