This soy-glazed cod with bok choy and shiitake mushrooms cooks up lightning fast for an incredibly delicious weeknight meal.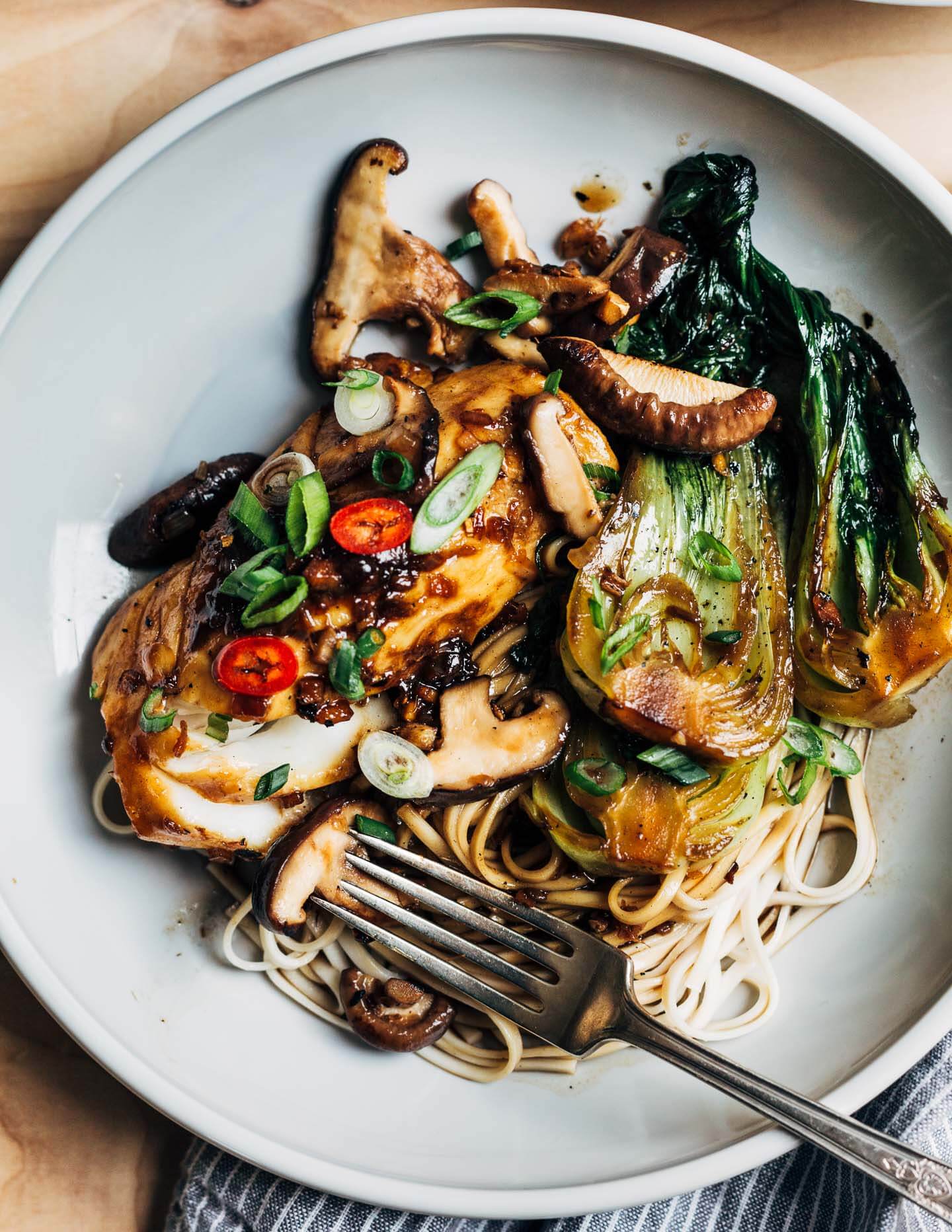 Winter can be a time to embrace things that are cooked long and slow – a steamy pot bubbling away on the stove for hours or roasting in a piping hot oven. Winter's tough greens and knobby roots are ideal for a long braise or roast.
But as much as I love a slow cook and a warm kitchen on a chilly day, sometimes (lots of times!) I need a meal that's fresh and quick. This soy-glazed cod with bok choy and shiitake mushrooms takes just minutes to cook and is perfect for those busy nights.
This stir fry requires minimal prep – truly, the hardest part is getting all the sand out of the bok choy – and cooks quickly in the wok. A deeply savory, umami rich soy and oyster sauce glaze develops in the wok as everything cooks, and the result is tender bok choy, flavorful mushrooms, and flaky cod all tossed with a lovely soy glaze.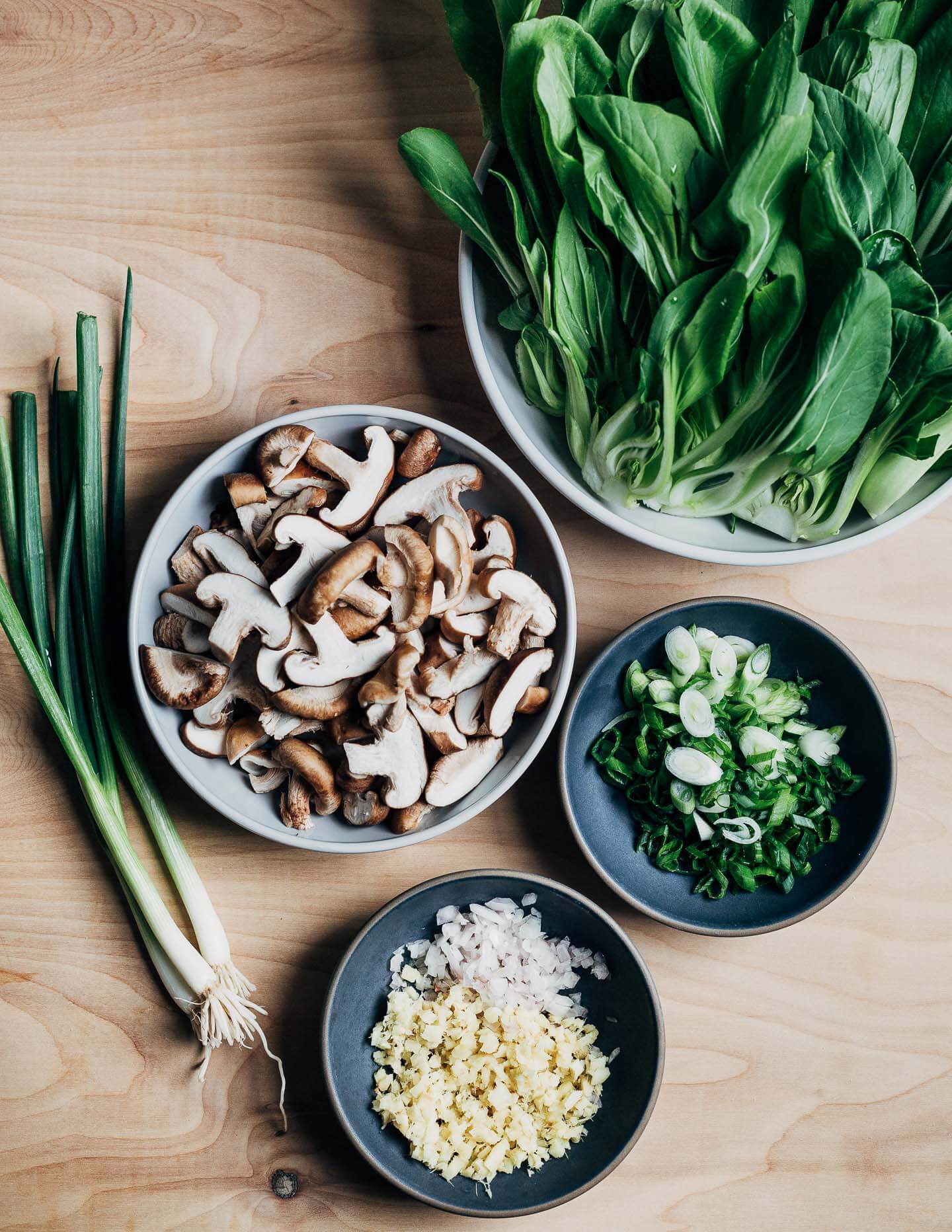 Cooking in a Wok
If you don't use a wok often, there can be a learning curve. First off, it can feel unsettling to cook over such high heat. Just make sure you have everything prepped and ready to go, and the wok lid at hand just in case.
Kian Lam Kho's book Phoenix Claws and Jade Trees is a beautiful introduction to basic and more advanced wok techniques. If you're interested in wok cooking and authentic Chinese recipes, I highly recommend it.
To prepare, make sure your wok is preheated – give your clean wok 3 – 4 minutes to get nice and hot. Then, working quickly, add the oil, the aromatics, and the vegetables. For this stir fry, I recommend cooking the vegetables in batches to get the best sear and flavor. Once the vegetables are cooked, you'll scrape them out of the wok, lower the heat, and cook the fish gently in the soy glaze.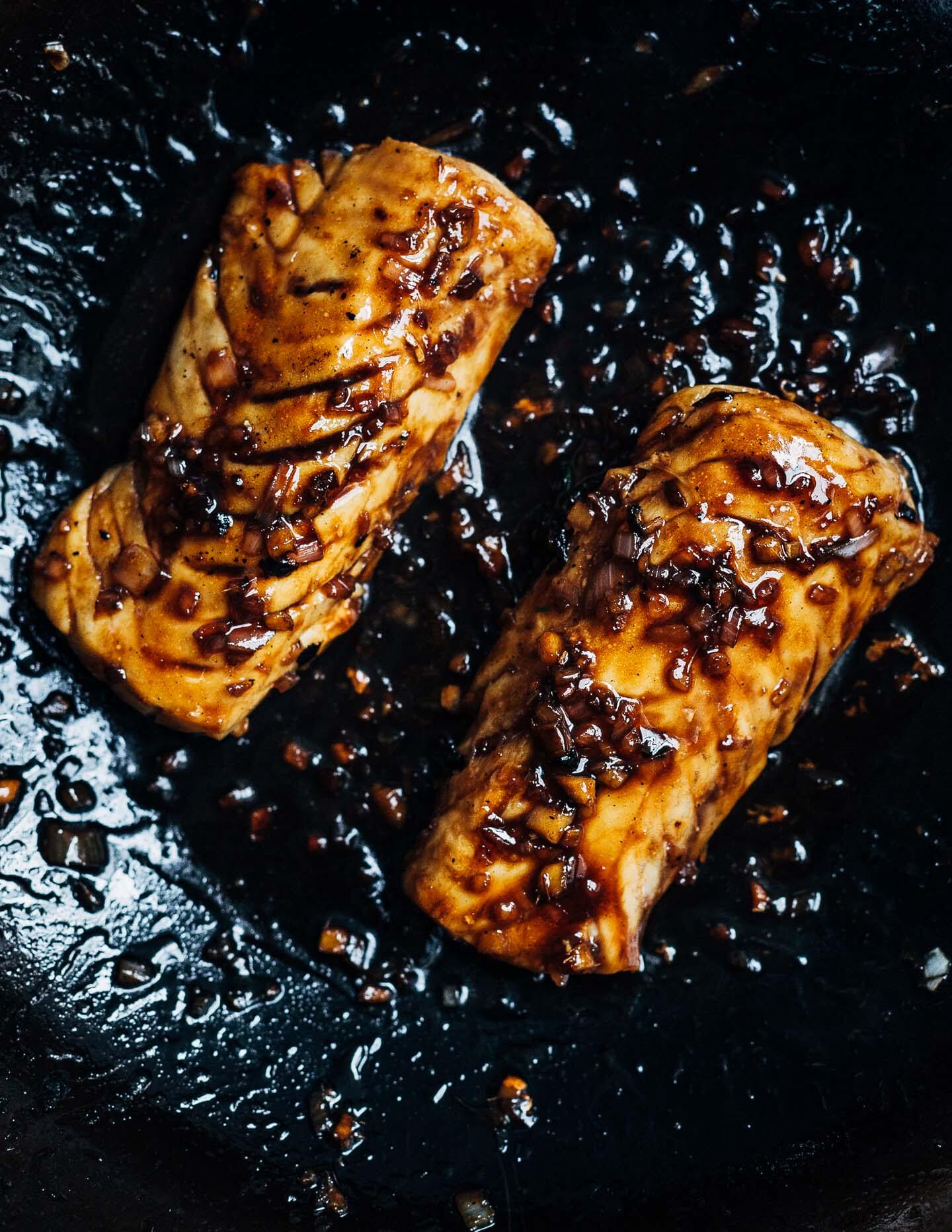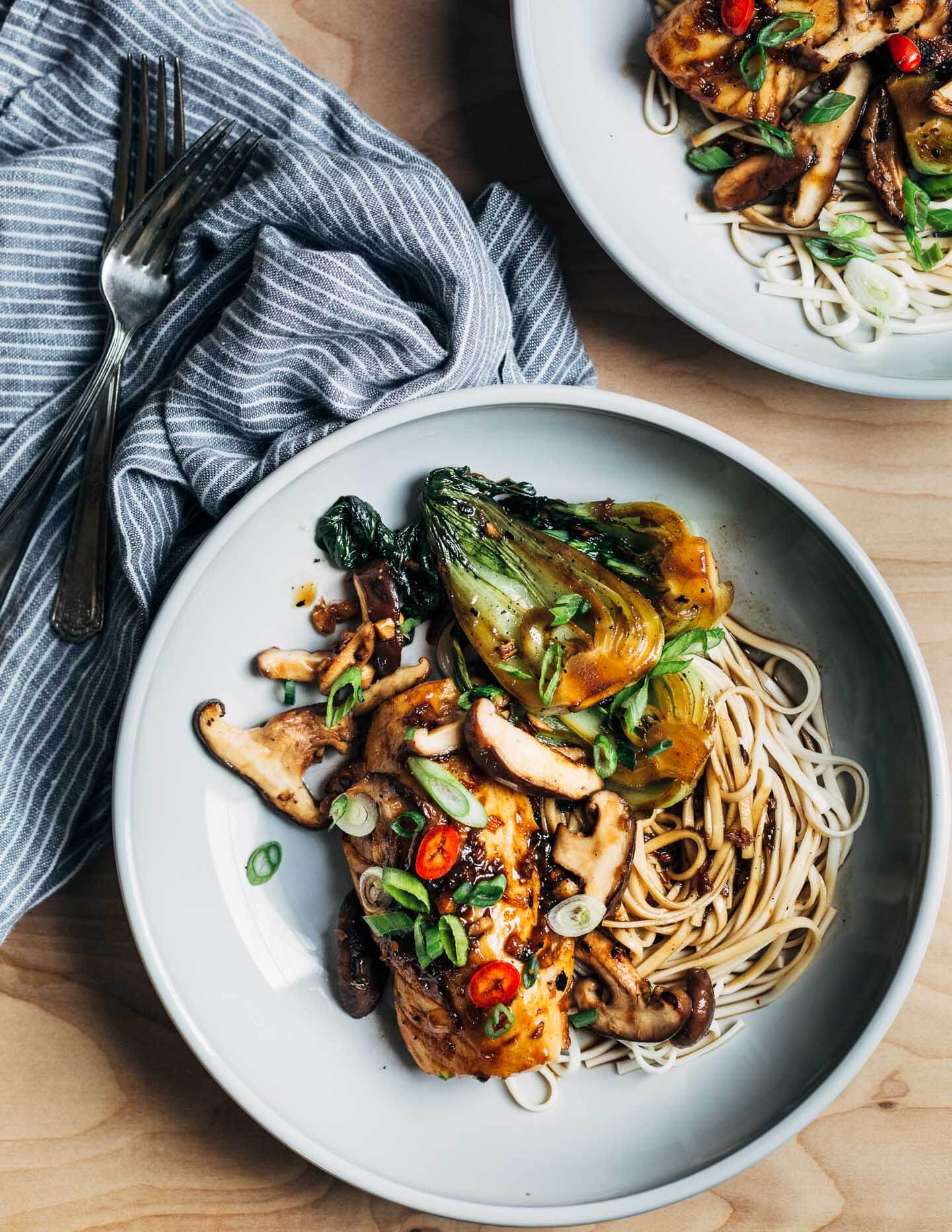 About Bok Choy
No matter what kind of bok choy you use, it's likely to be sandy. To make sure you have all the sand out, I recommend soaking the whole bok choy in a sink filled with cold water. Swish the bok choy around vigorously and then give the sand several minutes to settle on the bottom of the sink.
Carefully remove the bok choy so as not to disturb the sand. Pat dry, halve it lengthwise, and rinse it again. If it's still sandy, refill the sink, swish, and let the sand settle. Make sure the bok choy is dry for cooking by giving it a gentle spin in the salad spinner.
Soy-Glazed Cod with Bok Choy and Shiitake Mushrooms
This soy-glazed cod with bok choy and shiitake mushrooms cooks up lightning fast for an incredibly delicious weeknight meal.
Ingredients
Sauce
1/4

cup

low-sodium soy sauce

2

tablespoons

brown sugar

2

tablespoons

oyster sauce

(I like Lee Kum Kee brand)

1

tablespoon

rice wine vinegar
Stir Fry
1

pound

baby or young bok choy,

trimmed, washed, and halved lengthwise

3

tablespoons

safflower,

canola, or other heat-tolerant oil

3

garlic cloves,

smashed, peeled, and minced

2

tablespoons

minced fresh ginger

8

ounces

shiitake mushrooms,

wiped clean and sliced 1/2-inch thick

Kosher salt

4

5-ounce skinless cod filets
To Serve
3

green onions,

sliced thin

1

red chili,

seeded and sliced thin
Cooked udon noodles for serving

Cooked udon, soba, or ramen noodles or rice,

for serving
Instructions
In a pint jar, stir all of the sauce ingredients together and set aside. Stir every now and then until the sugar dissolves.

Thoroughly rinse the bok choy on a sink filled with cold water. Halve lengthwise, rinse again if needed, and gently spin in a salad spinner to make sure it's dry.

Combine the ginger and garlic in a small bowl.

Set your wok over high heat. When wok is hot enough that a drop of water bounces around, quickly add 2 teaspoons oil, followed by a spoonful of the ginger-garlic mixture. Cook for about 30 seconds – just until aromatics are fragrant, then add the sliced mushrooms and saute for 3 minutes. In the last minute, add a tablespoon of sauce and toss mushrooms to coat. Remove mushrooms to a bowl.

Add a tablespoon of oil to the pan, a spoonful of ginger-garlic mixture, and half the bok choy. Cook bok choy sliced side down for two minutes, then flip, cook one minute more, add a tablespoon of sauce, and toss to coat. Remove cooked bok choy to a bowl. Repeat for the second batch.

Turn heat to medium, add the remaining teaspoon of oil, the remaining ginger-garlic mixture and cook for 30 seconds. Add the remaining sauce. Gently place the cod filets top side down in the bubbling sauce. Cook 2 minutes, carefully flip, then cook 2 minutes more.

Arrange cooked noodles or rice on plates or shallow bowls, top with vegetables, and cod filet. Drizzle with sauce, and finish with green onions and red chilies. Serve immediately.