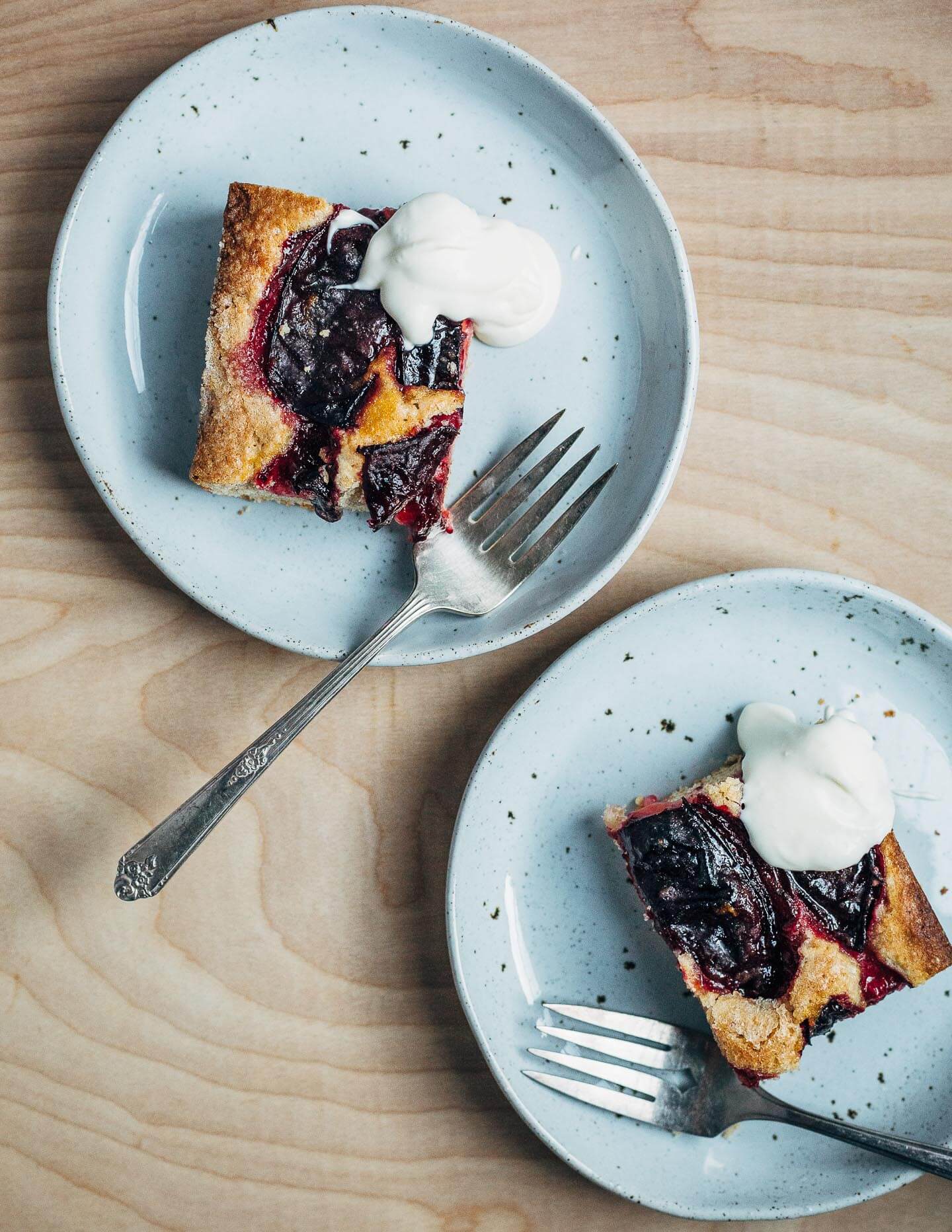 This spin on Marian Burros's classic plum cake features nutty whole grain spelt flour, a hint of Cognac, and fragrant vanilla beans. Jump to recipe.
The weather in Virginia has been chilly for the past couple of weeks. Suddenly, trees are tipped with flashes of yellow and orange, and wind gusts launch a swirl of leaves. Even the markets are starting to look more like fall than summer. Late hangers on like okra, peppers, and tomatoes are still around, but they're already being edged out by squash and apples.
As always, this shift in the seasons has sparked a slight panic within me and I've been hoarding plums and grapes and berries. Standing at the farmers' market, I come up with ambitious baking and preserving projects that I'll never have time for. A few days later, quick decisions need to be made to save fruit that's on the edge. Cakes have to be baked.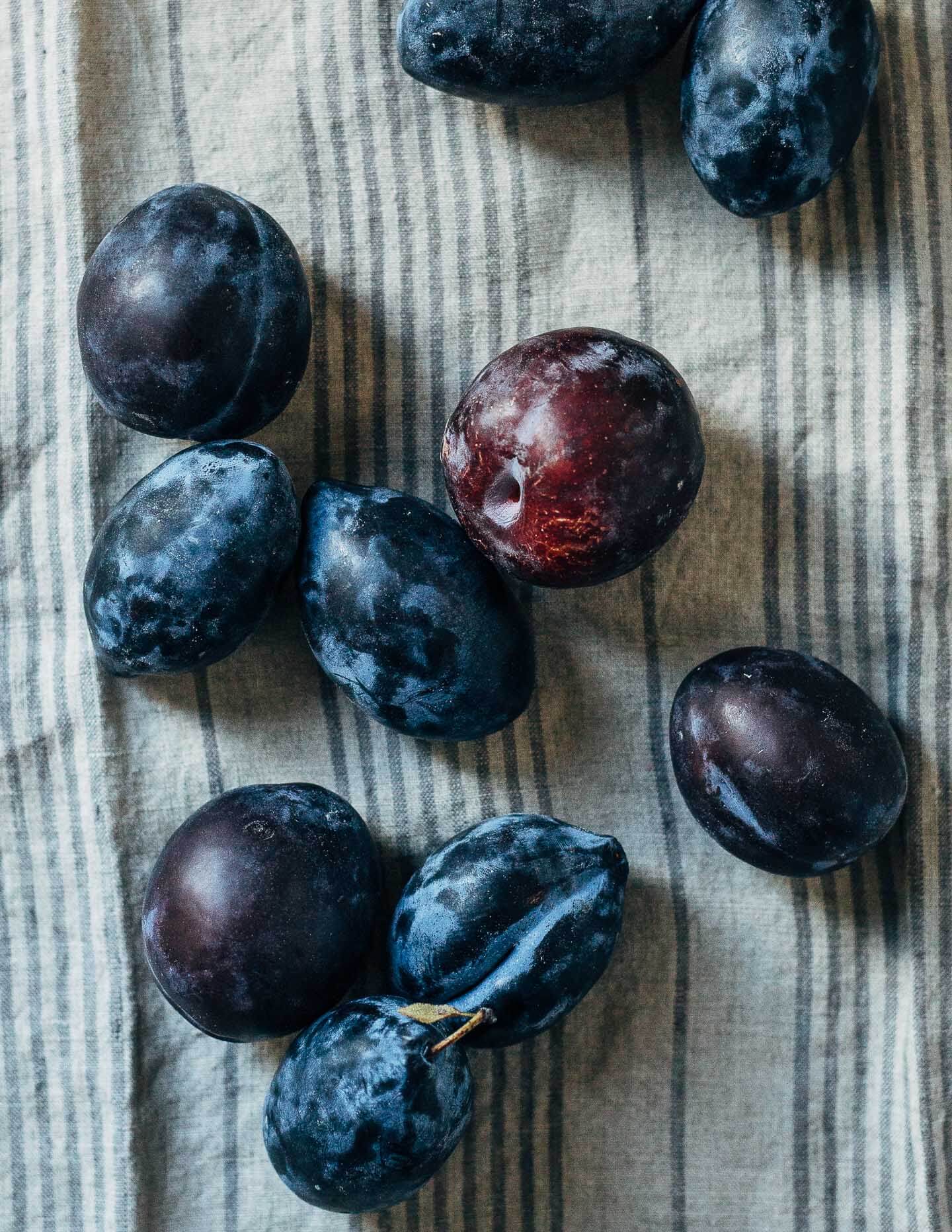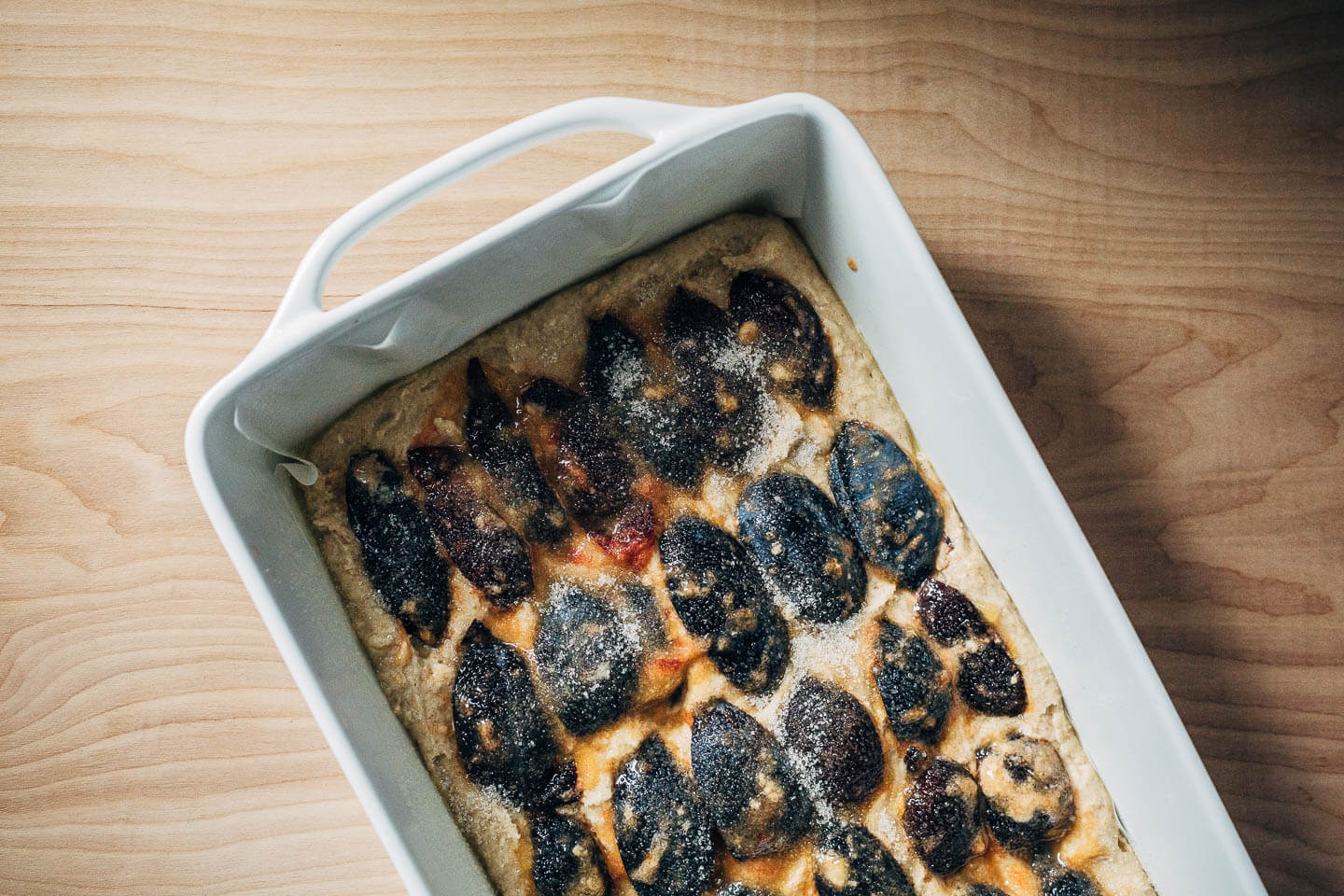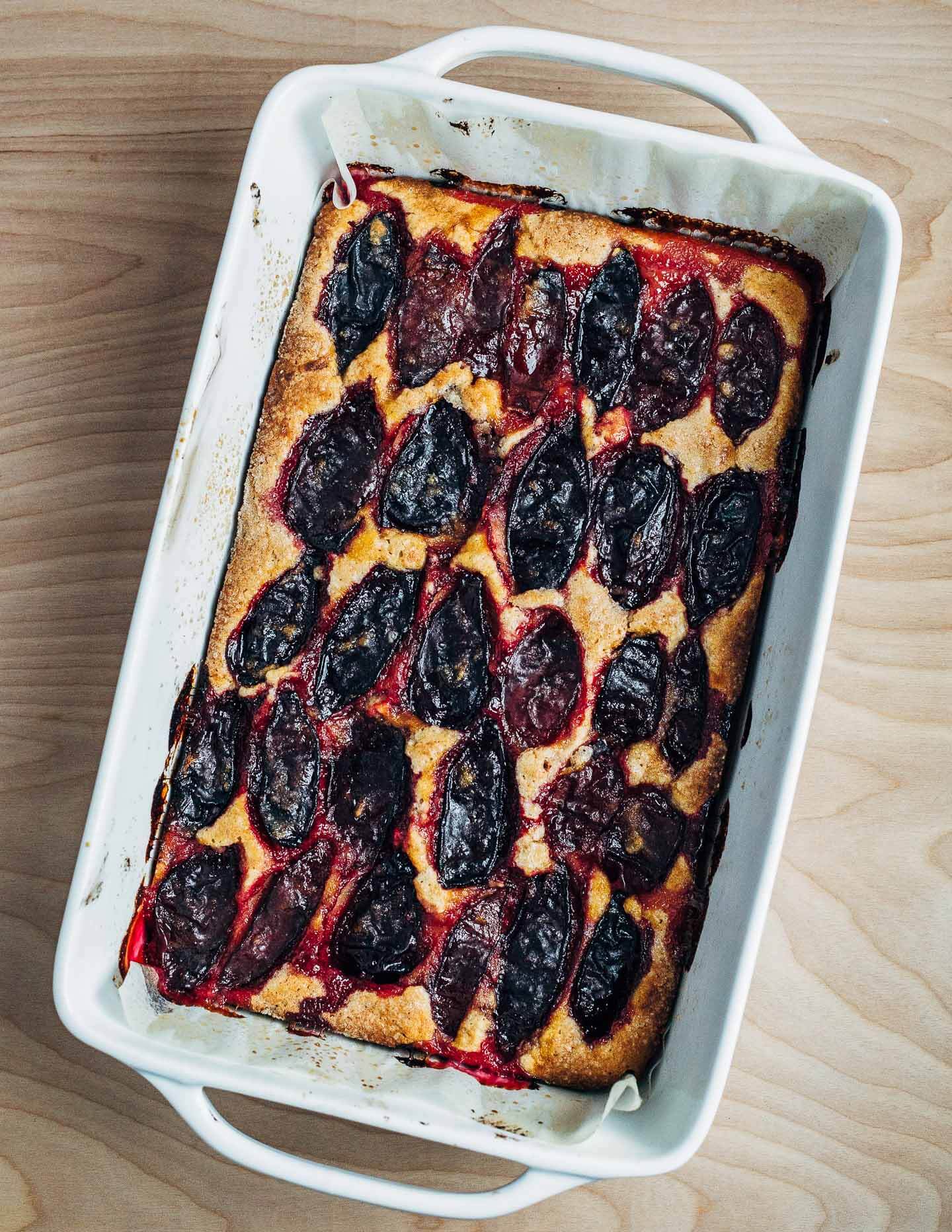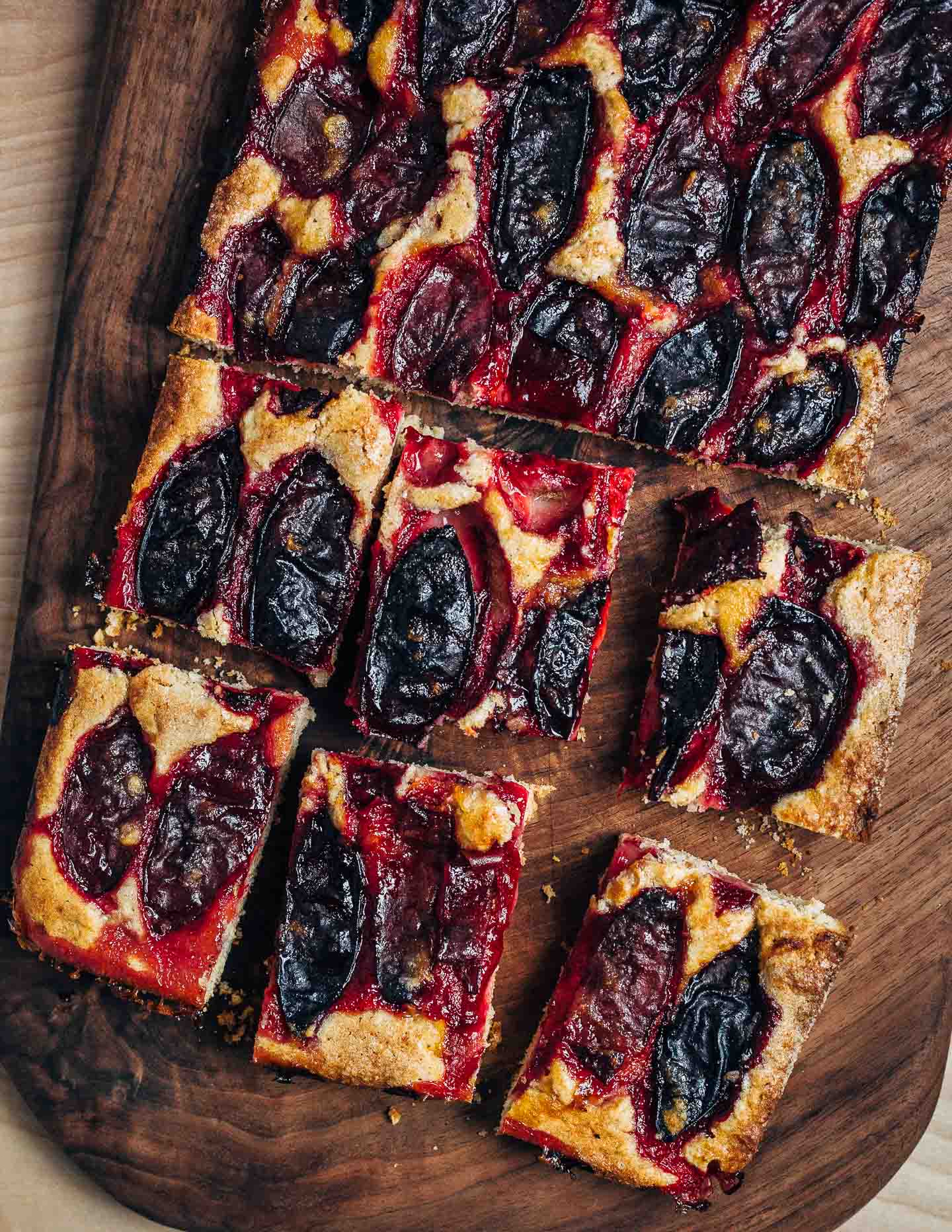 That's where this spelt plum cake comes in. I've made it a few times, and just can't get enough of the crispy-edged, tender spelt crumb and jammy, juicy bits of plum. The recipe hews very closely to Marian Burros's famous plum torte (and Melissa Clark's smart whole grain adaptation), with a couple of additions – spelt flour and vanilla bean. 
The cake is both simple and forgiving enough to accommodate plums in all stages of ripeness, even those that may have lingered too long on the counter. Though any mix of plums will do, I'm partial to mostly sweeter European plums with a couple tart varieties like Santa Rosa thrown in for balance.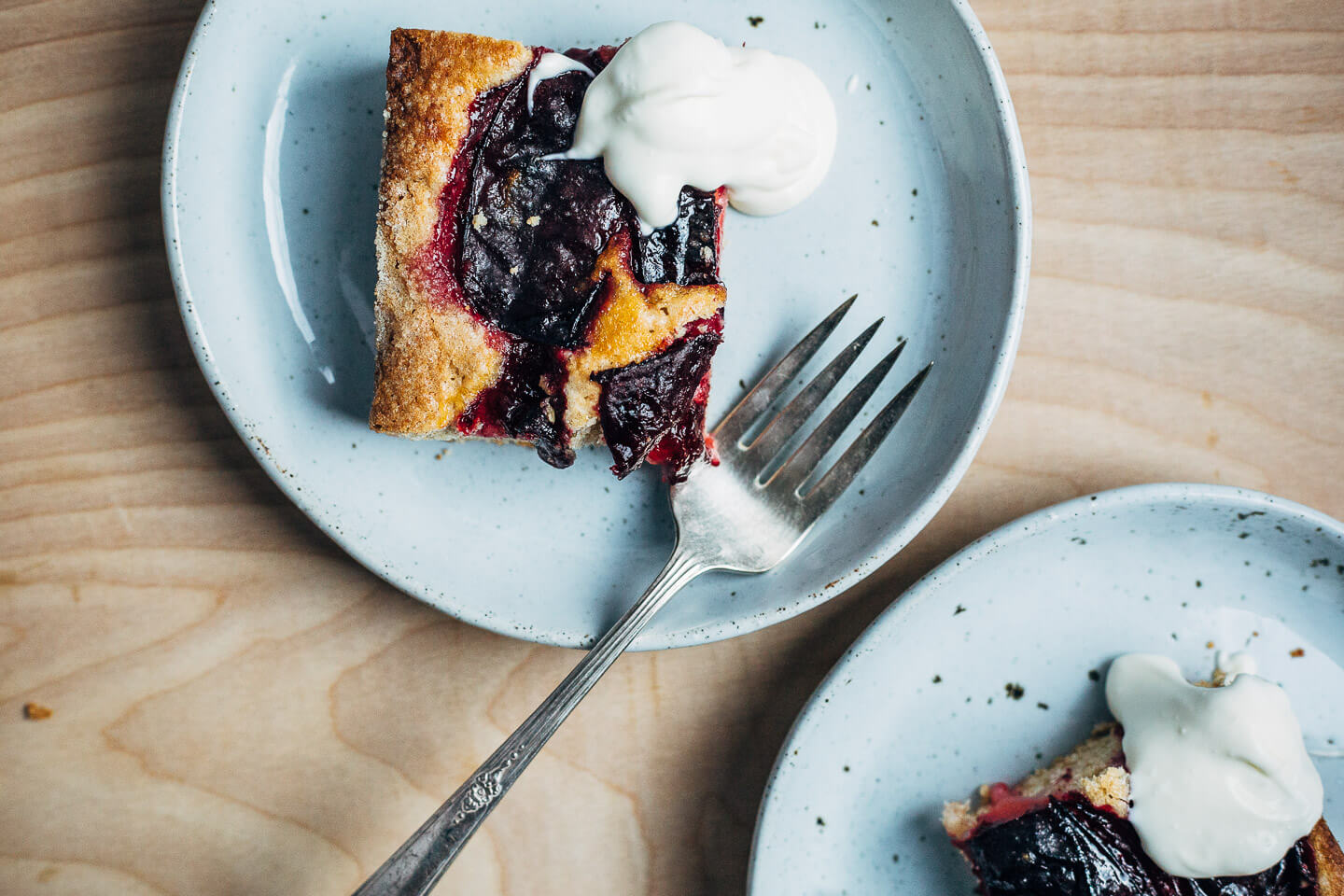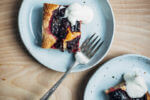 Spelt Plum Cake with Vanilla Bean
Adapted from Melissa Clark, this spin on Marian Burros's classic plum cake features nutty spelt flour, a hint of Cognac, and fragrant vanilla beans.
Ingredients
8

tablespoons

unsalted butter

, room temperature

1

pound

plums

(I used mostly European plums and a couple Santa Rosa plums), pitted and quartered

3/4

cup

plus 2 tablespoons unbleached all-purpose flour

, divided

1/2

cup

spelt flour

1 1/2

teaspoons

baking powder

1/2

teaspoon

sea salt

3/4

cup

turbinado sugar

, divided

1 5-

inch

vanilla bean

, split lengthwise

2

tablespoons

plus 1 teaspoon Cognac or brandy

1

large egg

1/2

cup

milk

, room temperature

whipped cream or crème fraîche

, for serving
Instructions
Preheat oven to 400 degrees F.

Line with parchment and grease a 9 x 13-inch baking dish. Leave some parchment overhanging on both ends so you can lift cake out.

Toss plums with 2 tablespoons all-purpose flour and set aside.

Pour sugar into a bowl, scrape vanilla seeds from the halved pod, and rub into sugar with fingertips. Rub the pods into sugar as well, to catch any remaining beans. Discard pods or reserve for another use.

In the bowl of a stand mixer fitted with the paddle attachment or with a hand held mixer, beat butter until light and fluffy, 2 minutes. Add 1/2 cup plus 2 tablespoons vanilla sugar and beat 2 minutes more. Add Cognac, and then the egg, mixing until each is well combined and scraping down sides as needed.

Combine flours, baking powder, and sea salt in a small bowl. With mixer on low, add half the flour, then the milk, and finally, add the remaining flour.

Scrape batter into prepared dish. Smooth batter out with a silicone spatula. In neat rows, lightly press plums into the surface of the cake. Sprinkle top with remaining 2 tablespoons vanilla sugar.

Bake 35 - 40 minutes, or until the top is golden, the edges have started to pull away from the pan, and a toothpick comes out with just a few crumbs attached.

Cool completely on a wire rack before serving with a dollop of whipped cream or crème fraîche.
SaveSave
SaveSave
SaveSave
SaveSave