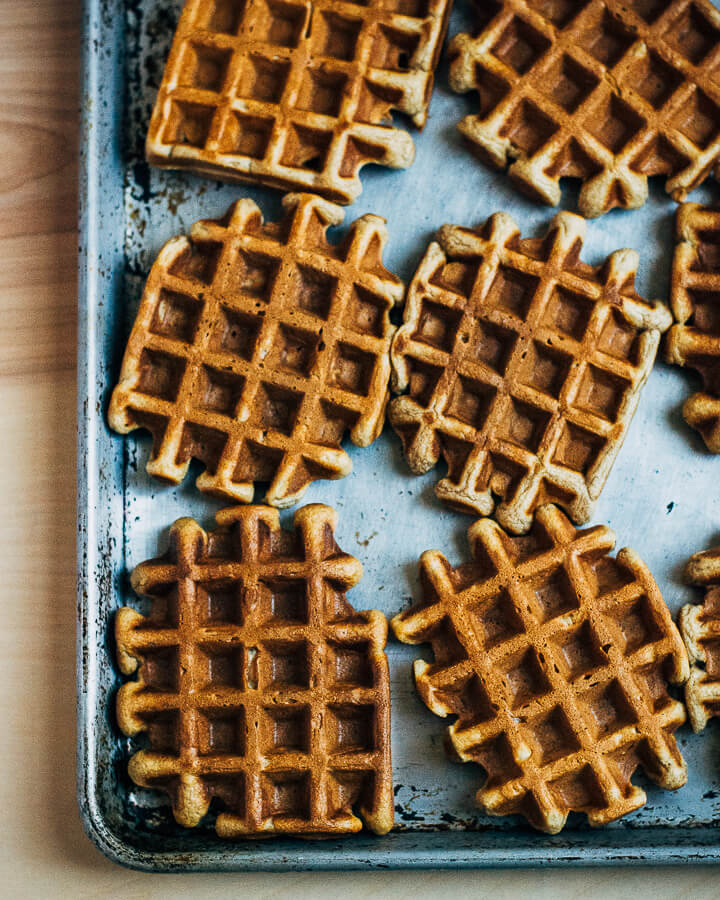 A recipe for impossibly tender spiced apple waffles topped with a sweet, buttery caramelized apple syrup. Jump to recipe.
On Sunday, Brian and I slept in while the girls watched TV and ate whatever weird snacks they could cobble together. Since they'd already eaten their first breakfast, there was time to make waffles at a leisurely pace. We put on a record and made a big pot of coffee, and eventually, sat down to apple waffles. Later, we went to the park and library – all the while absorbing the beautiful September sunshine.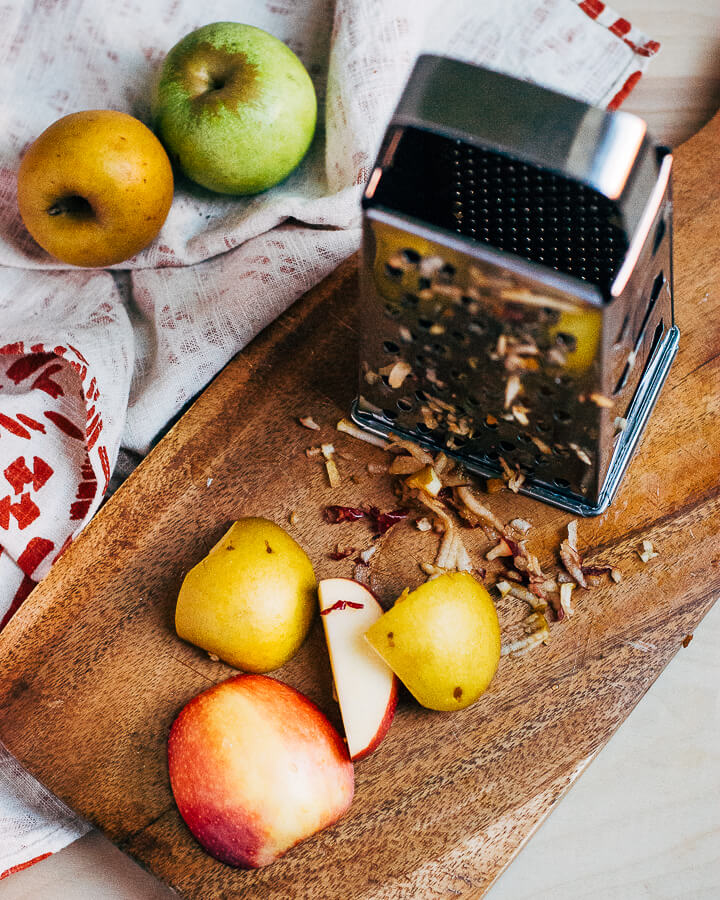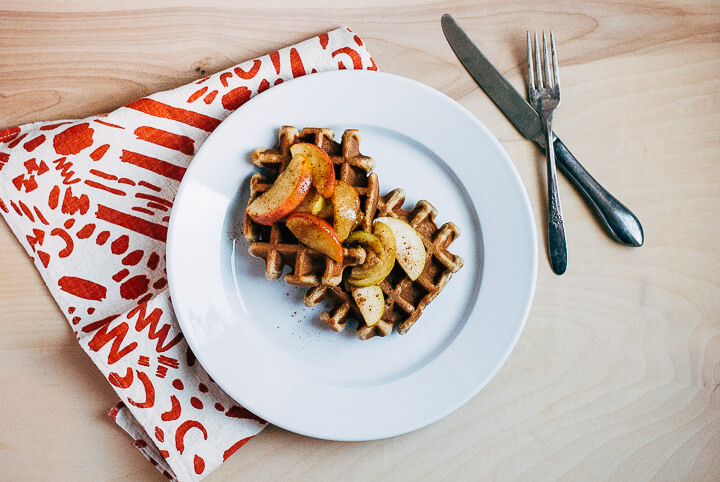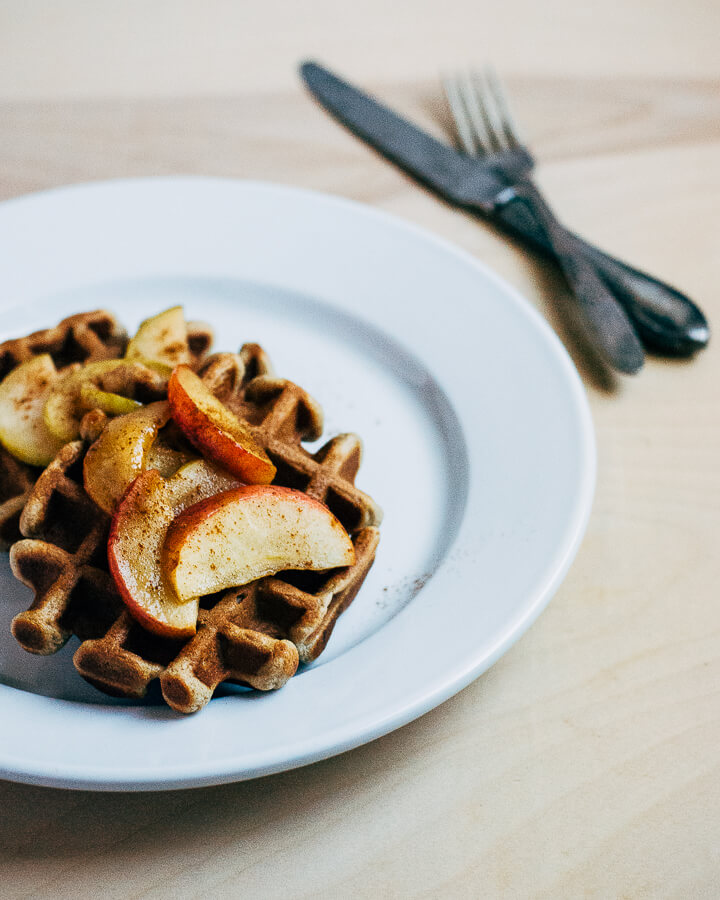 The shower's acting funny. Laundry needs to be folded. The interior handle on my driver's side door has been broken for over a year; meaning I have to roll down the window and unlatch it from the outside. (I try to do this while no one's looking). The kitchen floor is kind of sticky. We're perpetually a day behind on dishes so that each evening, we're stuck emptying the dishwasher and then filling it again immediately. My back hurts. The girls are sniffling.
Still, after a few weeks of travel, and being away from the chaos and the mess, I'm so glad to be back. This chaos, these messes, this life – it's mine. I made it. And all the little details, even the pain in the ass of it all – the whining and the broken stuff and the laughter – are all part of the gift.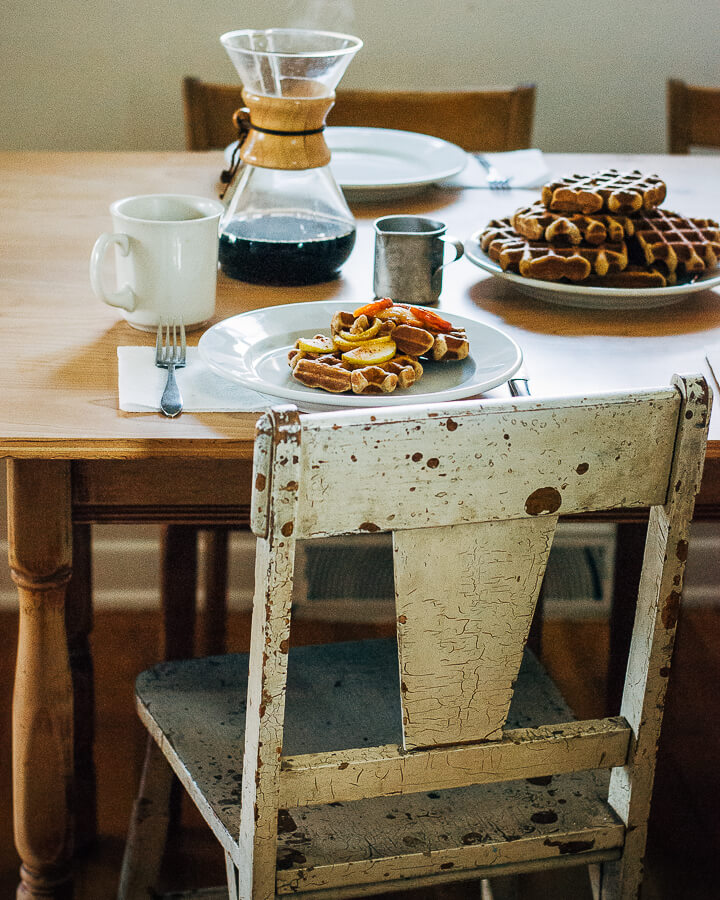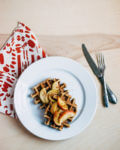 Spiced Apple Waffles with Caramelized Apple Syrup
A recipe for impossibly tender spiced apple waffles topped with a sweet, buttery caramelized apple syrup.
Makes
:
12
(4-inch) waffles
Ingredients
For the Apple Waffles
4

tablespoons

butter

, melted and cooled

1 1/2

cups

unbleached all-purpose flour

1/4

cup

sorghum flour

(optional* – all-purpose or another flour can be used instead)

2

teaspoons

baking powder

1

teaspoon

baking soda

1

teaspoon

ground cinnamon

1/4

teaspoon

allspice

1/2

teaspoon

sea salt

4

eggs

, separated

1

cup

shredded apple

1

cup

well shaken buttermilk

2

tablespoons

sugar


For the Caramelized Apple Syrup

1

tablespoon

unsalted butter

2

cups

sliced apples

(about 3 small apples)

1/4

cup

sugar

1/2

teaspoon

ground cinnamon

, plus more for topping

pinch sea salt
Instructions
Preheat waffle iron, set oven to 200 degrees F, and slide a baking sheet in it to warm.

Melt butter and set aside to cool.

In a large bowl, combine flours, baking powder and soda, spices, and sea salt.

In a medium bowl, combine egg yolks, shredded apple, buttermilk, and sugar. Fold wet ingredients into dry. Fold in melted butter.

Beat egg whites to soft peaks and fold into batter, stirring just until everything is nicely combined.

If needed, grease waffle iron, and then cook waffles according to your waffle iron's instructions. Set cooked waffles on baking sheet in warm oven.

Meanwhile, set a medium-sized skillet over medium to medium-high heat. Melt the butter, then toss in the sliced apples, sugar, cinnamon, and sea salt. Cook apples for about 3 minutes, flip, and cook 3 minutes more. Edge heat down if pan gets too hot. Apples should be soft with browned edges, and surrounded by a thick, golden brown syrup.

Serve waffles topped with apples and syrup, and a sprinkle of cinnamon.
Recipe Notes
*Sorghum flour lends texture and sweetness. Feel free to sub in all-purpose or another contrasting flour or grain like finely ground cornmeal, wheat wheat, amaranth, spelt, oat, or quinoa flours.