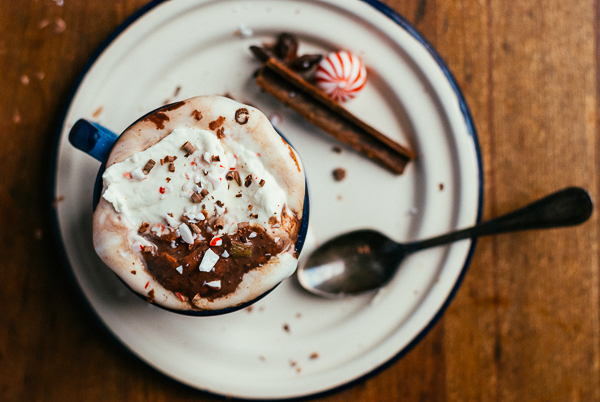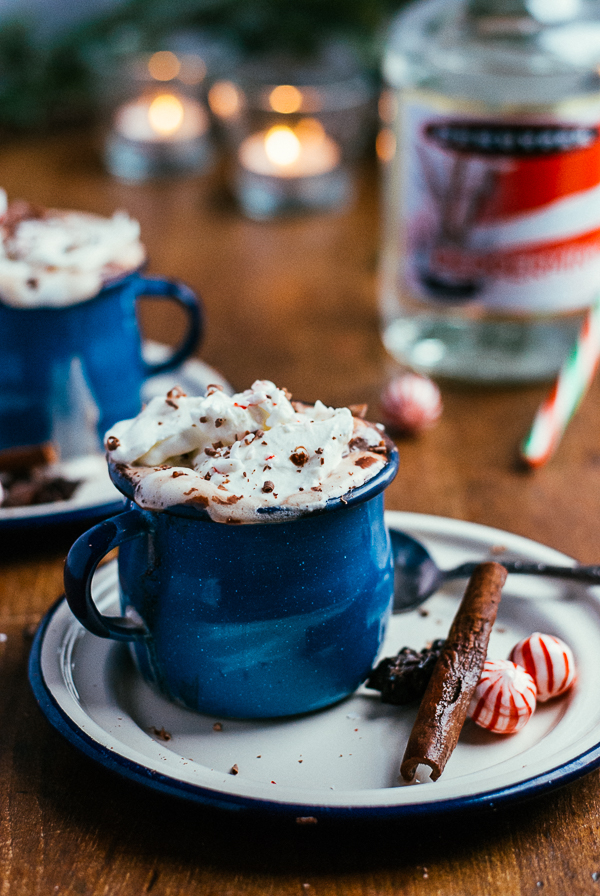 A rich and steamy spiced bittersweet hot chocolate recipe with peppermint schnapps and minty whipped cream. This post is sponsored by DeKuyper.  Jump to recipe.

"Are you ready for Christmas?" seems to have become the standard holiday greeting, as though kindly store clerks and my fellow moms are wondering if I've prepared for the big meeting or finished my taxes. Personally, I miss the days of more joyful holiday wishes. Besides, organization has never been my strong suit; so being reminded of all the work I still need to do cuts deeply.
I take comfort in the fact that my family's done all the most important things like watch Christmas movies with the kids and bake cookies. The tree we cut down ourselves stands twinkling in the living room. We've seen family and gone to recitals. I'll get to the shopping, eventually. I hope.
With so many holiday to-dos still needing to be done, it's nice to cozy up with a good holiday cocktail, especially after a day of merrymaking – the kind of drink you sip all nestled up with all the lights off, save the tree, while enjoying the moment. So when the folks at DeKuyper asked if I'd like to create a festive cocktail recipe with something from their line, I knew they'd found the right person.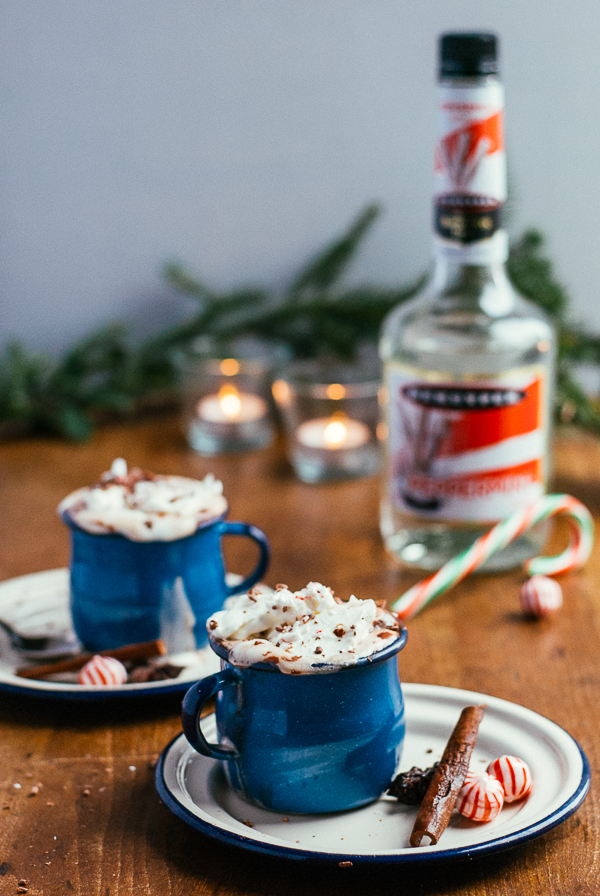 If you're looking for the perfect Christmas drink, then I suggest you look no further than this minty holiday-spiced bittersweet hot chocolate. Rich chocolate, holiday spices like star anise and nutmeg, and a splash of DeKuyper Peppermint Schnapps all make for a classic sip – just the thing to enjoy by the light of a Christmas tree.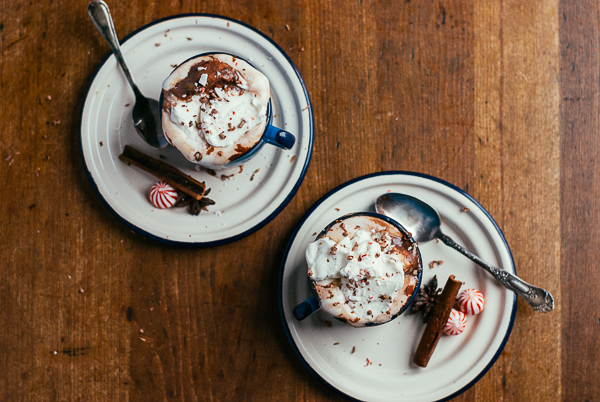 This is a very grown-up mug of hot chocolate. It goes easy on the sugar, letting the sweetness of the DeKuyper Peppermint Schnapps come through. If a sweeter sip is more your thing, add 1 – 2 tablespoons sugar to the steamy milk mixture.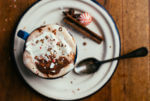 Spiced Bittersweet Hot Chocolate with Peppermint Schnapps
A rich and steamy spiced bittersweet hot chocolate recipe with peppermint schnapps and minty whipped cream.
Ingredients
2

cups

whole milk

2

cinnamon sticks

2

whole star anise

4

allspice berries

1/4

teaspoon

freshly ground nutmeg

pinch sea salt

1 - 2

tablespoons

sugar

(optional - see note above)

2

tablespoons

water

4

ounces

bittersweet chocolate

, rough chopped

1/2

cup

heavy whipping cream

3

ounces

plus 2 teaspoons DeKuyper Peppermint Schnapps

, divided

crushed starlight mints for garnish

bittersweet chocolate shavings for garnish
Instructions
Set a saucepan over medium-low heat. Add cinnamon sticks, star anise, allspice, nutmeg, sea salt, and sugar (if using), and heat just until steamy. Turn heat to low and let spices steep for 10 minutes.

Meanwhile, heat water and chocolate over medium-low heat in a small saucepan, stirring frequently, until melted chocolate is smooth.

To make peppermint whipped cream, whip heavy cream until pillowy, drizzle in 1 teaspoon DeKuyper Peppermint Schnapps, and continue whipping until soft peaks form.

If desired, strain spices from milk. Reserve cinnamon sticks and star anise for garnish. Add melted chocolate into milk, stirring until mixture is smooth. Off heat and add 3 ounces DeKuyper Peppermint Schnapps.

Pour into mugs. Garnish with a dollop of peppermint whipped cream, crushed starlight mints, and chocolate shavings. Serve on a saucer with spoon and reserved spices.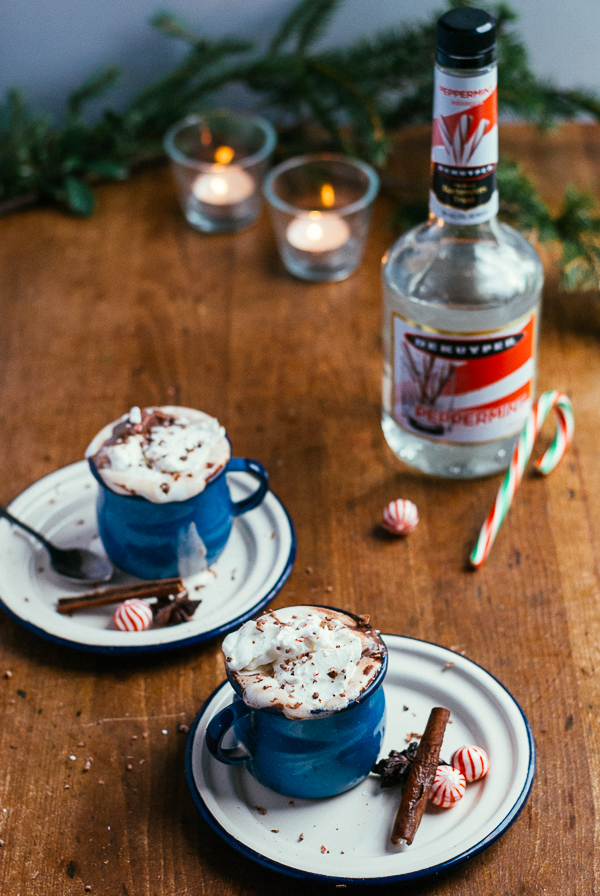 DeKuyper® is a trademark of Jim Beam Brands Co. ("Beam") and is used with permission. The information, comments and ideas expressed on this website do not necessarily reflect the views or opinions of Beam, its affiliated companies or any of their directors or employees. Beam does not sponsor, authorize, or otherwise endorse this website.
Disclosure: Compensation for this post was provided by DeKuyper via Mode Media. The opinions expressed herein are those of the author and are not indicative of the opinions or positions of DeKuyper.
SaveSave