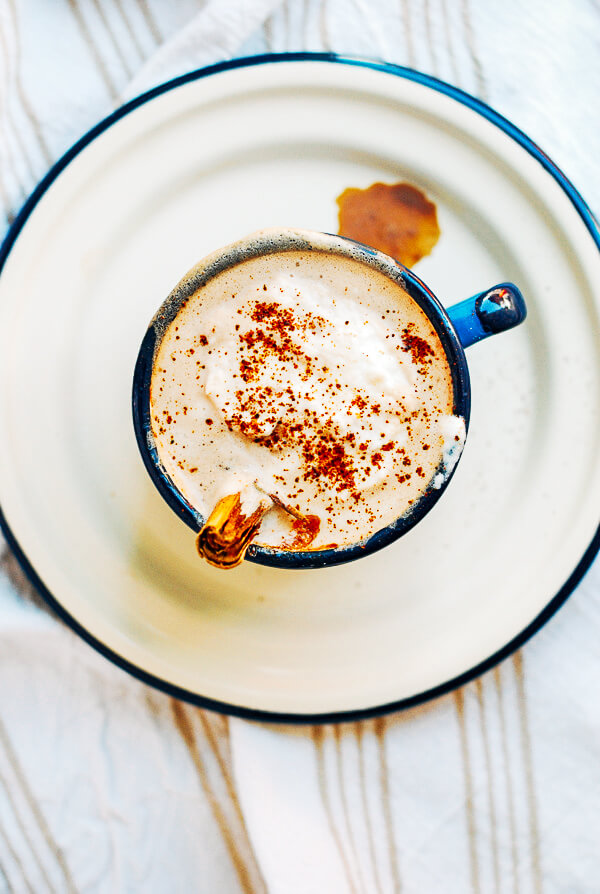 Cozy up to a mug of spicy maple cinnamon hot chocolate, made from scratch! Jump to recipe.
Every Christmas, Brian and I engage in a mildly ridiculous marathon that involves seeing my mom, my dad and stepmother, and Brian's parents in a 24-hour period.
Last year we woke up in Brooklyn and spent Christmas morning with our girls. Then we hopped on 95 for a six hour drive to Northern Virginia that got us to my Dad's house just in time for Christmas dinner. The next day, we had brunch with my mom and then traveled south to Fredericksburg to see Brian's family. The trip should take about an hour, but the reality is that a certain stretch of 95 in Virginia is always hellish, and the drive has taken us as long as 4 hours.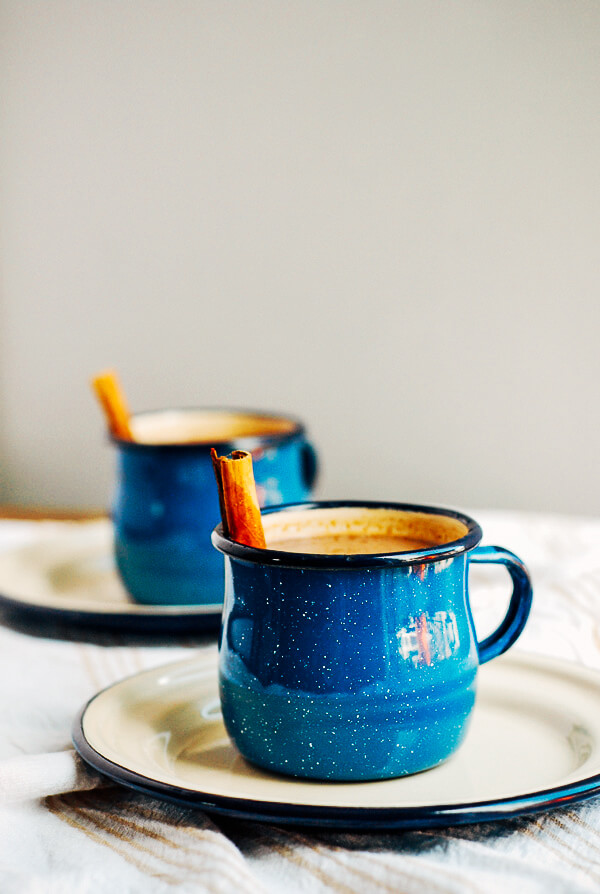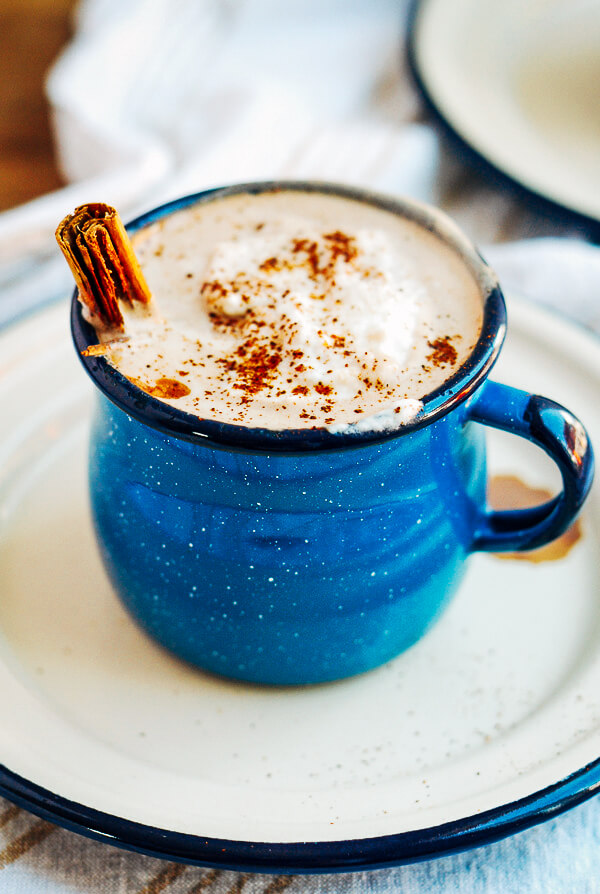 Last year, to avoid the interstate we took country roads to Brian's parents' instead. It was an icy afternoon and the trees glistened in the gray light. The road we took lead straight to Charlottesville, and though we turned off well before we reached it, it was on that drive that I turned to Brian and said, "This is the road home." So it's poignant that this year, we are home and happily settled in to our new lives in this little city in the foothills of the Blue Ridge Mountains.
As this year of changes nears its close, looking at holiday parties on the agenda and snow in the forecast, I could think of nothing more fitting than cozying up with a steamy mug of homemade spicy maple cinnamon hot chocolate and celebrating a year where we let go of some of the hustle and gained a little simplicity.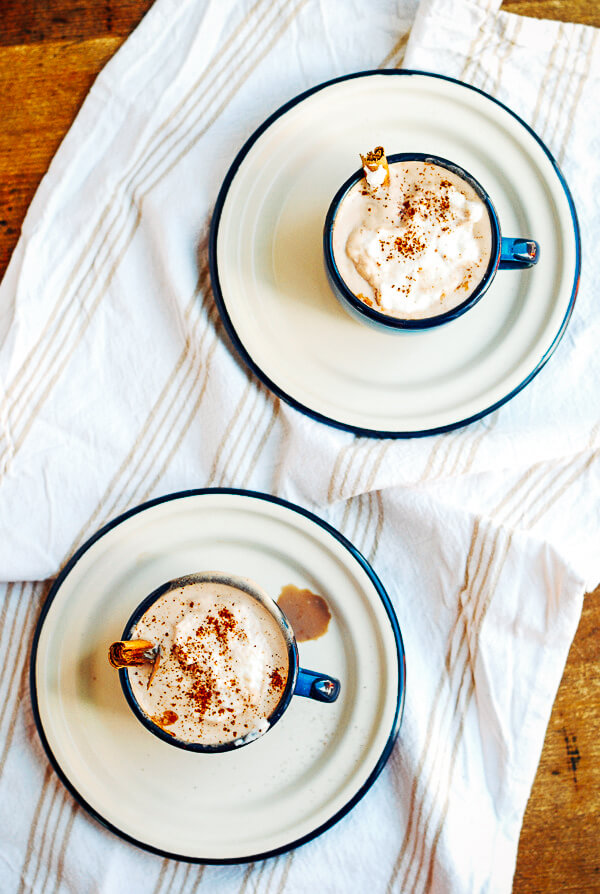 This maple-sweetened cinnamon hot chocolate has spicy hints chili powder and cayenne. The subtle heat builds slowly from sip to sip. I love the interplay of sweetness and spice, and find that this is a wonderfully warm and fortifying drink for bracing winter days.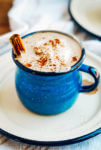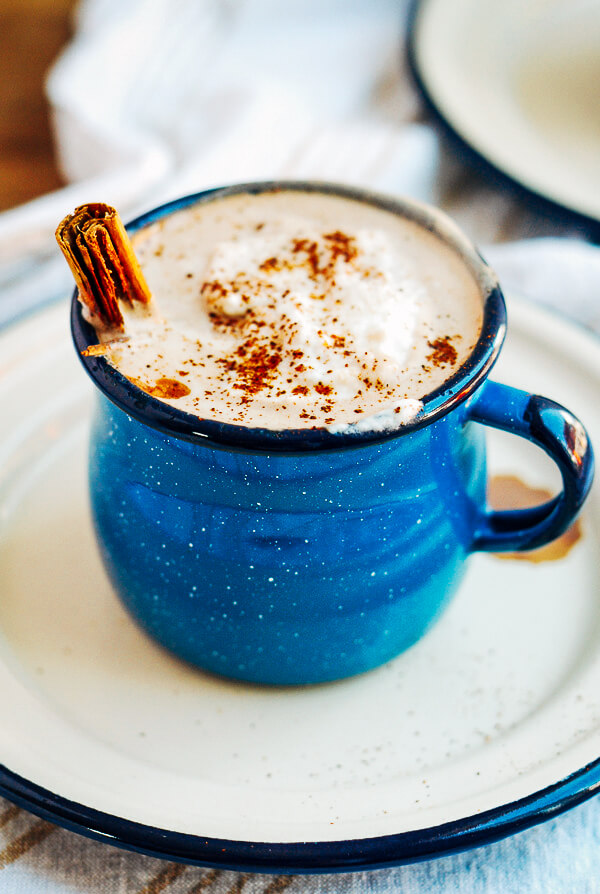 Spicy Maple Cinnamon Hot Chocolate
Cozy up to a mug of spicy maple cinnamon hot chocolate, made from scratch!
Ingredients
2 1/2

cups

whole milk

6

tablespoons

Dutch process cocoa

2

tablespoons

maple syrup

(add up to 2 more tablespoons to taste)

1/2

teaspoon

ground cinnamon

1/2

teaspoon

chili powder

1/4

teaspoon

ground cayenne

pinch

sea salt

1/2

cup

heavy whipping cream

(optional)

cinnamon sticks for garnish

(optional)
Instructions
Pour milk into a medium-sized sauce pan and set over medium-low heat. Whisk in chocolate, maple syrup, and spices. Continue whisking occasionally until milk is hot and steamy. Taste, and add more maple syrup if needed.

Meanwhile, whisk heavy whipping cream to soft peaks.

Pour steaming hot chocolate into mugs, add a dollop of whipped cream and a cinnamon stick, and finish with a pinch of chili powder.

Note: This recipe makes for a very chocolaty drink, dilute with more milk if it's too much. It's also pretty easy on the sweet stuff, so add a few more glugs of maple syrup for a sweeter sip.
SaveSave