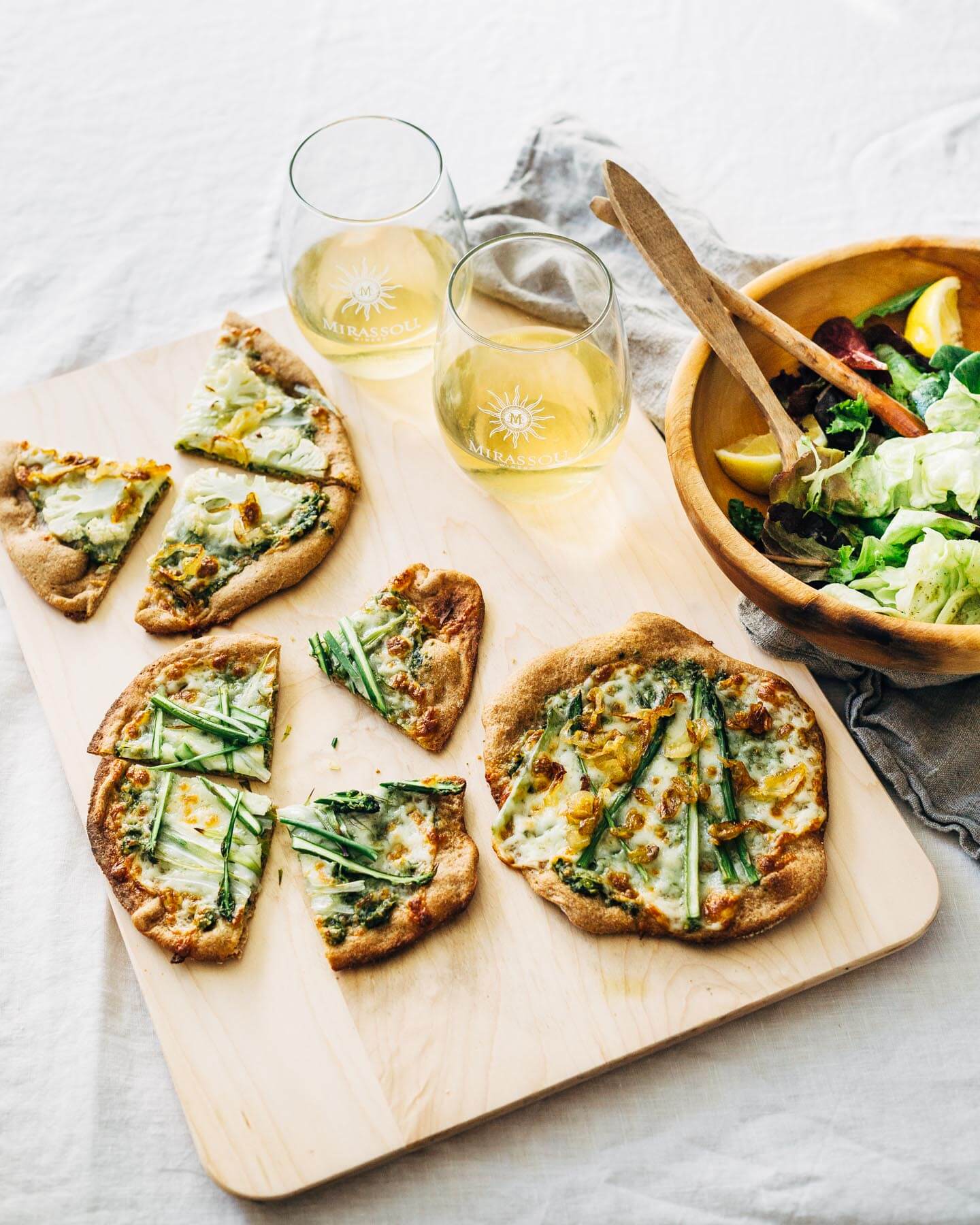 In partnership with Mirassou Winery, a springtime pizza party featuring whole grain spelt crust pizzas topped with kale and green onion pesto, asparagus spears, crispy shallots, and sliced cauliflower. Jump to recipe. 
Spring pizza is the best pizza. Spring vegetables offer a range of flavors, from assertive alliums to tender asparagus, but they are almost all nearly imbued with a subtle grassiness that goes perfectly with creamy, gooey cheese and a nutty spelt pizza crust. For these pizzas, I whipped up a simple herb and greens pesto, subbing mellow green onions for the usual garlic. For toppings, I went with an array of early spring classics – crispy caramelized shallots, green onion slivers, asparagus spears, and sliced cauliflower.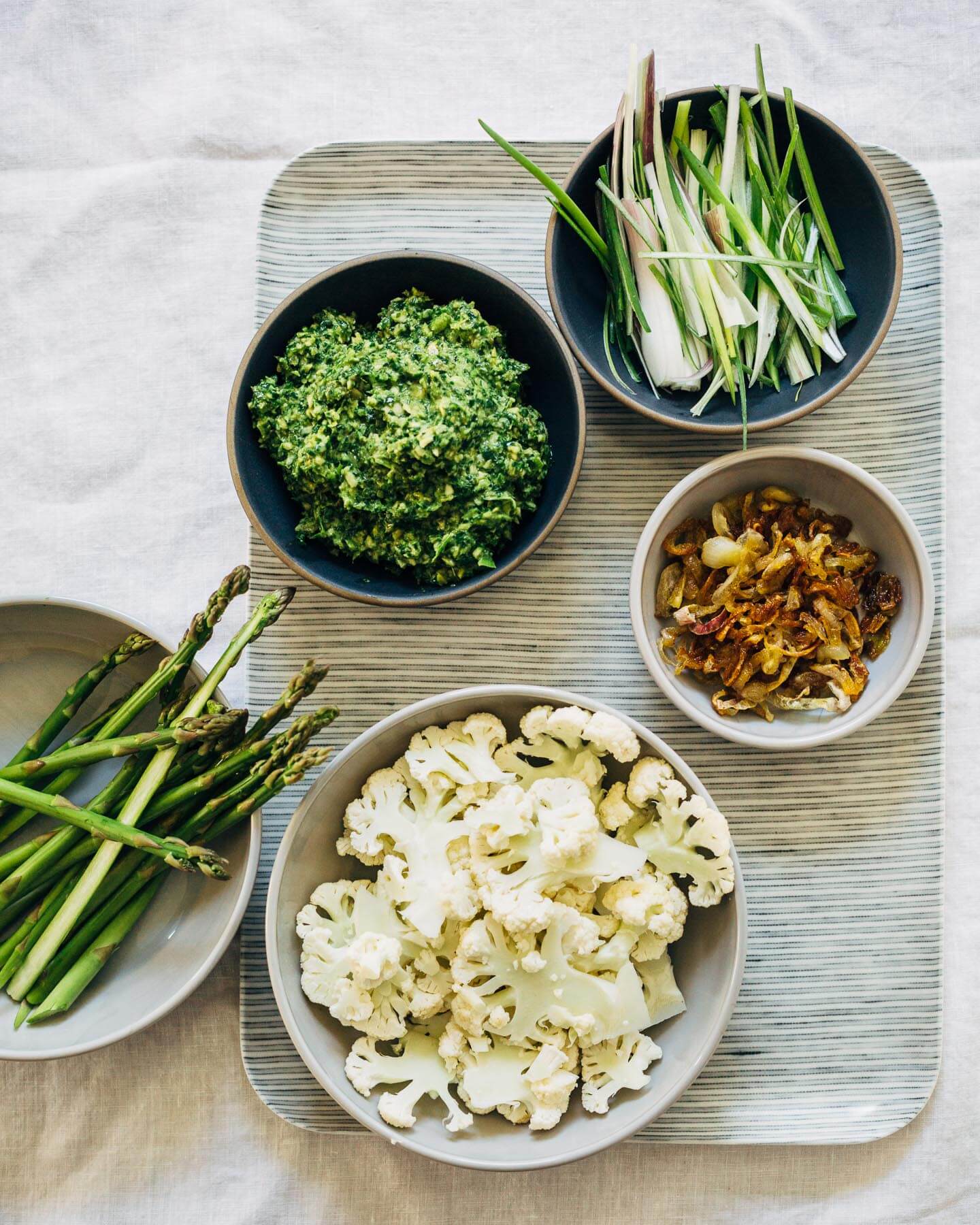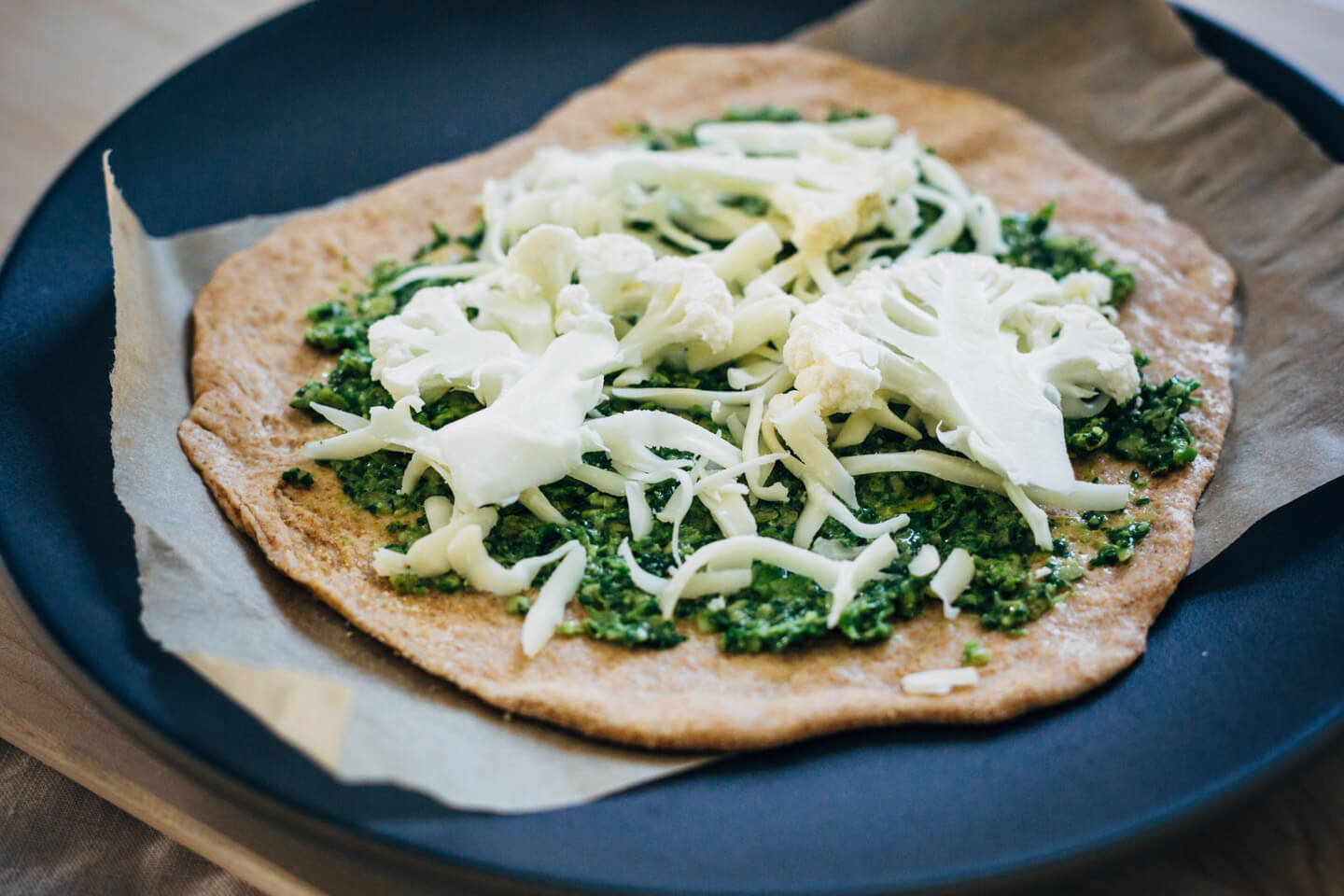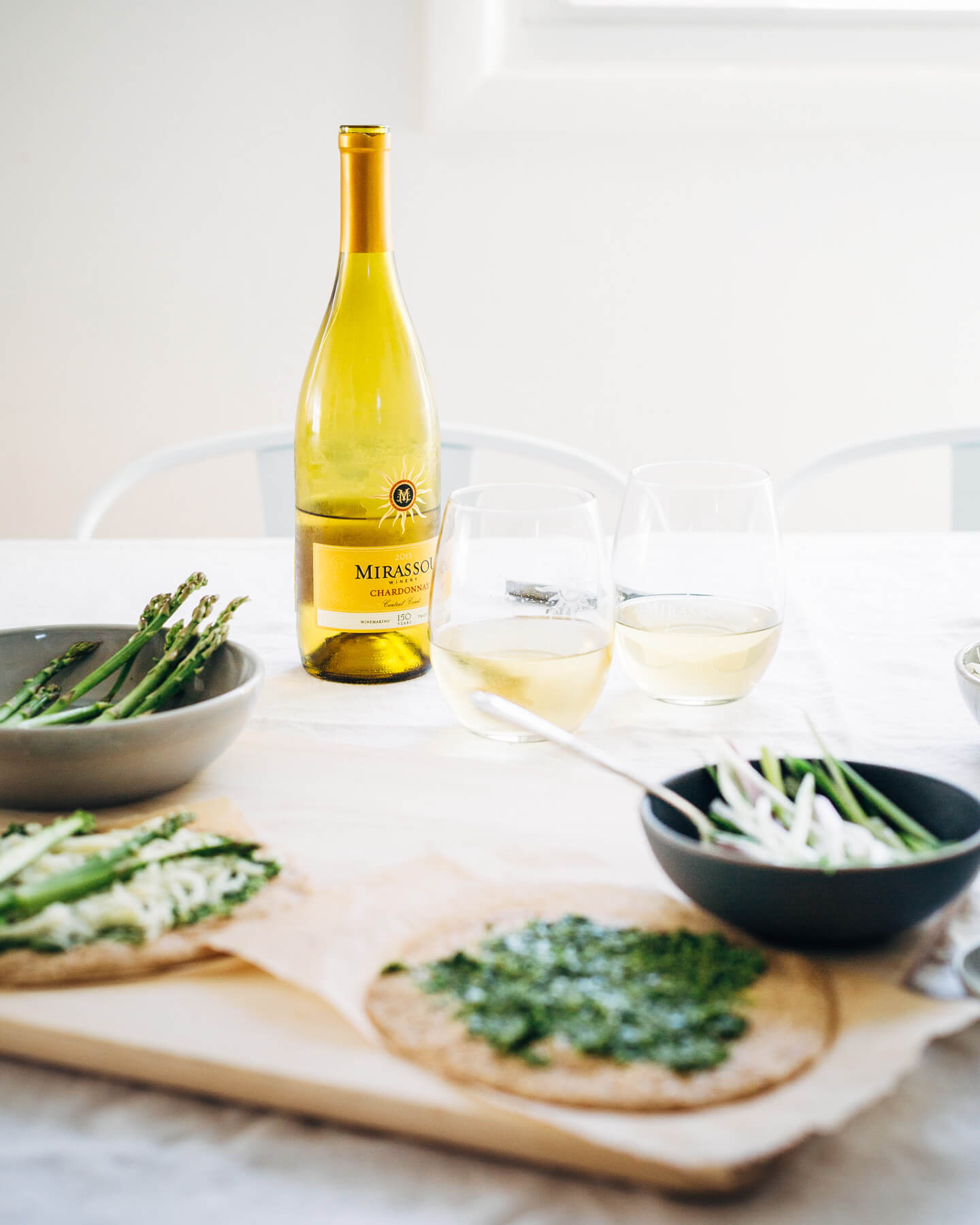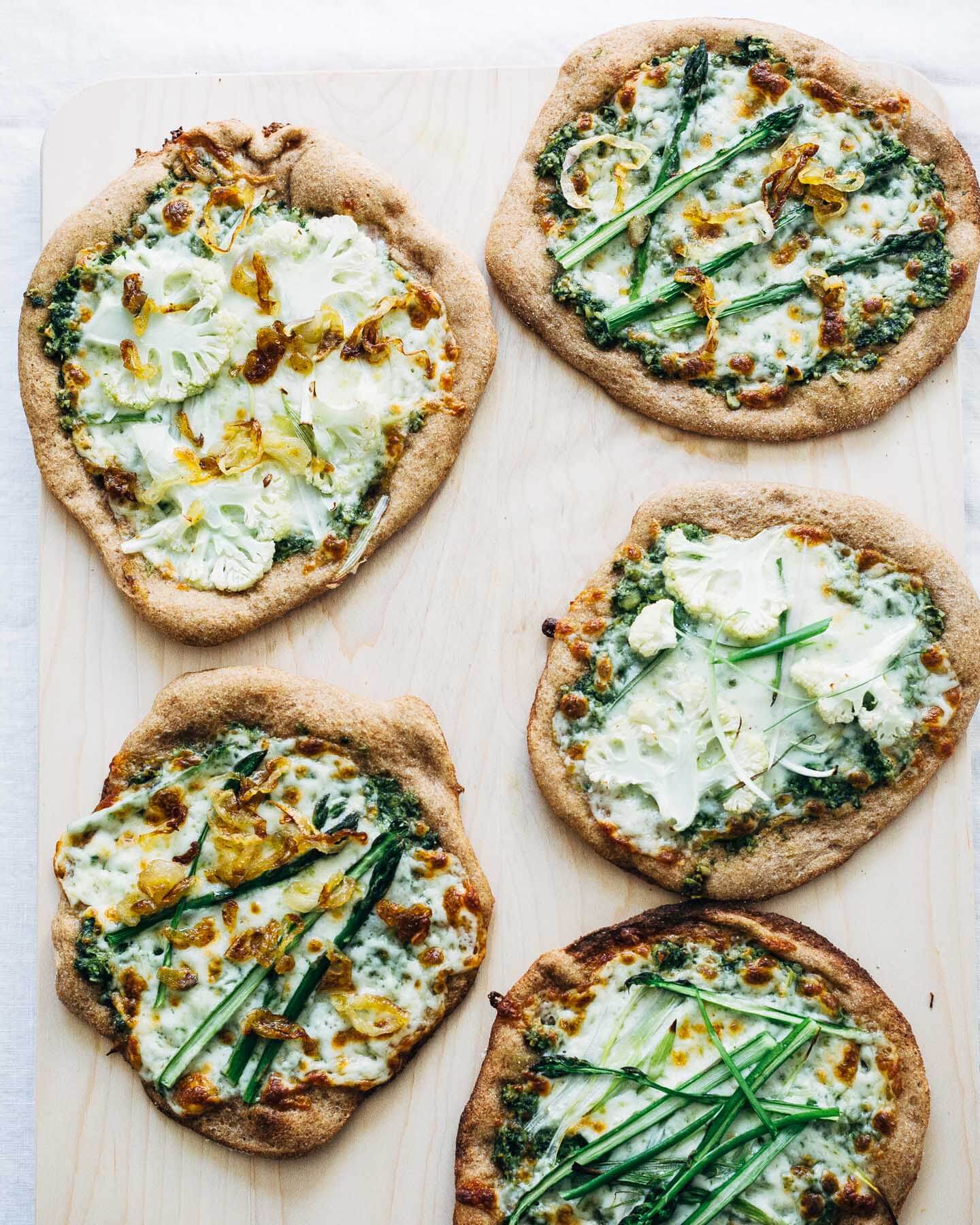 Brian and I invited a couple friends over to enjoy the pizzas with us. Even if your pizza is subtle and nuanced, a pizza party by nature is a casual gathering. So I kept things informal, setting out the toppings in small bowls and letting everyone create their own perfect pizza.
Alongside the spelt crust pizzas, I served a big, simply dressed green salad and a bottle of chilled Mirassou Winery Chardonnay. The balanced flavor profile of Mirassou Chardonnay was the perfect complement to the spring flavors of the pizza; floral aromas played against the grassy notes of the vegetables, while the Chardonnay's creamy mouth feel was the ideal counterpoint for punchy spring onions. With the evening sun streaming in, good company, food, and wine, it felt like the first of many beautiful spring evenings.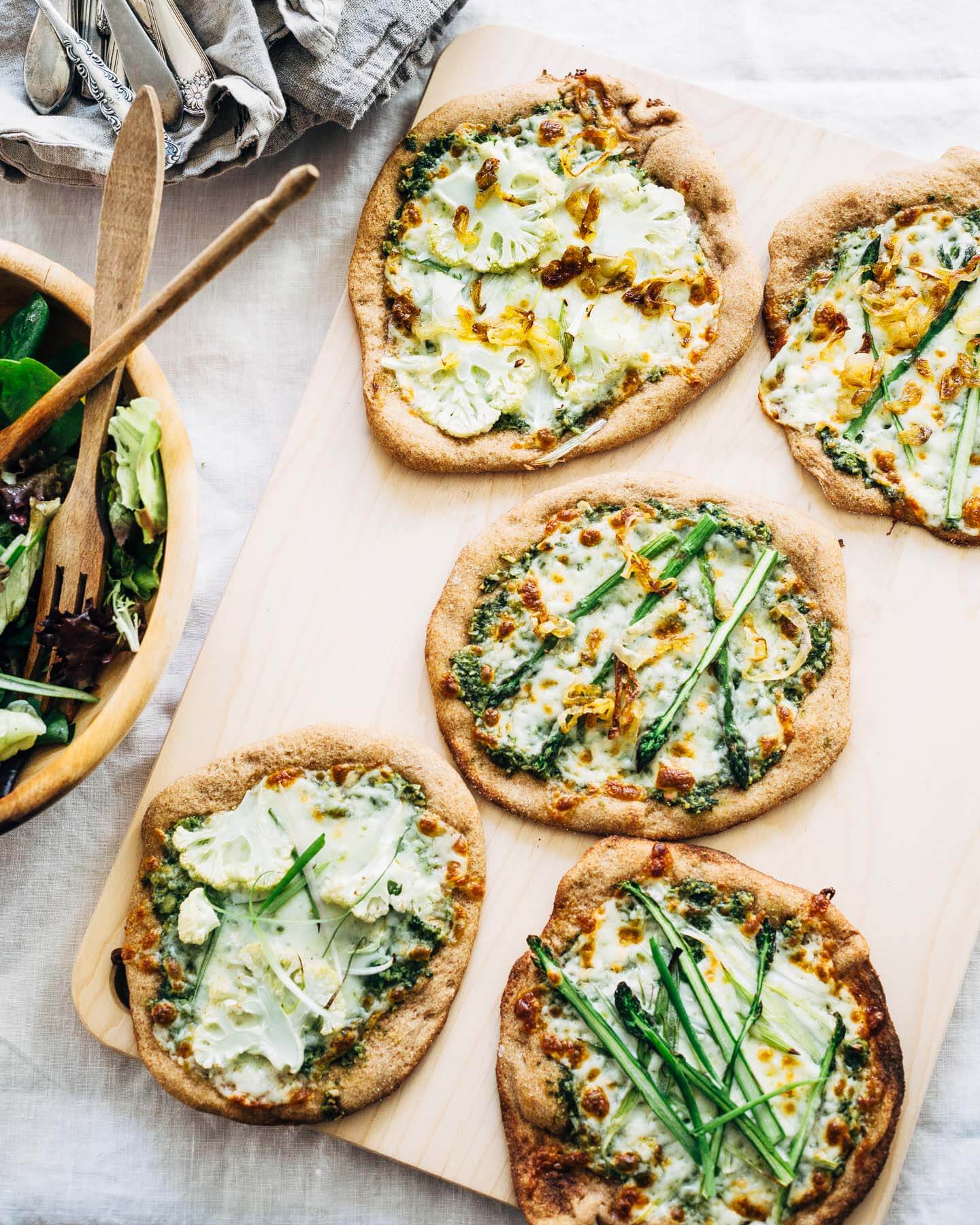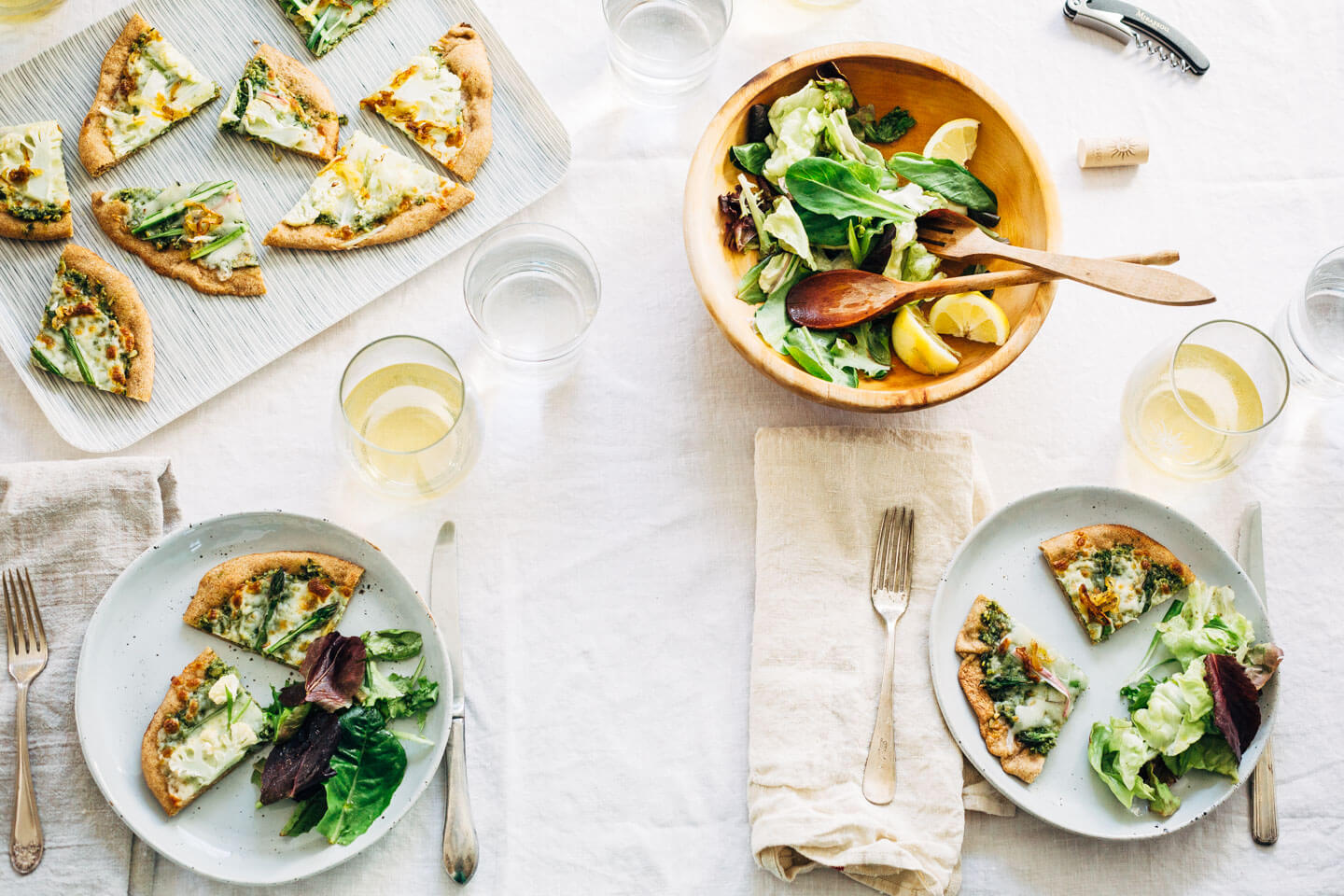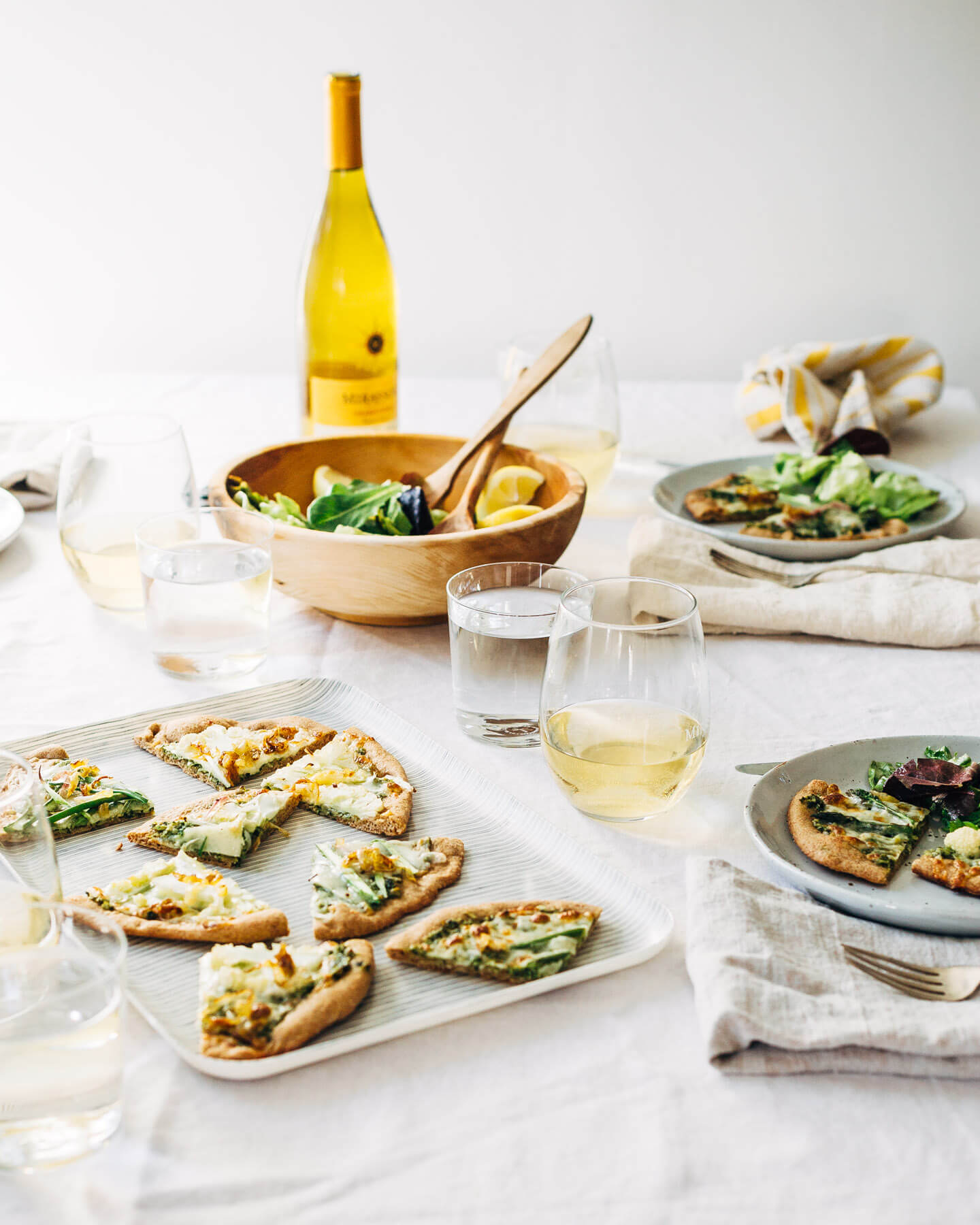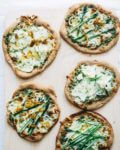 Spelt Crust Pizzas with Greens Pesto, Asparagus, and Cauliflower
These spring-inspired spelt crust pizzas are topped with kale and green onion pesto, asparagus spears, crispy caramelized shallots, and sliced cauliflower.

Spelt is a whole grain with a hint of nuttiness that gives the pizza crusts a pleasantly wholesome edge. Look for spelt flour in the health food section of your grocery store or the baking aisle. You can also sub in your favorite pizza dough recipe or store-bought dough.
Ingredients
Spelt Crust
1

cup

lukewarm water

2 1/4

teaspoons

active dry yeast

(1/4-ounce packet)

1

teaspoon

honey

2

cups

plus 1/4 cup spelt flour

2

teaspoons

sea salt

2

tablespoons

extra virgin olive oil
Crispy Shallots
2

large shallots,

sliced 1/8-inch thick

sea salt
Pesto
1

cup

chopped dark leafy greens,

such as kale, spinach, or arugula

1

cup

chopped parsley leaves and stems

1

green onion,

trimmed

1/2

cup

raw,

hulled pepitas

1/4

cup

extra virgin olive oil

zest of 1 lemon plus 1 tablespoon juice

sea salt
Other toppings
8

asparagus spears,

woody ends snapped and halved or quartered lengthwise

1/4

head cauliflower,

cored and cut into 1/4-inch thick slices

2

green onions,

julienned

3

cups

shredded low moisture mozzarella
Instructions
Combine lukewarm water, yeast, and honey in a small bowl and set in a warm place to proof for 10 minutes. Meanwhile, whisk to combine 2 cups spelt flour and sea salt in a large mixing bowl.

After 10 minutes, yeast mixture should be bubbly with a foamy layer on top. Fold yeast mixture into dough with a spatula. Knead dough and add remaining spelt flour as needed until dough is pliant but not sticky. (I used 3 tablespoons more.) Drizzle in olive oil and knead to incorporate into dough. Knead dough about 4 minutes or until the surface is smooth and dough is stretchy. Cover bowl loosely with plastic wrap and then with a warm, moist towel, and set in a warm, draft-free place to rise until dough has doubled in size, 60 - 90 minutes.

While dough rises, begin to caramelize the shallots. First, heat 2 tablespoons olive oil over medium heat in a medium-sized skillet. Add shallots and a pinch of sea salt, and cook just until they start to sizzle. Stir and turn heat to low. Continue cooking, stirring every 10 minutes or so, until shallots are a rich golden hue and the edges have crisped, about 50 minutes.

Move rack to top of oven. If using a pizza stone position on the top rack. Preheat oven to 475 degrees F. (Oven should preheat at least 30 minutes.)

When dough has doubled in size, turn out onto a lightly floured surface and divide into 8 pieces. Roll or pat each piece into a disc, then roll into a 6-inch round on a lightly floured piece of parchment. Layer the rolled pizza dough discs between parchment on a large plate, cover with a towel and set aside to rest for 20 minutes.

Meanwhile, prep topping and make pesto. For pesto, pulse to combine greens, parsley, green onion, lemon zest, and pepitas. With machine running, drizzle in olive oil just until combined. Finally, add 1 tablespoon lemon juice and sea salt to taste.

Lay out toppings: pesto, grated cheese, sliced green onions, asparagus, and cauliflower. Crispy shallots should be added to pizzas after they've cooked.

To assemble pizzas, take a sheet of parchment with a rolled pizza dough disc and spread 1 - 2 tablespoons pesto, leaving a 1/2-inch gap for the crust. Add cheese and toppings of choice. Lay pizza and its parchment on the hot pizza stone and bake until cheese is bubbling and edges are crisp, 6 - 8 minutes.

Cool, slice, and serve.
Recipe Notes
Working with spelt dough
I used plenty of flour rolling the pizzas out, and then layered the little pizza dough rounds between sheets of parchment. Then, one by one, I pulled each sheet of parchment from the stack, added toppings to the dough, and placed the parchment right on my hot pizza stone so the pizzas could bake. If you find your dough becoming too stretchy or pliable, set it aside and let it rest for 10 minutes.
This post is sponsored by Mirassou Winery. Thanks for supporting the brands we love!