A roasted butternut squash and orzo salad with sturdy fall greens and crumbled goat cheese that's beautiful, delicious, and perfectly autumnal.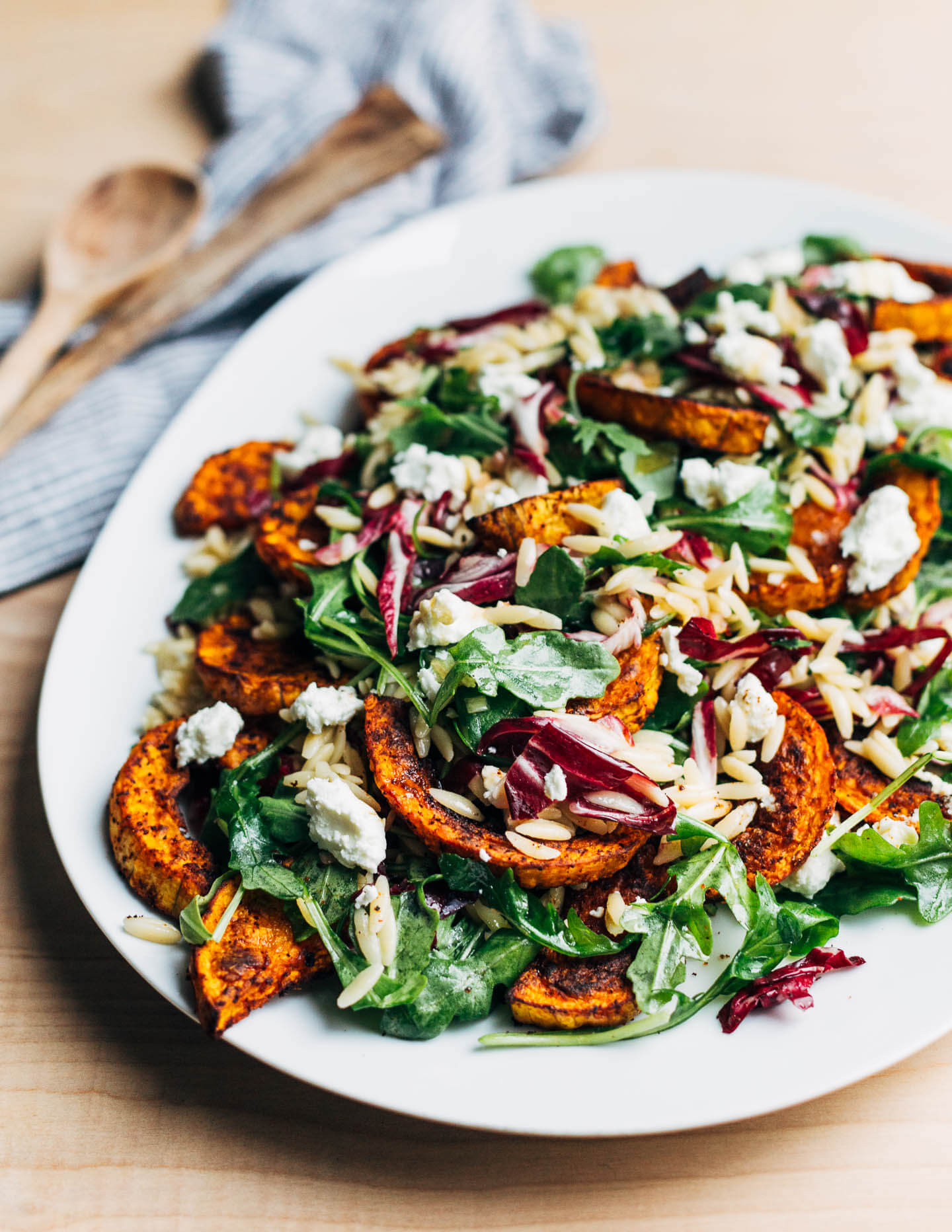 The elements of an excellent fall salad are simple enough: an oven-crisped vegetable or two, a pasta or whole grain with a bit of chew, a few handfuls of spicy, late-season greens, a vinaigrette to tie it together, and maybe some briny cheese to crumble on top. And even though you likely know this formula, too, it's nice to have a little reminder that a layered, richly textured fall salad is a delicious thing that you should make.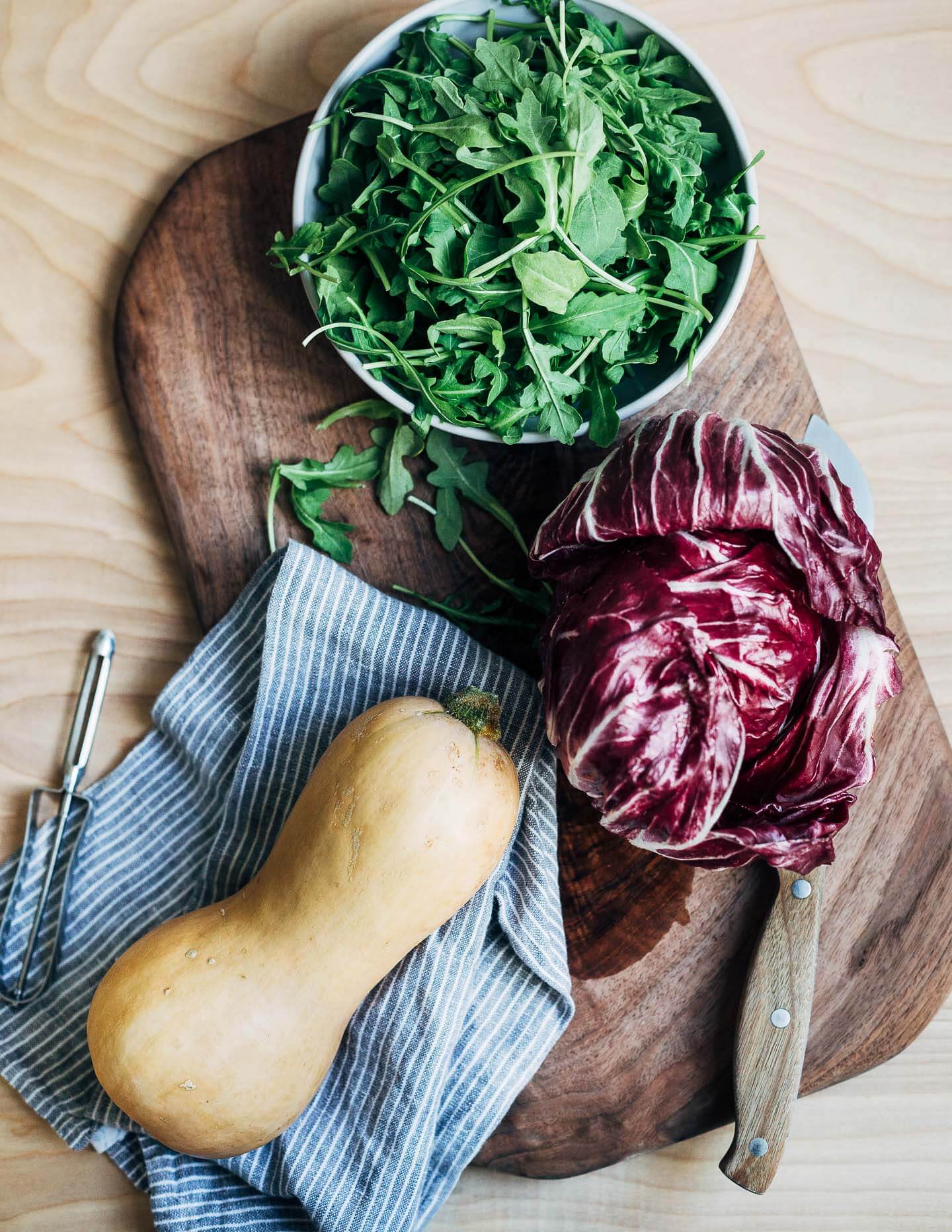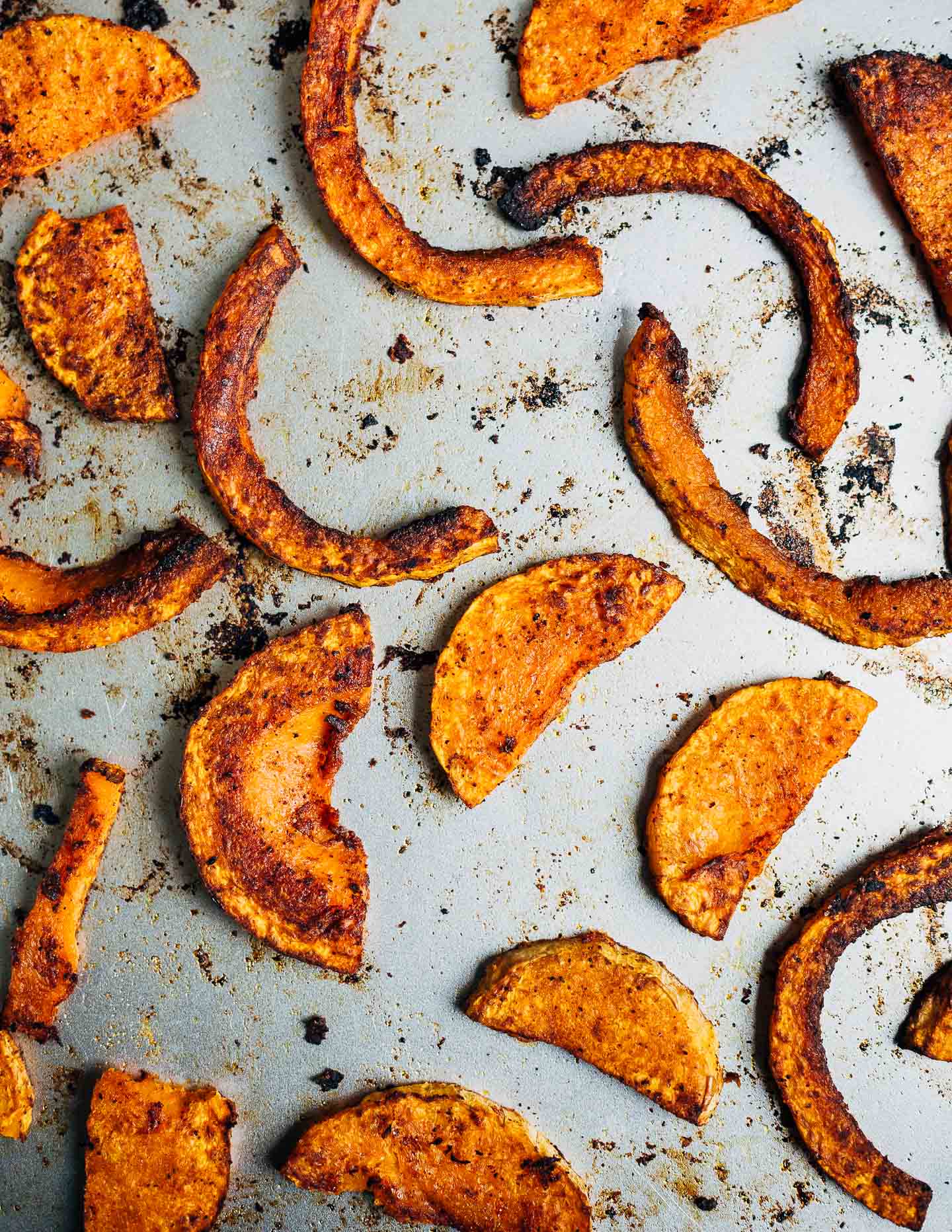 On Winter Squash
All the layers of the salad play an important role, but mostly they exist to highlight the roasted butternut squash.
The squash pictured here is from my garden. It was my first time ever growing winter squash. I hadn't anticipated how the vines would take over or how many squash I'd get from the seeds I planted back in July (a dozen and counting!). But now, I sleep just a little better, knowing that there's a trove of squash under my bed. Apparently, winter squash need a little time to cure in a cool, dark place, and, lacking a root cellar, we're keeping ours in a box under the bed.
You don't have to grow your own to make this fall salad, though. In fact, you don't even have to go with butternut – any close-textured winter squash will do. I suggest kabocha, kuri, or honeynut as alternatives. Once your squash is selected, you'll need to peel, halve, seed, and slice it. (Consider saving the seeds for a quick roast – winter squash seeds can be roasted just like pumpkin seeds.) Toss the squash with a mix of olive oil, smoked paprika, chipotle chili powder, and sea salt. Then roast the squash for about 35 minutes, and you'll have crisp, smoky roasted squash to tuck around the salad.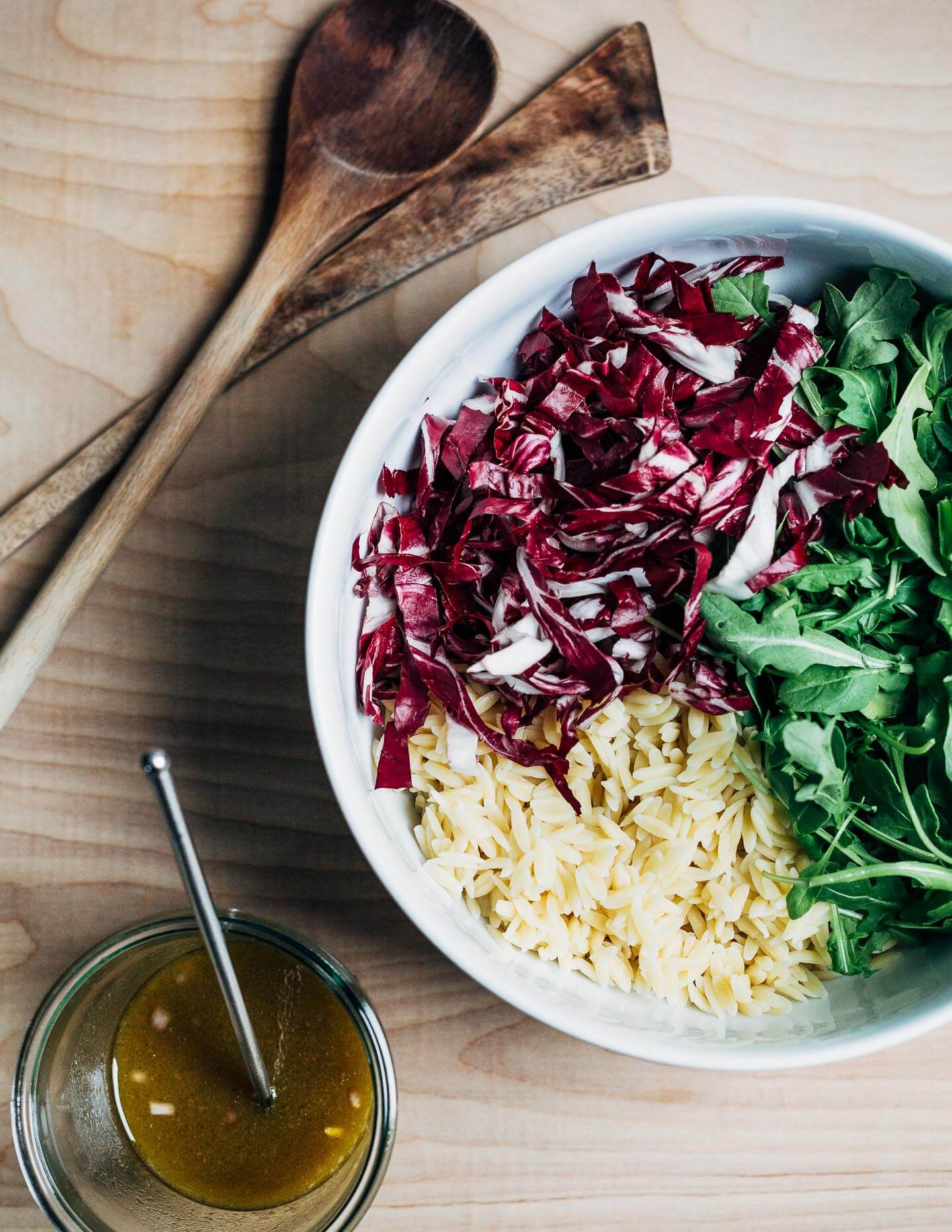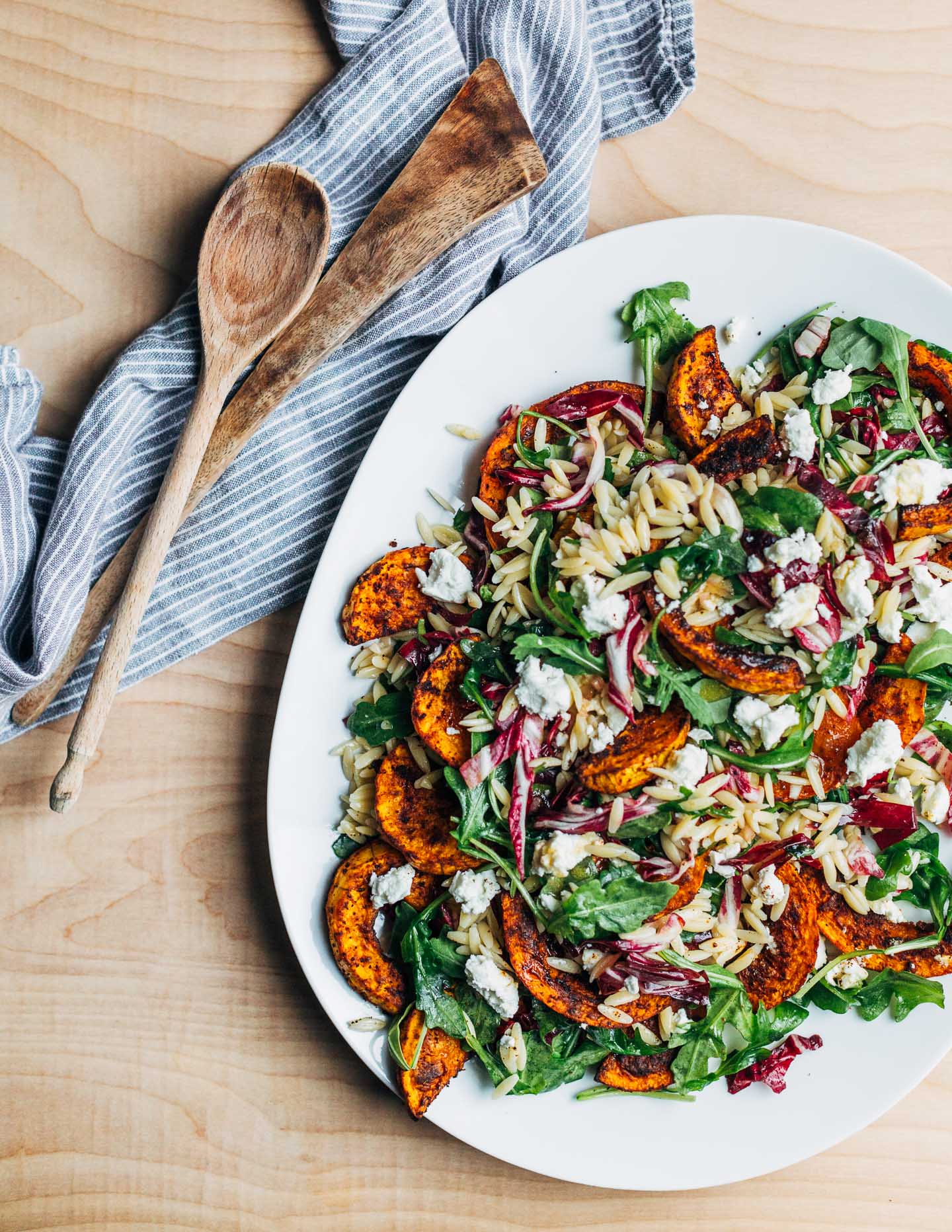 Layered Fall Flavor
While the squash roasts, prep your greens, make the vinaigrette, and cook the orzo. Orzo is a small, rice-shaped pasta that's great for hearty salads. It cooks quickly and keeps well, so you can enjoy leftover salad for lunch the next day. For the greens, I used a mix of thinly sliced radicchio and several handfuls of arugula. I love bitter flavors, and here the radicchio is a nice counterpoint (balancing in both flavor and hue), but feel free to swap in whatever sturdy greens you love. Tender kale, mustard greens, or dandelion would all be excellent.
Sherry vinegar is the base for the vinaigrette. With it's buttery acidity and savory depth, sherry vinegar stands up nicely to the other flavors in the salad and really brings things together.
To top this roasted squash and orzo salad, I tried both feta and goat cheese, and I'm sure blue cheese would be delicious too. Use what you have or love. If you don't eat cheese, you can also just skip it. Consider extras like toasted squash seeds or nuts, handfuls of herbs like parsley or cilantro, or even a poached egg.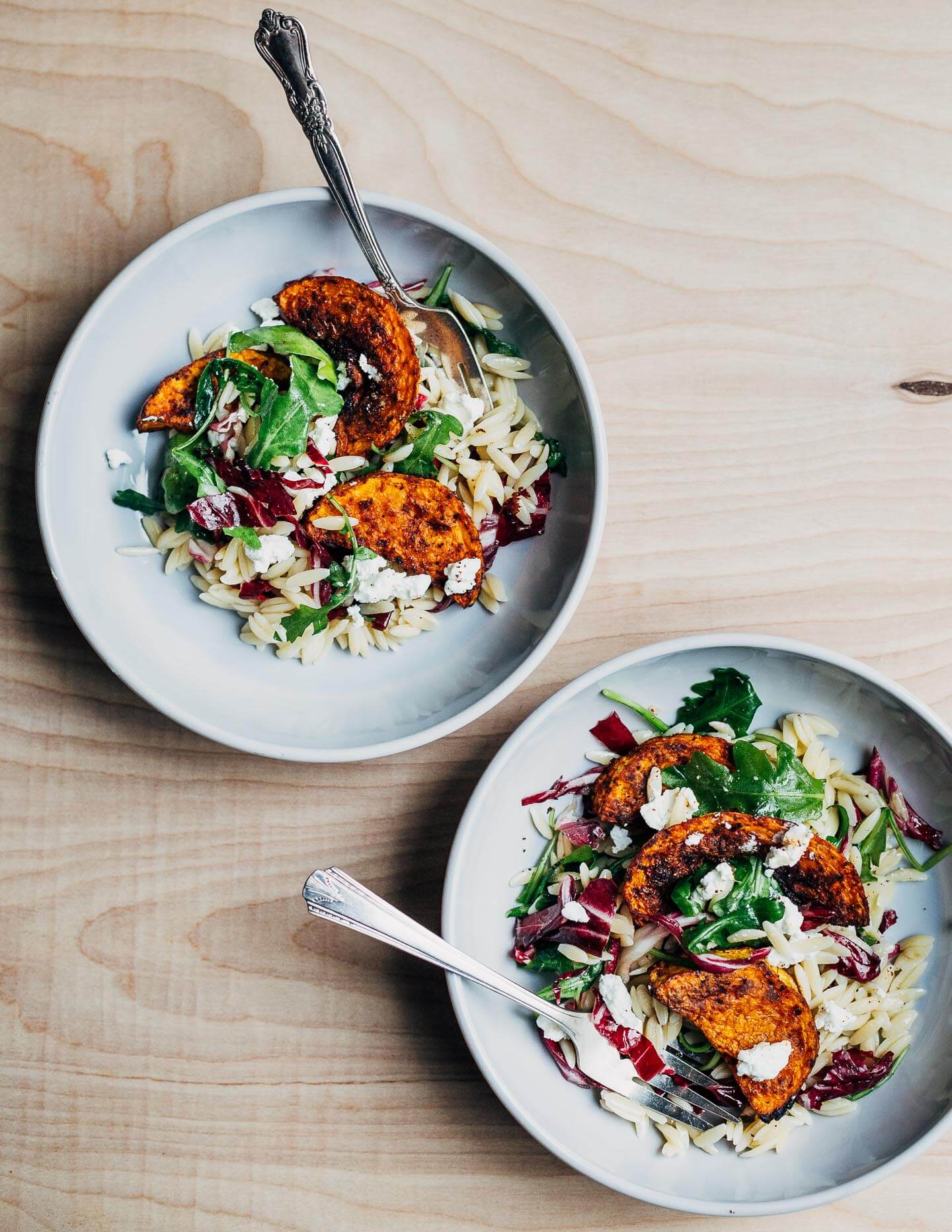 Roasted Butternut Squash and Orzo Salad with Greens
This roasted butternut squash and orzo salad with sturdy fall greens and crumbled goat cheese is beautiful, delicious, and perfectly autumnal.
Keyword:
roasted squash and orzo salad
Makes
:
6
generous servings
Ingredients
Squash
1

large to medium butternut squash,

peeled, seeded, and cut into ½ thick slices

1

tablespoon

extra virgin olive oil

1

teaspoon

smoked paprika

½

teaspoon

chipotle chili powder

1/2

teaspoon

fine sea salt
Vinaigrette
2

tablespoons

finely minced shallot

2

tablespoons

sherry vinegar

1

tablespoon

fresh squeezed lemon juice

¼

teaspoon

fine sea salt

1

teaspoon

Dijon mustard

1

tablespoon

honey

⅓

cup

extra virgin olive oil
Salad
1

pound

orzo,

cooked to al dente is salted water

2

cups

thinly sliced radicchio leaves

2

cups

arugula leaves

½

cup

crumbled chevre or feta cheese

Flaky sea salt

Black pepper
Instructions
Preheat oven to 425 degrees F.

Toss the squash with olive oil, spices, and sea salt. Spread out on a rimmed baking sheet and roast for 20 minutes. Carefully flip each piece and roast 10 - 20 minutes longer, checking every 5 minutes. Once the squash start to crisp up, cook for just 2 - 3 minutes longer since they go from crisp to burned quite quickly. Set aside to cool.

Meanwhile, make the vinaigrette. In a small mixing bowl or a jar, combine shallot, sherry vinegar, lemon juice, and sea salt, and set aside for 5 minutes. Use a fork to whisk in the Dijon and honey, and then whicking constantly, drizzle in the olive oil. Add more sea salt to taste.

In a large mixing bowl, gently toss the radicchio, arugula, and orzo with almost all of the vinaigrette (save a couple tablespoons for finishing). This salad really absorbs salt, so keep tasting and adding as needed. Spoon the salad onto a large platter, tuck the warm squash slices all over, and top with crumbled cheese (sort of toss and tuck it in so you get bits of cheese throughout). Just before serving, taste and add more vinaigrette, sea salt, or a twist of black pepper as desired.

This salad keeps well for a day in a sealed container in the fridge. For optimal texture, store roasted squash separately.