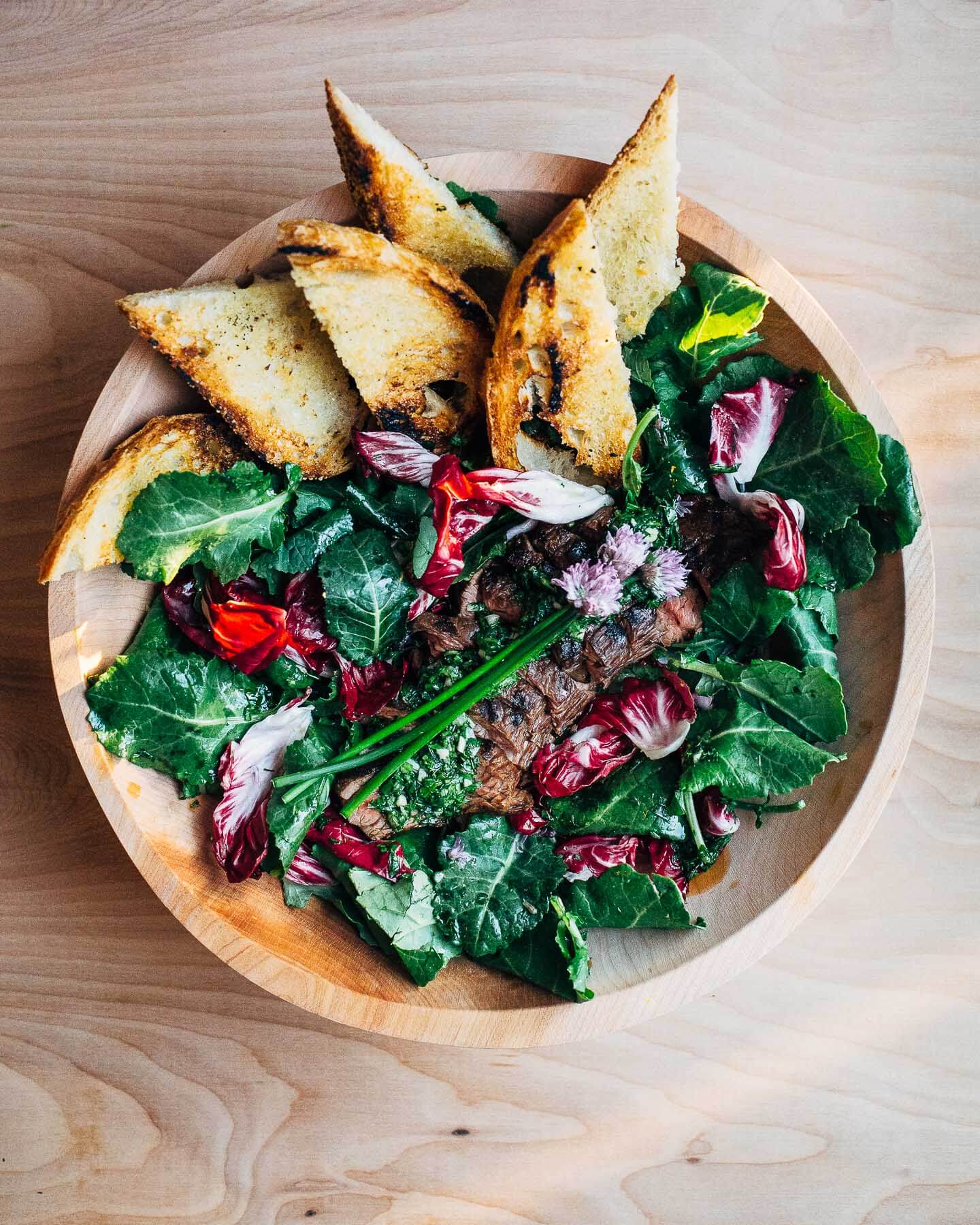 A seared steak and kale salad topped with a vibrant spring herb chimichurri. Jump to recipe.  
On Monday, I finished a huge, complicated project that required several days of work, lots of grocery store trips, and a big box of spring produce overnighted from Southern California. After a week of methodical recipe testing and photographing, I thought I'd nearly wrapped things up when a downloading glitch led to hours of terror as I frantically tried to recover images of produce I couldn't buy again and recipes I didn't have time to remake. Eventually, I located the buried files and regained the ability to breathe.
Looking back on that panicked morning, what strikes me is how fruitlessly I searched for hours, only to find the missing files just after I'd taken a break to eat. The way that food sustains us often feels abstract, but there are moments when it's incredibly real and apparent. It was a good reminder to focus on nourishment.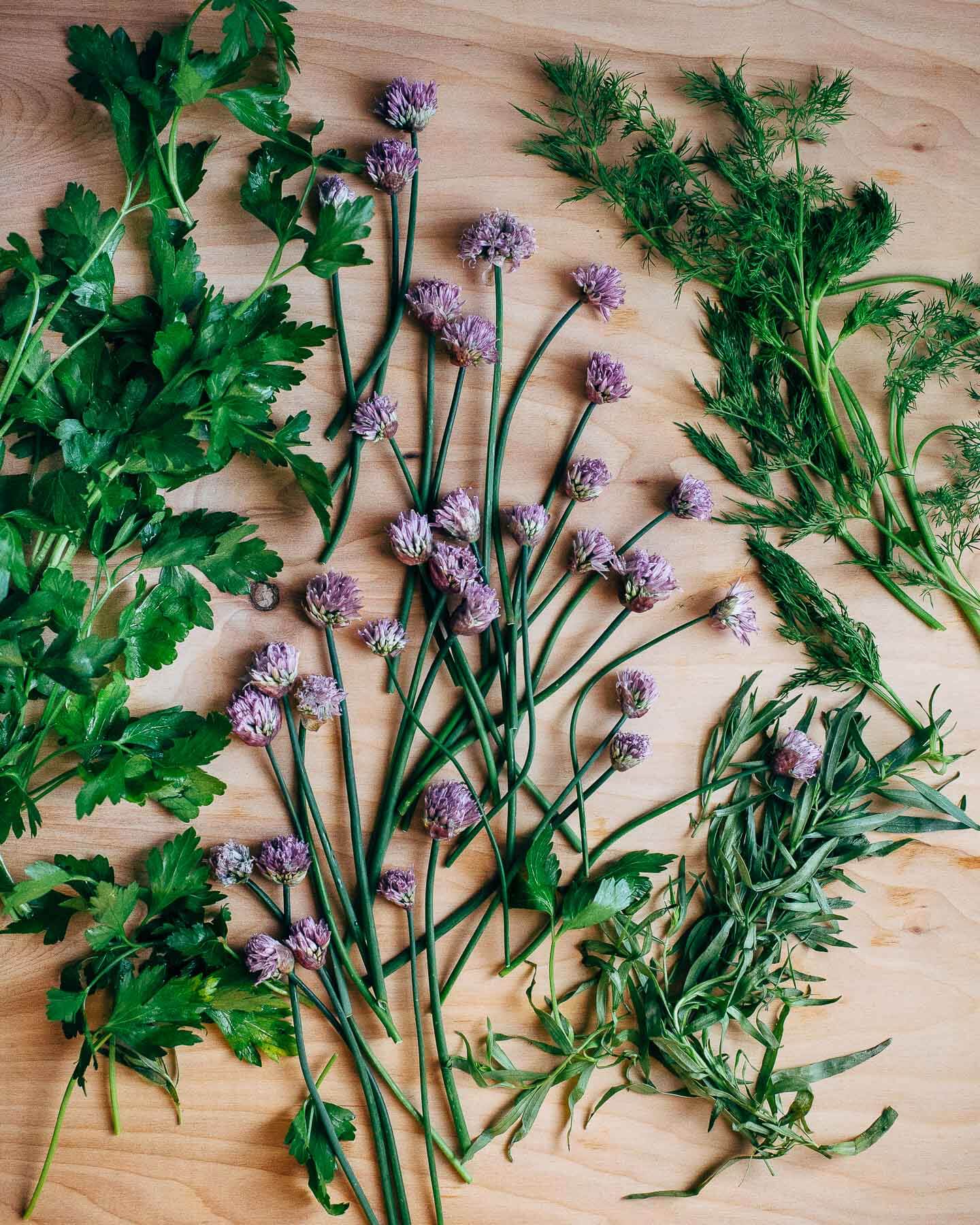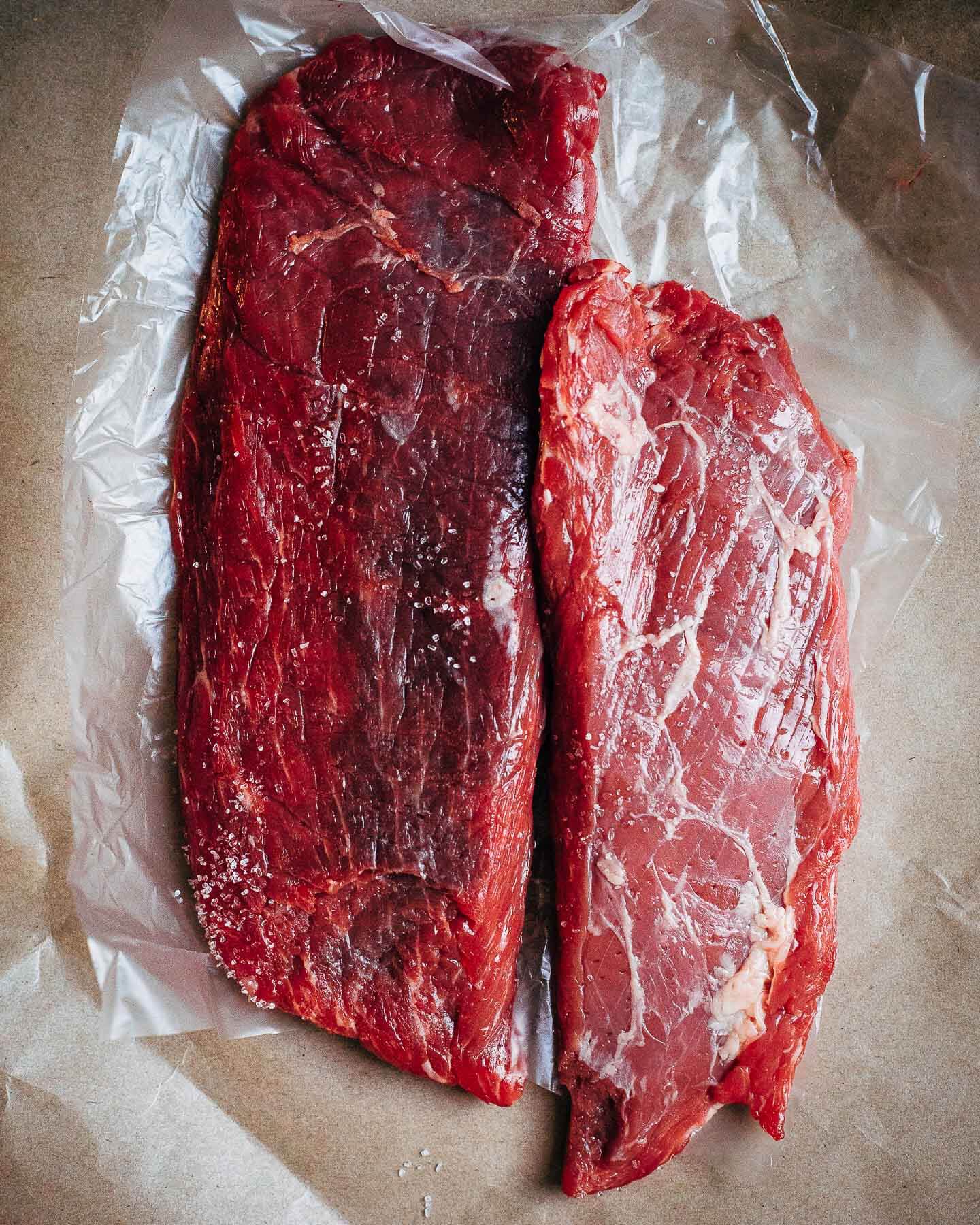 This steak and kale salad, both healthful and sating, proved to be a great meal as I shifted my focus away from deadlines and toward the fundamental. In the aftermath of my big project, I had lots of odds and ends kicking around in the fridge – bunches of herbs, a wayward head of radicchio, and a mess of baby kale, plus garlic and lemon and the last bit of (my first!) homemade sourdough loaf. I made a quick trip to our butcher, J.M. Stock Provisions, in search of some protein to make all this green stuff sing. After speaking with Matt, the co-owner and butcher, I settled on a tender bavette (or flap) steak. Back home, I toasted the last bits of sourdough in the skillet, washed leaves, and minced herbs while Brian seared the steak.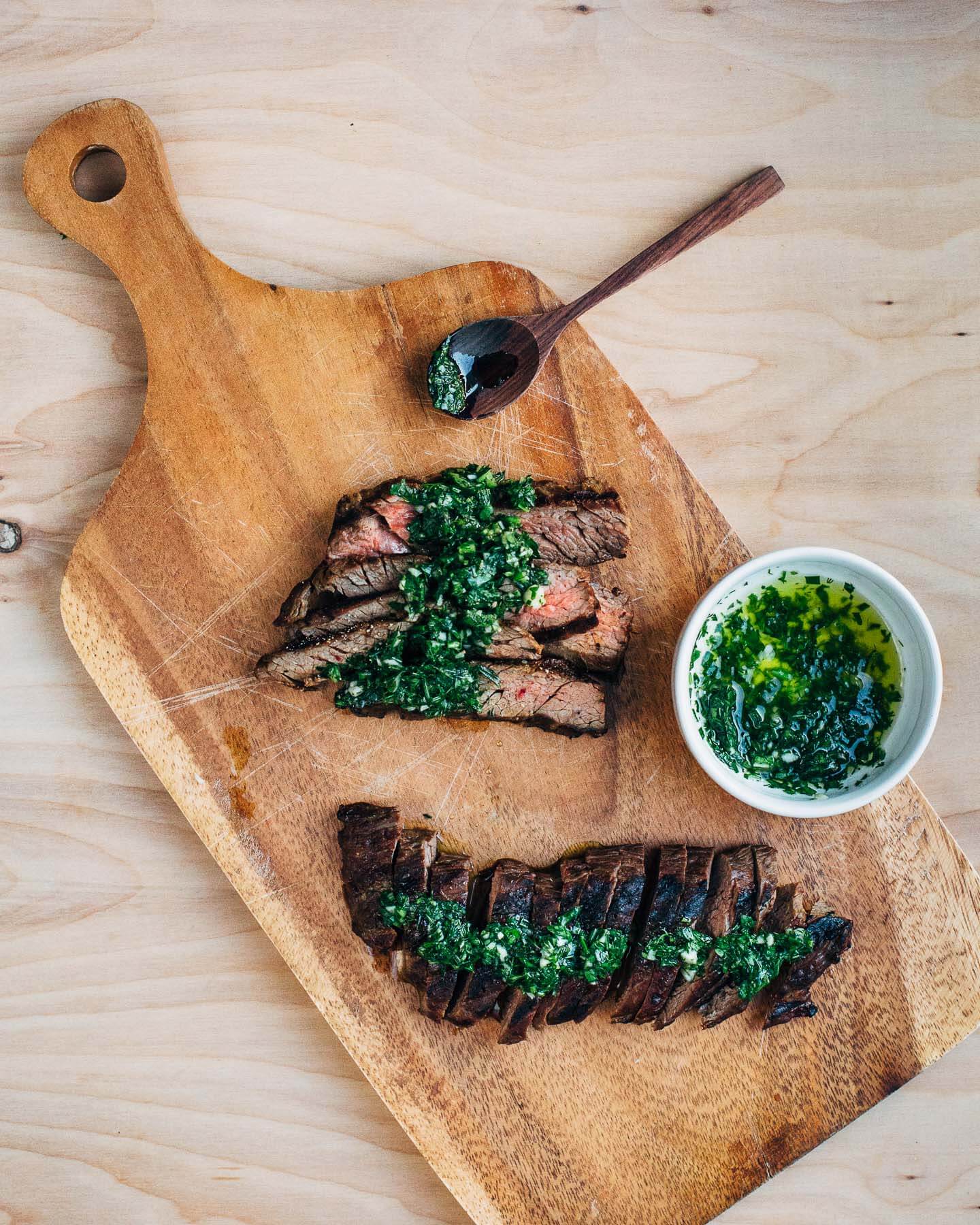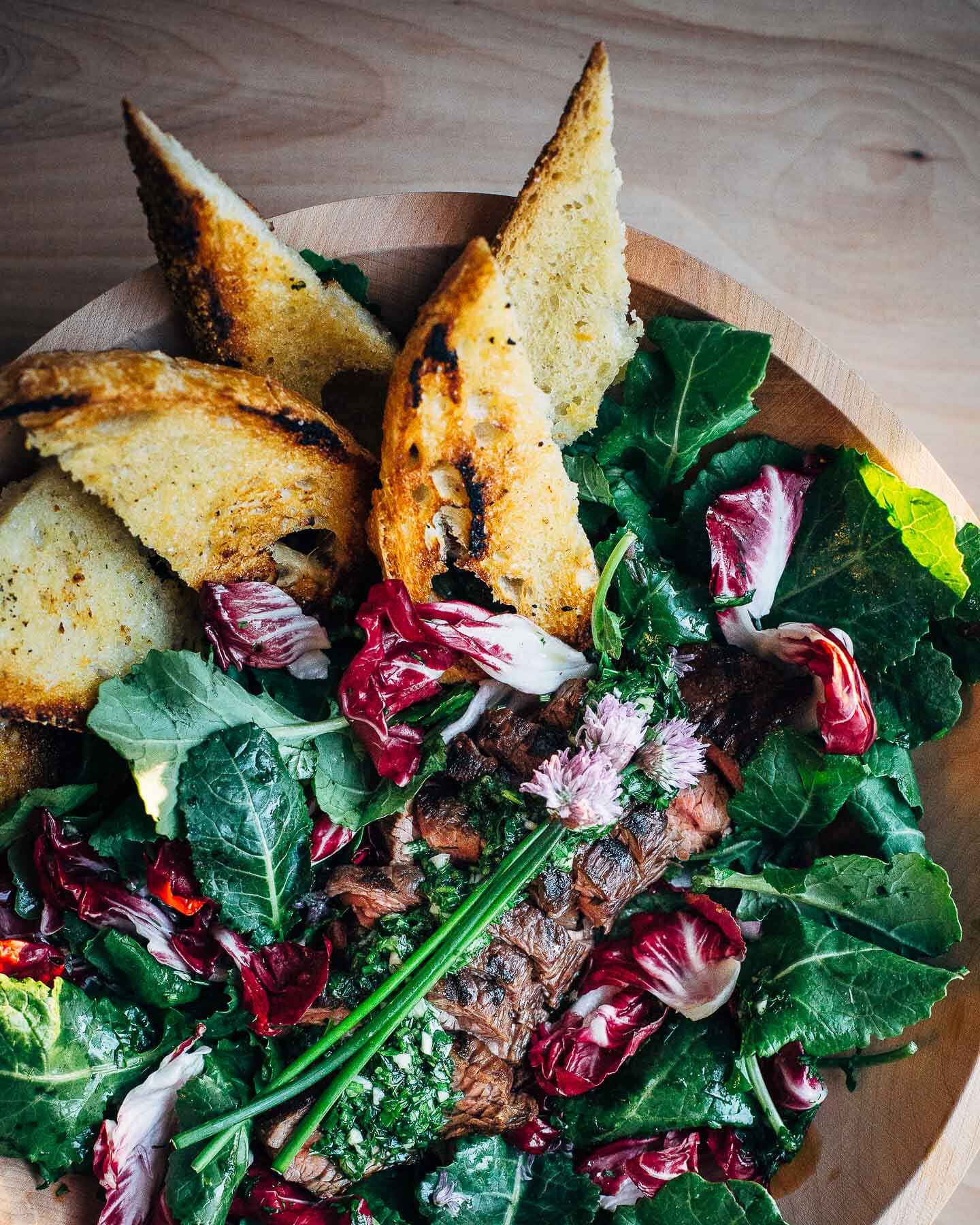 The mix of parsley, dill, chives, and tarragon in the chimichurri, along with garlic, olive oil, red wine vinegar, and just a squeeze of lemon, transformed into something so much more than the sum of its parts. A good chimichurri suffuses the palate with a buttery herbaceousness; it's the perfect amalgam of spring flavor. I tossed a few tablespoons with the salad greens, and spooned the rest onto the sliced steak. The salad was finished with tiny chive blossom petals and a few twists of white pepper. I placed the big bowl on the table and we all dug in.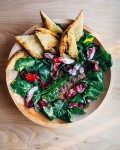 Steak and Kale Salad with Spring Herb Chimichurri
A seared steak and kale salad topped with a vibrant spring herb chimichurri.
Ingredients
Chimmichurri
1

tablespoon

finely minced garlic

(2 - 3 large cloves)

1

tablespoon

freshly squeezed lemon juice

1

teaspoon

red wine vinegar

1/4

teaspoon

sea salt,

plus more to taste

1/2

cup

finely minced parsley leaves,

about 1/2 a bunch

1/4

cup

finely minced dill leaves

2

tablespoons

finely minced tarragon leaves

2

tablespoons

finely minced chives

6

tablespoons

extra virgin olive oil
Steak and Kale Salad
4

sliced thick-cut sourdough bread

or bread of choice

2

tablespoons

extra virgin olive oil

sea salt

1

pound

bavette or flap steak

(roughly 1/2-inch thick)

4

loosely packed cups baby kale leaves

1

small head radicchio,

cored and torn into bite-sized pieces

chive blossoms

freshly ground white or black pepper
Instructions
To make chimichurri, whisk with a fork to combine garlic, lemon juice, red wine vinegar, and sea salt. Whisking vigorously for a minute or two, add herbs, and then olive oil. Taste, and add sea salt as needed. Set aside while you prepare salad.

Set a large, heavy bottomed skillet or grill pan over medium-high heat. Brush sourdough with olive oil on both side and sprinkle with sea salt. Toast bread in the hot skillet until crisp and golden, 3 - 4 minutes a side. Set aside to cool then cut into triangles.

Cool skillet briefly and wipe out any crumbs. Set heat to high.

Sprinkle steaks on both sides with sea salt and place on hot skillet. Cook steak 3 - 5 minutes per side, or until the meat has reached an internal temperature of 150 degrees F for medium (we usually cook steaks to medium rare, but find that medium is better in a salad). Remove steaks from heat; rest 8-10 minutes. Slice steak against the grain into 1/2-inch thick pieces, spoon on a generous amount of chimichurri, and carefully set sliced steak on salad.

Place kale and radicchio in a large bowl and toss with several tablespoons chimichurri and maybe a pinch of sea salt. Tuck crouton triangles into the side of salad, and finish with chive blossom petals and a few twists of freshly ground pepper. Serve immediately.