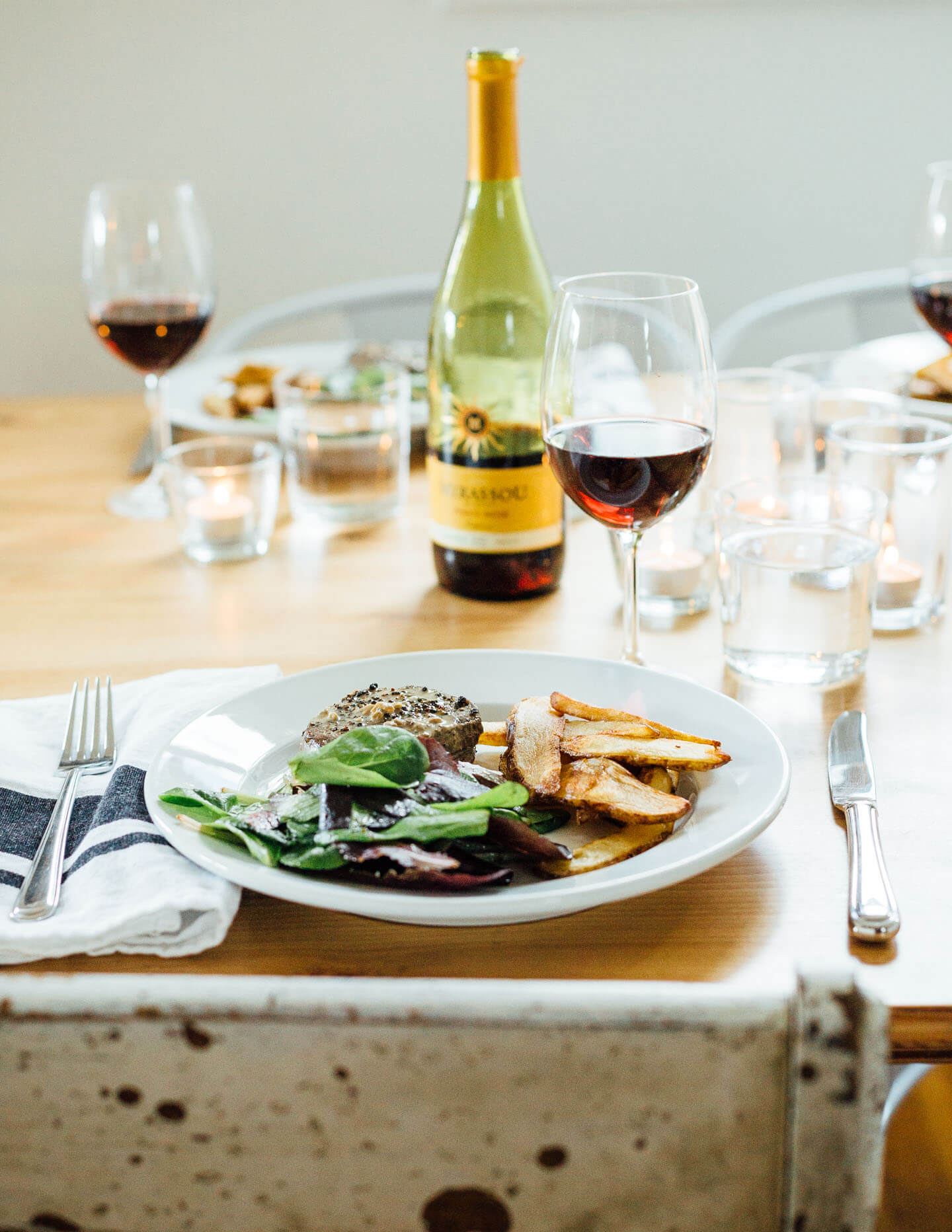 A wintry feast of steak au poivre and frites, in partnership with Mirassou Winery.
On cold evenings, I like to fill my little house with warmth: rosy-cheeked friends, memorable and delicious foods, flickering candlelight, and the quiet pop of old records spinning on the turntable. I've found that the best recipes for these wintery gatherings play rich elements like meats or gratins against lighter salads and simply prepared vegetables.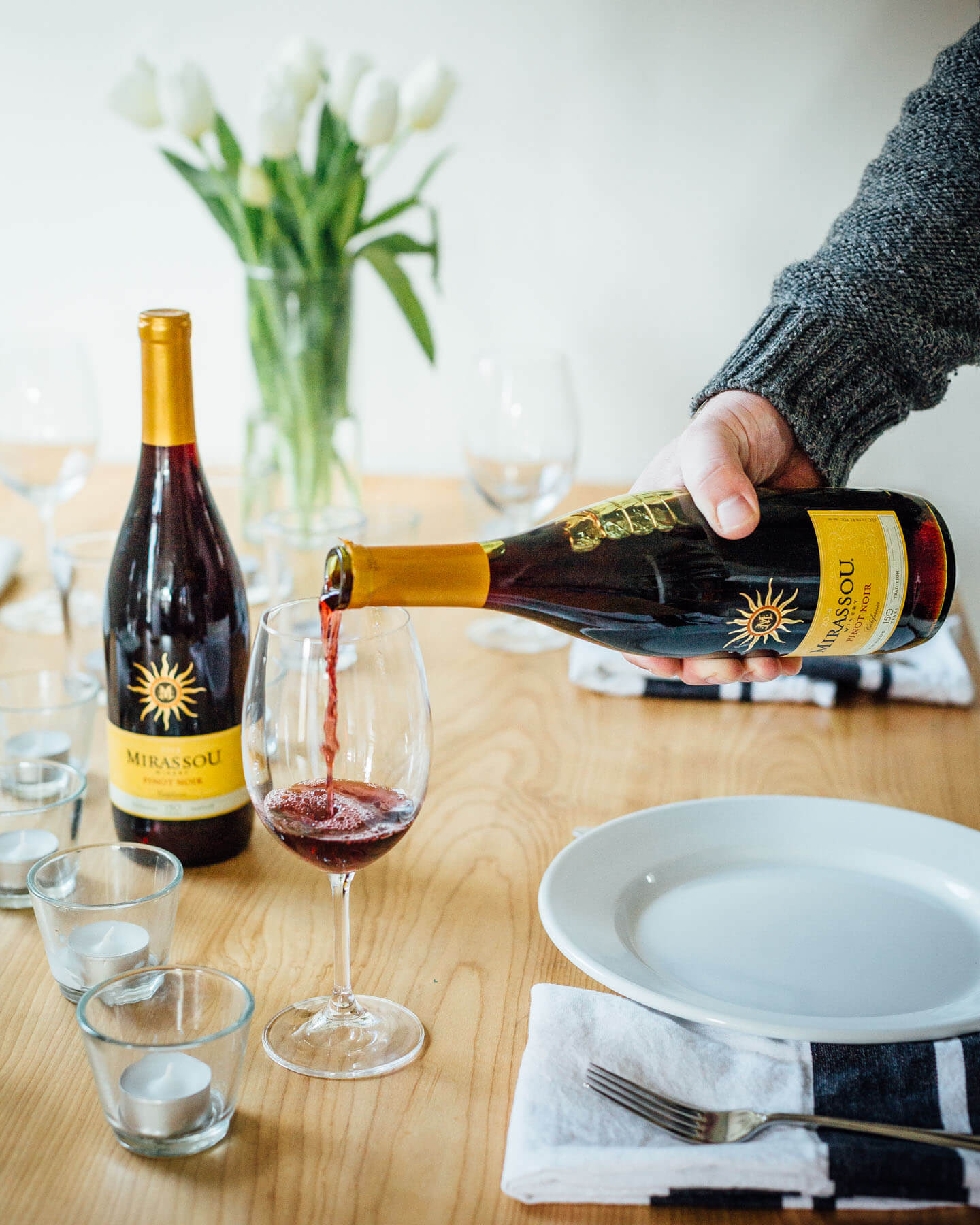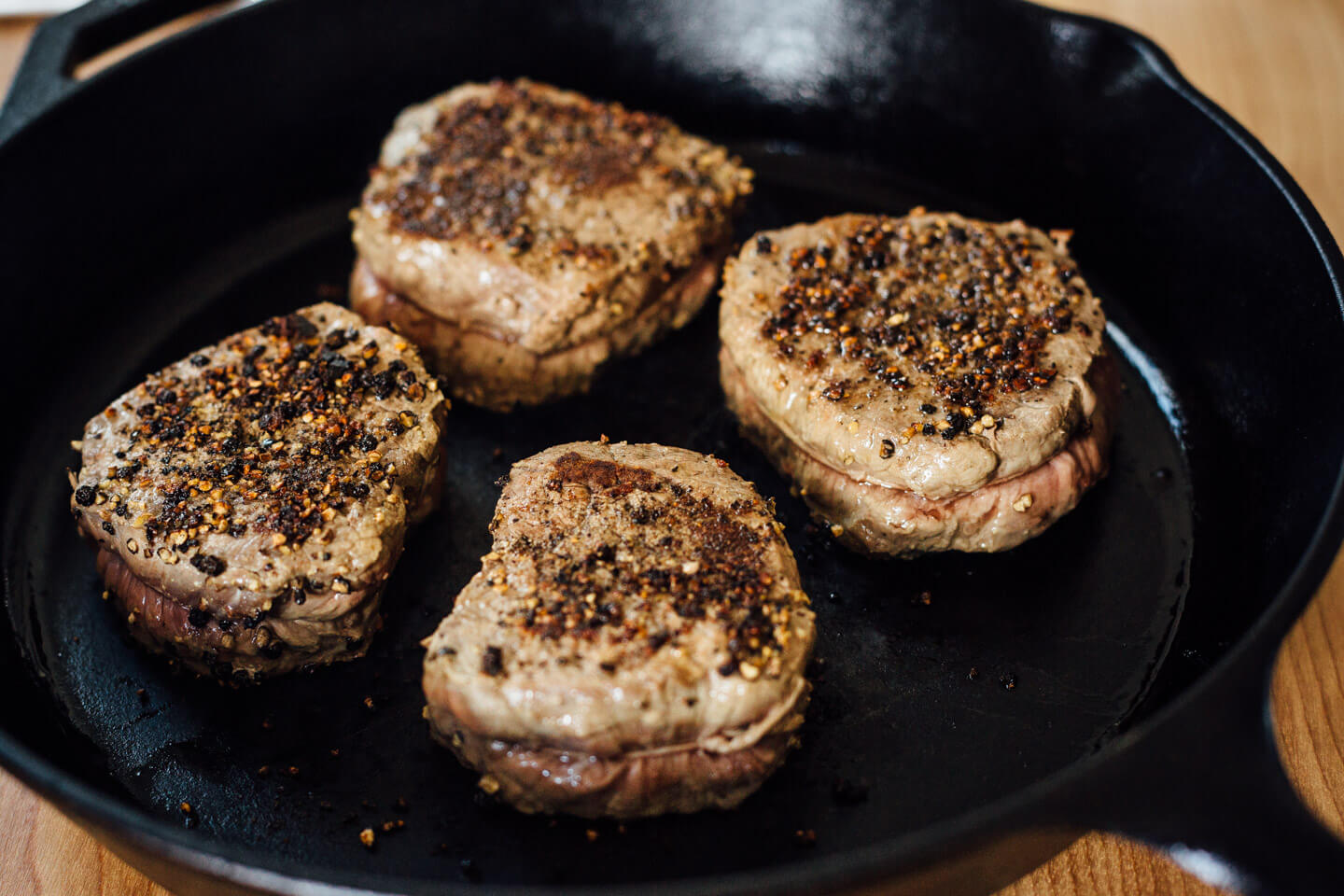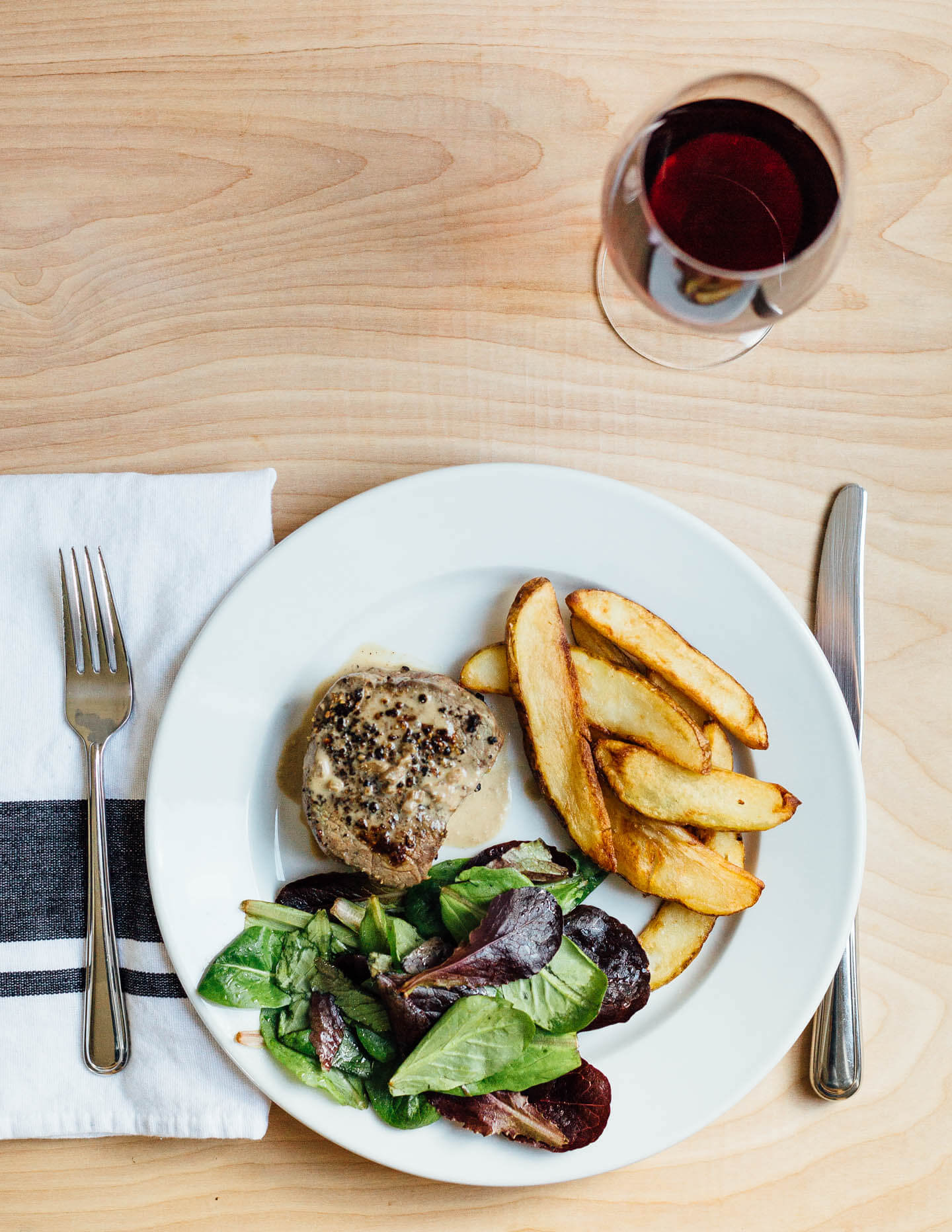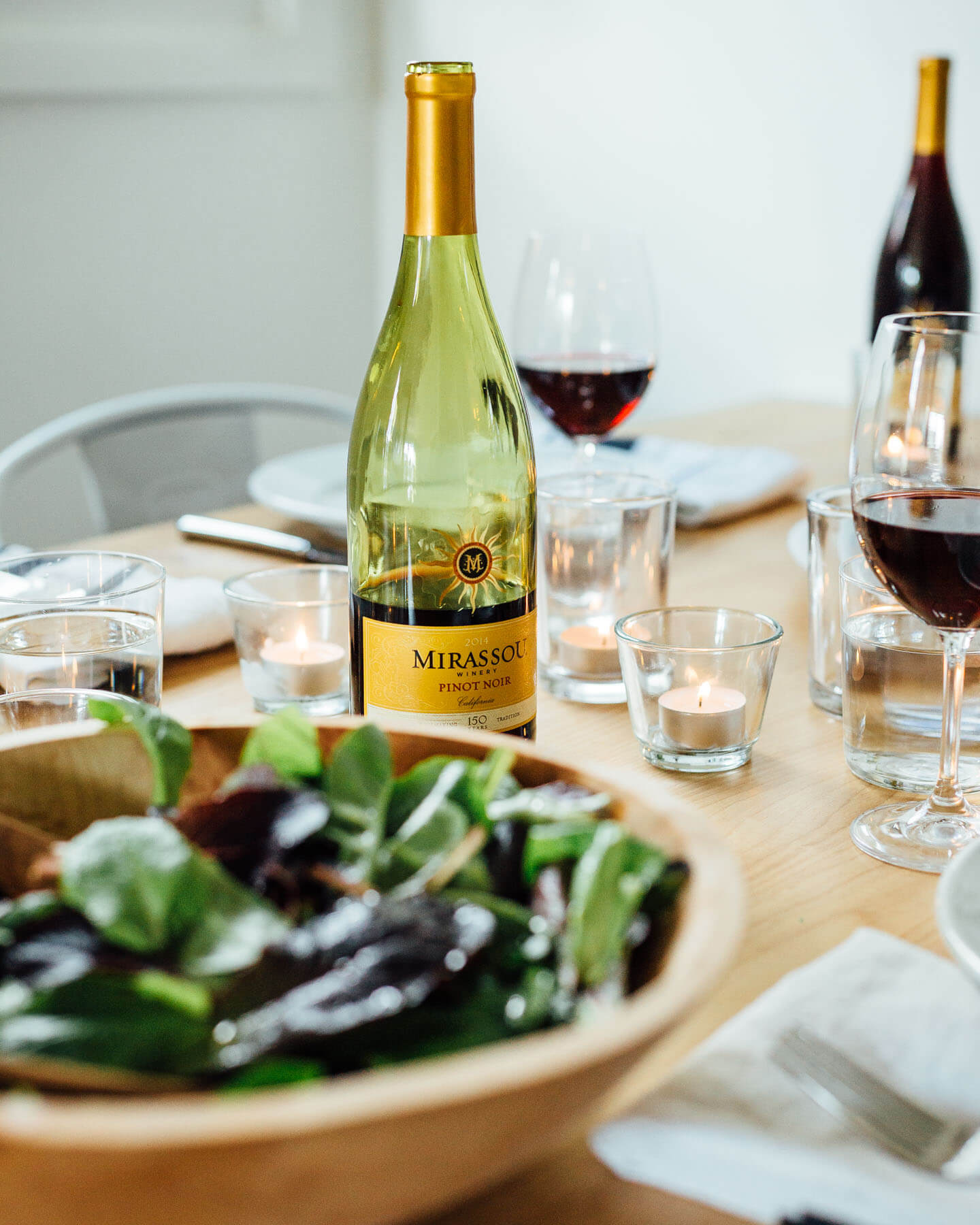 For a recent dinner with friends, Brian and I made steak au poivre, frites, and a green salad. Steak au poivre is a classic French bistro dish of steaks crusted with cracked peppercorns, seared on the stovetop, and topped with a creamy pan sauce. Most steak au poivre recipes call for very tender cuts of beef, which can be quite expensive; for this recipe, we opted for soft side steaks (cut from the top round of the beef leg) at the recommendation of our local whole animal butcher. Soft side steaks are a tender but less expensive cut with tons of flavor. To serve alongside, we fried up a batch of wedge cut frites and made a simple green salad.
The cracked peppercorn crust gives the steaks a bit of heat, but not overwhelmingly so – I've found that more than anything else, the pepper lends depth. The pan sauce, with butter, shallots, cognac, and crème fraîche, is creamy and rich, and takes the edge off of the peppery heat nicely. All that richness calls for balance and so we paired the meal with Mirassou Winery Pinot Noir, an approachable varietal with notes of berry and oak, and a fittingly peppery finish. Mirassou's Pinot Noir wasn't just the perfect complement to the meal, it was also a wonderful reason to linger at the table even after the plates had been cleared.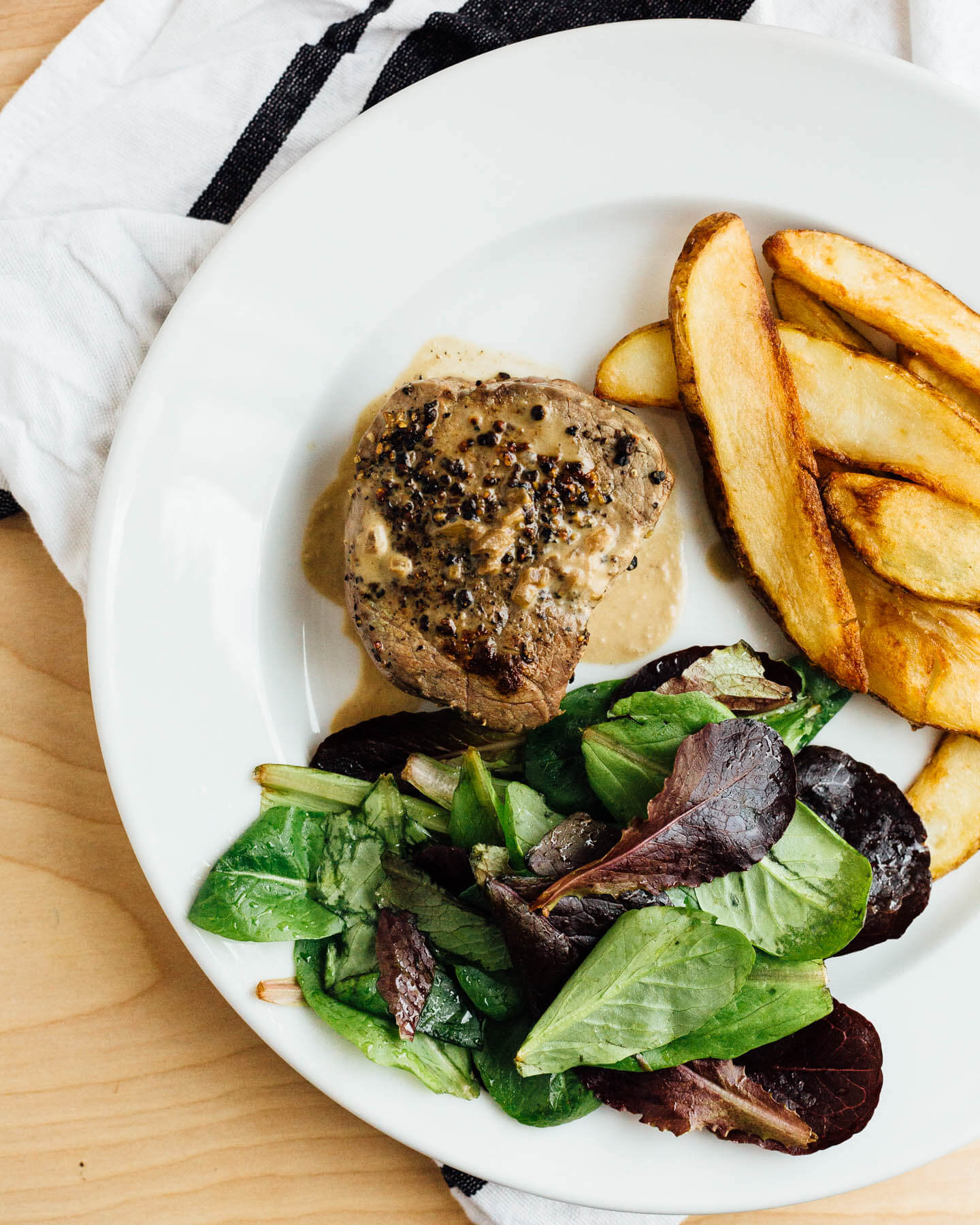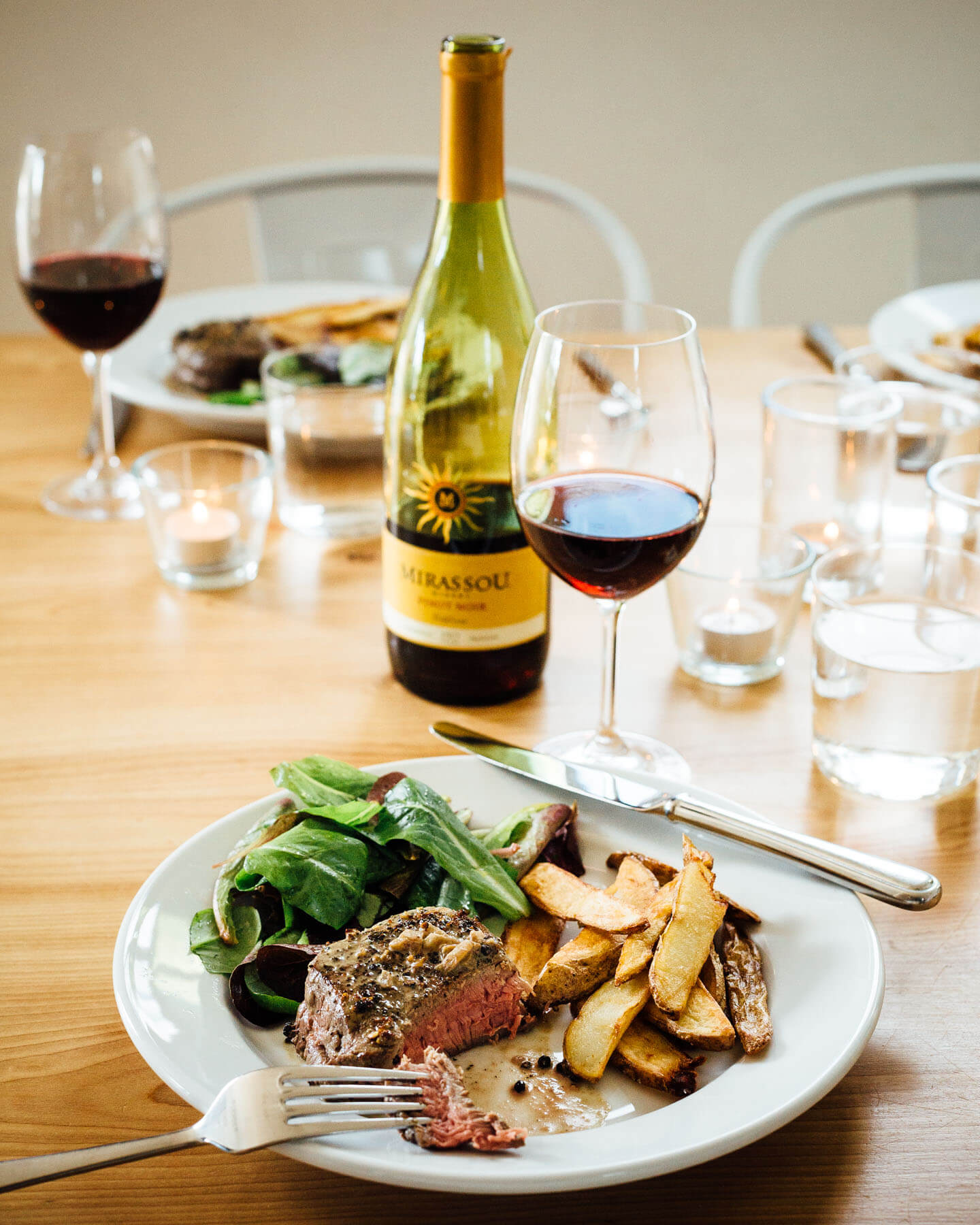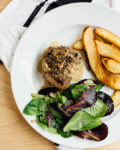 Steak au Poivre with Frites
A wintry feast featuring a simple steak au poivre recipe and crispy frites.
Ingredients
For the Steak au Poivre
3

tablespoon

black peppercorns

4

(6-ounce)

soft side or tenderloin steaks

2

teaspoons

sea salt, plus more to taste

2

tablespoons

neutral, heat-tolerant cooking oil

2

tablespoons

unsalted butter

2

tablespoons

minced shallot (1 medium)

2

tablespoons

cognac

1/2

cup

beef or chicken stock

1/4

cup

crème fraîche
For the Frites
4

large russet potatoes, scrubbed and cut into 1/2-inch thick wedges

neutral, heat-tolerant cooking oil such as safflower or canola

sea salt and pepper to taste
Instructions
40 minutes ahead of time, rinse potato wedges several times in very cold water. Then soak wedges in cold water 20 minutes. Drain, roll potatoes up in a towel, and blot completely dry.

Crack the peppercorns with a mortar and pestle or by wrapping in a flour cloth and bashing 1 – 2 times with a heavy pan or a flat, heavy bottomed glass.

Set steaks on a butcher tray and coat with cracked peppercorns on both sides, gently pressing pepper into the surface. Reserve any leftover pepper. Then, generously sprinkle steaks on both sides with sea salt. Set aside at room temperature for 20 minutes.

To make frites, fill a deep, wide, heavy bottomed skillet with 2-inches of oil, set over medium heat, and using a deep fry thermometer, heat oil to 300 degrees Set a large paper bag on a tray. Add potatoes 10 or so at a time; fry 6 minutes. Carefully remove potatoes from oil with a slotted spatula and set in paper bag. Repeat for all the frites. Then, increase heat slightly and wait for oil to reach 400 degrees. Adding 10 or so at a time, fry potatoes a second time for 2 - 3 minutes, or until they are a light golden brown. Remove with a slotted spoon and set frites back in paper bag. When all frites are cooked, add 1/2 teaspoon of sea salt to the bag and shake. Taste and add more as needed.

Meanwhile, cook steaks. Heat a large skillet over medium high heat; preheat oven to 350 degrees Drizzle oil over steaks on both sides. Add steaks to pan, sear 3 - 4 minutes, flip, and sear 3 - 4 minutes more. Set steaks on an ovenproof platter and cook in oven 5 minutes or until internal temperature reaches 140 degrees Rest steaks at room temperature for 5 minutes.

Set the same pan used to cook steaks over medium heat. Add butter, and when melted, add shallots and a pinch sea salt. Cook, stirring often, 3 minutes. Carefully pour in cognac, increase heat to medium-high, and scrape up any brown bits on bottom of pan. Add stock; increase heat high. Stirring constantly, allow mixture to bubble vigorously until reduced by half, about 2 minutes. Remove from heat, stir in crème fraîche, and add sea salt and pepper to taste. Pour sauce into a warm gravy bowl.

Plate steaks and frites, and then drizzle steaks with sauce.
Recipe Notes
This recipe calls for a bit of coordination and is most easily made by two people – one to make steaks and sauce and one to make frites. If you're new to deep-frying, note that a steady temperature is key. We use an electric countertop skillet. If deep-frying on the stovetop, use a deep fry thermometer to keep track of the oil temperature.
Disclosure: This post is sponsored by Mirassou Winery. Thanks for supporting the brands that make Brooklyn Supper possible.