A restorative, vegetable-forward steamed chicken and turnip noodle ramen recipe featuring tender spiralized ramen noodles and a host of winter vegetables served in a rich ramen broth topped with juicy, flavorful steamed chicken breasts. This turnip noodle ramen recipe is naturally gluten-free. This post was created in partnership with SVO Farmer Focus Chicken.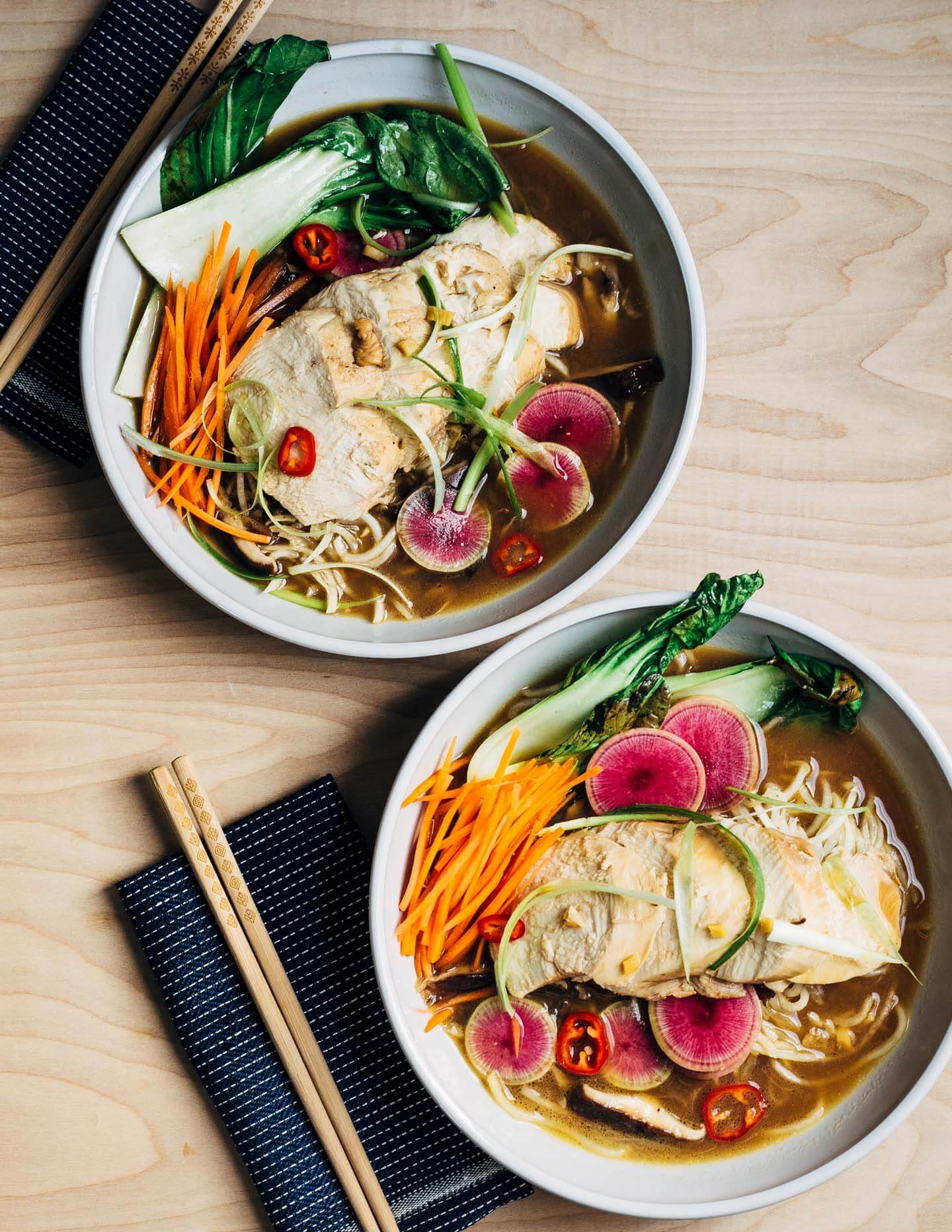 As Brian hauled the Christmas tree out the door over the weekend, the whole house seemed to exhale. For one thing, we reclaimed much needed space in our living room. But we were also relieved to be getting back to everyday life and important things that seem to fall away during the holidays, like eating vegetables.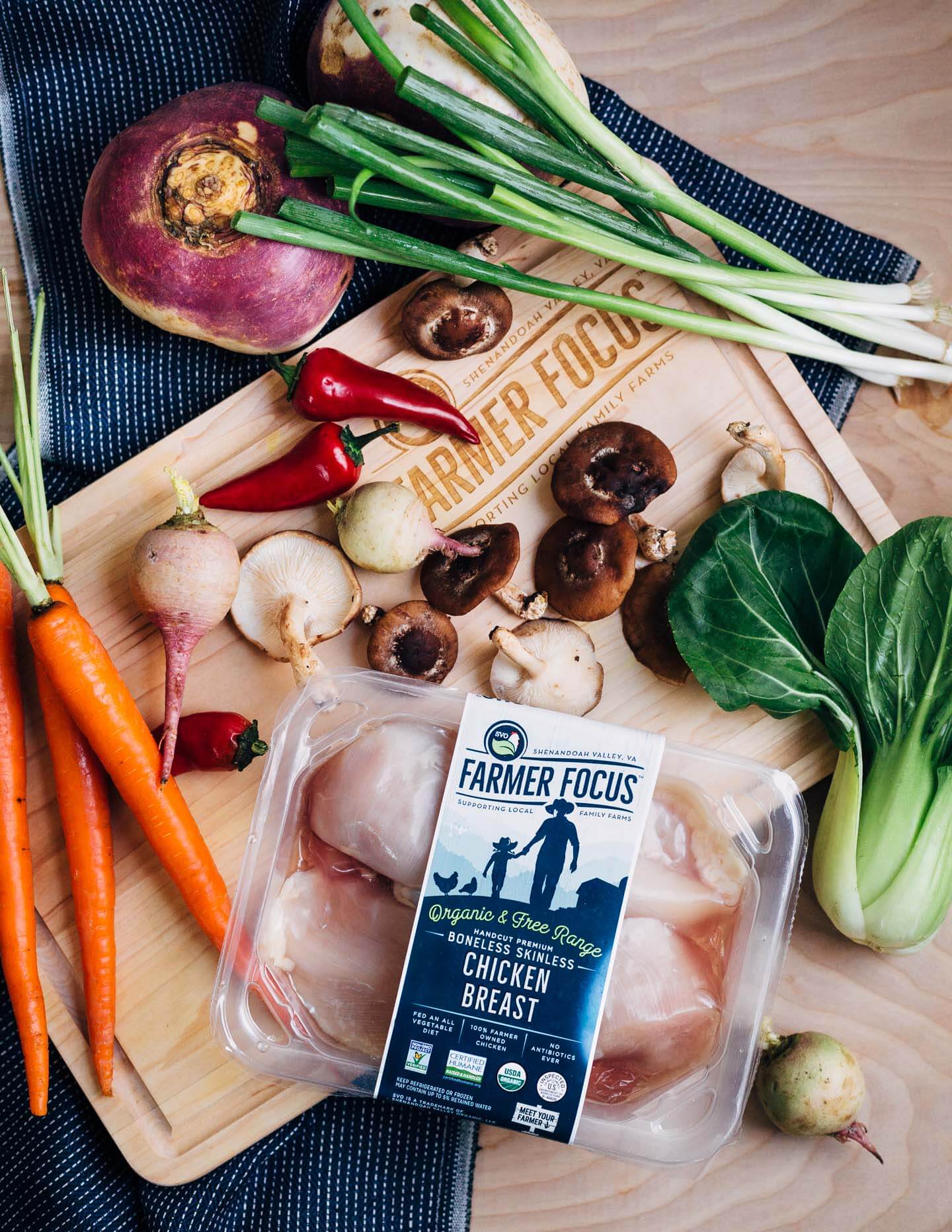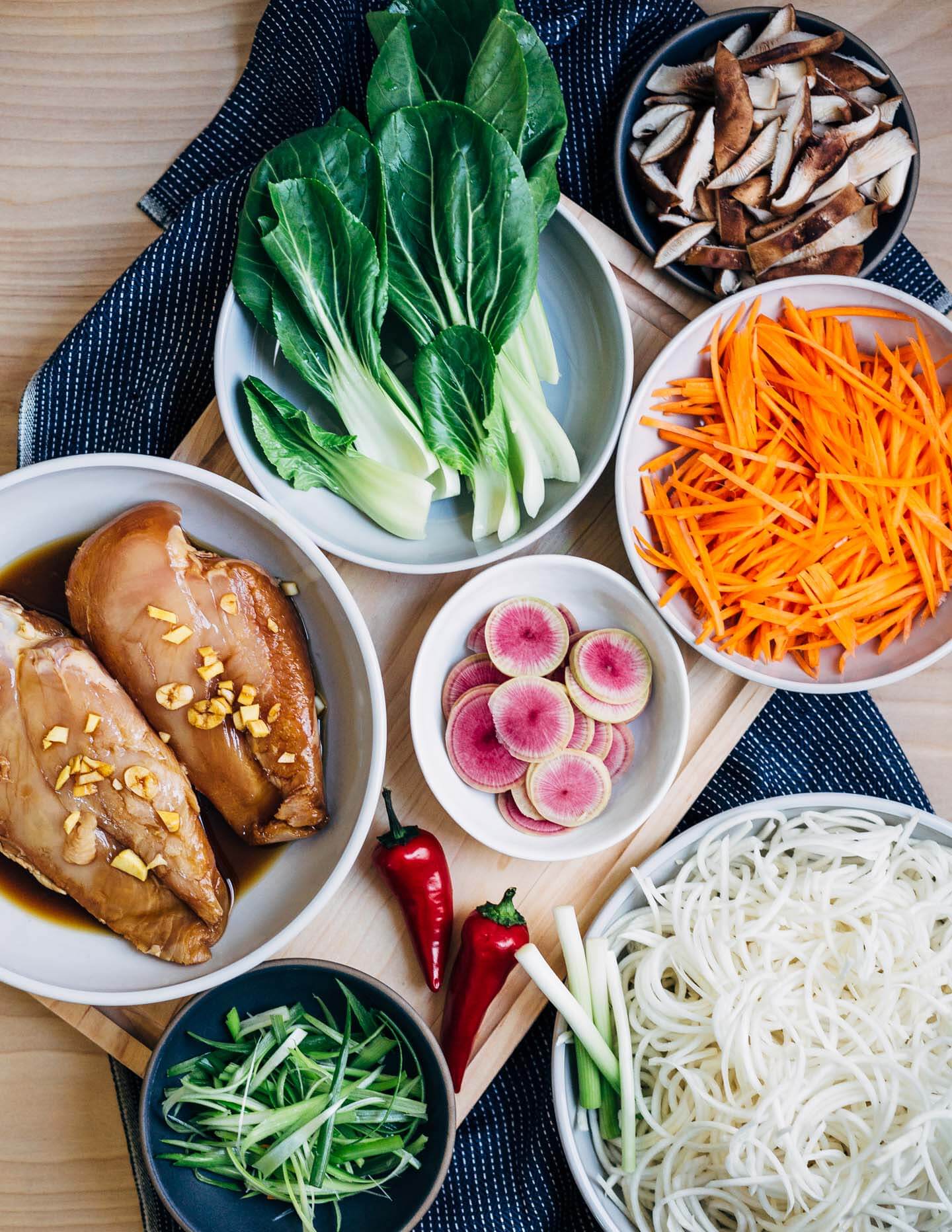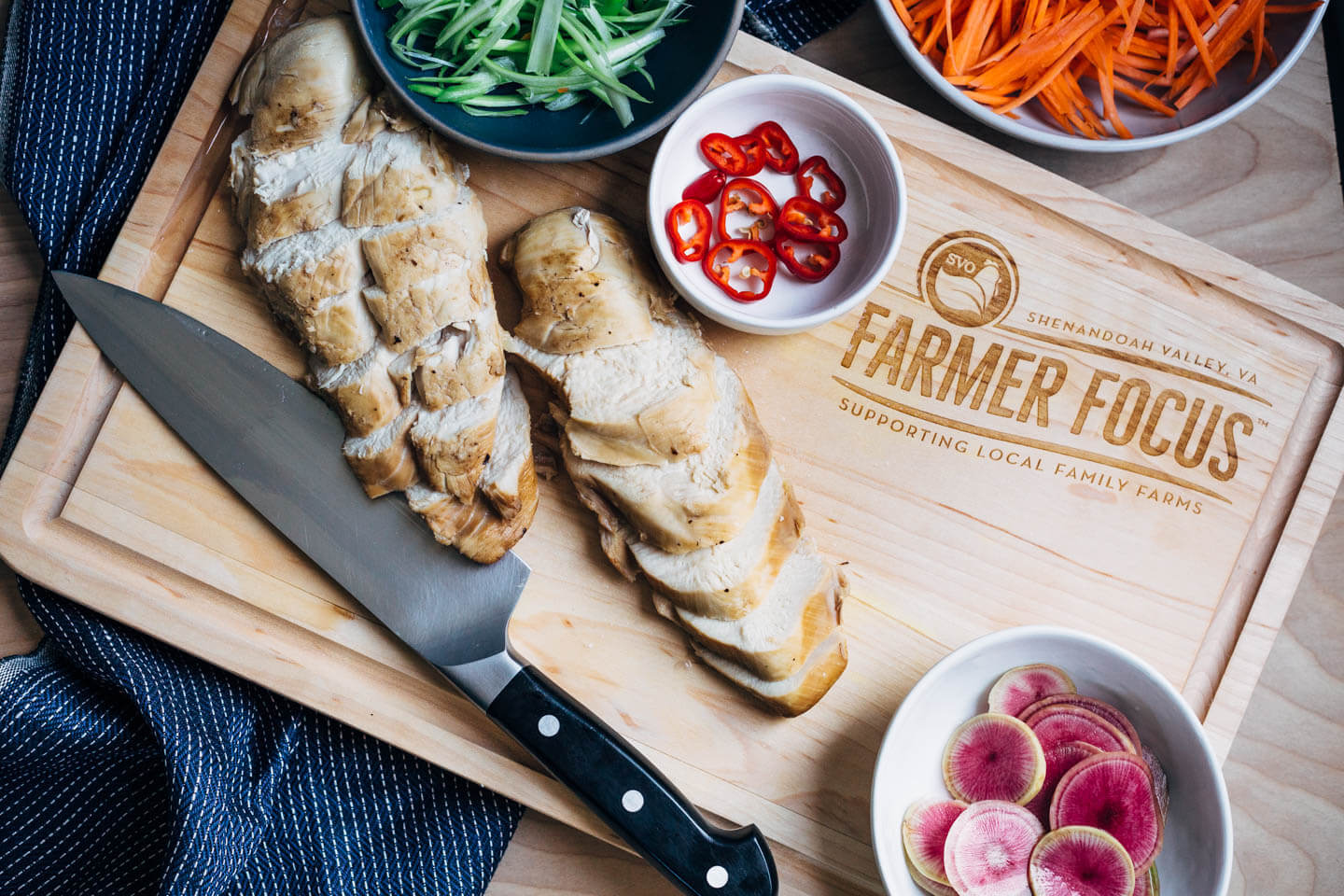 This steamed chicken and turnip noodle ramen is here to help with that. A rich chicken broth (extra points for homemade) tricked out with ginger, garlic, and soy sauce (or coconut aminos) provides a wonderful flavor base that underpins the tender, slightly al dente turnip noodles and other add-ons like julienned carrots and green onions, sautéed mushrooms and bok choy, and thinly sliced watermelon radishes. Eating well should always taste good and this dish is totally here for it.
Seriously Flavorful Steamed Chicken Breast
But the best part of this ramen is the steamed chicken breast. When I first told Brian I planned on making steamed chicken, he groaned. And I understood where he was coming from because all the steamed chicken I'd ever eaten was flavorless and rubbery. A bizarre health food penance. But this chicken is different. It's marinated overnight in a blend of soy, mirin, rice wine vinegar, ginger, and garlic. The next day, the chicken is steamed over a mixture of marinating liquid and broth as it simmers. The chicken breast steams up juicy, delicate, and bursting with flavor. Also, it cooks in about 10 minutes. Try steamed chicken! It's seriously fantastic.
Of course, not all chicken is created equal. My recipe starts with SVO Farmer Focus chicken breasts. Their mission to help small, regional family farms earn a good living raising chicken the right way is something I support wholeheartedly. It's also important to me that SVO Farmer Focus chicken is USDA Certified Organic, Certified Humane, Non-GMO Project Verified, and has a Global Animal Partnership (GAP) Step 3 rating. These certifications demonstrate a sincere commitment to quality, and it shows. SVO Farmer Focus chicken is always exceedingly fresh and tender, and cooks up beautifully. Farmer Focus chicken is available online from CostCo and Fresh Direct, and at retailers throughout the Eastern US. To locate a retailer near you, click here.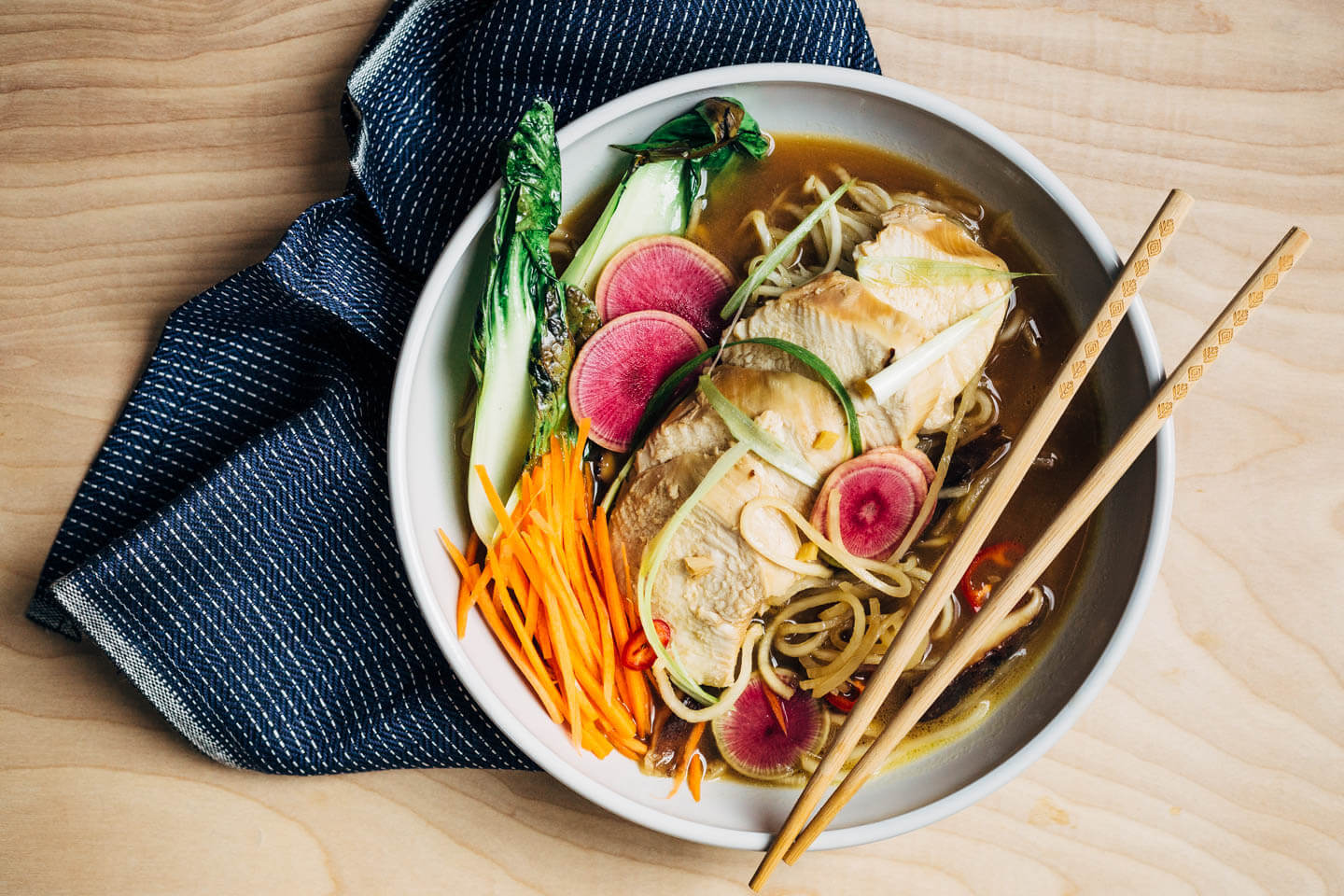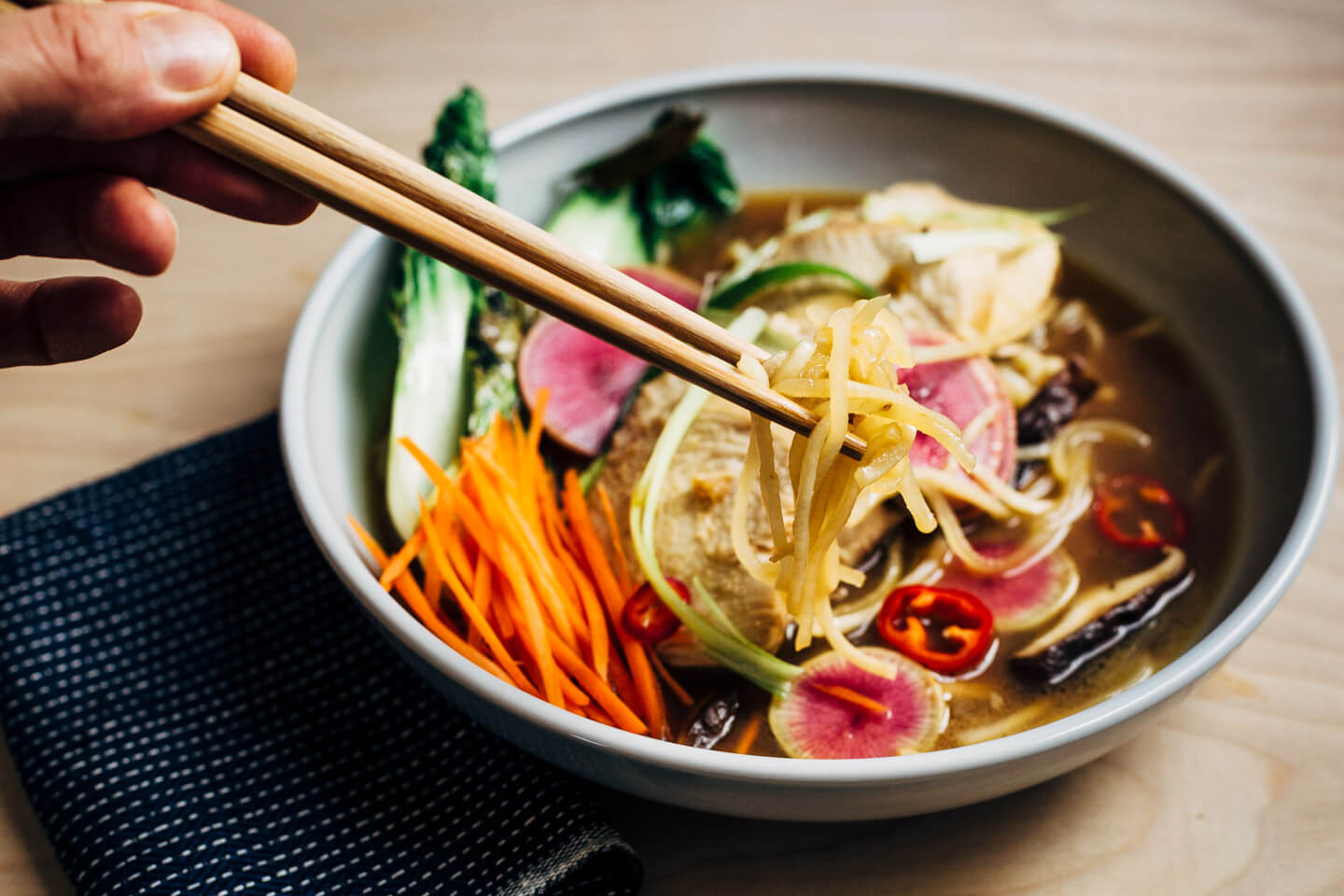 Here's to eating well in the new year, friends.
Steamed Chicken and Turnip Noodle Ramen
A restorative, vegetable-forward recipe featuring tender turnip ramen noodles and a host of winter vegetables served in a rich ramen broth topped with juicy, flavorful steamed chicken breasts.
Keyword:
turnip noodle ramen
Ingredients
Ramen
2

Farmer Focus skinless,

boneless chicken breasts (about 1 pound)

2-

inch

section ginger,

peeled and minced

6

cloves

garlic,

peeled and minced, divided

4

green onions

1/2

cup

soy sauce

(or sub coconut aminos)

1/2

cup

mirin

(or sub coconut aminos)

1/4

cup

rice wine vinegar

1

quart

homemade or low sodium chicken broth

1

large turnip,

ends trimmed

4

tablespoons

heat-tolerant,

neutral cooking oil

2

cups

shiitake mushroom caps,

sliced

1

small bok choy,

end trimmed
Optional Toppings
2

carrots,

scrubbed and julienned

2

radishes,

sliced thin (I used watermelon radishes)

1

red chili,

sliced thin
Instructions
The night before, set out a container large enough for 2 chicken breasts or a clean zip-top bag and place chicken inside. Pour in soy sauce and mirin (or coconut aminos), rice wine vinegar, ginger, 4 cloves garlic, minced, and the whites of 4 green onions with roots trimmed (reserve green tops). Cover or seal, and set in the fridge overnight.

The next day, prep the vegetables. First, halve or quarter the turnip, depending on size, and spiralize using the attachment for spaghetti-sized noodles. Prep the other vegetables and optional add-ins. Julienne reserved green onion tops.

Pour broth into a medium stockpot that can accommodate a steamer basket. Carefully tip marinating liquid into the broth. Bring to a boil, then turn down to a lively simmer for 10 minutes. Taste broth – it will be quite richly flavored, add a cup of water if desired. Set chicken in steamer basket, and set above simmering broth. Cover and cook 8 - 12 minutes, or until the internal temperature hits 165 degrees F. Rest until chicken is cool enough to handle, then cut on the bias into 1/2-inch thick slices.

Meanwhile, heat a 12-inch skillet over medium/medium-high heat; the skillet should be hot, but not smoking – adjust heat down as needed. Add 1 tablespoon oil, and when hot and shimmering, add half the turnip noodles and a pinch of sea salt, and sauté 5 minutes or until noodles are just tender. Repeat for second batch. Scrape out noodles, and with heat still on medium/medium-high, add 1 tablespoon oil, 2 minced cloves garlic, mushrooms, and a pinch sea salt. Sauté until mushrooms are charred on the edges and have released their water. Scrape out of pan. Add remaining tablespoon oil to the hot pan and sear bok choy, about 2 minutes a side. Sprinkle with sea salt.

To assemble ramen, arrange noodles in wide bowls. Layer bok choy and mushrooms on the side. Set several slices chicken on top of turnip noodles. Ladle in broth, and garnish with carrots, radishes, and chilis. Serve immediately.
Recipe Notes
*For Whole30 compliance, before marinating, sprinkle chicken with 1 teaspoon sea salt and sub 1 cup coconut aminos in place of soy sauce and mirin mixture.