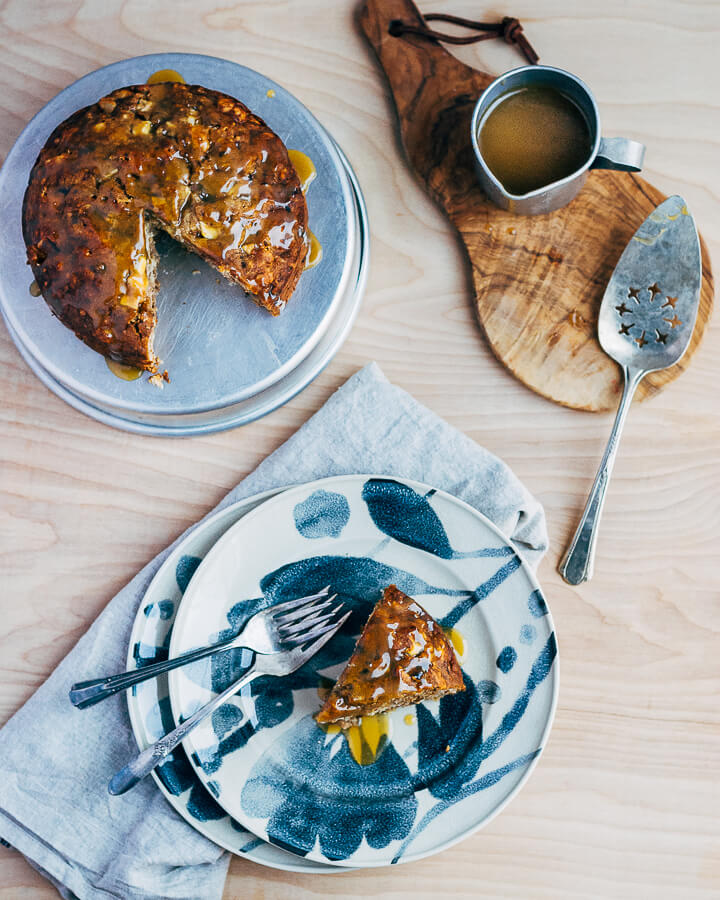 From Samantha Seneviratne's The New Sugar and Spice, a wonderfully spiced sticky apple date cake recipe with fresh ginger and a salty sweet stovetop caramel sauce. Jump to recipe. 
I have a list of beloved recipes for fall, the holidays, and beyond, and pretty much stick to them, especially when things get busy. Also, I don't like change. Even so, sometimes an idea or book comes along that changes my ways and pushes me to re-imagine even my very favorite things. Samantha Seneviratne's The New Sugar and Spice: A Recipe for Bolder Baking is just that kind of thing. In it, Sam moves beautifully between engaging family stories and insights into baking, spices, and the history of how such far flung ingredients made their way into our kitchens. It's also overflowing with perfect recipes. Just enough sugar to be delicious and with an admirable restraint – rather than the typical cinnamon/clove/nutmeg/ground ginger wall of flavor, Sam achieves culinary splendor by thoughtfully highlighting just a few ingredients in each dish. Think of it as the anti-pumpkin pie spice.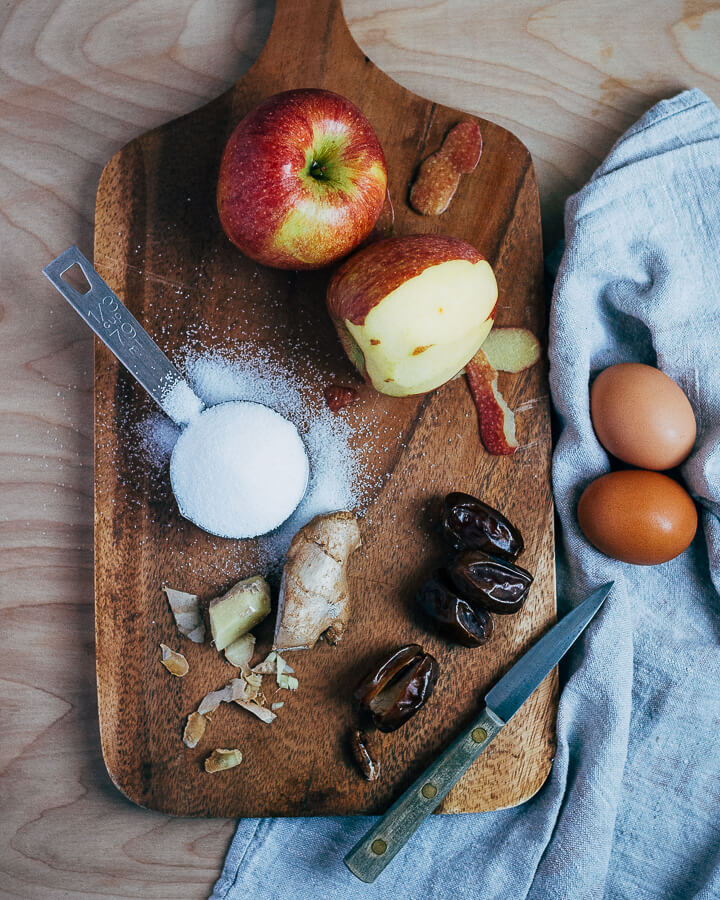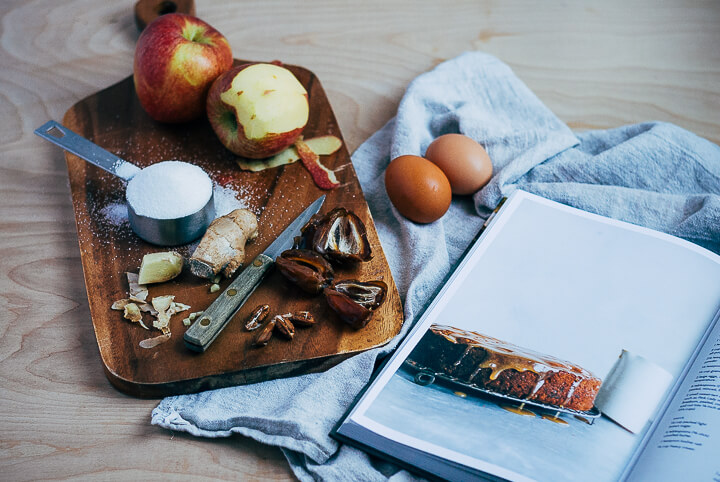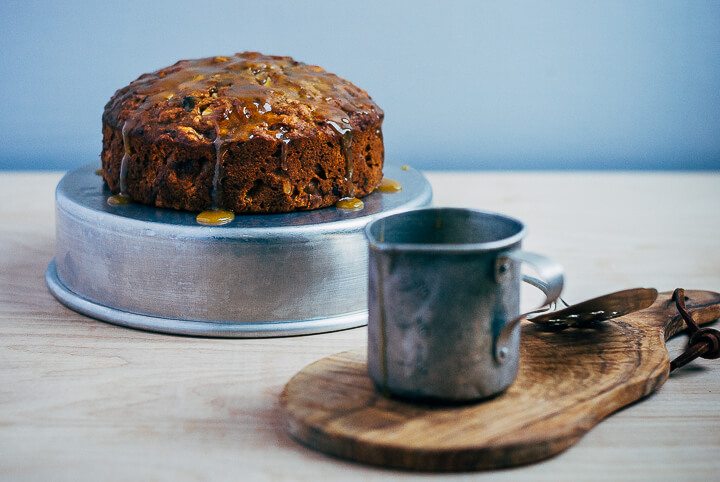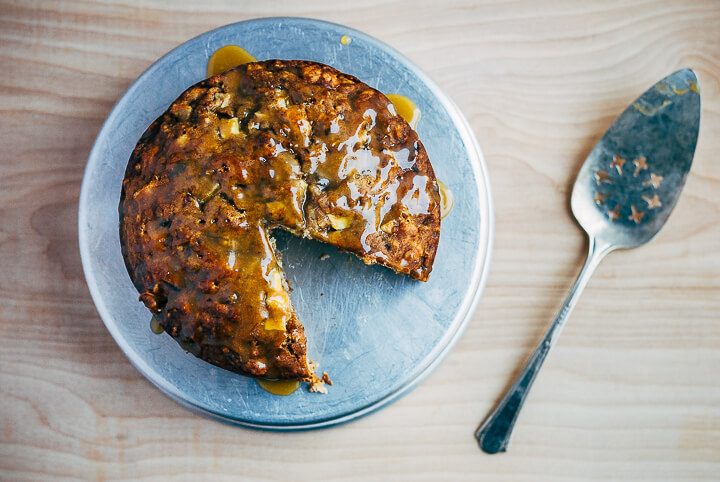 I've bookmarked nearly everything in The New Sugar and Spice, but standouts include black pepper, dark chocolate, and sour cherry bread; cakes for both true and new love; roasted peach and buttermilk pie; chocolate chip cookies with coconut, pistachios, and sea salt; and cardamom cream-filled sugar donuts.
The New Sugar and Spice is the kind of book you'll want to keep close – to help with that, I'm giving away a copy! To enter, just leave a comment below sharing your favorite baking spice (and why you love it). A winner will be selected at random on Thursday, October 22nd at noon EST. (Contest open to US residents only.) Giveaway closed!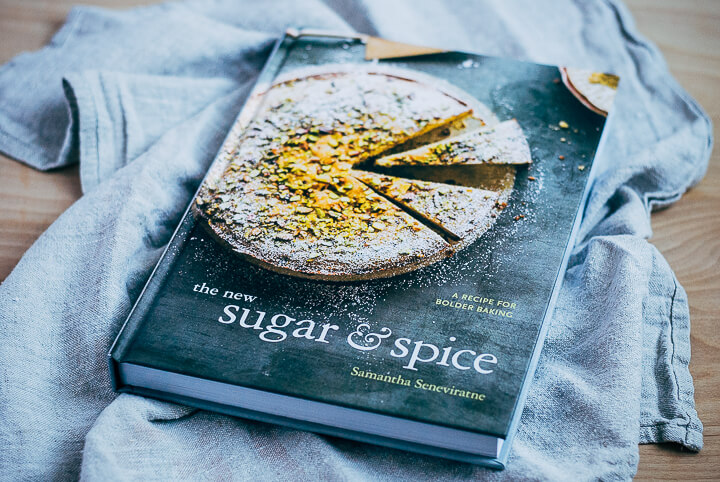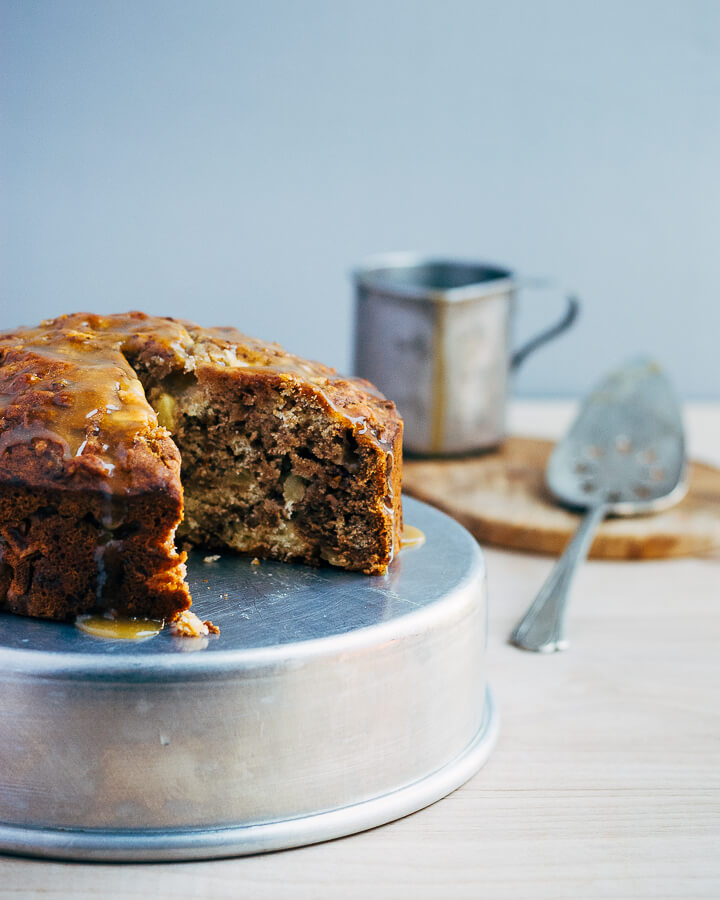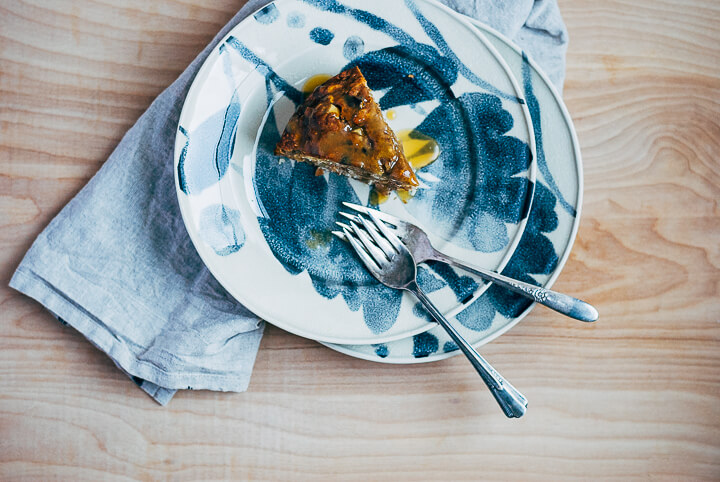 Now, about this sticky apple date cake: it's the best. The cake's made with fresh dates and ginger, tart apples, and drizzled (or smothered) with an easy stovetop caramel. Fresh ginger and dates make for a wonderful crumb – hints of sweetness and heat, all suffused with a rich, perfectly salted, caramel sauce.
Update: because a few commenters have mentioned it, I should add that even with a full six tablespoons minced fresh ginger, this cake is surprisingly mild. Older ginger can be spicer, so find the freshest you can. The cake has a mild, incredibly flavorful heat. Both my daughters ate their pieces gladly and didn't find the cake too spicy at all.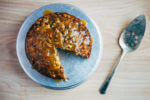 Sticky Apple Date Cake
From 'The New Sugar and Spice,' a wonderfully spiced sticky apple date cake recipe with fresh ginger and a salty sweet stovetop caramel sauce.
Ingredients
For the Cake
10

tablespoons

unsalted butter

, at room temperature, plus more for greasing the pan

10

ounces

fresh dates

, pitted and chopped (1 1/2 cups)

1

cup

water

1

teaspoon

baking soda

2

cups

all-purpose flour

1 1/2

teaspoons

baking powder

1/2

teaspoon

Diamond Brand kosher salt

1/3

cup

granulated sugar

2

eggs

, room temperature

6

tablespoons

peeled

, minced, fresh ginger

2

smallish sweet-tart apples such as Pink Lady or Braeburn

, peeled, cored and cut into a 1/4-inch dice (1 1/2 cups)
For the Sauce
1/2

cup

packed light brown sugar

6

tablespoons

unsalted butter

1

teaspoon

Diamond Brand kosher salt

1/2

cup

heavy cream
Instructions
Preheat oven to 350 degrees F. Butter either a 9-inch springform pan or 2 6-inch cake pans. (If using a non-springform pan, line the bottom of the pan with parchment paper buttered on both sides.)

In a small saucepan, bring dates and water to a simmer over medium heat. Cook until dates start to soften, about 1 minute. Remove from heat and immediately stir in baking soda. Set aside to cool.

In a medium bowl, whisk together flour, baking powder, and salt. In a large bowl, use an electric mixer to beat butter and sugar on medium speed until pale and fluffy 3 - 4 minutes. Beat in eggs, one at a time, and then add ginger. Add flour mixture and beat until just combined. Stir in date mixture and fold in apples. Spoon batter into prepared pan and smooth the top. Bake until a toothpick inserted in the center comes out with a few moist crumbs attached, 40 - 45 minutes.

Meanwhile, prepare the sauce by combining the brown sugar, butter, and salt in a medium saucepan set over medium heat. Cook, stirring occasionally, until butter has melted and the sugar's dissolved – about 3 minutes. Stir in cream, bring mixture to a gentle simmer, and then turn heat to low. Cook, stirring constantly, until sauce has thickened, 5 - 7 minutes. Set sauce aside to cool slightly.

Cool cake for 15 minutes, then remove sides (or flip out of cake pan) and set on a serving plate. Use a toothpick to poke holes all over cake. Pour half the warm sauce over the cake. Slice, and serve warm cake with a generous drizzle of sauce. 

Leftovers will store well wrapped at room temperature for 3 days.
Disclosure: Giveaway copy of The New Sugar and Spice was provided to me by the publisher. All opinions expressed here are my own.