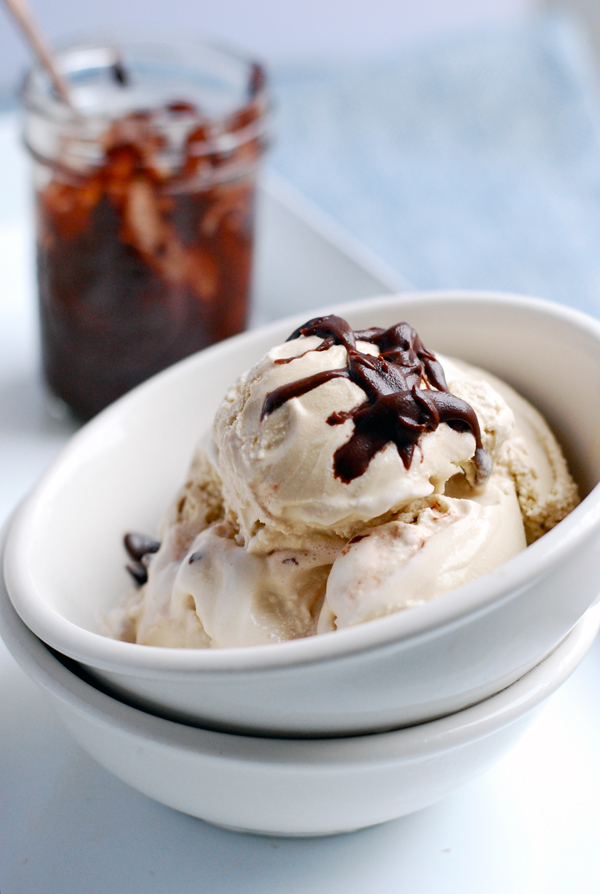 A creamy, boozy stout ice cream recipe with hints of bitterness from strong stout beer and a sweet finish topped with bittersweet hot fudge. Jump to recipe.
Last night stayed warm enough to have the windows open all night. This time of year, the nights are quiet. The birds and insects aren't out yet and apart from faintest hum of traffic drifting over the hills, there's nothing. It feels impossible, but Brian and I have been back in Virginia for nearly a year. When we arrived here, the spring was well underway, but even so, buds and quiet and rain storms all remind me of those first days in this airy little house.
They also remind me of what I miss about New York.
After a year in Virginia, the seasons and weather patterns feel as familiar as they did in the city (though on the very first warm day last weekend, I wondered if the red Subaru guy – see this or this for reference – would be out singing oldies before I remembered where I was). What I really miss is the food. In Williamsburg, we had a Milk Bar 100 feet from our front door (also top-notch barbecue and sandwiches, three good bars, and excellent coffee); here we have a river. Back then, Brian and I had a date night ritual of getting dinner at St. Anselm and then heading across the street to Milk Bar for dessert. Usually just cookies, but sometimes, if we were celebrating, we'd get boozy shakes.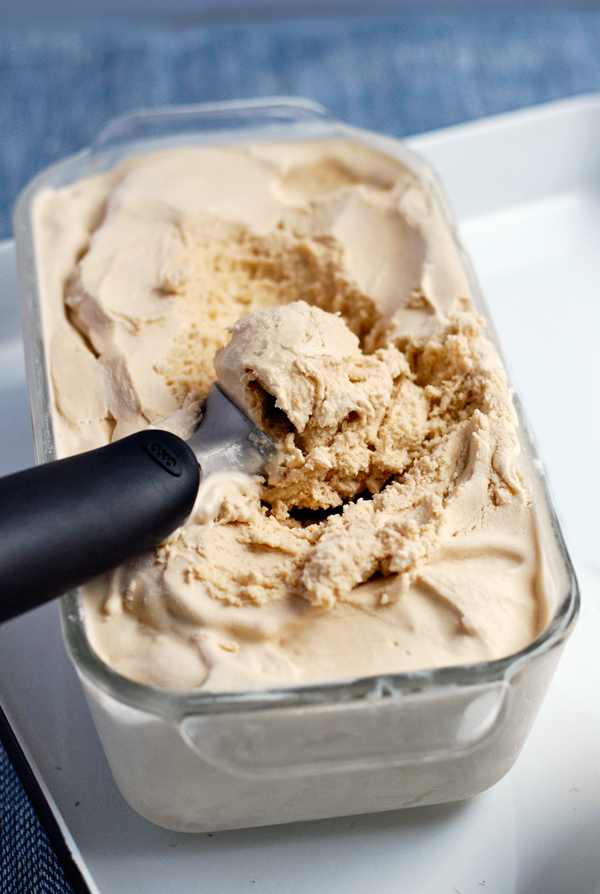 You should know that a boozy shake is every bit as good as it sounds, at once sweet and bitter and, if done right, straight-up boozy. My favorite was the cereal milk ice cream with stout and bourbon – it hit all the best flavor notes. With that epic shake in mind, I made this stout ice cream, which I like to think is every bit as sweet and salty and bitter as the shake that inspired it.
There's more to say about balanced flavor, and the search for the perfect dessert and how maybe this is it, but I'm nearly positive I've had your attention since I mentioned ice cream and milkshakes, so let's do this, shall we?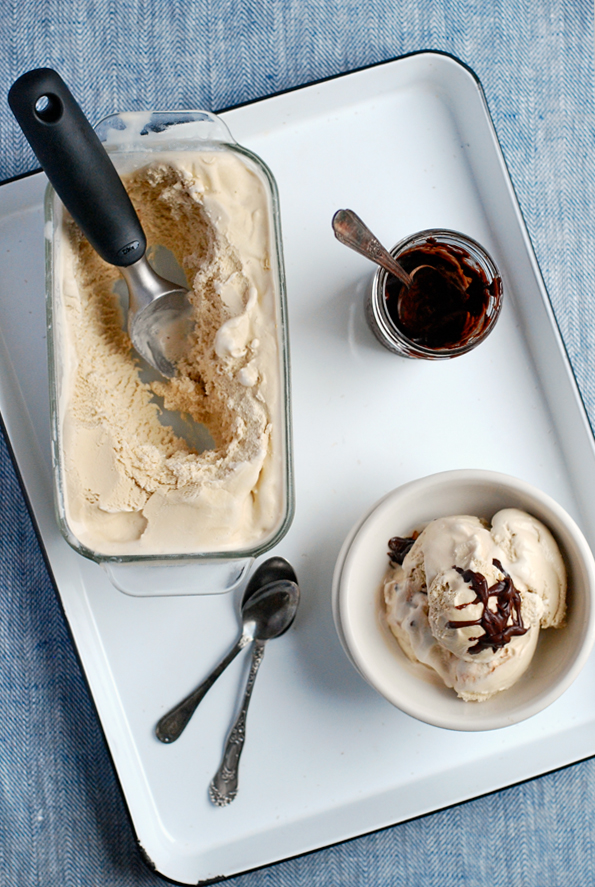 We paired our stout scoops with this bittersweet hot fudge. (That also links over to a stout milkshake we shared on Babble, in case you want to get into stout sweets but don't have an ice cream maker on hand.)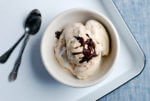 Boozy Stout Ice Cream with Bittersweet Hot fudge
A creamy, boozy stout ice cream recipe with hints of bitterness from strong stout beer and a sweet finish drizzled with homemade bittersweet hot fudge.
Ingredients
Stout Ice Cream
2

cups

heavy cream

6

egg yolks

1/2

cup

sugar

1

teaspoon

vanilla extract

1/2

teaspoon

sea salt

12

ounces

stout beer
Bittersweet Hot Fudge
3

ounces

bittersweet chocolate

(70 percent cacao), rough chopped

1/4

cup

heavy whipping cream

3

tablespoons

light corn syrup

pinch

sea salt
Instructions
Heat cream in a heavy-bottomed sauce pan over medium-low heat. Stir in 1/4 cup sugar and 1/2 teaspoon sea salt.

Meanwhile, in a medium bowl, whisk egg yolks and remaining 1/4 cup sugar together.

When cream is starting to steam and small bubbles form along the edge, turn heat to low. Next, whisk 1/4 cup hot cream into yolks. Slowly add another 3/4 cup of cream, working in 1/4 cup increments. (This process tempers eggs so they don't cook in the custard.)

Once eggs have been tempered, stir egg and cream mixture back into the warm cream. Heat over low heat, stirring almost constantly, 5 minutes. Mixture should thicken up enough to coat the back of a wooden spoon.

Remove from heat. Stir in stout and vanilla extract.

Chill mixture in refrigerator 3 - 4 hours or set over an ice bath for a speedier chill.

Process custard according to your ice cream maker's instructions. Spoon into a freezer-proof container with a lid (I use a Pyrex bread dish) and freeze at least 3 hours.

To make hot fudge, heat a double boiler over medium-high heat. Add chocolate pieces and stir until melted. Turn down heat so that water is bubbling gently. Stir in corn syrup and then 1/4 cup heavy cream. When mixture is smooth and shiny, turn heat to low until ready to serve.

Scoop ice cream into dishes and drizzle with hot fudge.
SaveSave
SaveSaveSaveSaveSaveSave