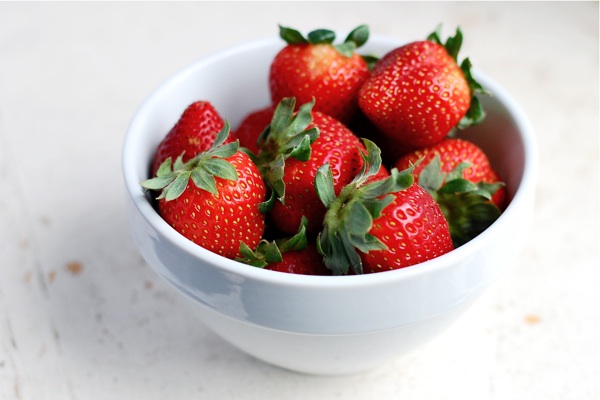 We grow strawberries in our container garden, and while there's definitely a pride that comes along with eating something you grow yourself, there's just no way in a New York City apartment to grow strawberries in sufficient quantity to ever be satisfied with the yield. Maybe in Queens. Like if you had one of those places with a big yard. But we already own the brooklynsupper domain, so we're stuck here with our meager strawberry harvest for the present. But that's ok, because strawberry season is in full swing at New York farmer's markets, the first of the big three of summer produce (tomatoes and corn are the other two) to hit the stands, so we can still load up.
One of the beauties of strawberries is their versatility. They're equally delightful in desserts raw and cooked or as the center of dessert or an accent. To really showcase strawberry flavor, though, we recommend dialing back the sugar in most recipes. Instead of shortcake, for example, we like to use buttermilk biscuits and whipped cream that's been barely sweetened or not sweetened at all. It really lets the strawberries speak for themselves. They also make a wonderful and surprising addition to a lot of savory dishes and are one of our favorite summer salad ingredients.
Here are a few of our summer strawberry highlights–strawberry lime cake, baked strawberry french toast, strawberry-basil hand pies, Pimm's cups, and a savory strawberry salad.
You can save your berries by making jam (here's our recipe for a vanilla-infused strawberry jam with lime), or you can freeze them for later (simple instructions here).
And finally, if you have some time on your hands, get out and pick your own. Anarchy in a Jar has a great list of sustainable, relatively local pick-your-own places.