Preserve summer flavors with this vibrant, low-sugar strawberry balsamic jam recipe.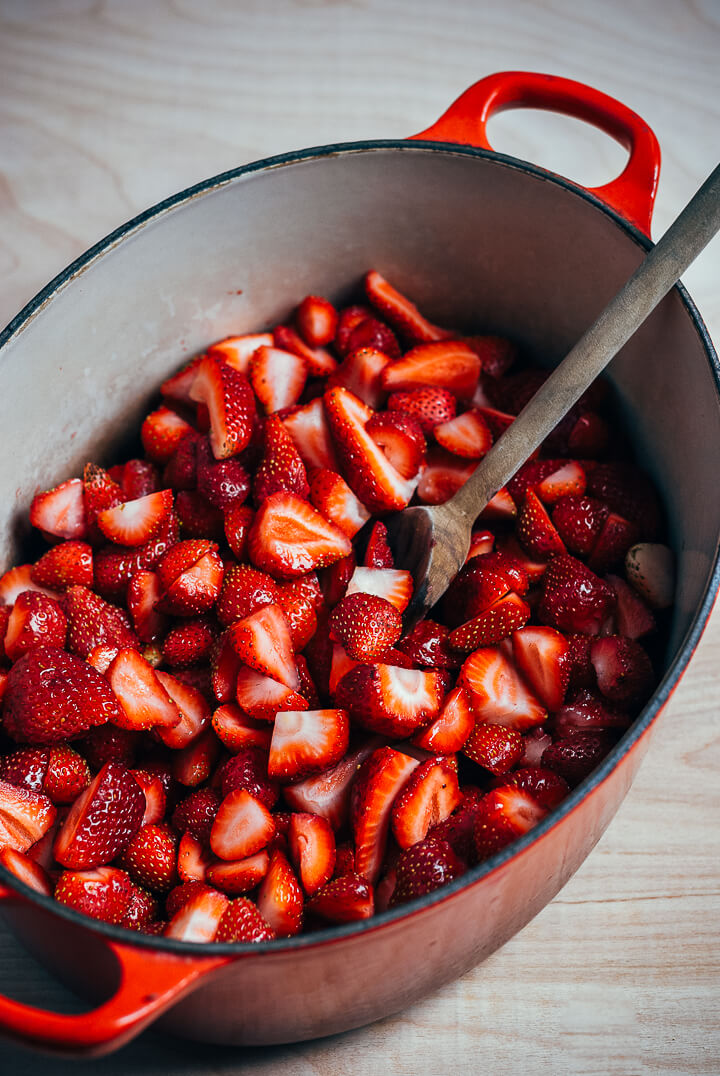 In my heart, I'm a meanderer. During a quiet morning at home, if things are going well, I'm fully immersed in at least three tasks at once, wandering between each one as my interest shifts. In my art, I gravitate toward the endless possibilities of oil painting and fell hard for process-driven printmaking. I even made photography complicated, opting for handmade paper, pinhole cameras, and painted-on emulsion.
Wandering from task to task or indulging in caprice isn't always super useful. If I had been born an aristocrat in an earlier era maybe I could've pulled off being a polymath or at least an eccentric; as it is, I struggle against my inherent tendencies throughout the day. I'm positive that this is why I love braises and broths so much. The endless hours bubbling away lend an air of accomplishment to even the most distracted days. But summer – filled with ingredients that are best when left mostly alone – is the time for me to check my love of adding steps and ingredients. Fresh and bright flavors come through most clearly when ingredients are allowed to speak for themselves. Few things make this more apparent than this simple strawberry balsamic jam recipe.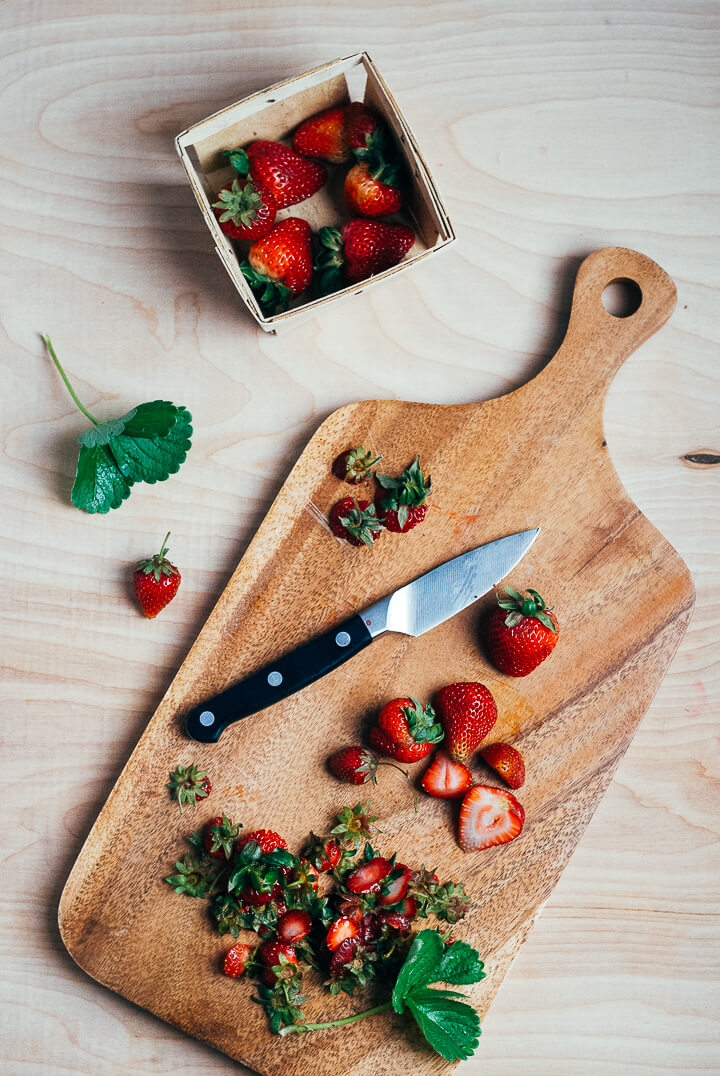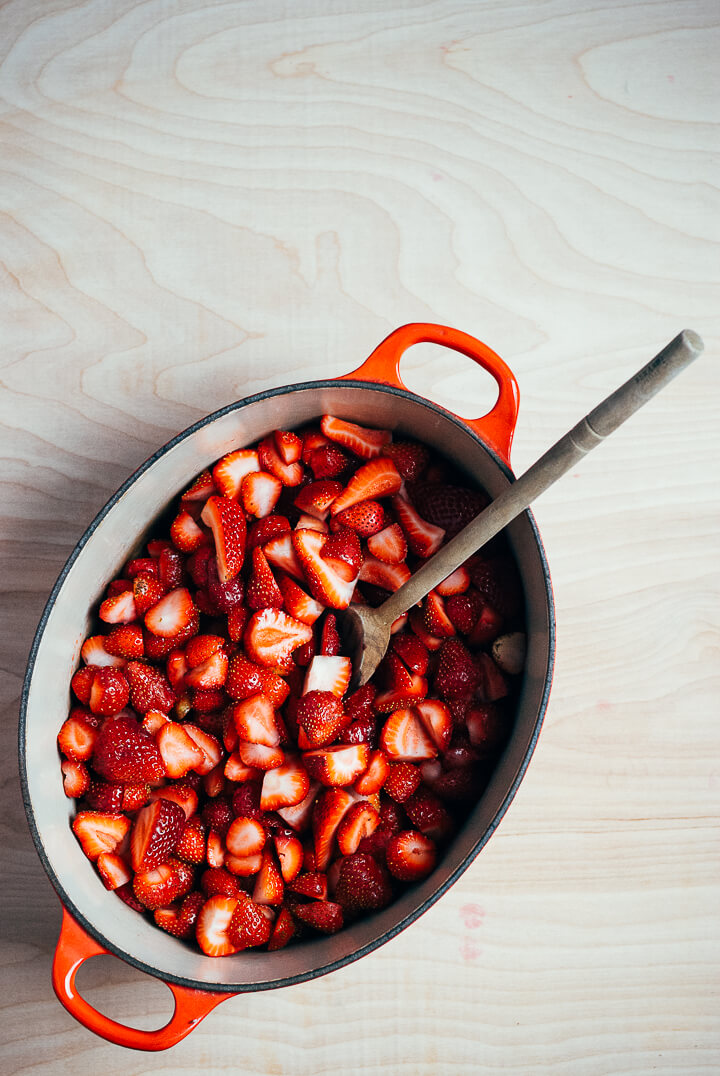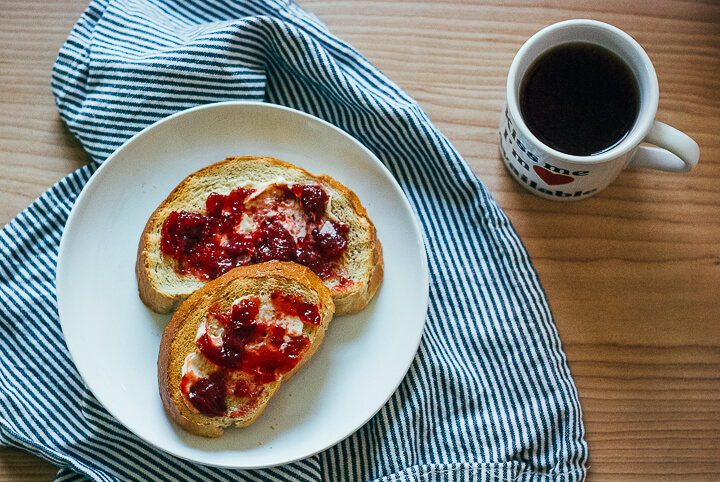 We've seen a slew of sweltering days recently, and as we headed south to Bellair Farm to pick up our weekly CSA share this weekend, we had little hope of finding strawberries in the pick-your-own fields. Lucky for us, farmer Jamie mentioned that next year's berry patch was filled with perfectly ripe specimens and we pounced, picking some of the most flavorful berries of the summer.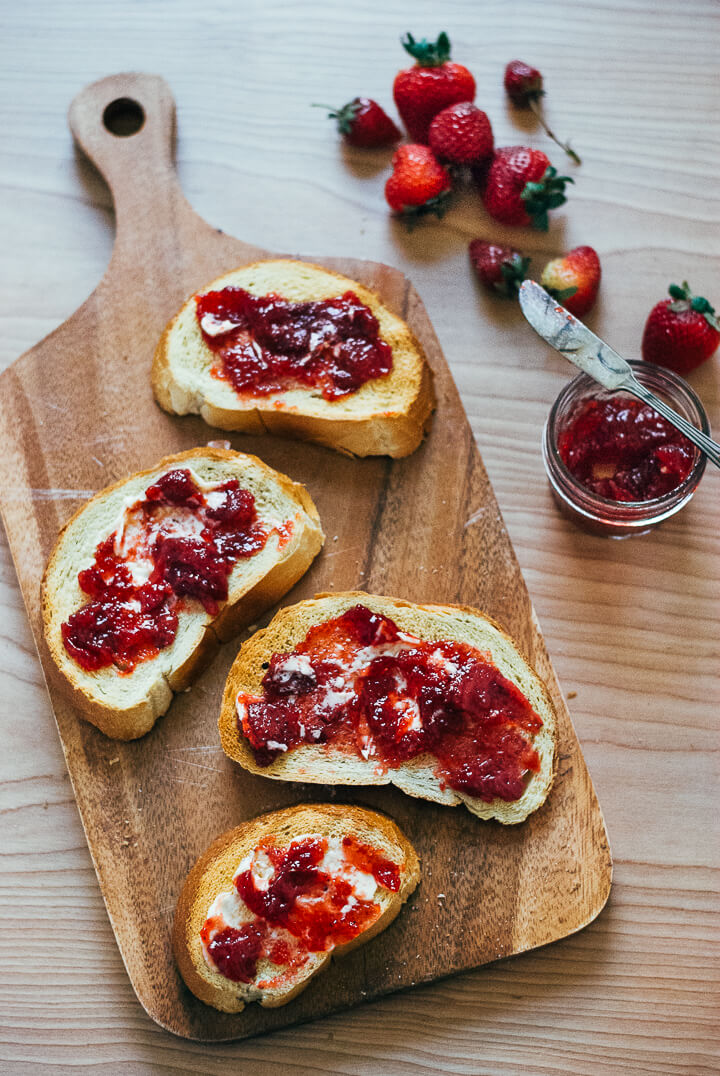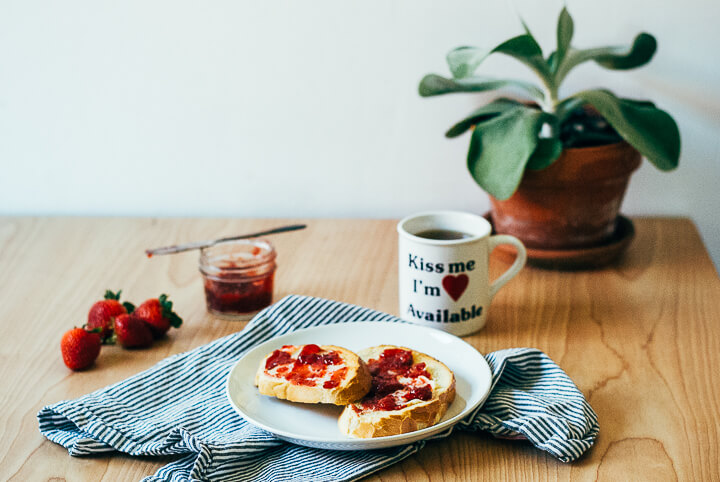 Usually, I like to cook and cook my jam (see: tendency toward inefficiency, above), and love the concentrated flavor a long cooked jam yields. But there's a lot to be said for a quickly cooked jam and the way it captures the vibrancy of fresh summer fruit, picked at its peak. That's definitely the case here – just a good, fresh strawberry jam with a hint of tang from aged balsamic, and seriously sublime strawberry flavor. The strawberries are robust, and the jam has a quiet intensity that I'm going to relish on a cold winter morning. (Though truly, I have little hope this batch will last through August.)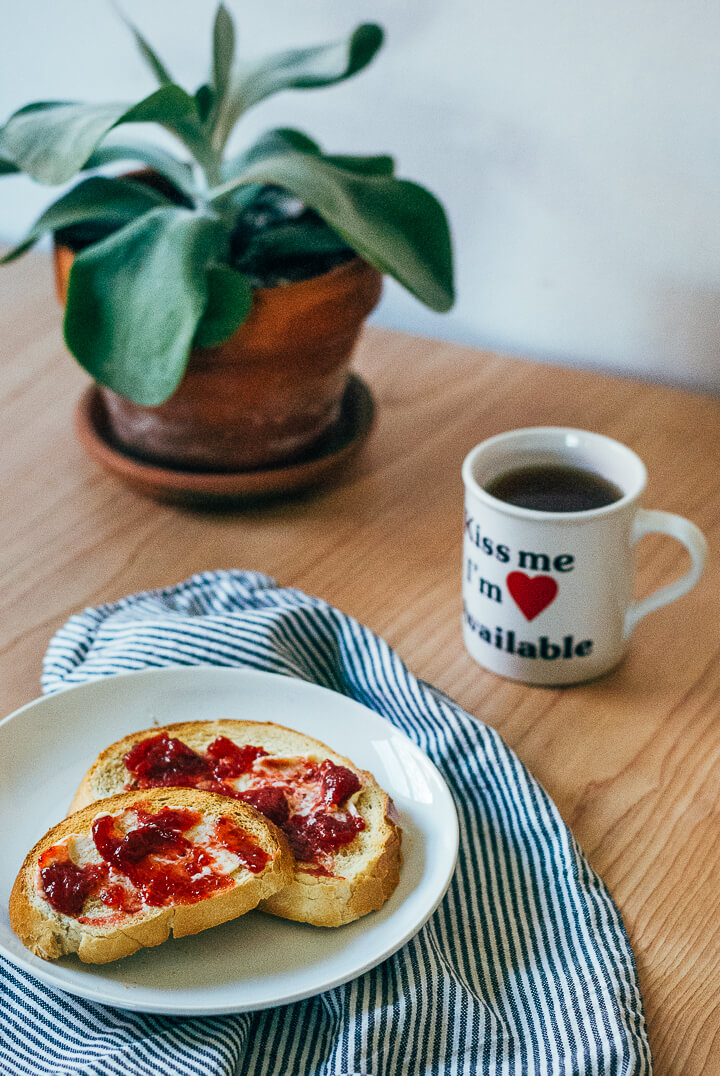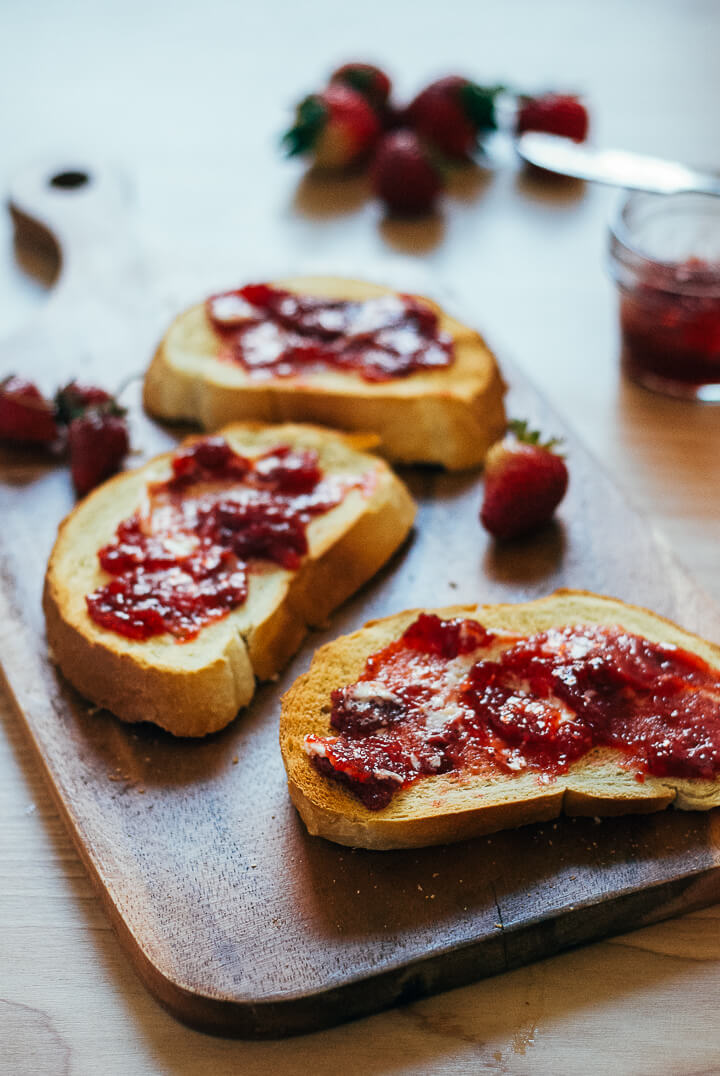 This recipe relies on a specific brand of pectin, called Pamona's Pectin. The formulation provides a great jam set with much less sugar. I find that strawberries in particular are easily overwhelmed by sugar, so for this recipe you'll need to use Pamona's only. If you cannot find it locally, follow the sugar to fruit proportions recommended by the pectin you're using.
If you're new to canning, please review the Ball Canning website in detail before getting started. It's also worth noting that sterilization guidelines for lids have changed – this recipe is adjusted accordingly. Finally, if home canning is intriguing to you, I highly recommend the Food in Jars cookbook by Marisa McLellan.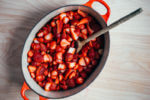 Low-Sugar Strawberry Balsamic Jam
Preserve summer flavors with this vibrant, low-sugar strawberry balsamic jam recipe. This recipe uses Pamona's Pectin, a low sugar gelling agent.
If you are new to canning and are looking for a more basic recipe, check out the Ball Canning strawberry jam recipe here.
Ingredients
8

cups

hulled

, halved strawberries (about 2 1/2 quarts whole berries)

2

cups

plus 2 tablespoons sugar

zest of 1 lemon

4

teaspoons

Pamona's Pectin plus 4 teaspoons calcium water*

3

tablespoons

balsamic vinegar
Instructions
Set 2 - 3 large spoons in the freezer (this will help you test the consistency of the jam later).

Thoroughly wash jars, rims, and lids in warm, soapy water. Place jars in a large pot, fill with water to cover, top with lid, and bring to a boil. Turn off heat, and let jars hang out in the water while you do the rest.

Place berries in a large Dutch over or other non-reactive pot set over medium-high heat. Add two cups sugar and lemon zest. As berries cook, mash about half the berries with a spoon. Once mixture starts to bubble vigorously, turn heat down to medium, so that it bubbles gently, and cook, stirring often, for 5 minutes.

Meanwhile, combine powdered pectin and remaining 2 tablespoons sugar.

Stir calcium water into the jam, and bring mixture back up to a boil. Stirring vigorously, gradually sprinkle in the pectin sugar mixture and cook for 5 minutes (the combination of boiling and sprinkling helps prevent pectin clumps). Remove jam from heat and stir in balsamic vinegar.

Add about 1 teaspoon of jam to a frozen spoon. If it wrinkles up when you push it with your finger, it's ready. If it still seems too runny, cook for 5 more minutes, then test again.

Ladle jam into sterilized jars, leaving 1/4-inch of head space, wipe rims with a clean cloth, and seal. Tap jars firmly on the counter to dislodge bubbles. Set filled jars in a boiling water bath (with enough water to cover the tops by an inch), cover pot, and boil for 10 minutes. Carefully set jars on a heat resistant surface, and allow to cool undisturbed. Lids should invert and seal as jars cool. If one of the lids doesn't seal, set jam in the refrigerator and consume right away.

Jam will keep in a dark, cool place for one year.

*Calcium water is part of the Pamona's jelling system. It comes with a pack of Pamona's Pectin.