These lofty strawberry basil hand pies feature a jammy strawberry filling with notes of fresh basil and black pepper surrounded by buttery, impossibly flaky pastry. They're the perfect treat for spring gatherings and picnics.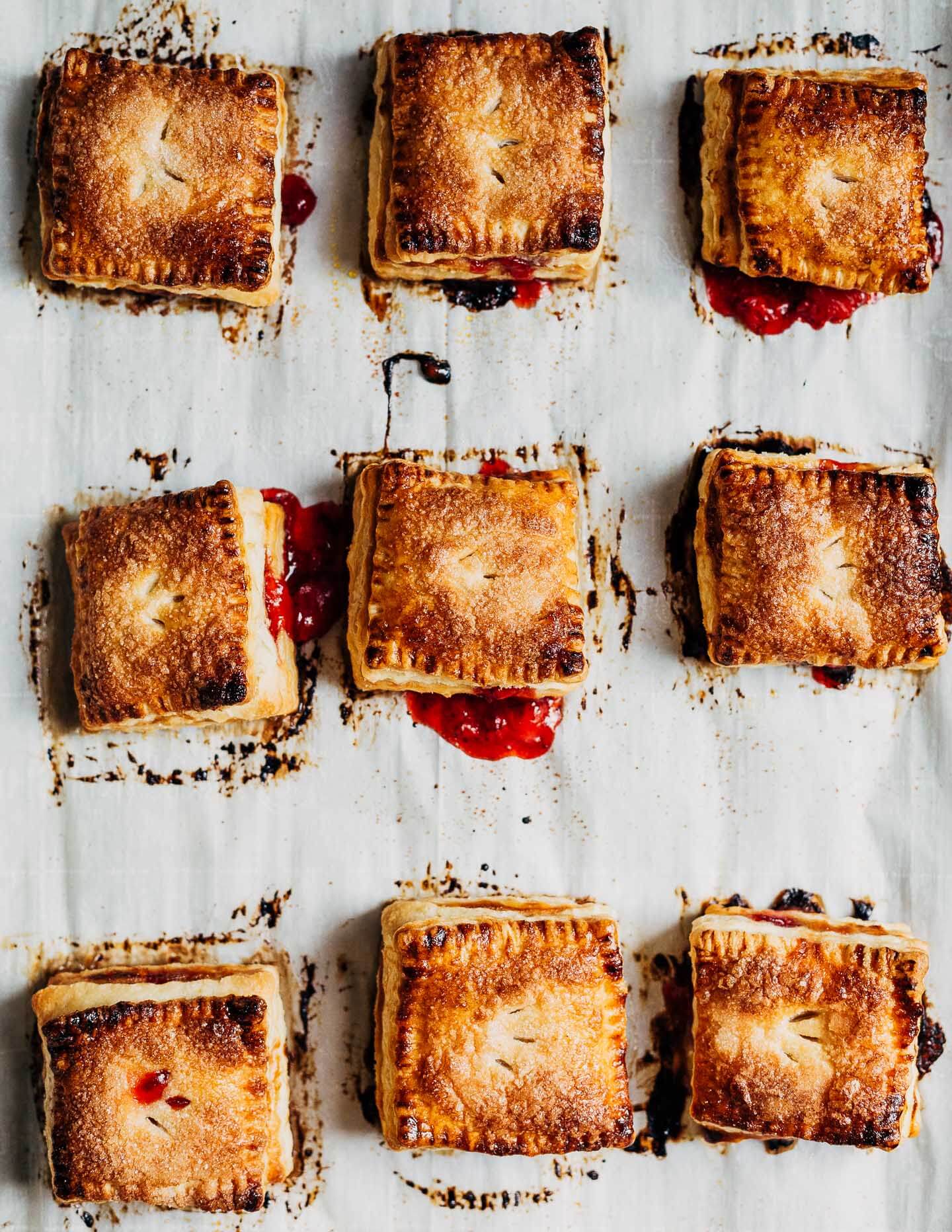 This post was originally published in 2012. The original pies were baked and shared as part of a lovely blogger meetup in downtown Manhattan. The intro and recipe have been updated.
Yesterday afternoon, I shut my laptop to temporarily quiet the endless stream of terrible news. (Speaking of which, have you given to an abortion fund yet? Yes? Thank you.) I grabbed some totes and one of my kids, and we walked over to the opening day of our local Wednesday afternoon farmers' market. This market is my favorite mostly because it happens in the afternoon and it's like three blocks from my house. I came home with a big box of strawberries, two bunches of beautiful asparagus, and two dozen eggs.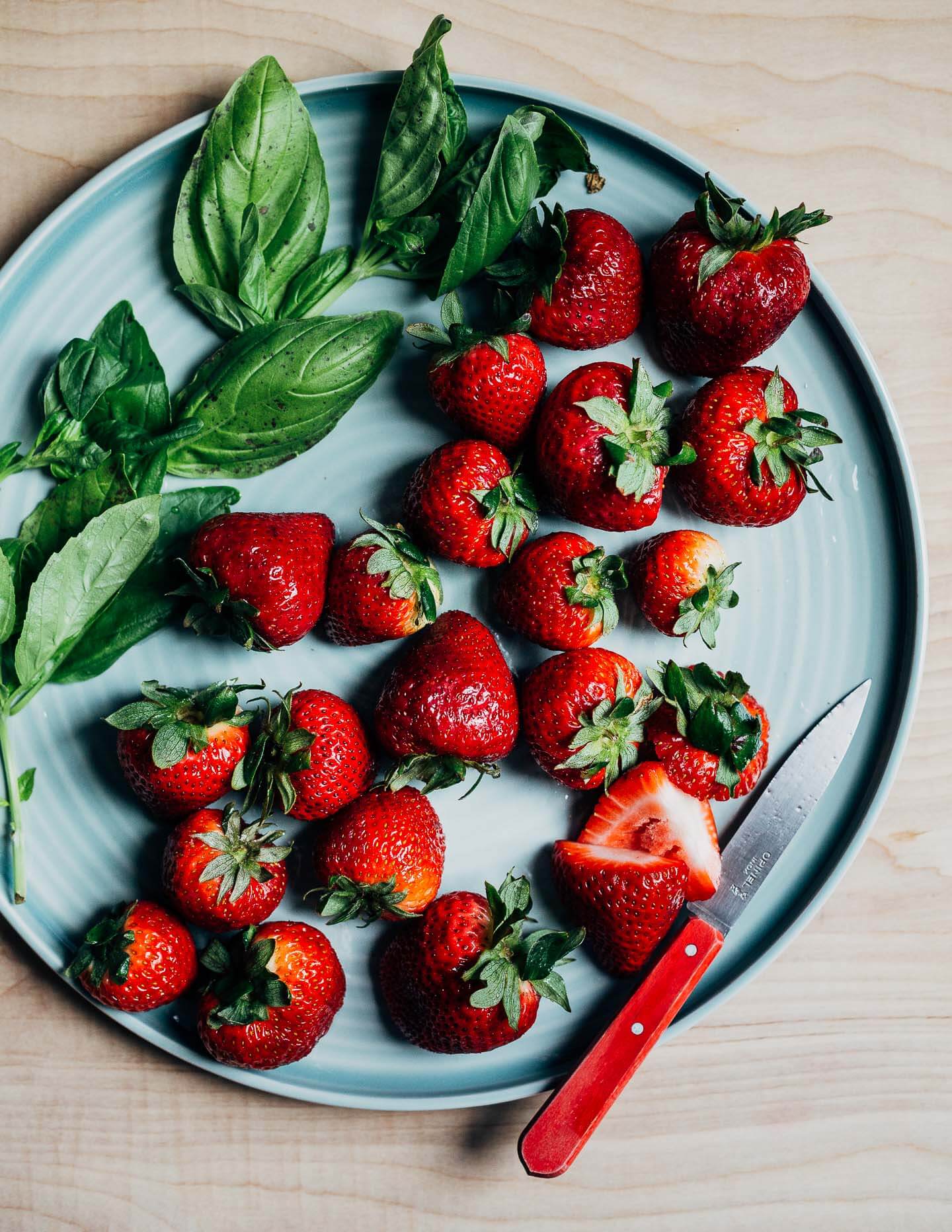 The small acts of buying the produce, toting it home, taking produce glamor shots, triggered a shift somewhere in my core. After months of feeling a bit lost in the kitchen, I suddenly felt like myself doing what I do best. I always forget over the long winter, but folks, I love fresh produce! I live for this stuff. Anyway, even if everything is terrible, let's hear it for beautiful weather, lovely produce, and taking a little time to just be when we need to.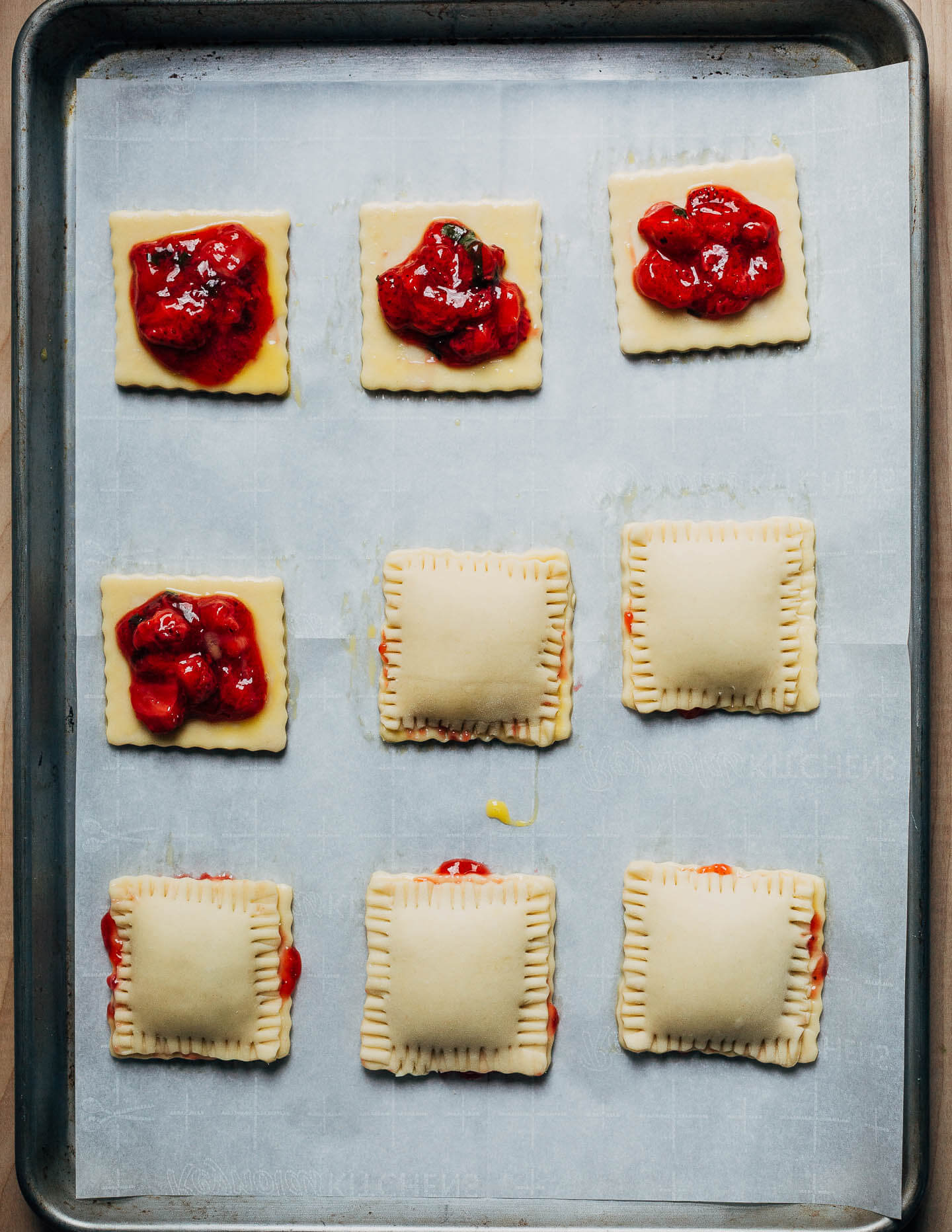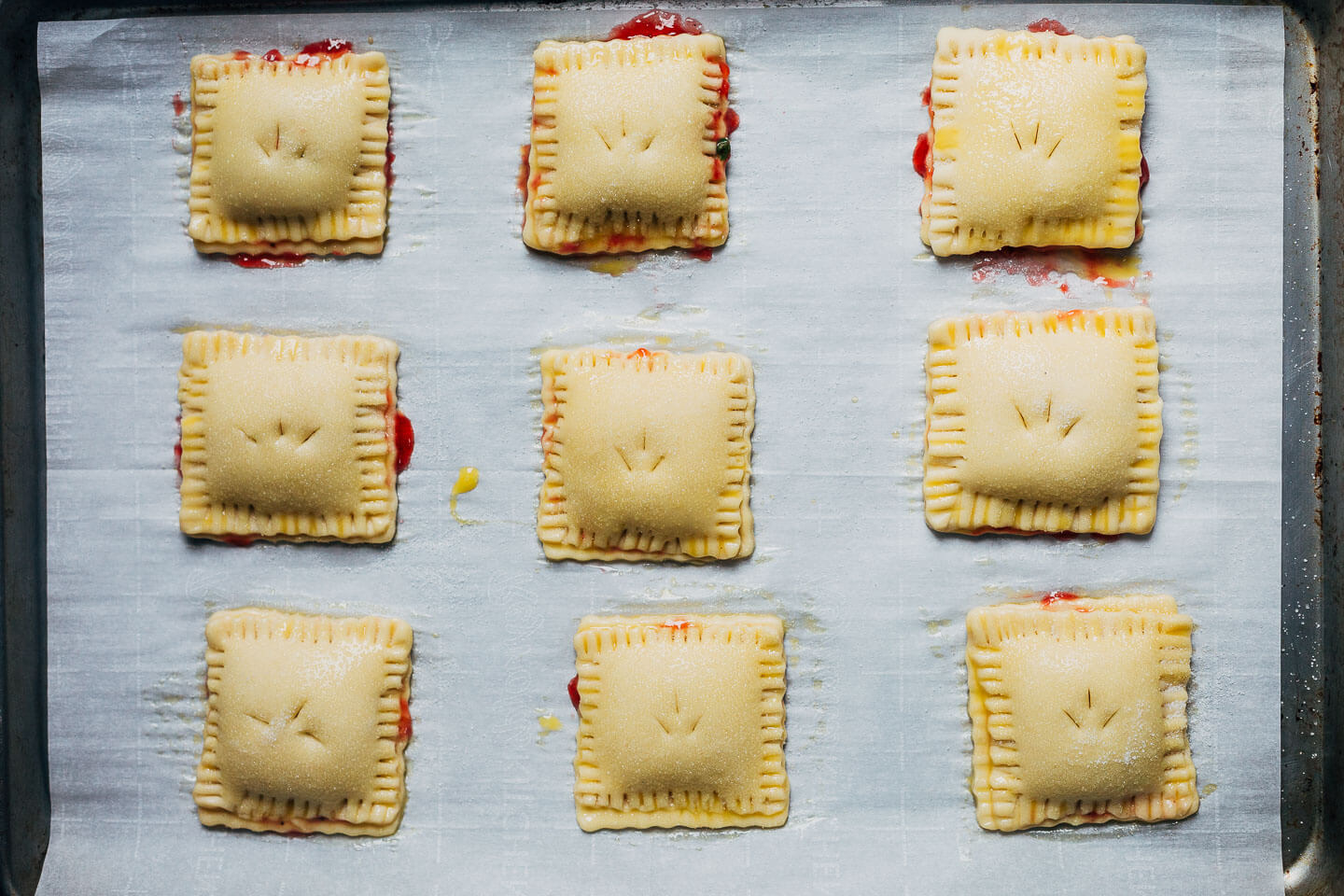 Strawberry Basil Hand Pies
Strawberries have been in for a few weeks, but real deal strawberry season is just now ramping up. And of course strawberries are delicious and perfect just as they are, but after a few pints of fresh berries, I couldn't resist the allure of baking up some strawberry basil hand pies.
These little pies feature lofty squares filled with jammy cooked strawberries and blanched basil leaves. Cooking the strawberries first concentrates the flavor and makes for a thicker, not too runny filling. It also keeps the crust from getting soggy as the hand pies bake. To make sure the basil remained a vibrant hue, I blanched the basil leaves before adding them to the filling. A hint of black pepper adds some zip, but you can leave it out if you like.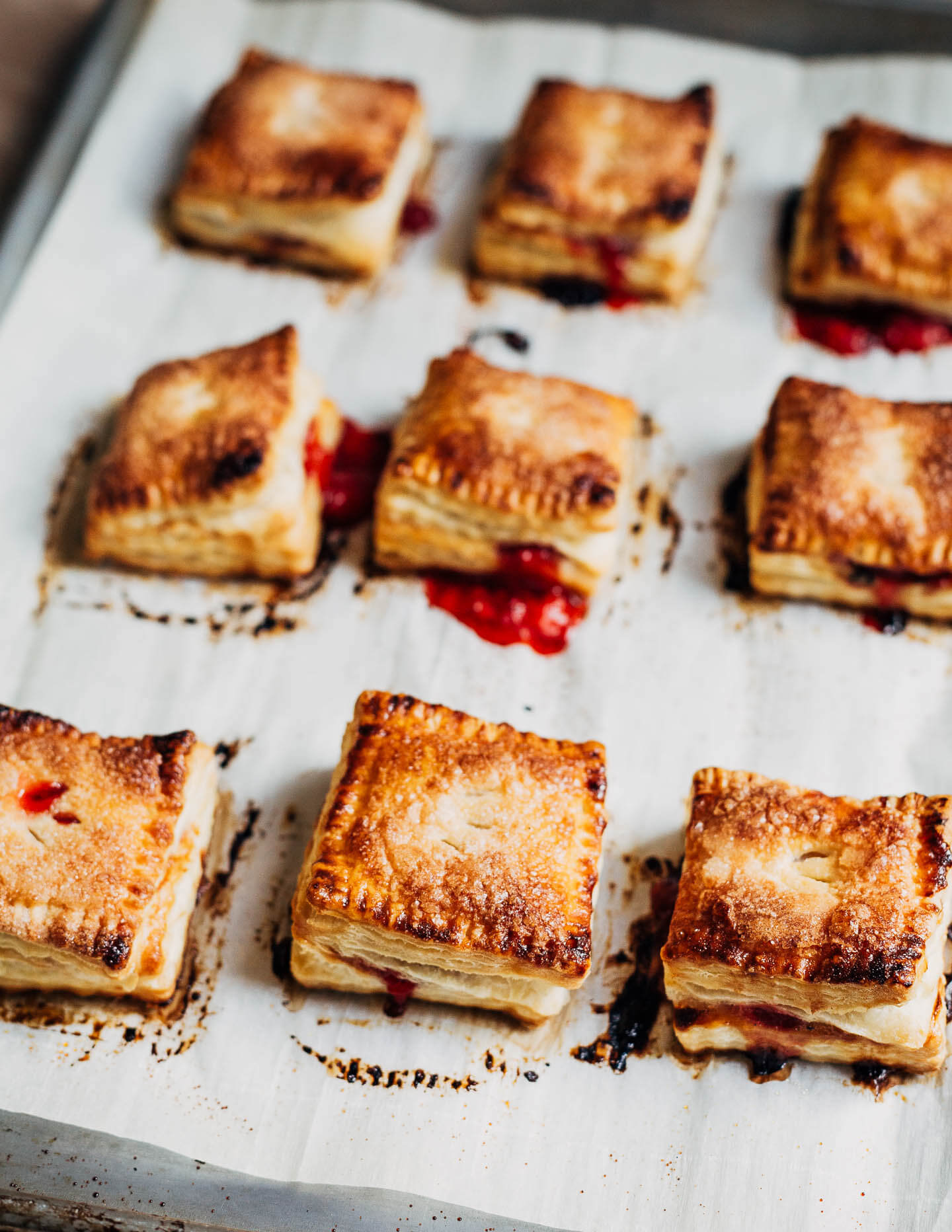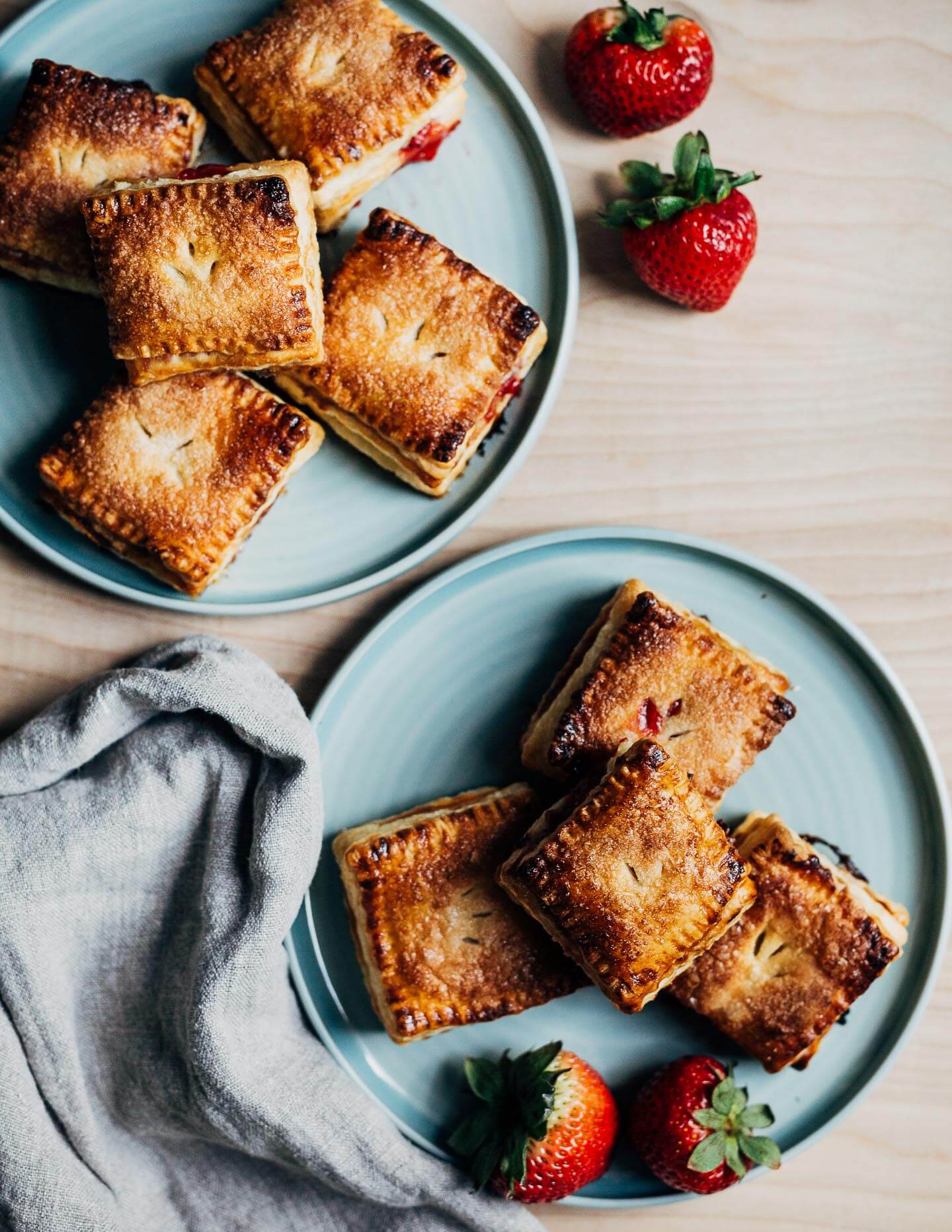 Rough Puff Pastry: Super Flaky
For the dough, I went with a rough puff pastry instead of my classic pastry dough, and loved the rise and incredible flakiness of rough puff. The texture is a little more like a turnover than a pie. Once the hand pies were filled and crimped, I gave them an egg wash and sprinkled the tops with lots of sugar.
These hand pies can be made with another kind of berry or a mix, and a tablespoon of minced herbs like thyme or tarragon can easily be swapped for the basil.
These strawberry basil hand pies are best the day they're baked. Leftovers can be kept in a sealed container at room temperature – they lose a little of the flakiness but are still delicious.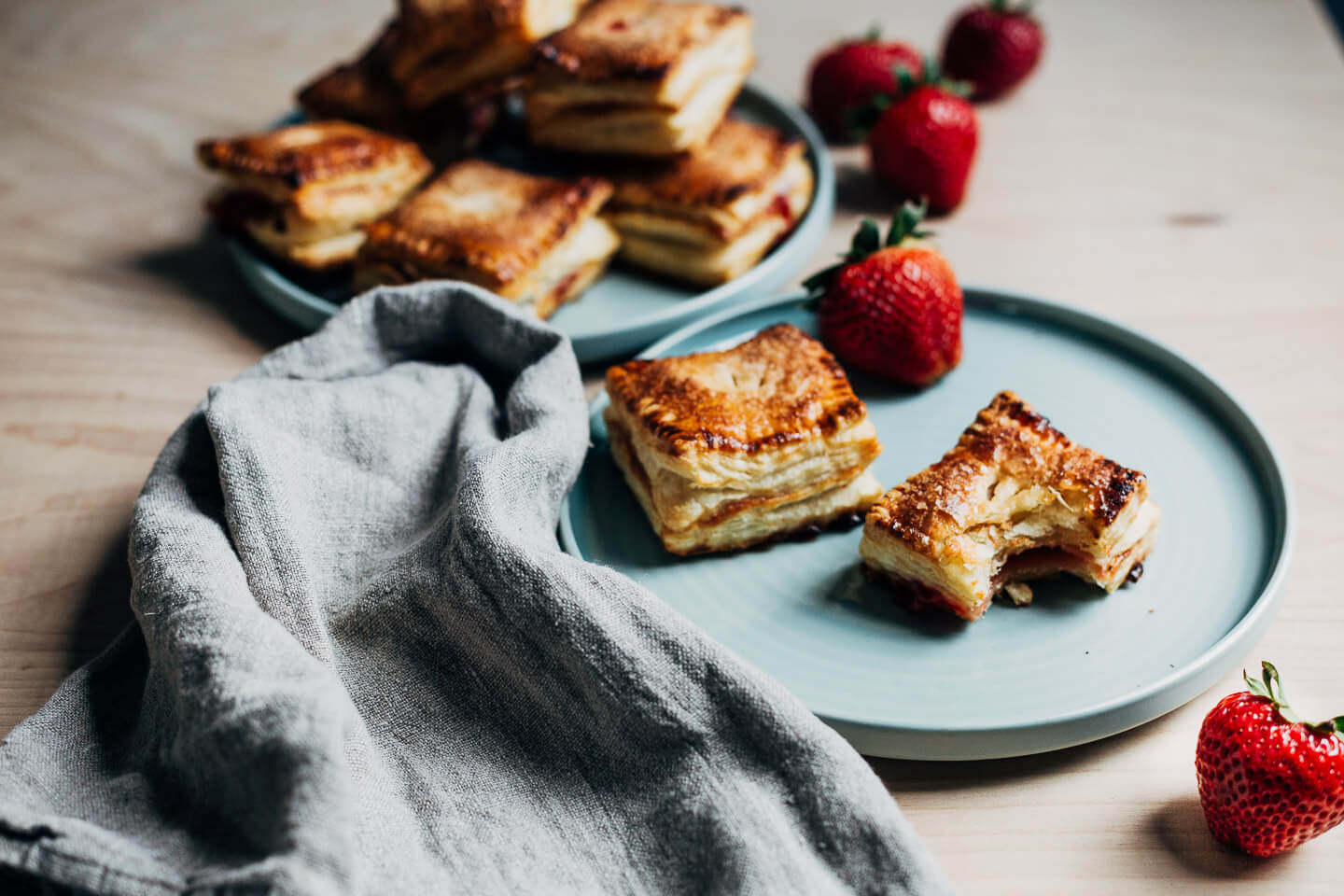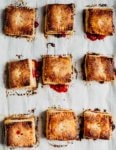 Strawberry Basil Hand Pies
These lofty strawberry hand pies feature a jammy strawberry filling with notes of fresh basil and black pepper surrounded by buttery, impossibly flaky pastry. They're the perfect treat for spring gatherings and picnics.
Filling recipe adapted slightly from the mixed-berry hand pie recipe in Erin McDowell's excellent The Book on Pie (if you like pie – get this book!)
Use any pastry dough you like to make these. I used Erin McDowell's rough puff pastry, but you could also use classic pastry dough or store bought.
Keyword:
strawberry basil hand pies
Ingredients
1

recipe (enough for two 9-inch pies) rough puff pastry dough

(or classic pastry dough or store bought puff pastry)

12

ounces

hulled,

chopped strawberries

1/2

cup

sugar,

divided

2

tablespoons

cornstarch

1

teaspoon

lemon zest plus 1 tablespoon juice

½

teaspoons

freshly ground black pepper,

optional

10

large basil leaves

1

egg,

lightly beaten
Instructions
Make the dough, divide into two portions, wrap with plastic, and chill for at least 30 minutes. If using store bought, follow package directions to thaw dough.

While dough chills, prepare the filling. Bring a small pot of water to a boil. Dip the basil leaves in the water for about 5 seconds, then immerse in ice water. Pat leaves dry with paper towels, and then slice into thin ribbons.

To make the filling, add strawberries to a medium-sized saucepan and set over medium-low heat. Stirring gently, cook berries just until they begin to release their water. In a small bowl, combine ¼ cup sugar and the cornstarch with a fork. Raise heat to medium and stir the sugar mixture, zest, and juice into the strawberries. Bring to a simmer and cook, stirring gently, for 2 minutes. Remove saucepan from heat, stir in basil, and set aside to cool. (Filling can be made ahead and keep in the fridge for 1 day.)

When ready to bake the hand pies, preheat oven to 400 degrees F. Line two baking sheet with parchment paper.

On a lightly floured surface, roll one of the portions of dough out into a ⅛-inch thick rectangle. Use a 3-inch square (or round) biscuit cutter to cut about 12 rectangles. Set cut dough on the prepared baking sheet. Gather any dough scraps, press gently into a disc, and set back in the fridge.

Brush half the dough squares with the egg and place a 1 tablespoon dollop of filling in the center. Carefully top with remaining squares. Use the tines of a fork to crimp the edges all the way around. Brush with egg, sprinkle each pie with about ½ teaspoon sugar. With a sharp knife, cut 1- 3 small vents in the center of the pies.

Bake 20 - 25 minutes, or until the tops are a rich golden hue and the filling is bubbling and hot. Set aside to cool.

Repeat process for the second portion of dough. Roll out any scraps to try and eke out another pie or two. (Or twist dough scraps with cinnamon sugar for a little treat.) Fill and bake remaining pies.

Cool 20 minutes before serving.

Pies are best the day they're made, but they'll keep sealed at room temp for a day or two.