We've partnered with Whole Foods Market to bring you a tangy vegan strawberry coconut tart with a gluten-free oat crust and topped with the first bright red strawberries of the season.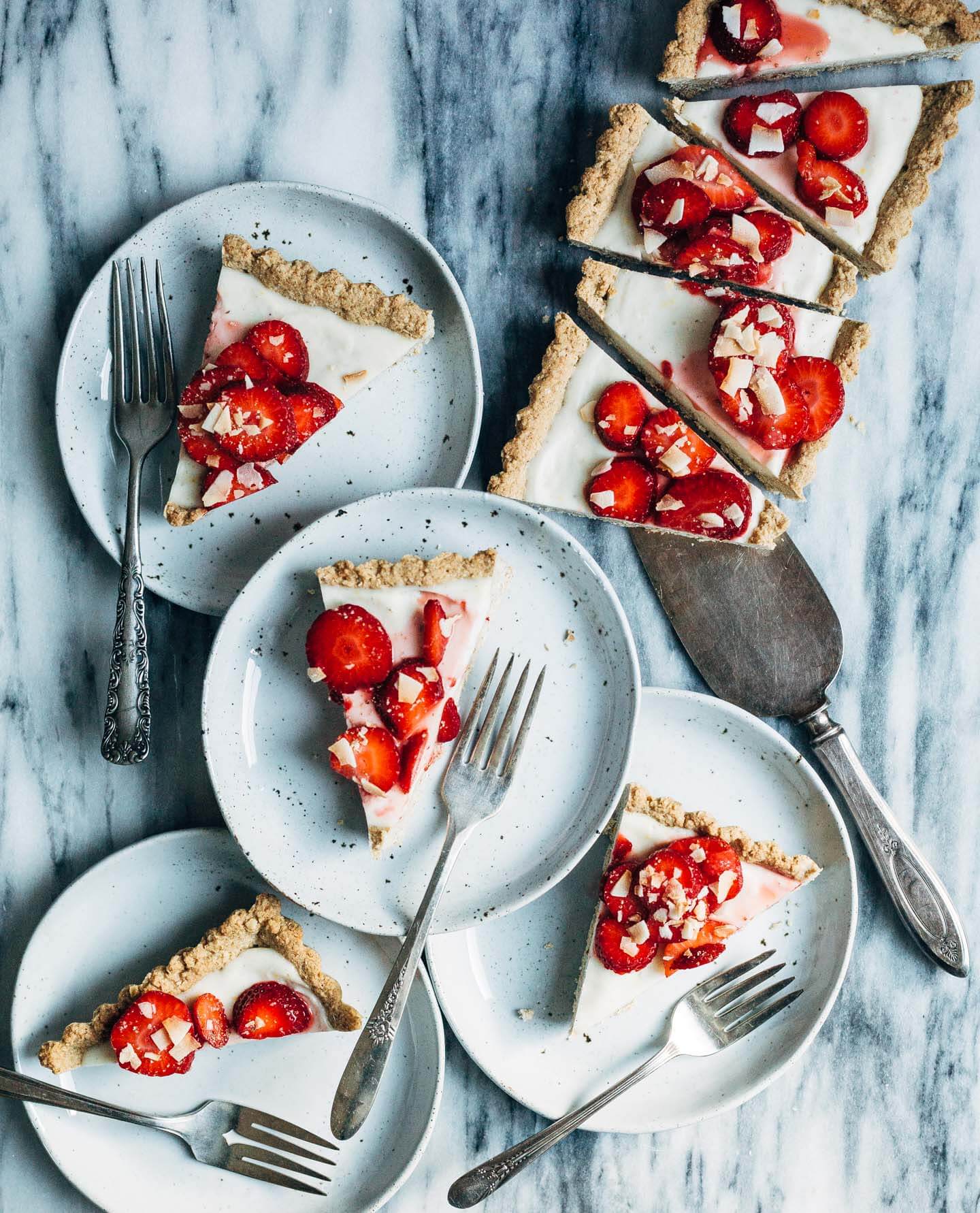 In my kitchen, the seasons dictate my entire approach to cooking. And the arrival of the first berries of spring calls for celebration. Of course, strawberries are wonderful in and of themselves, but they get a little extra attention because they're first; a harbinger of the growing season and all the goods things to come.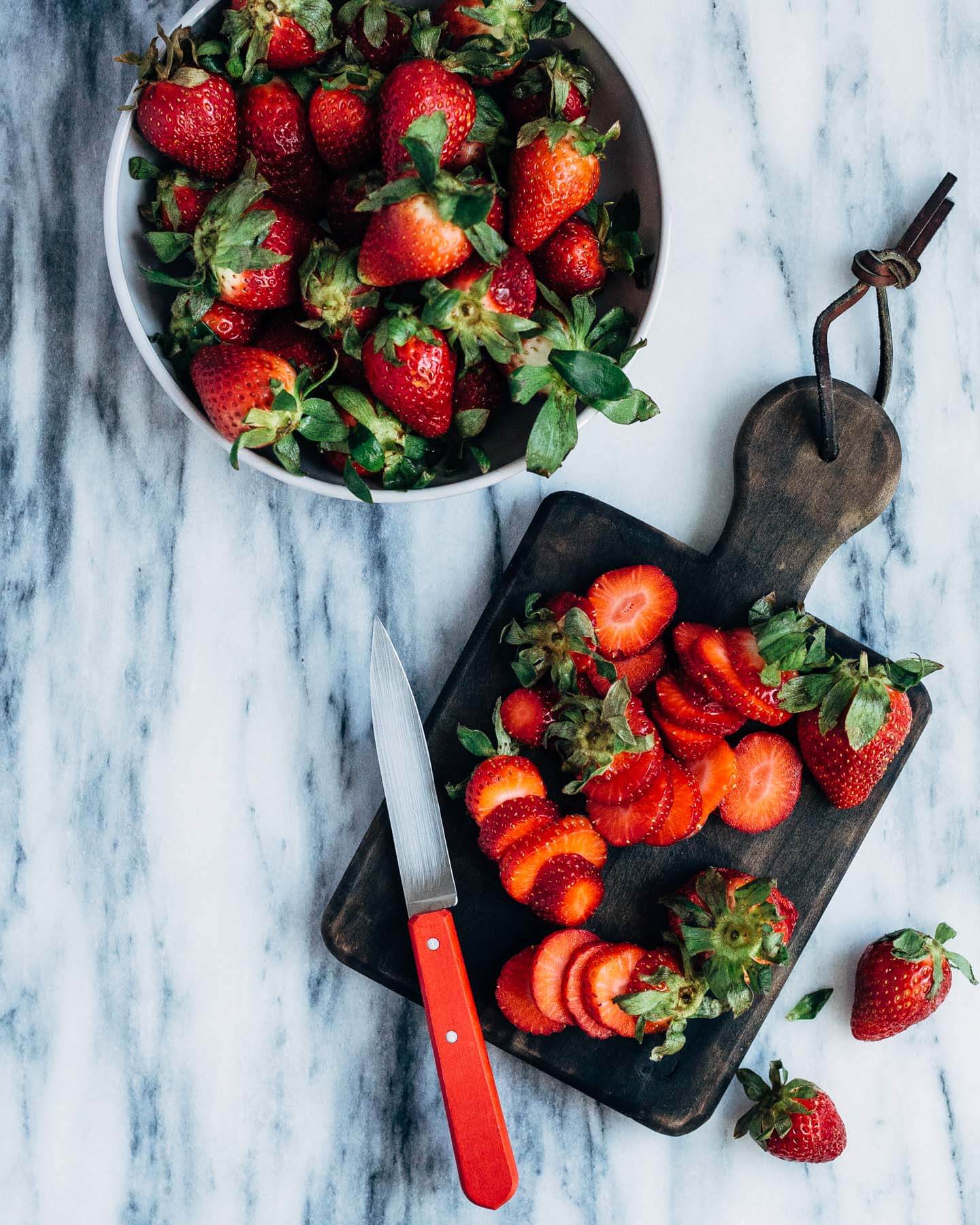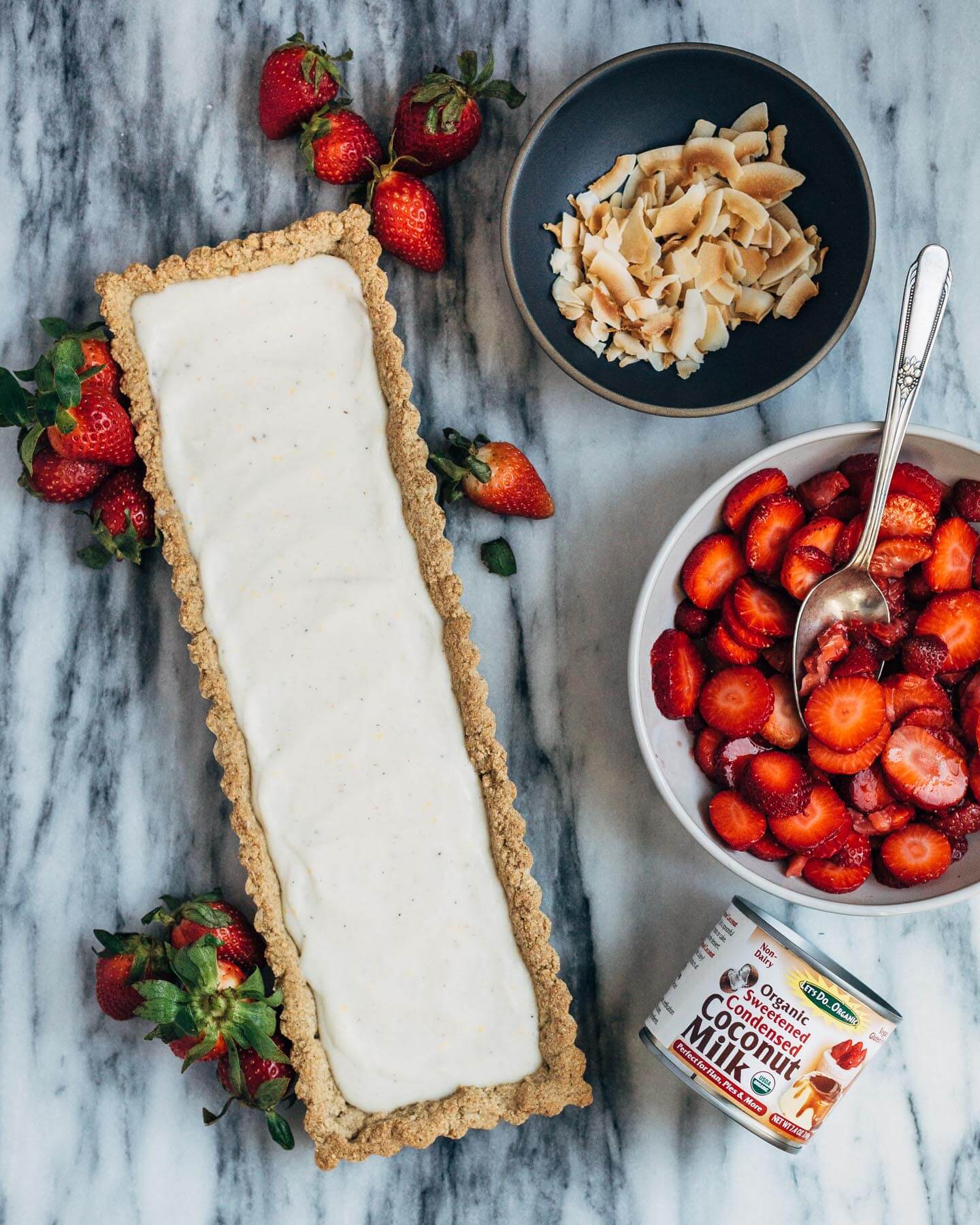 This tart – pretty to behold, and just as delightful to eat – is a wonderful way to showcase spring's first delicious red strawberries. In fact, after bringing it to the first cookout of the year and getting raves from my friends, this gluten-free, vegan strawberry coconut tart has become my dessert of choice for entertaining a crowd in spring. I love that just about everyone can enjoy it, but I'm also smitten with the rich coconut flavor.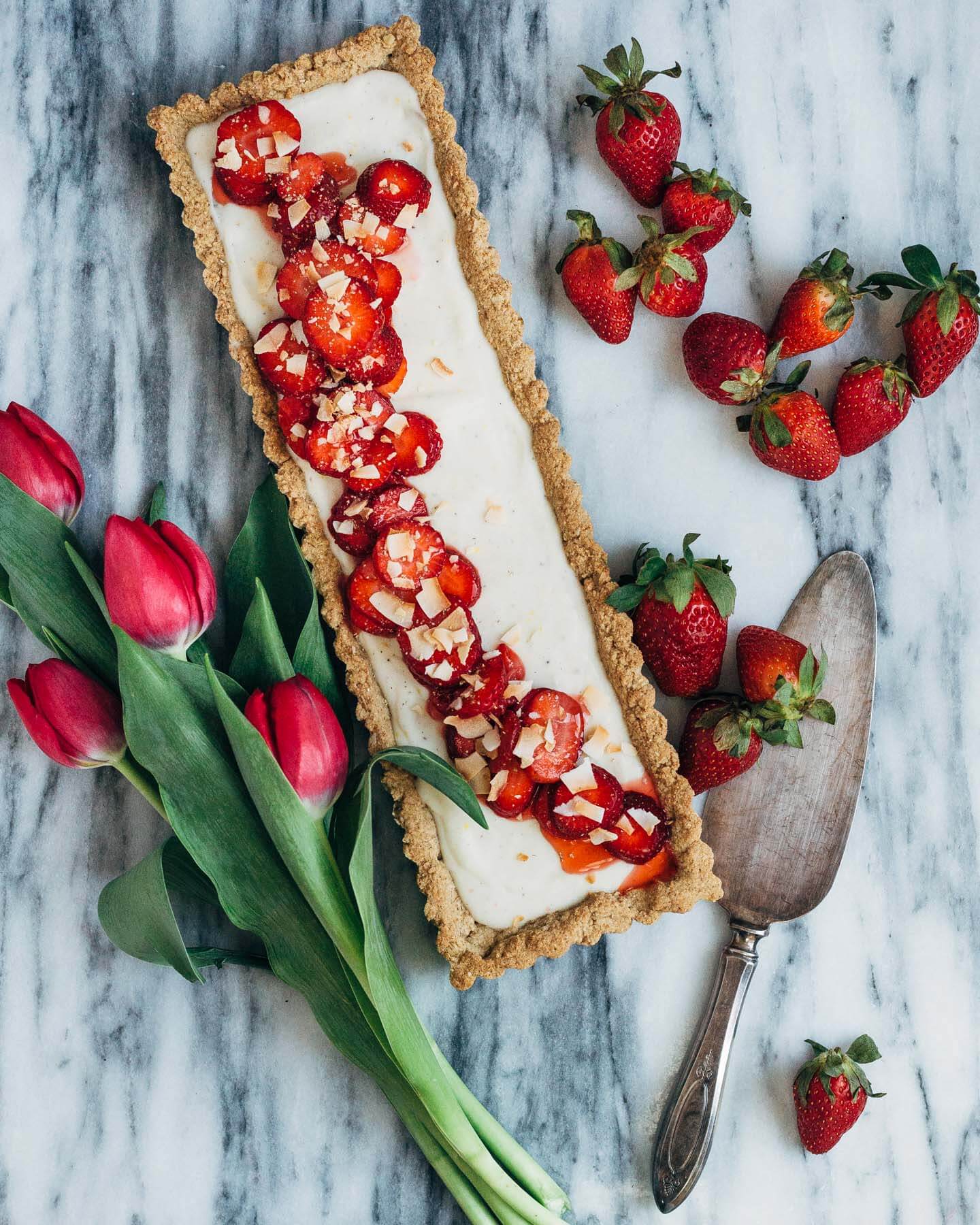 The coconut base is made with a combination of coconut cream and Let's Do…Organic brand Organic Sweetened Condensed Coconut Milk, a vegan alternative to traditional condensed milk with just three ingredients available at Whole Foods Market. I love the pure coconut flavor, buttery texture, and versatility of the Sweetened Condensed Coconut Milk, and especially loved the ease with which I was able to make a rich, super coconut-y vegan dessert.
This post marks the beginning of a yearlong partnership with Whole Foods Market. I'm thrilled to team up with them to bring you a closer look at unique ingredients and seasonal eating strategies throughout the year.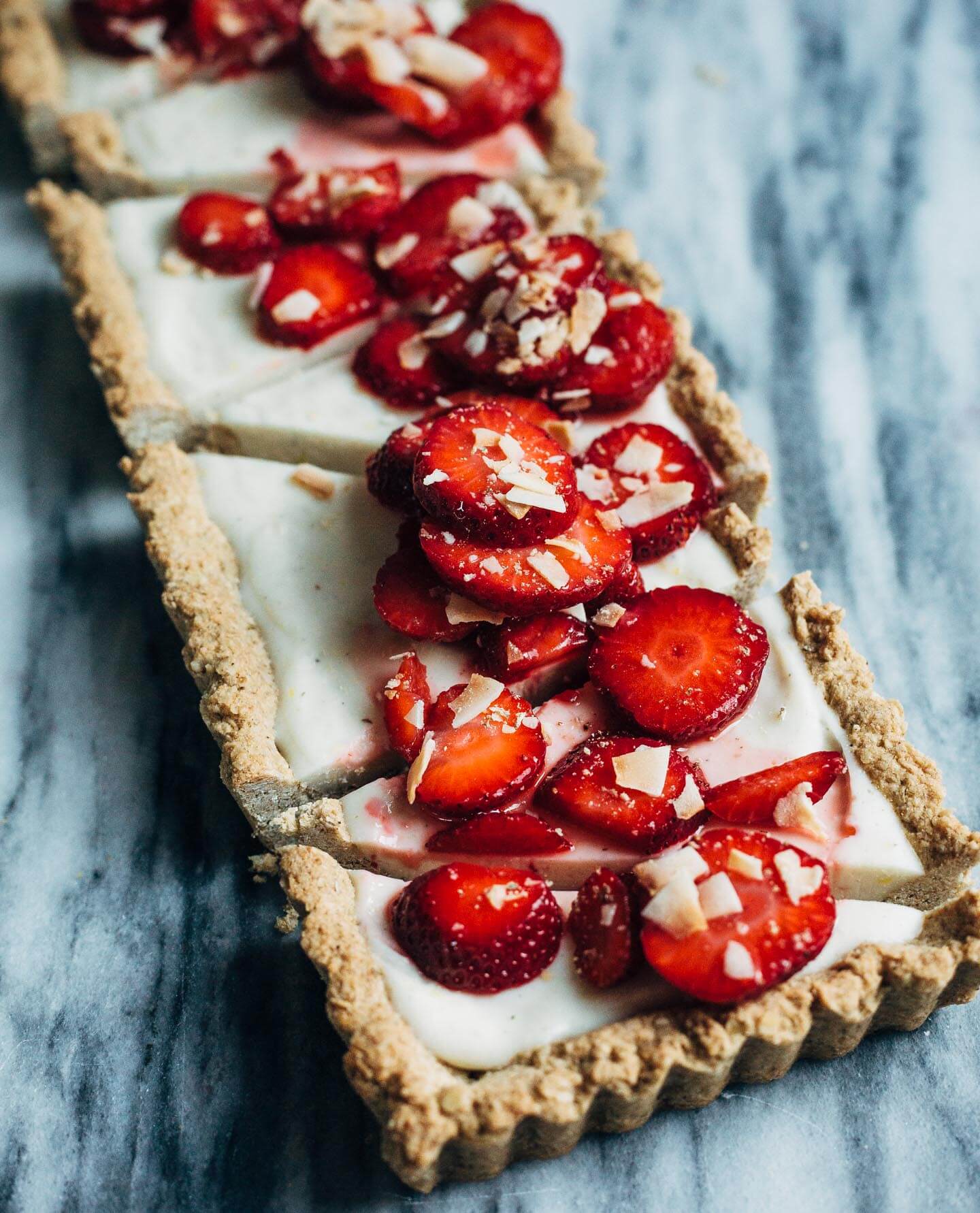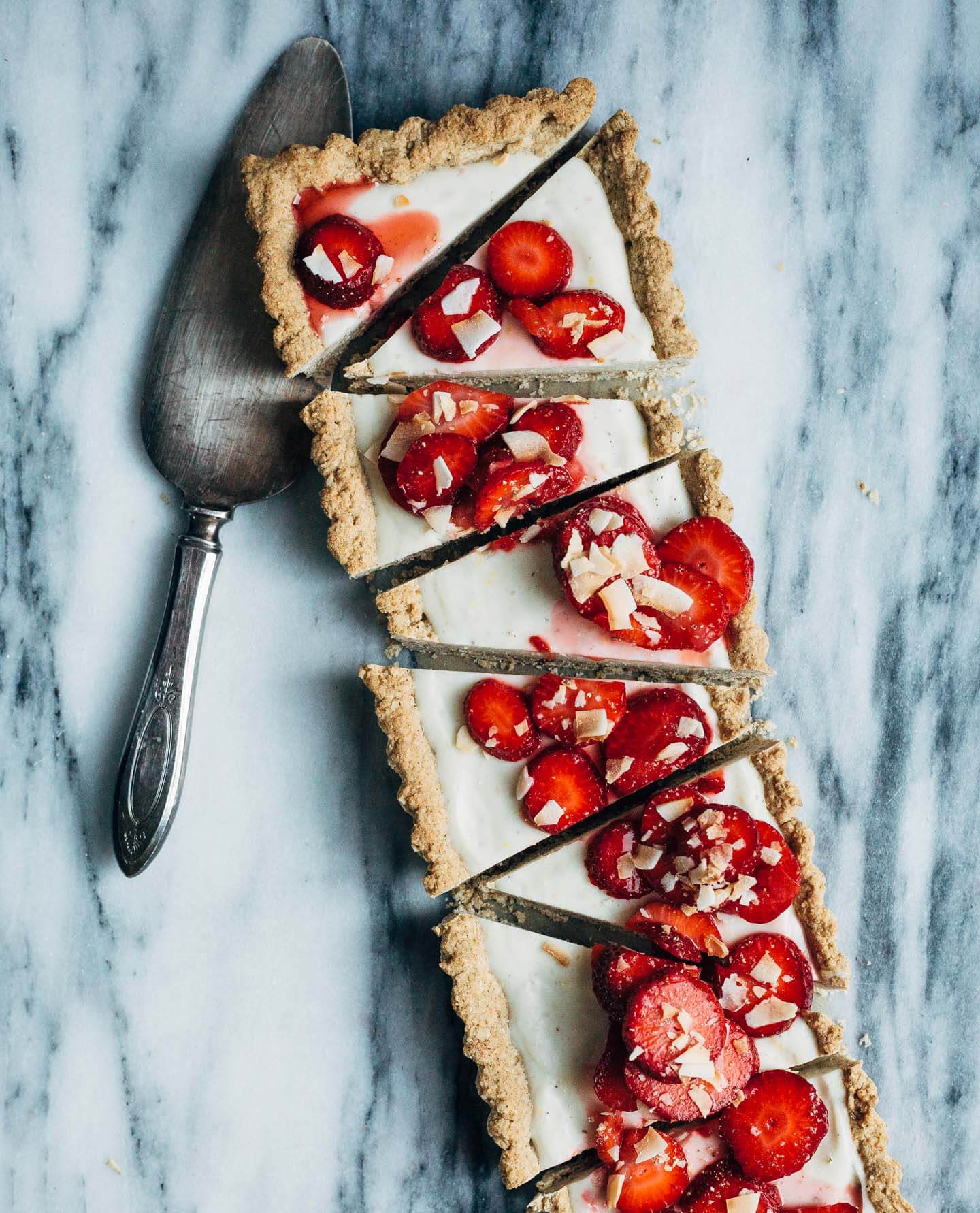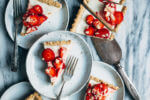 Strawberry Coconut Tart (Gluten-Free + Vegan)
This aromatic vegan strawberry coconut tart is suffused with fresh ginger, lemon, cinnamon, and cardamom. It has a nutty, gluten-free oat and coconut crust and is topped simply with strawberries tossed in maple syrup and toasted coconut. 
To set the coconut filling, I used agar agar flakes; agar agar is a clear, flavorless seaweed product that can be used as a vegan gelatin alternative. Look for it in the seaweed aisle or find concentrated agar agar powder in the baking aisle.
Ingredients
Crust
1/2

cup

plus 1 tablespoon unsweetened shredded coconut

6

tablespoons

coconut oil,

melted and slightly cooled

1 1/4

cup

gluten-free old-fashioned rolled oats

(not quick cooking)

1/2

cup

quinoa flour

1/2

teaspoon

sea salt

1/2

teaspoon

ground cinnamon

6

tablespoons

maple syrup
Filling
1

(13.5-ounce) can full fat coconut milk

1

(7.4-ounce) can Let's Do…Organic brand Organic Sweetened Condensed Coconut Milk

1-

inch

section ginger,

peeled and finely grated

1/2

teaspoon

fresh ground cardamom seed

1/4

teaspoon

sea salt

2

tablespoons

agar agar flakes or 1 tablespoon agar agar powder

1

tablespoon

lemon zest plus 1/4 cup lemon juice

(from 1 - 2 lemons)

1/4

teaspoon

fresh grated nutmeg
Toppings
1

cup

sliced strawberries

2

tablespoons

maple syrup

pinch sea salt

1

tablespoon

toasted coconut flakes
Instructions
The night before, set can of coconut milk in the fridge and leave undisturbed overnight. This will ensure the thick coconut cream rises to the top and can easily be scooped out.
Crust
Preheat oven to 300 degrees F. Spread shredded coconut on a rimmed baking sheet. Toast until coconut is a very light golden brown, about 4 minutes. Remove coconut from pan (otherwise it will continue to brown) and set aside to cool. Reserve 1 tablespoon toasted coconut for garnish.

Turn heat up to 350 degrees F. Line bottom of a 13 3/4 x 4 1/2-inch rectangular or 9-inch round tart pan with parchment and grease bottom and sides with coconut oil.

In the bowl of a food processor, pulse to combine toasted coconut and oats. Add quinoa flour, sea salt, cinnamon, maple syrup, and coconut oil; pulse just until mixture forms a shaggy ball. Press into prepared tart pan, taking extra care to build up sides. Poke crust all over with a fork.

Set crust on a rimmed baking sheet and bake until crust is fragrant and golden, 20 - 25 minutes. Cool in tart pan on a wire rack 30 minutes, then (very) carefully unmold, replace on rack, and allow shell to cool completely.
Filling
Combine 1 cup coconut cream from chilled can of coconut milk, condensed coconut milk, ginger, cardamom, sea salt and agar agar flakes in a heavy-bottomed saucepan. Bring mixture to a gentle boil over medium heat, whisking constantly. Turn heat to the lowest setting, cover, and cook 10 minutes, stirring every few minutes to prevent scorching. Check mixture to make sure agar agar has dissolved; if it hasn't, cook 5 minutes longer. Remove from heat and let mixture stand, covered, 10 minutes.

Spoon coconut mixture into pitcher of a blender and add lemon zest and juice, and nutmeg. Pulse 4 times. (This step blends ginger and lemon zest into the coconut base and makes for a fluffier, airier filling.)
Assemble Tart
Spoon filling into cooled tart shell. Chill tart in fridge 30 minutes or longer. Once filling is set, cover loosely with plastic wrap.

Just before serving, mash 1/2 cup strawberries with maple syrup and sea salt in a small bowl. Toss in remaining sliced berries; let mixture stand on counter 10 minutes. Spoon strawberries onto tart, top with reserved toasted coconut, slice, and serve.

Thanks to Whole Foods Market for sponsoring this post!
SaveSave
SaveSave