March was in-sane around here. Every second of the month felt scheduled. It was wonderful and fun and exhausting, and I am so glad it's over. In contrast, this weekend has been wonderfully peaceful. On Saturday, Brian cleaned the house while I planted the garden. The girls enjoyed the quiet, too, playing with Duplos and reading books. The rest has done wonders to restore my sense of well being. In March, I was drowning. But halfway through April, the beauty of spring and mild weather have gone a long way to restore my sense of optimism.
Speaking of optimism, I'd really love it if you'd take a second to vote for Brooklyn Supper in the Saveur Blog Awards Most Delicious category (all the way at the bottom of the page). Being named a finalist is an amazing affirmation of what we do here and your support, comments, and likes over the years have meant the world to us. Thank you!
Now, on to the good stuff.
This strawberry ginger polka dot slab pie is just as delicious as it looks; get the recipe over on Handmade Charlotte.
How I actually got my oldest daughter to eat her vegetables, on Babble.
How to make grilled cheese in the oven (plus bacon).
Spring has a lot of rock stars, but don't forget the quieter ingredients like green leaf lettuce, radishes, and spring onions, on Food52.
Vegetables for dessert! Beet and carrot sorbet recipes, on Handmade Charlotte.
Strawberries and (sour) cream striped popsicles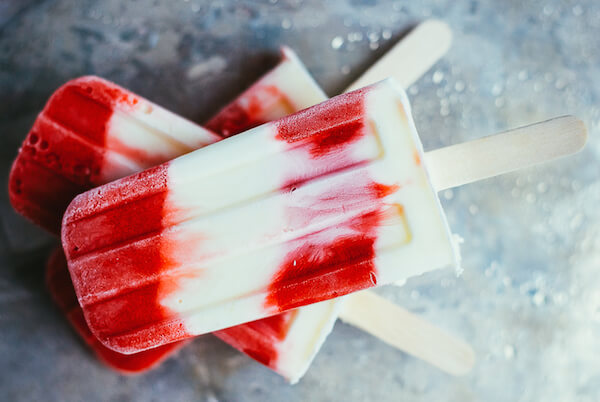 Elsewhere on the web, Gwyneth Paltrow is catching flak for taking on the SNAP challenge, a weeklong challenge to live off the $29 a week afforded by Federal SNAP benefits. Gwyneth's biggest mistake, apparently was that she bought limes. And sure, seven is a lot of limes when you've only got 29 dollars for everything, but her mistakes might be the same mistakes anyone on such a limited budget would make and anyway, I bet she got them for a dollar. Her fame, beauty, and the intense power of Goop all make her an ideal person for bringing attention to the ridiculous constraints of feeding a family on SNAP. I like the sentiments in Amy Woolard's Slate piece; there are also important takeaways in this piece from Southern Foodways. Finally, Gwyneth herself weighs in on the controversy, and uses her platform to urge support and education through a host of great non-profits.
No matter how you feel about the wealthy and beautiful trying to step into the painful reality of so many, change is needed. I am continually distressed by those of us on the receiving end of all kinds of federal benefits – mortgage deductions, medicare, social security – taking the position that the poor in this country don't deserve their chance at a good life with a small boost from the collective. 14 percent of households regularly do not have enough to eat in this country. It's time to stop pointing fingers and fight for real, meaningful change. Read up and get involved.
Class is everywhere. As I become more and more grown-up – well into my 30s – I see class in everything. Small asides, things I might assume as a given, or things someone else might assume as one, are all fodder that serve to highlight class and difference. This essay sums up much of this delicate interplay beautifully.
Sally Mann gave a lecture once when I was in school at the University of Virginia. Just as she is here, her words and story were completely captivating. Her determination, skill, and deep understanding of all the uncomfortable layers that comprise our humanity makes this long read worth every second. I almost cried at the end, if only because it's so poignant.
The argument economy: a look at hot take journalism and why it sells.