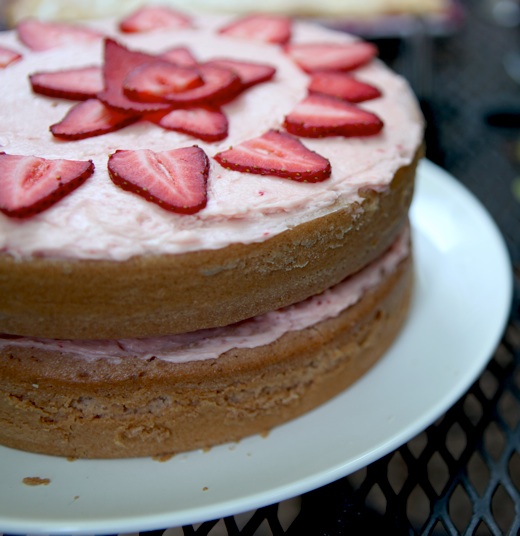 Real summer has arrived in the city. Without warning, the temperature shot up to almost 90 degrees, and there we were donning our summer finery. Sweaters that just last week seemed natural and necessary now look impossibly itchy and have been stored until fall. And even if it is still just May, and even if I hate the hot weather with a passion, there's really nothing else to do but to slide into some flip flops, pop open a beer, and enjoy the season. 
Having been born midsummer, my favorite birthday cake was always strawberry. Growing up, that meant the pink cake in a box, with a strange kind of strawberry flavor, manufactured, no doubt, somewhere outside of Newark. So recently, for a dear friend's baby shower, it seemed like an excellent time to have a go at a real, homemade strawberry cake.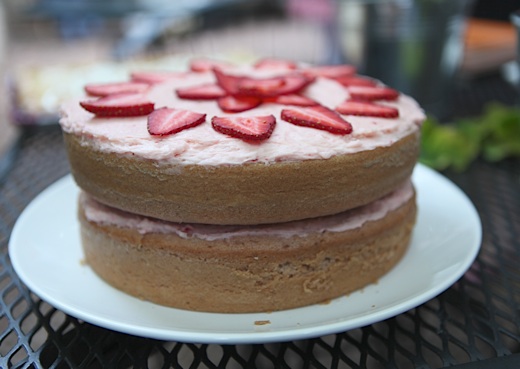 The cake was moist, lightly sweet, and had a silky crumb. The strawberry flavor was subtle and so summery. The cake itself wasn't an intense pink, but topped with fresh berries and a rich pink buttercream, nobody seemed to notice.
Strawberry Cake with Strawberry Lime Buttercream Frosting (adapted from Smitten Kitchen)
makes two 8 or 9″ cakes
3 cups all-purpose flour
2 cups sugar
3 1/2 teaspoons baking powder
1/2 teaspoon salt
16 tablespoons unsalted butter, room temperature
1 cup pureed fresh strawberries (make extra for the frosting)
5 egg whites, room temperature
1/2 cup plus 1 tablespoon milk, room temperature
zest of 1 lime
3 – 4 drops red food coloring (optional–use for a decidedly pink cake)
Preheat the oven to 350 degrees. Liberally grease and flour two 8 or 9″ cake pans.
If using a stand mixer, fit it with the paddle attachment; otherwise, plain old beaters will be fine. In a large bowl, combine the flour, sugar, baking powder, and salt. Mix for several seconds to combine. With mixer on low, add the butter, mixing until incorporated. Next, add the strawberry puree, again mixing until incorporated. Scrape down the sides, and mix on medium speed for 3 minutes.
Meanwhile, combine the eggs whites, milk, and red dye (if using) in a small bowl. Switch the mixer to low, and slowly add the egg white mixture, stopping to scrape down the sides of the bowl as needed.
Pour the batter into the prepared cake pans, filling to about 2/3 full. Bake cakes for 35 – 40 minutes, or until a toothpick inserted in the center comes out with just a few crumbs.
Set cakes aside to cool. After 15 minutes, flip cakes out of the baking pans and onto a rack to cool completely. Pressed for time, I stuck my cakes on the racks and right into the fridge and that worked quite well.
Meanwhile, make the buttercream.
to make the frosting
16 tablespoons butter, room temperature
1 1/2 cups powdered sugar
pinch of salt
zest of 1 lime
2 – 3 tablespoons strawberry puree, or more if needed
2 teaspoons lime juice
In the bowl of a stand mixer fitted with the paddle attachment, or with a regular mixer, beat the butter until light and fluffy on medium speed. Slowly add the sugar, scraping down the sides as needed. Add the salt, zest, and strawberry puree, beat for another minute and scape down the sides, and then add the lime juice. Beat for one minute on medium speed, check the consistency, and add more strawberry puree, if needed, to loosen the buttercream. Conversely, you may need to add a bit of confectioners sugar. Consistency can vary according to temperature and humidity, so adjust as needed.
to assemble the cake
3 strawberries, sliced 1/4″ thick
Set the bottom half of the cake on a plate, and frost the top. Place the second layer, and frost that. Just before serving, arrange 2 – 3 sliced strawberries on the top.
All images courtesy of the brilliant and lovely Vanessa Silverton-Peel