Embrace all things fall with this versatile recipe for jewel-toned stuffed acorn squash with sautéed fennel, apples, toasted farro, dried cranberries, and parsley.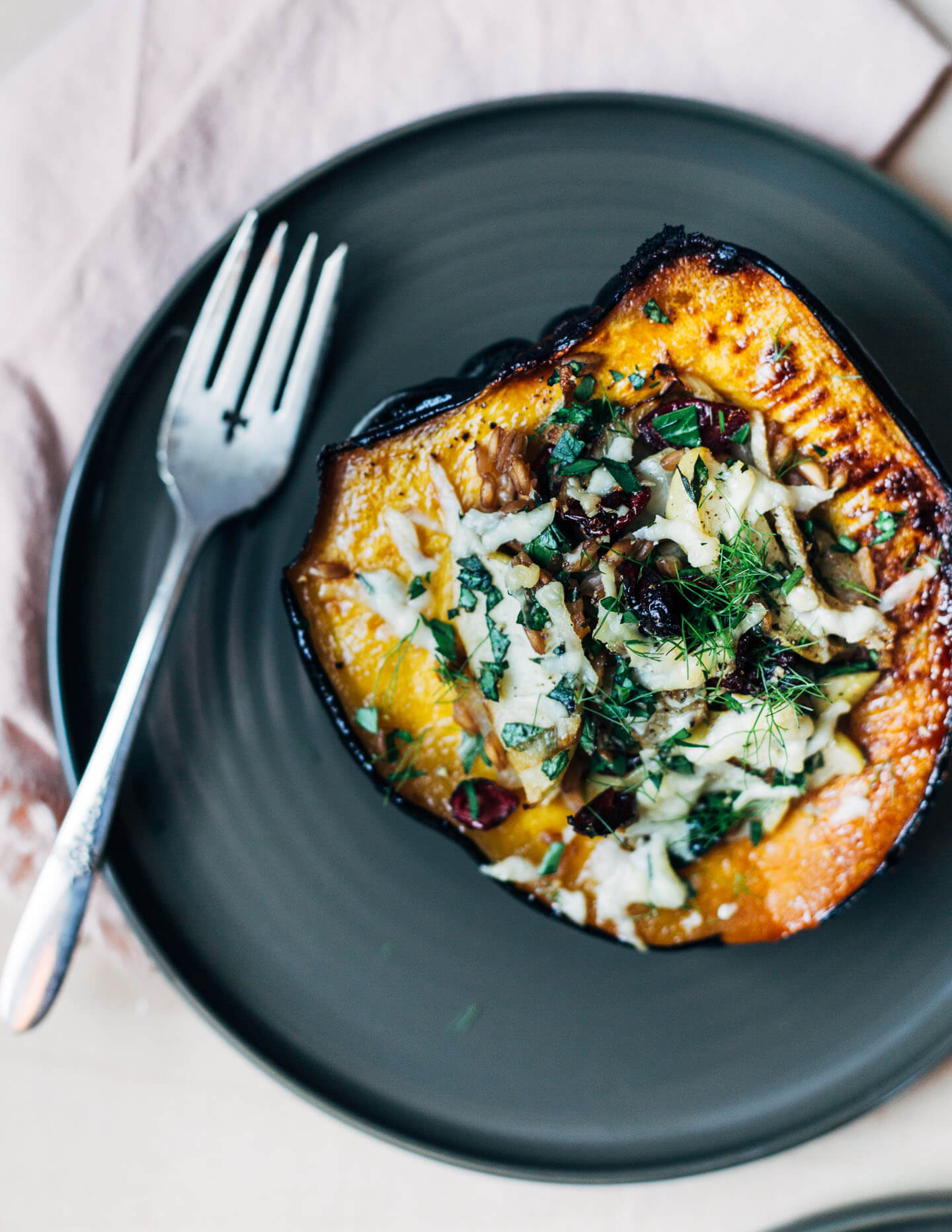 The shift toward fall produce is frequently a jarring one for me. There's a certain novelty in prepping and cooking vegetables after months of slice and eat meals, but all this actual cooking takes an amount of foresight I've grown unaccustomed to.
So I make do with the occasional mishaps and very late meals that come with relearning the rhythm of fall cooking. If you're also stumbling into the season, stuffed acorn squash with fennel and apples is a nice place to start. Versatile, earthy, and comforting, stuffed squash is showy, but not at all fussy.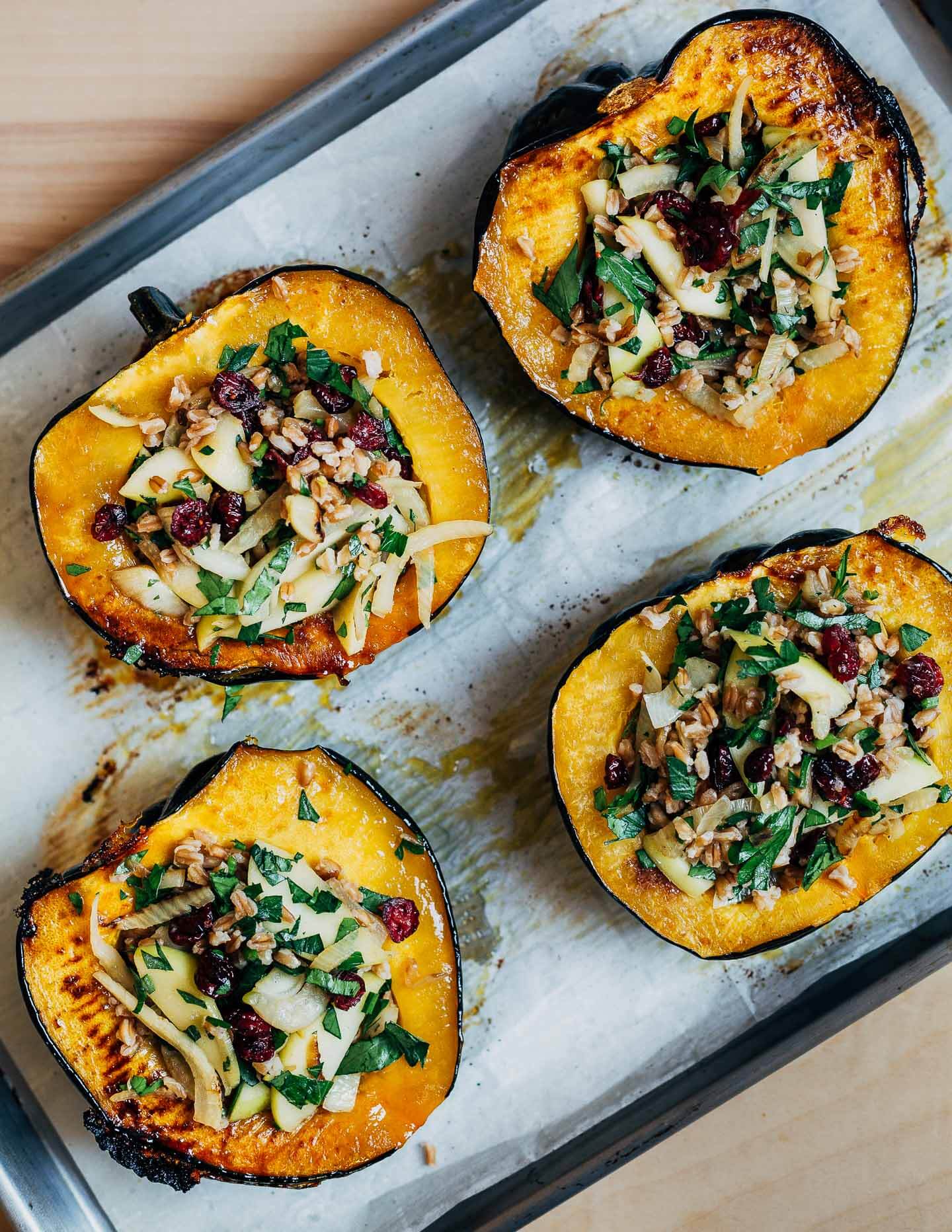 Acorn Squash
Let's start at the beginning: As the name suggests, acorn squash are medium-sized acorn-shaped winter squash with a deep-green ridged exterior and a golden yellow interior. The flesh has more texture than a butternut, but isn't mealy. The sturdy exterior pleating and deep hollow for seeds makes acorn an ideal squash for stuffing.
To prep the acorn squash, heat the oven to 400 degrees F and line a rimmed baking sheet with parchment. Using a big, sharp knife and the utmost caution, cut the woody tip from the squash and then slice it in half. I tend to leave the stem, if there is one, because it looks cute. If needed, you can also slice a bit off the back of the squash to ensure it's stable when facing cut side up. Next, rub the interior with a generous drizzle of olive oil and sprinkle liberally with sea salt. You'll roast the squash cut side down just until fork tender, anywhere from 40 – 60 minutes, depending on the size of the squash.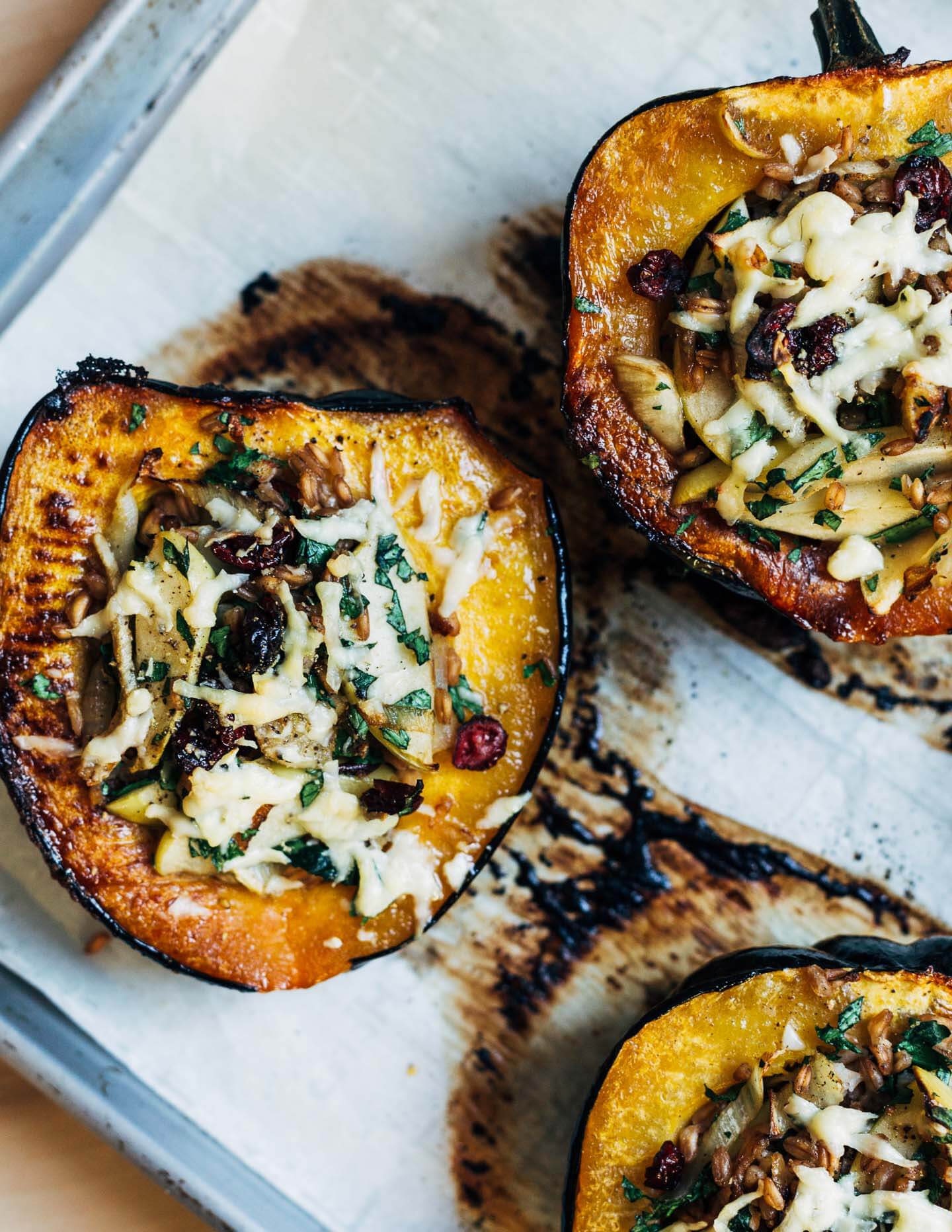 Stuffed Squash Filling and Variations
While the squash roasts, you'll have time to prep the other ingredients. Here, I went with sautéed shallot and fennel with crisp apples, toasted farro, dried cranberries, and parsley. 

The filling is a good place to experiment or use leftovers and other odds and ends. To make the squash stuffing your own, consider a combination of the following:
Grains
Toasted farro
Toasted barley
Toasted pearl couscous
Quinoa
Toasted spelt
Rice (especially brown or wild rice)
Vegetables
Caramelized onions
Crispy shallots
Sautéed fennel
Sautéed cauliflower or broccoli (cut into very small florets)
Sautéed greens
Other Additions
Dried fruit such as cranberries, cherries, diced apricot or dates
Fresh herbs such as parsley or sage
Toasted seeds or nuts such as pumpkin seeds or sliced almonds
Seared sausage
Canned chickpeas
Canned navy or white beans
Hard cheese such as cheddar, Parmesan, Gruyere, or Pecorino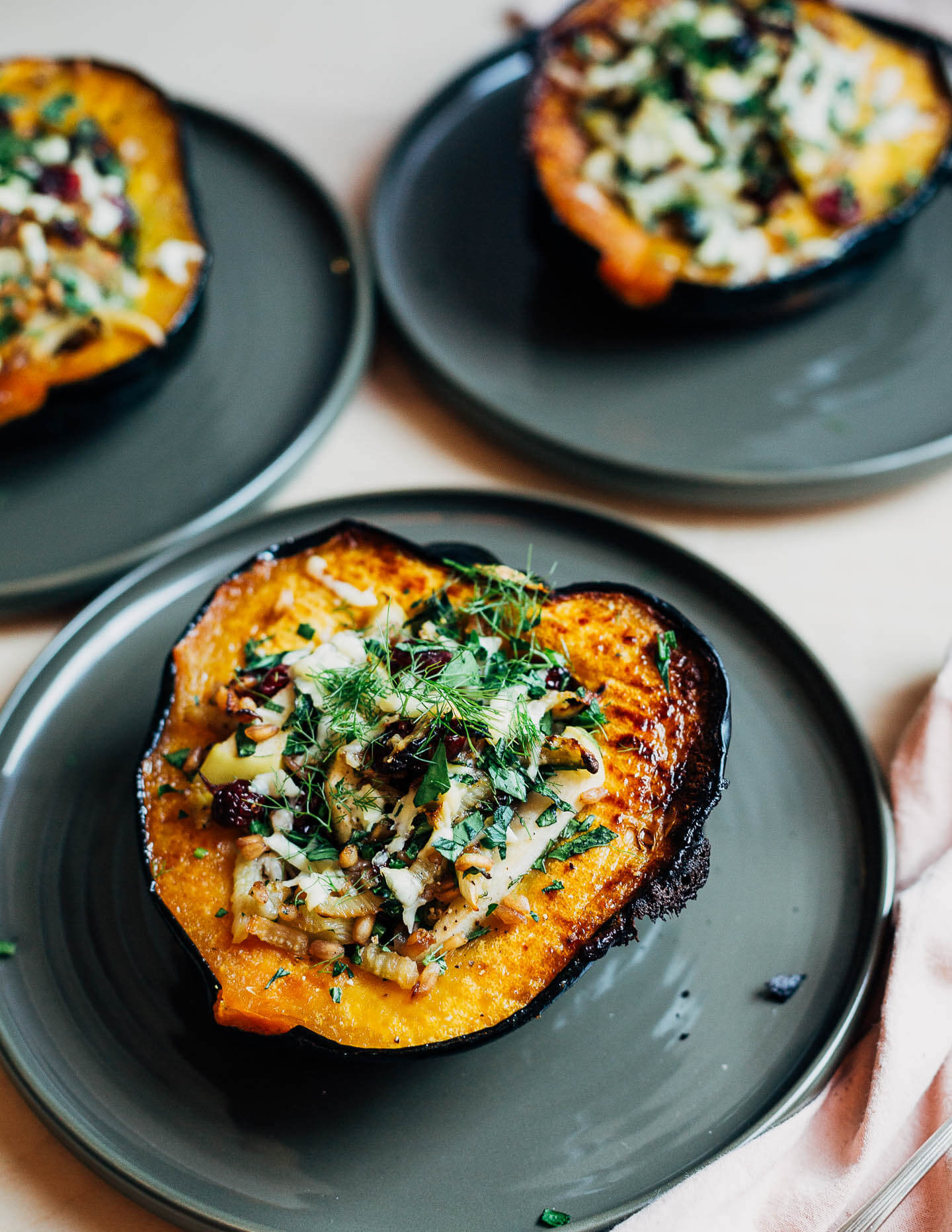 Stuffed Acorn Squash: Bringing It All Together
Once the squash is cooked through and the filling is prepped, flip the squash cut side up, mix the filling and spoon it into the squash, and return the stuffed squash to the oven. Roast 15 minutes or so – long enough to crisp up the squash edges and the filling, and melt the cheese.
The stuffed squash halves can be served as a main course, or sliced in half for a nice side.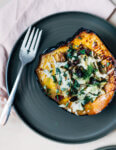 Stuffed Acorn Squash with Fennel and Apples
Embrace all things fall with this versatile recipe for jewel-toned stuffed acorn squash with sautéed fennel, apples, toasted farro, and dried cranberries.
Keyword:
stuffed acorn squash
Makes
:
4
meal-sized servings
Ingredients
2

small to medium acorn squash

Extra virgin olive oil

Sea salt

1/4

cup

dry quick-cooking farro

2

tablespoons

diced shallot

(about 1 small shallot)

1

medium fennel bulb,

cored and sliced 1/4 thick, fronds reserved

1

medium green apple,

sliced into small triangles

1/4

cup

minced parsley

2

tablespoons

dried cranberries

1/4

cup

shredded Pecorino
Instructions
Preheat oven to 400 degrees F. Line a large rimmed baking sheet with parchment paper.

With a large, sharp knife, cut the woody tip from the narrow end of the acorn squash, then carefully slice the squash in half lengthwise. Set squash cut side up and test for stability. If needed, cut a 2-inch flat section from the back to stabilize the squash.

Remove the seeds and rub the cut side all over with olive oil. Sprinkle liberally with sea salt. Set squash cut side down on prepared baking sheet. Bake squash until fork tender, 40 - 60 minutes (cook time will vary based on the size and depth of the squash).

Meanwhile, prep the filling. Set a medium saucepan over medium heat. Add a tablespoon olive oil and the farro. Toast, stirring often for 3 minutes. Then cook farro according to package instructions. (I use the "pasta method" detailed here.)

Set a 9-inch skillet over medium heat. When hot, add 2 tablespoons olive oil, and then the shallots and fennel. Sprinkle with sea salt and sauté until golden and tender, 7 - 10 minutes. Add the apples, and cook 3 minutes more.

In a medium-sized mixing bowl, toss to combine the warm farro, sautéed vegetables, parsley, and dried cranberries. Add sea salt and pepper to taste.

Spoon filling into the squash, mounding it up a bit. Sprinkle with cheese. Bake 15 minutes or until squash and filling are golden with crisp edges and the cheese has melted. Let squash cool 5 minutes, then garnish with reserved fennel fronds, and serve.

Squash can be served as-is, or cut in half for a side.
Recipe Notes
Note: Any leftover filling can also be enjoyed as a side salad or packed lunch.