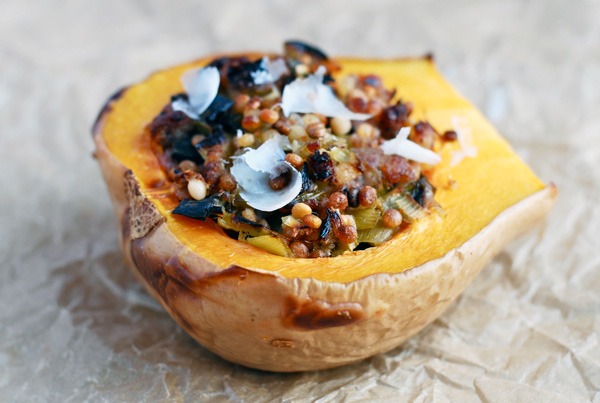 We've been eating our weight in butternut squash lately, and I am a big fan of its abundant, silky flesh. It's my fave, as far as squash go. While the top of the butternut is nothing but squash, the amount of edible squash in the rounded bottom is scant. While it's not usually thought of as a stuffing squash, we have so many, I thought I'd experiment a little.
It made for a hearty, earthy dinner, with a complex blend of fall flavors–well worth a try.
Butternut Squash Stuffed with Caramelized Leeks, Sausage and Cous Cous
serves 6
2 tablespoons butter
3 medium leeks
1 cup cous cous (I used whole wheat Israeli cous cous)
1 cup ground sausage
1/4 cup grated Asiago
3 butternut squash, round bottoms cut off, halved, and seeds scooped out
olive oil
sea salt and pepper to taste
To thoroughly clean my leeks, I rinse and slice, and then immerse them completely in water. Shake the slices, and allow the sand to settle on the bottom. Repeat a couple of times, and then spin in a salad spinner.
Preheat the oven the 425 degrees.
Follow instructions for making the cous cous.
Heat the butter in a medium-sized skillet over medium heat. When bubbly and fragrant, add the leeks. Stir briefly and turn heat to low. Stir occasionally as they cook for the next 20 – 25 minutes.
Remove to a large bowl, and then fry up the sausage in the same pan over medium-high heat until cooked through, about 5 minutes.
Stir the cooked sausage and cous cous, and Asiago in with the leeks. Check salt levels and adjust if needed.
On the rounded bottom of each of the butternut squash halves, cut a tiny slice off so they will be stable on the baking sheet.
Lightly coat a small rimmed baking sheet with a bit of olive oil. Brush the squash with olive oil and a sprinkle of sea salt. Stuff the centers so the filling just bulges out of the center. Cover the baking sheet lightly with foil.
Bake for 25 minutes covered, then uncover and cook for 20 – 25 minutes more, or until the squash is soft and the filling had browned just a bit.