These stuffed shells with greens, creamy ricotta, and homemade marinara are perfect for evenings when you want your pasta with extra flair and flavor.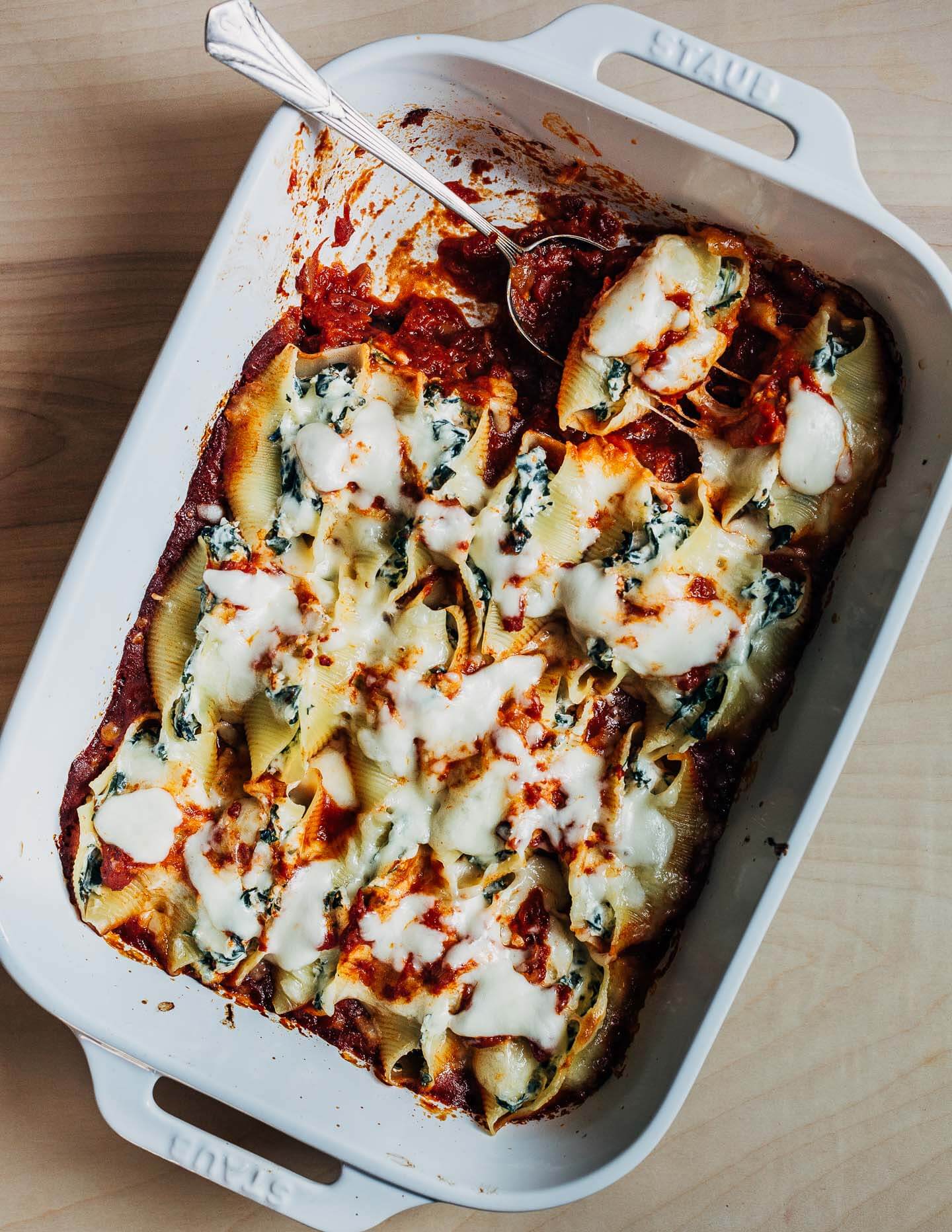 Stuffed shells with greens are like a laid back lasagna. With creamy ricotta, fresh mozzarella, and flavorful marinara, there's a lot of overlap. But stuffed shells are also a lot more simple and versatile. Here, they're made with a mix of collards and radish greens, but you can swap in kale, mustard greens, or whatever greens you have on hand. You could also leave the greens out and go for a meat sauce with extra cheese.
No matter how you make your stuffed shells, they'll come together easily, even on the busiest nights.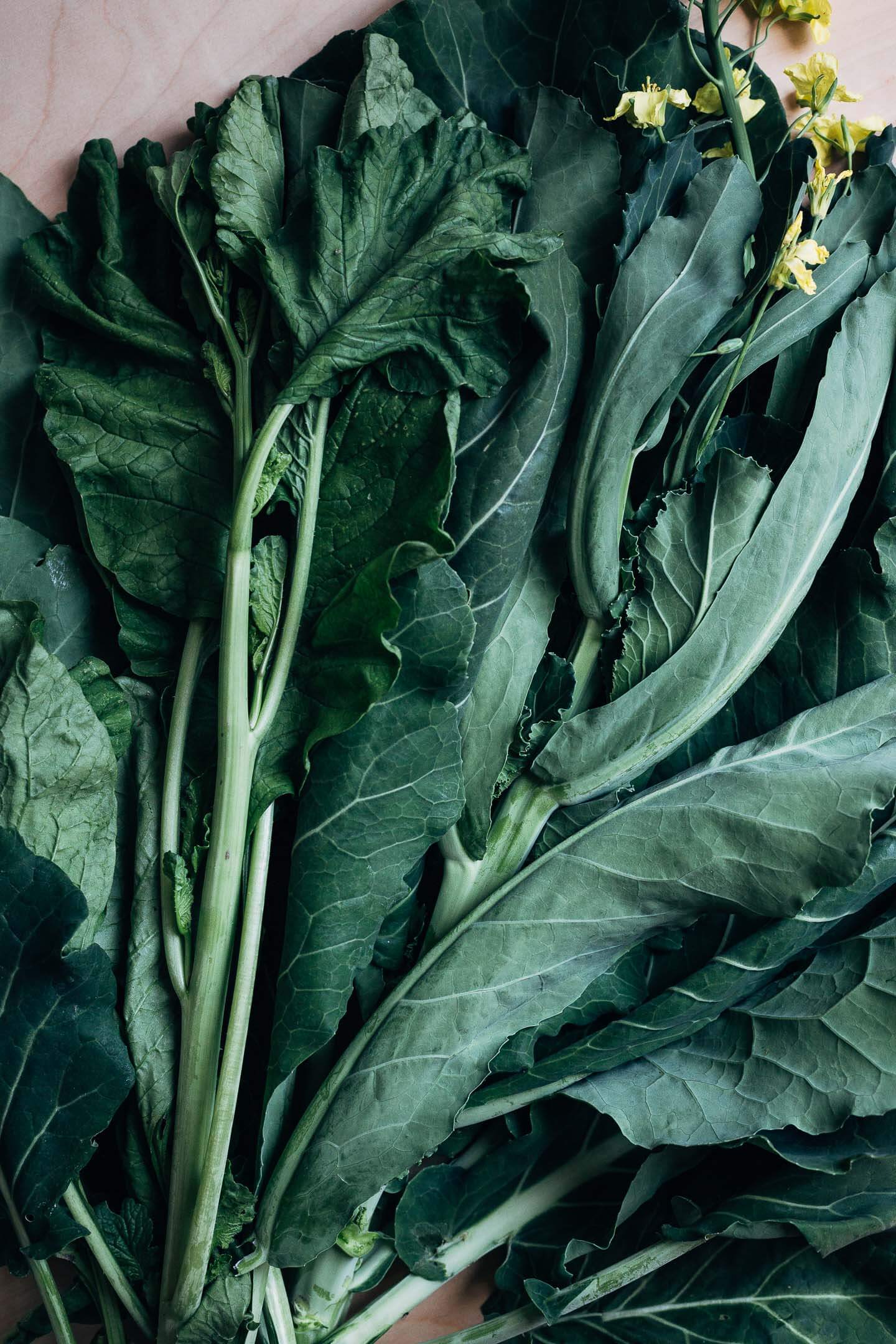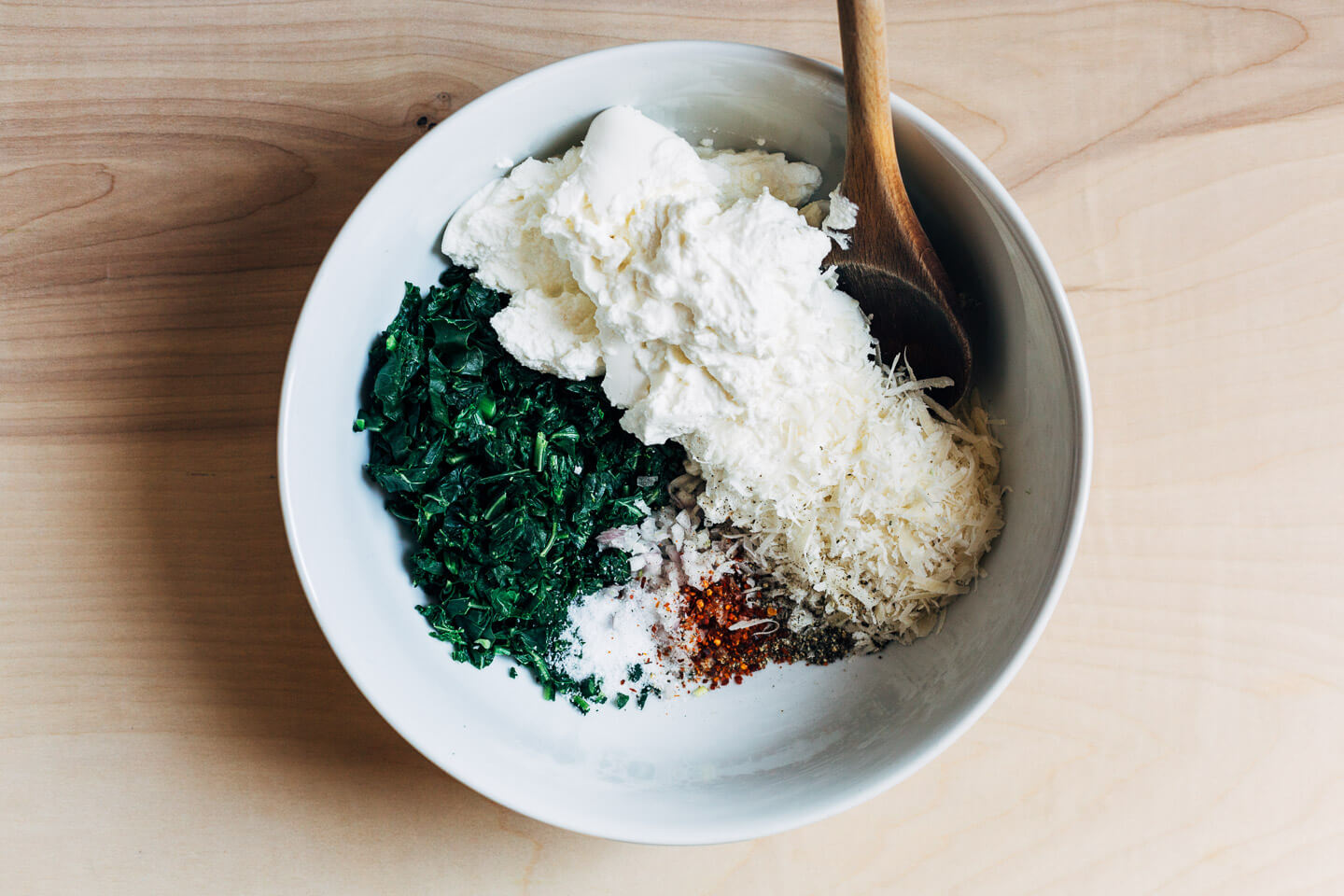 A Good Way to Eat More Greens
I'm a big believer in the combined power of pasta and greens. I'm not going to sneak them in, but if I can convince my family to eat collard and radish greens with gusto, it's a win. Cheese and pasta are so rich that a few handfuls of dark leafy greens contrast with the rich cheese and add depth. Not to mention nutrients.
Besides being a relatively simple way to eat more greens, this stuffed shells recipe is also an excellent way to use up any leafy greens that may be accumulating in your crisper or (like me) your garden. Early spring warmth means some crops are already bolting and I'm left with armfuls of radish and turnip greens in full flower with no actual radishes attached.
So, I make pasta.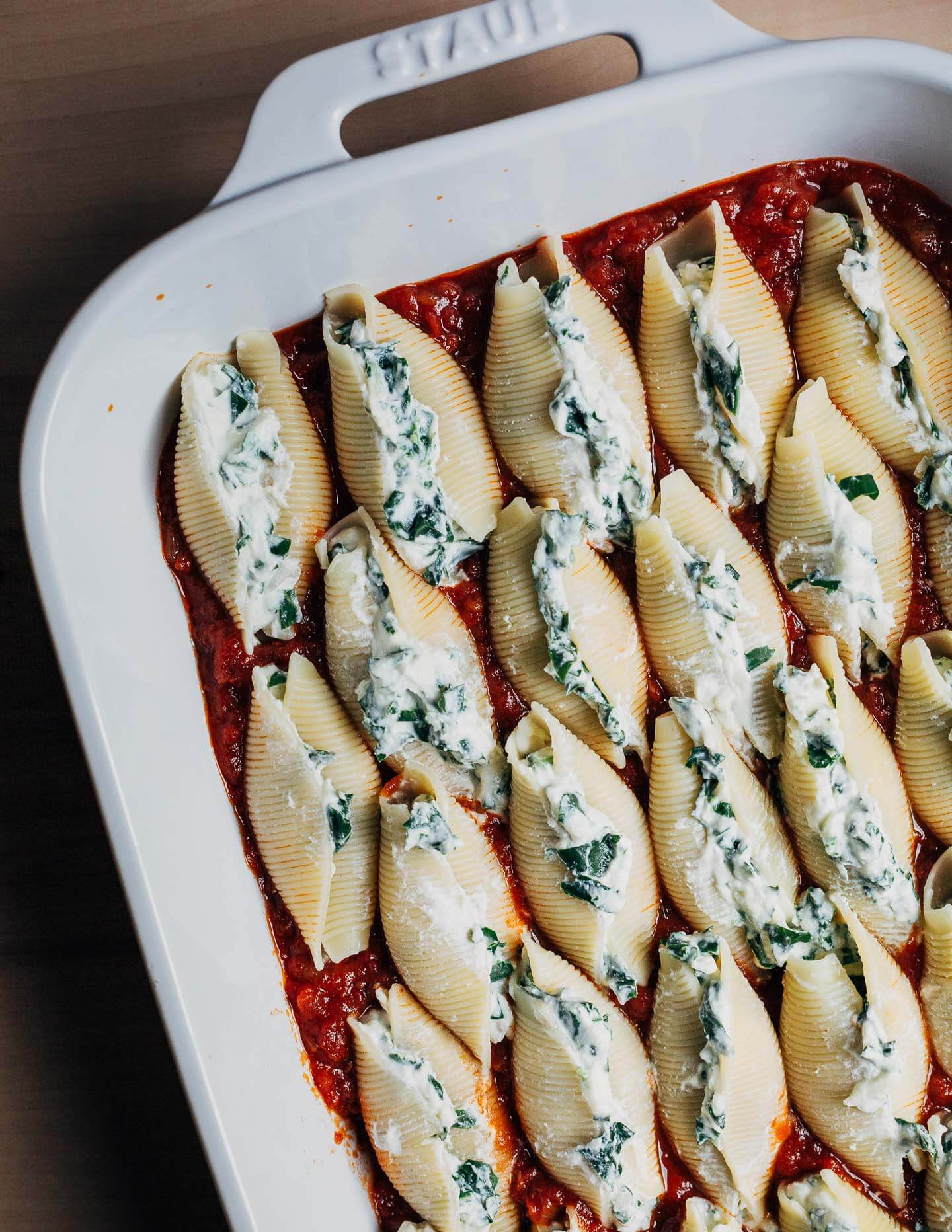 In Praise of Homemade Marinara
The flavor base for these stuffed shells is marinara. You can absolutely swap in store bought, but the homemade sauce comes together quickly.
I make a lot of marinara, and every time I do, I think, I should really batch cook this stuff. And sometimes a pint or two makes it into the freezer for a rainy day. So, consider doubling the recipe if you make it. With just olive oil, onions, garlic, spices, a splash of balsamic, and canned tomatoes, the recipe is simple enough and cooks up in about 20 minutes.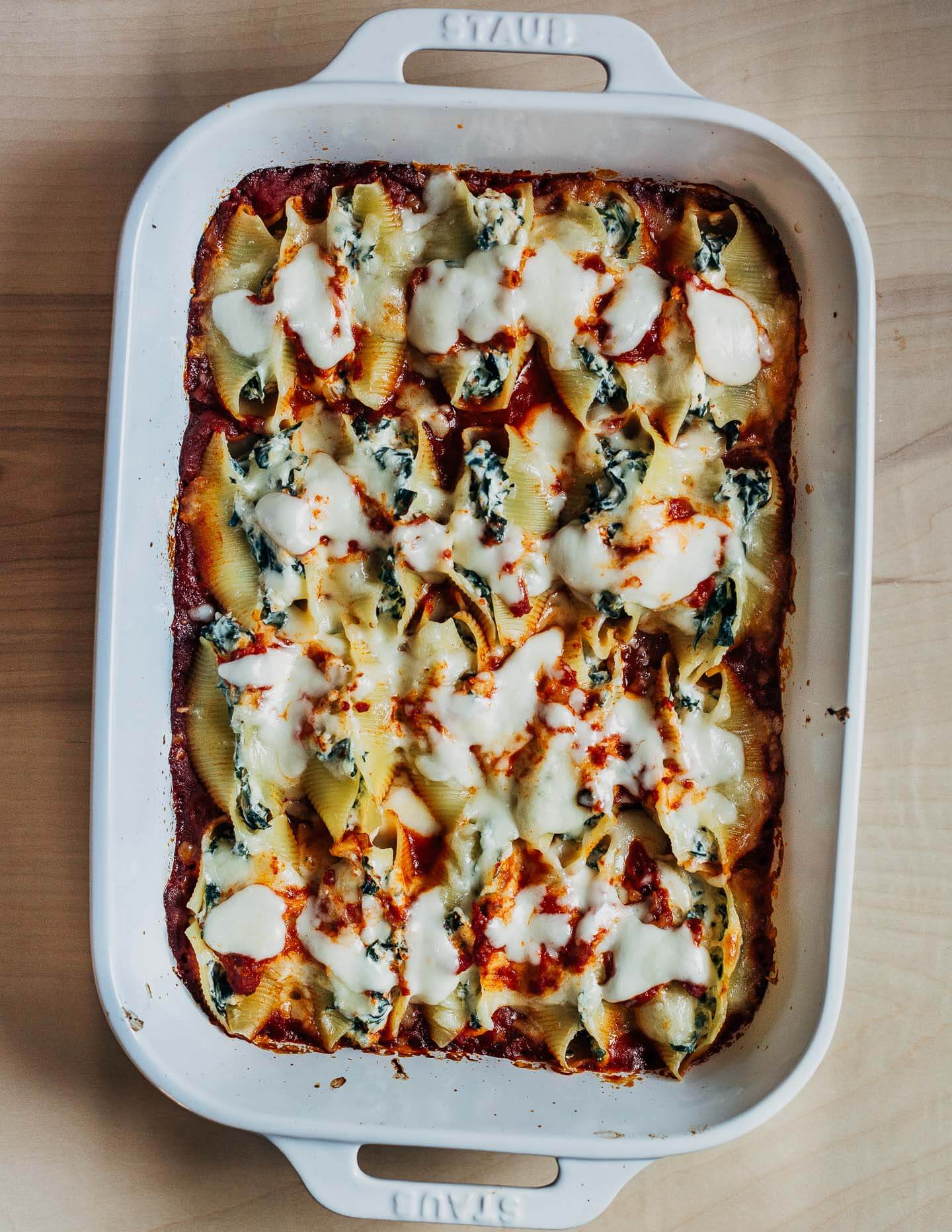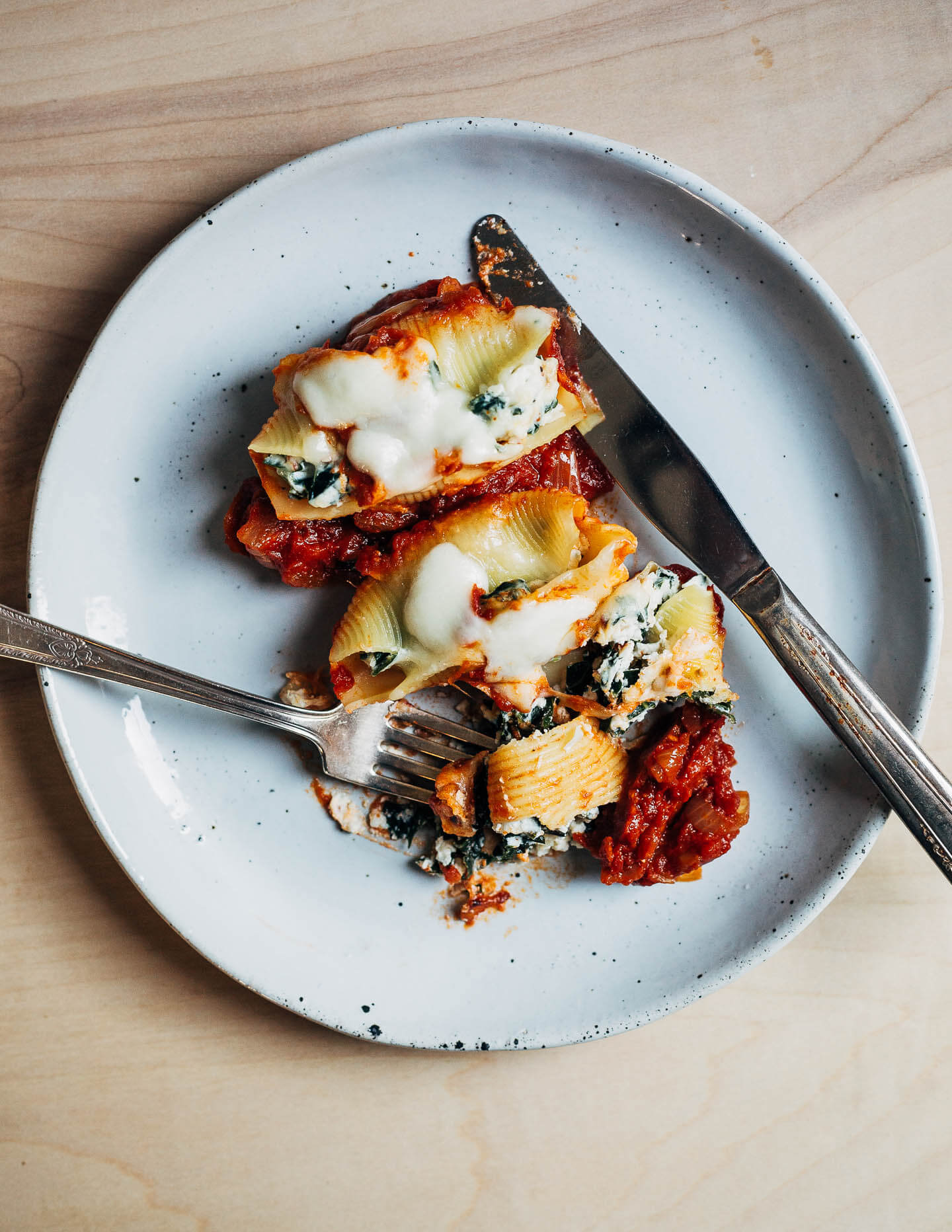 About the Greens
Stuffed shells with spinach is traditional, but I like to swap in dark leafy greens. Here, I used a mix of collards and radish greens. Kale and turnip or mustard greens would work well too.
Add Herbs
Finish your stuffed shells with a few tablespoons of minced chives, basil, or parsley. Or add a teaspoon of minced tarragon, thyme, or rosemary.
Stay in Touch
Have you heard? I'm on Substack! Subscribe here and get exclusive recipe content delivered straight to your inbox every week. You can also stay up to date with all things Brooklyn Supper on Instagram.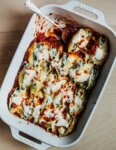 Stuffed Shells with Greens
These stuffed shells with greens, creamy ricotta, and homemade marinara are perfect for evenings when you want your pasta with extra flair and flavor.
Keyword:
stuffed shells with greens
Ingredients
Simple Marinara
3

tablespoons

olive oil

1

small yellow onion,

minced

2

cloves

garlic,

smashed, peeled, and minced

½

teaspoon

fine sea salt

½

teaspoon

red pepper flakes

2

tablespoons

balsamic vinegar

28

ounce

can crushed tomatoes
Stuffed Shells with Greens
8

ounces

collard,

turnip, radish, or spicy greens, with thick stems discarded

Salt

12

ounce

box jumbo pasta shells

2

cups

whole milk ricotta cheese

1/4

cup

grated Parmesan

2

cloves

garlic,

smashed, peeled, and minced

Pepper

1

large egg

8

ounces

fresh mozzarella,

grated

Fresh minced herbs

(see note above)
Instructions
Preheat the oven to 400 degrees F. Set out a 9 x 13-inch baking dish.

Start by making the marinara (or use store bought). Set a deep pot – you'll need a lid, so plan accordingly – over medium heat over medium heat (I like to use a bigger pot than I need to reign in sauce splatters). Add the olive oil and then the onions. Cook, stirring often, for 7 minutes. Add garlic, salt, and pepper flakes, and cook 1 minute more. Add the balsamic and scrape up any brown bits. Fold in tomatoes, bring mixture to a gentle boil, then set a cover slightly askew and turn heat to medium-low for a gentle simmer. Cook 20 - 30 minutes. Check, stir, and adjust heat as needed.

To make the stuffed shells, bring a big pot of water to a boil. Add 2 tablespoons salt. Blanch the greens 2 minutes or until they are vibrant green and tender. Remove greens to a strainer or mesh sieve and run under cold water until cool enough to handle. Working in batches, wring as much water as you can from the greens with your hands. Set the little bundles of wrung-out greens on a cutting board and slice into thin ribbons.

In a medium mixing bowl, fold the chopped greens together with the ricotta, Parm, and garlic. Add a generous pinch each of salt and pepper. Add seasoning to taste. Fold in the egg.

Meanwhile, cook all of the shells to al dente (two minutes less than the shortest cooking time listed on the box). Use a slotted spoon to remove them from the cooking water. Set cooked shells in a big bowl and toss with a drizzle of olive oil. Only about 28 shells will fit in your baking dish, but many will break or tear, so it's good to have extra.

Spoon 2 1/2 cups marinara into the bottom of the baking dish. Stuff each shell with about 2 tablespoons ricotta mixture and nestle it into the sauce. Stuff about 28 shells, tucking them into the baking dish. Top with grated mozzarella.

Cover baking dish with foil and cook 20 minutes. Uncover dish and cook 5 minutes more or until the cheese is melted and the marinara is bubbling. Top with fresh herbs, if using, and serve.

Leftover marinara can be saved for topping leftovers or repurposed.