A weekly summer produce guide to what's in season right now based on the contents of our CSA share, with CSA and farmer's market recipes and inspiration. This week: cherry tomatoes, wineberries, blackberries, and nectarines.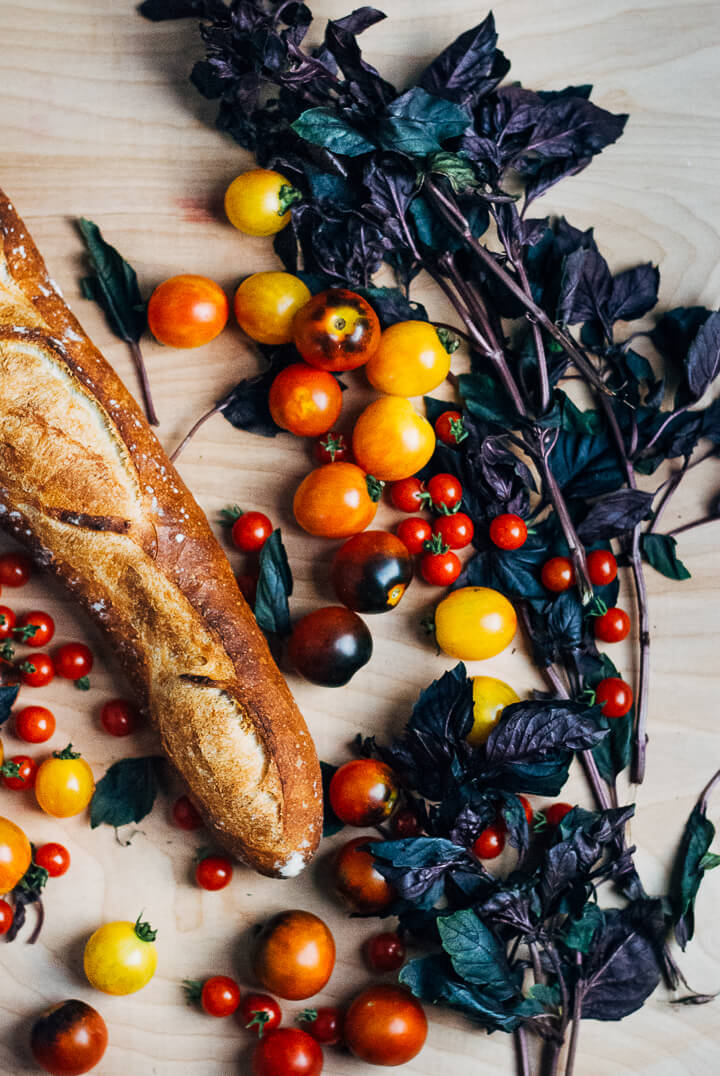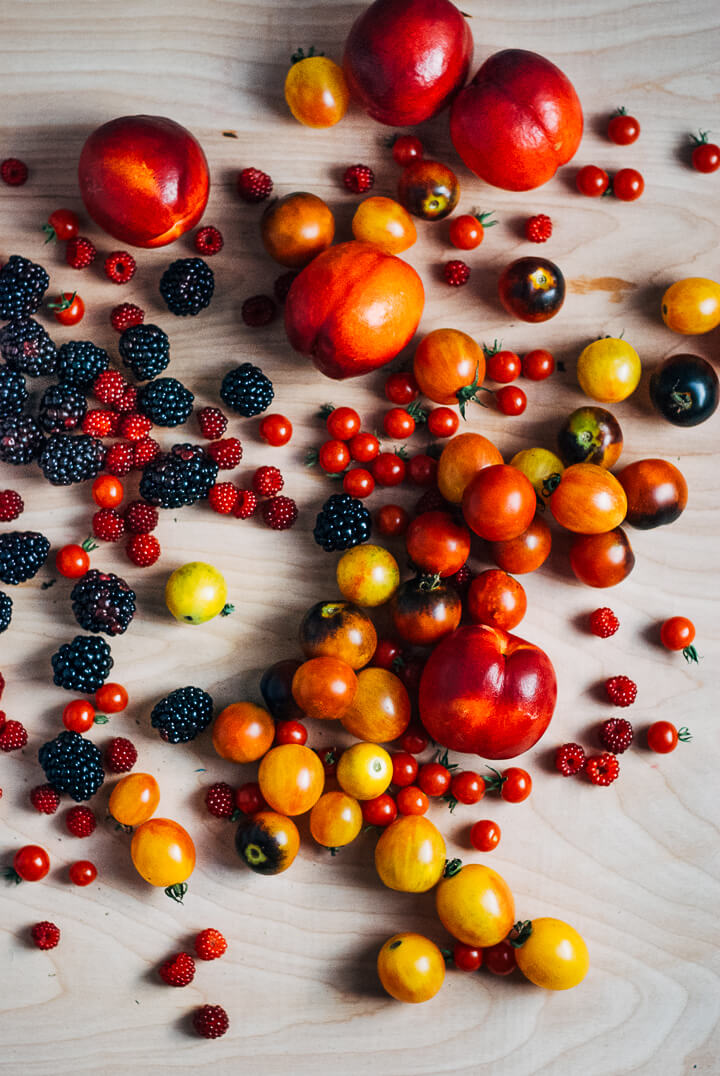 I know I must have cooked often during my single days. I mean, I entertained a bit and loved making a haphazard feast for friends (still do), but whatever my ordinary dinners were escapes me. There's one exception: the tomato, basil, mozzarella, and baguette dinner. My favorite wine shop was a great place to pick up small staples too, so I'd head over after work and gather the ingredients for my simple dinner, plus a bottle of red, and then head home to feast.
Cherry and grape tomatoes came in this week, and from these and other market finds, we cobbled together our own version of the perfect summer dinner – a crusty baguette, small heirloom tomatoes, and purple basil. While we didn't have any mozzarella, there was some chevre which, along with olive oil and balsamic, rounded out the meal nicely.
The easy Wednesday dinner was especially great because I had to head to the airport at five on Thursday. Because it'll be just Brian at home this week, we skipped the CSA share and hit up our Wednesday farmer's market instead, so we didn't get overwhelmed with produce with no one around to eat it. Taking notes for future market trips, we spotted okra, cantaloupe, watermelons, all varieties of summer squash, eggplant, cured hardneck garlic, and piles of herbs. Slicing tomatoes are kicking around too, but they're not quite at peak flavor – the weather's cooled off in Virginia and heat-loving summer crops have stalled.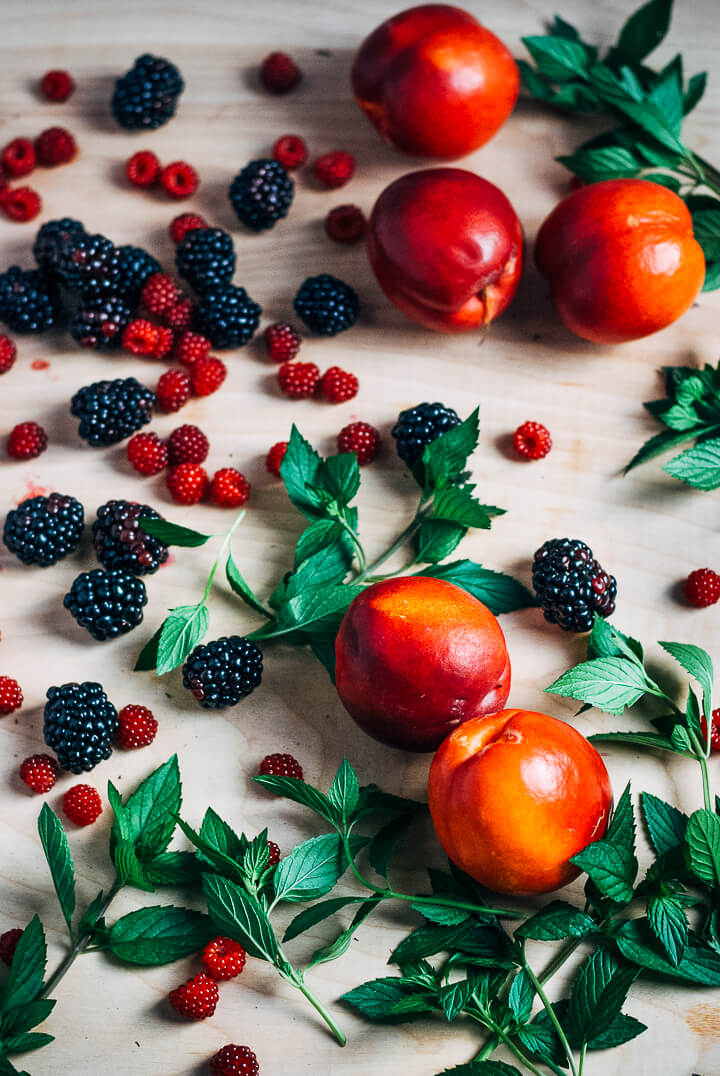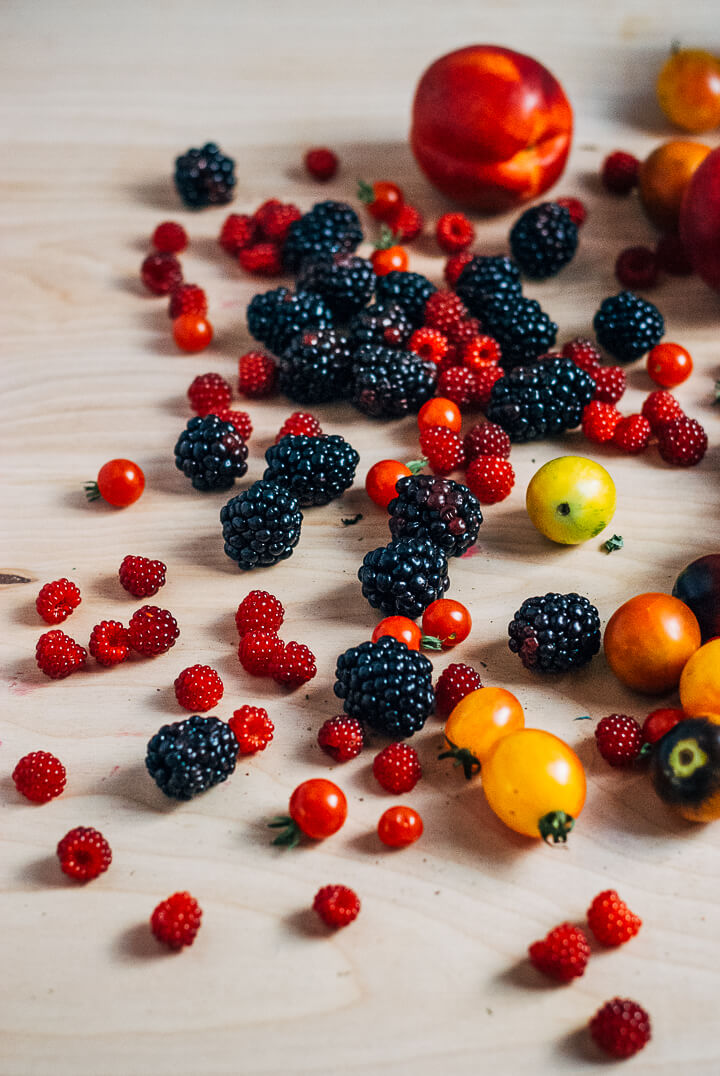 Fruit-wise, I found a vendor selling boxes of wineberries. These grow wild all over the place, but when it comes to foraging, I always want to be positive I have the right plant before I go ahead and consume it. My plan is to research things a bit more before I pick my own. Besides wineberries, I found blackberries, blueberries, and raspberries. There were also nectarines – white and yellow – and peaches.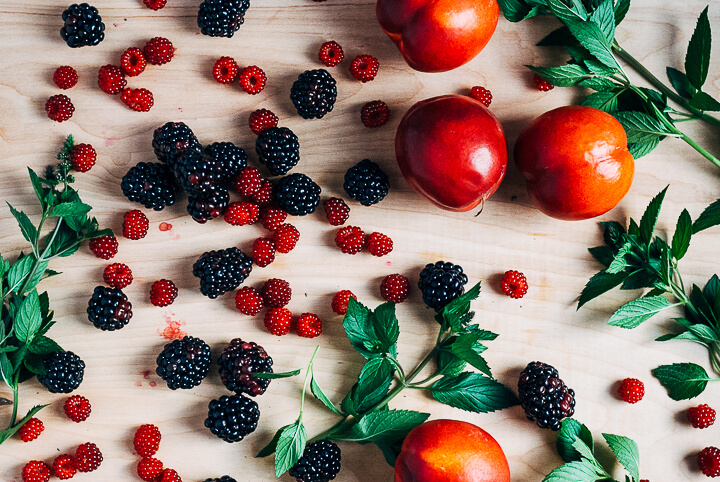 Cherry Tomatoes
Baked Chicken with Tomatoes and Garlic // Brooklyn Supper
Roasted Cherry Tomato Salsa // Brooklyn Supper
Simple Summer Pizza with Tomatoes, Basil, and Fresh Mozzarella // Brooklyn Supper
Tomato Chevre Tart // Brooklyn Supper
Wineberries
Wineberry Cordial // Bon Appetit
Mixed Wild Berry Pie // Food52
Wild Wineberry Preserves // Local Kitchen
Nectarines
Roasted Nectarines with Cardamom Honey // Brooklyn Supper
Green Salad with Nectarines, Corn, and Peanuts // Sprouted Kitchen
Nectarine and Cream Cobbler // Joy the Baker
Nectarine Upside Down Cake // Damn Delicious
Blackberries
Blackberry Sherbet // Brooklyn Supper
Blackberry Shrub with Mint // Brooklyn Supper
Striped Berry Buttermilk Popsicles // Brooklyn Supper
Mixed Berry Coconut Cream Parfaits // Brooklyn Supper
Purple Basil
Pomegranate and Purple Basil Gin Smash // Bakers Royale
Purple Basil Lemonade // Girl in the Little Red Kitchen
Blackberry Purple Basil Pielets // Biscuits and Such