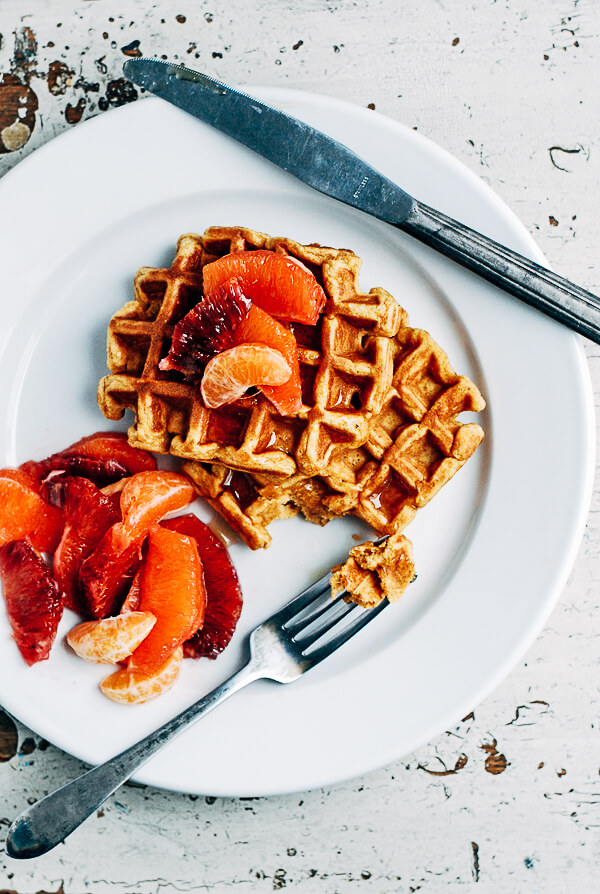 Make breakfast wonderful with this delicious sweet potato waffle recipe made with aromatic spices, cubed sweet potatoes, and nutty cornmeal. Jump to recipe.
Food waste is a serious problem. According to the NRDC, American consumers waste a full 25 percent of the food they buy. This is alarming for several reasons. To start, wasted food also represents a waste of water, land, energy, and financial resources. After being discarded, that wasted food largely ends up in landfills, representing 16 percent of methane output in the US.
So what to do? Consumers can prevent food waste through meal planning and thoughtful shopping. Once home, keeping the refrigerator organized can be a big help. As far as produce goes, Brian and I have found that keeping produce in (reused) clear baggies helps us to keep visual tabs on what we've got. Consumers can also prepare smaller meals and freeze leftovers to keep food out of the trash. (Or make crazy good enchiladas with your leftovers.)
In our home, Brian and I strive to not waste food, though it happens from time to time. But you know who seems to delight in wasting food by the bucketful? My kids. One day they'll eat two eggs and beg for a third. Another day, they barely touch one. It's incredibly frustrating, especially since kids tend to group up on nutrients, eating a balanced diet week by week, but not necessarily day by day. These ever-changing tastes and nutritional needs can make it very tough to avoid waste in the kitchen. We do what we can by talking with our kids about the resources that go in to getting their food to the table and discussing those around the world who are food insecure.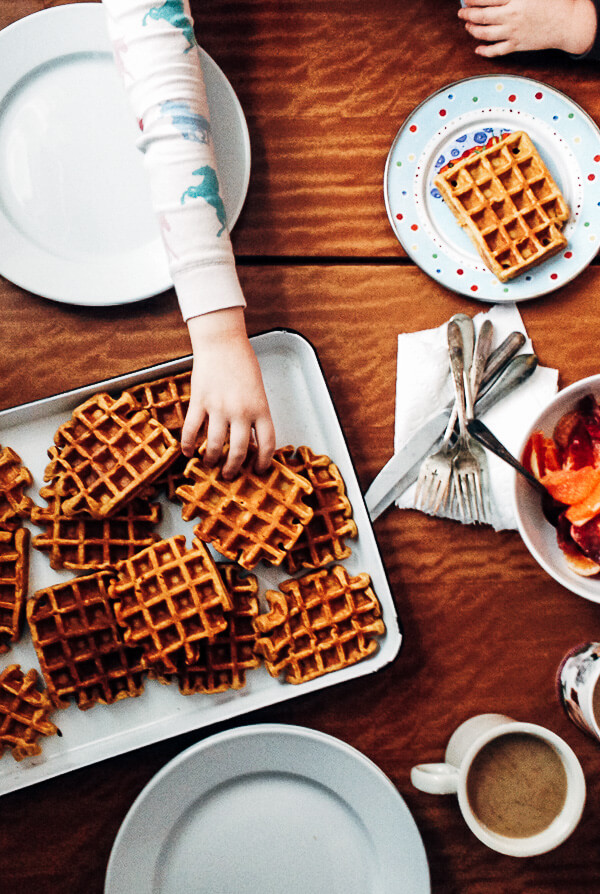 Last night, I composted at least a cup of sweet potatoes and another of vibrant, perfectly blanched broccoli. It's always hard to part with, but after years of on again off again super viruses, I've learned the hard way not to prevent food waste by eating the kids' leftovers. The food is sometimes saved to be offered a second time, but mostly, off to the trash it goes. I try to limit portions, serve vegetables first, and occasionally offer to slather ketchup on whatever it is, but picky, inconsistent eating is just what kids do. Mine anyway, and I'm doing my best to accept it. How do you deal with food waste? I'd really love to hear your tips in the comments and maybe get a conversation started.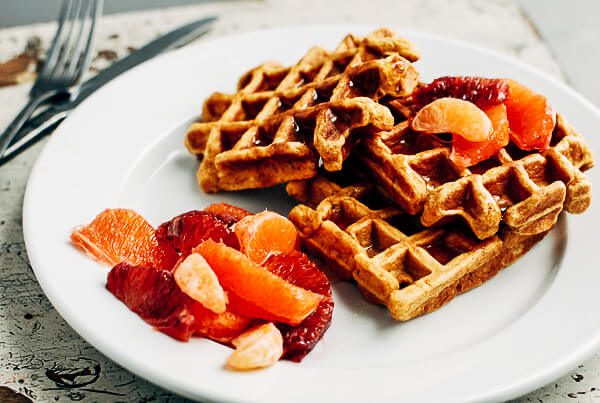 On the other hand, these sweet potato waffles saw not a single bite of waste. Waffles this good are a treasure – even my two year old can see that. These are airy, yet toothsome, almost like a sweet potato quick bread in waffle form, but lighter and more buttery, with chewy bits of cornmeal throughout. In short, these waffles rule. Consider a promptly made batch another step forward in your road to world domination, or just a really good way to use up extra sweet potato or winter squash puree.
Update: Our readers have great ideas and techniques for preventing food waste. Check out the conversation in the comments below!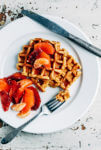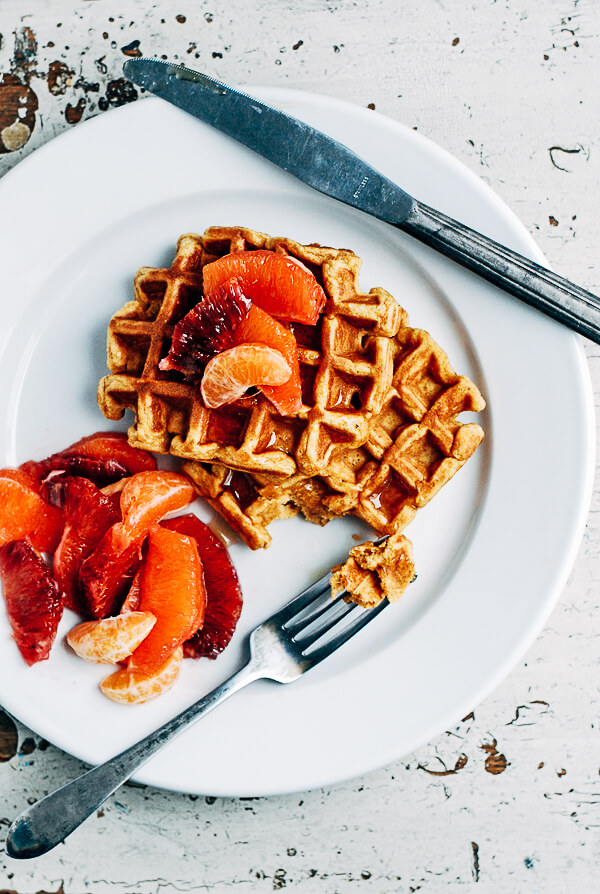 Sweet Potato Waffles
Make breakfast wonderful with this delicious sweet potato waffle recipe made with aromatic spices, cubed sweet potatoes, and nutty cornmeal.
Ingredients
2

cups

sweet potato cubes

(1-inch)

4

eggs

, separated

4

tablespoons

butter

, melted and cooled

3/4

cup

all-purpose flour

3/4

cup

whole wheat pastry flour

1/4

cup

cornmeal

1

tablespoon

baking powder

1

teaspoon

ground cinnamon

1

teaspoon

ground ginger

1/4

teaspoon

ground coriander

1/2

teaspoon

sea salt

1

cup

whole milk

1/4

cup

granulated sugar
Instructions
Cut sweet potatoes into 1-inch cubes and set in a sauce pan. Fill with cold water and a dash of salt, and bring to a boil. Boil until fork tender, 10 - 12 minutes, strain, and set aside. When cool, mash, so that you have about 1 1/4 cups mashed sweet potato.

Meanwhile, melt butter and separate eggs.

Preheat waffle iron. Set oven to 200 degrees F and slide a baking sheet in to warm.

In a large bowl, combine flours, cornmeal, baking powder, spices, and sea salt.

In a medium bowl, combine sweet potato mash, melted butter, egg yolks, milk, and sugar. Fold wet ingredients into dry.

Use a beater (or big time muscles) to beat egg whites to soft peaks and fold into batter, stirring just until everything is nicely combined.

If needed, grease waffle iron, and then cook waffles according to your waffle iron's instructions. (Mine makes 4-inch waffles and I found 1/3 cup batter worked best for these.) Store cooked waffles on baking sheet in warm oven.

We served our waffles with a mixed citrus salad and maple syrup – it was pretty perfect, so you may want to follow suit.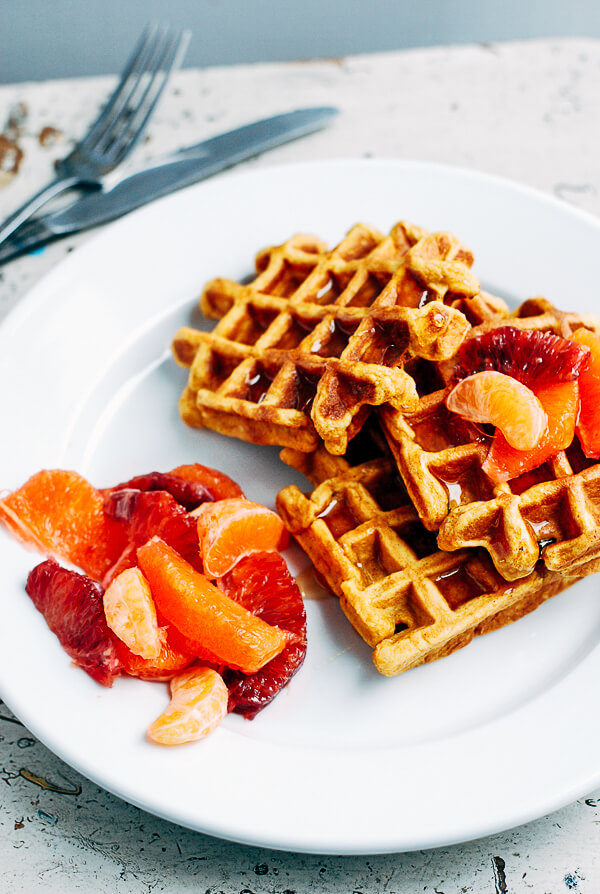 SaveSave
SaveSave
SaveSave