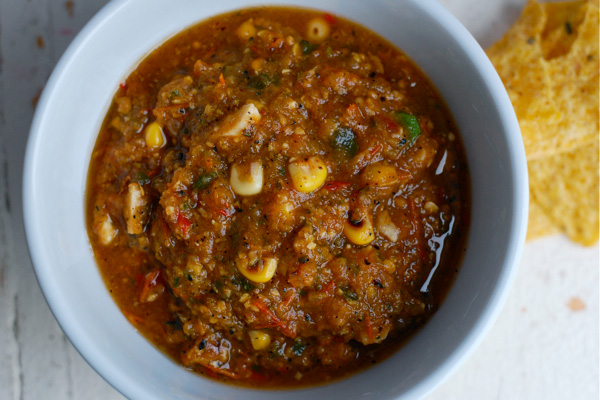 I haven't had sangria yet this year or gone to the beach or found that summer song that's really mine. On the flip side, I've toasted and danced under the stars, watched our youngest take her first steps, swam, and traveled the familiar east coast loop de loop we tend to do. And Brian and I are looking forward to a couple more really exciting things to come. After a few summers with work problems and lack of work problems, and the arrival of our baby last year, we're finally having a summer with a little more calm and ease, filled with friends and family and fun and travel and nature and great food. Pretty much all of my favorite things. Since this summer's been all about simple pleasures with people we love, it felt appropriate to share a simple recipe that captures the flavors of summer and is perfect for sharing – a smoky cherry tomato salsa.
Really sweet tomatoes can over-ripen quickly, and not wanting to miss out on their sweet, smooth peak flavor, I made this dry-roasted sweet cherry tomato salsa. I first came to dry roasting when I made these vegetable enchiladas, and it's a great way to imbue foods with smoky flavor without a grill or actually setting anything on fire (you can also broil or straight-up roast the vegetables as I did for this roast tomato salsa, but I've come to love the char of dry roasting). For this recipe, I dry roasted all of the vegetables and gave everything a few quick pulses in the food processor, and then perfect summer salsa was mine.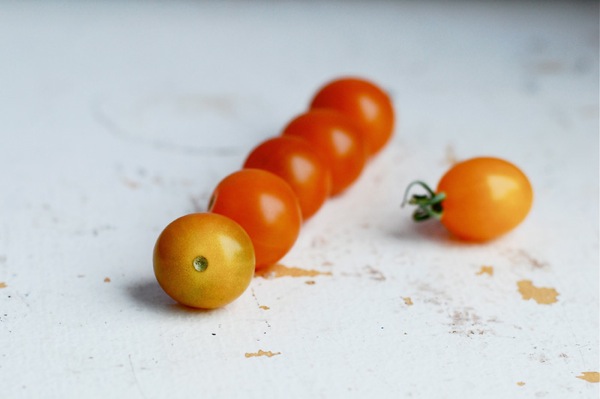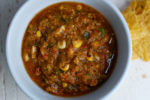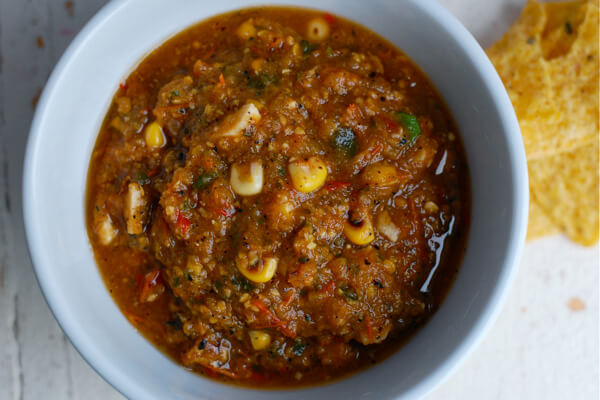 Roasted Cherry Tomato Salsa
A sweet, smoky roasted cherry tomato salsa recipe.
Ingredients
1 1/2

pints

sweet yellow or orange cherry tomatoes

1

red onion

quartered

kernels from 1 ear sweet corn

1

jalapeño

1

clove

garlic

crushed and minced

sea salt to taste

1

tablespoon

apple cider vinegar

1

tablespoon

lime juice

1/4

cup

parsley or cilantro

chopped

black pepper and ground cayenne to taste
Instructions
Heat a large stainless steel skillet over high heat. Dry roast the corn, onion, and jalapeño until the kernels, onion, and pepper have a nice char. Next dry roast the tomatoes until they are browned all over and the skins have burst. Watch everything very, very closely, and remove the tomatoes as they burst.

Seed and core the jalapeño. Set aside 1/2 cup of roasted corn kernels. Then combine the tomatoes, jalapeño, onion, remaining corn, garlic, and parsley or cilantro in a food processor. Pulse 3 or 4 times–you're looking for a smooth salsa that also has a bit of texture. Pour salsa into a bowl, add the reserved corn, salt, vinegar, lime juice, pepper, and cayenne. Check salt and acid levels and adjust according to your tastes.

Serve with corn chips, or over your favorite salsa-loving food.

One last thing: your skillet is going to be a mess. Let it cool a bit, carefully add some hot water and scrape up as much as you can. Dump that, and then rub the (cool) skillet with a paste made from baking soda and a little bit of water. Add more water and let it sit for a while–baking soda is magic!