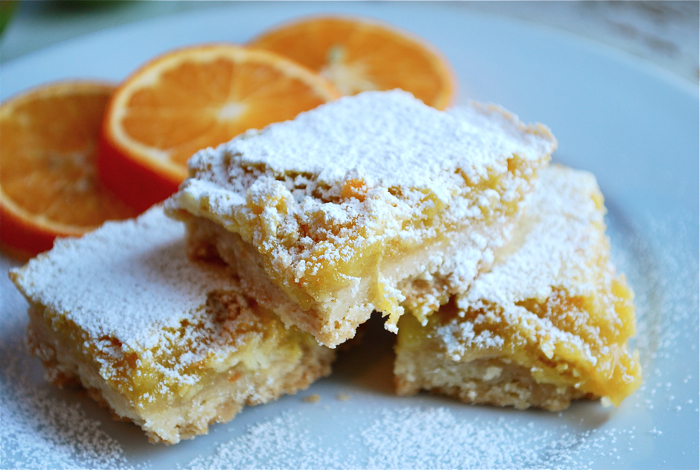 Way back when, oranges and other citrus fruits were a Christmas treat — stocking-worthy even. Pay tribute to simpler times with these bright and buttery tangerine lime bars. Tangy, creamy filling floats above an easy, yet flaky, shortbread-type crust. Silky and light, they melt in your mouth. Do yourself a favor and double the recipe (I wish I had).
And one more thing — happy holidays to you and yours. For the first time in a long while things seem to be looking up, and so I harbor nothing but unbridled optimism for 2012. Cheers to a safe and peaceful Christmas, a wonderful Hanukkah, and a restorative new year.
Tangerine Lime Bars (adapted from David Lebovitz)
for the crust
1 cup all-purpose flour
1/4 cup sugar
1/2 teaspoon salt
8 tablespoons unsalted butter, melted
1/2 teaspoon vanilla extract
for the tangerine lime topping
1 1/2 tangerines (preferably organic)
1 cup sugar
zest of 1 lime
2 tablespoons freshly squeezed tangerine juice
1 tablespoon freshly squeezed lime juice
6 egg yolks, room temperature
4 teaspoons corn starch
1/4 teaspoon salt
3 tablespoons unsalted butter, melted
Preheat the oven to 350 degrees. Line an 8″ square baking pan with foil (so you can easily lift the bars out) and grease foil liberally.
Combine all of the ingredients for the crust in a bowl, and press into prepared baking dish.
Bake crust for about 25 minutes, until it is golden brown, and remove for the oven.
Meanwhile, cut the tangerines into chunks, and place in the bowl of a food processor. Pulse until the tangerine is pureed (do leave a bit of texture, though). With processor running, add all of the remaining ingredients.
Turn oven down to 300 degrees. Pour filling onto pre-baked crust. Place back into the oven and bake for 25 minutes, until the sides are set and the center has just a bit of movement.
Allow bars to cool completely, for several hours or more. Carefully lift out of the dish, remove the foil, and use a sharp knife to cut the squares. Garnish with a dusting of powdered sugar and serve.