A classic apple tarte tatin recipe made with homemade rough pastry dough and crisp Jonagold apples.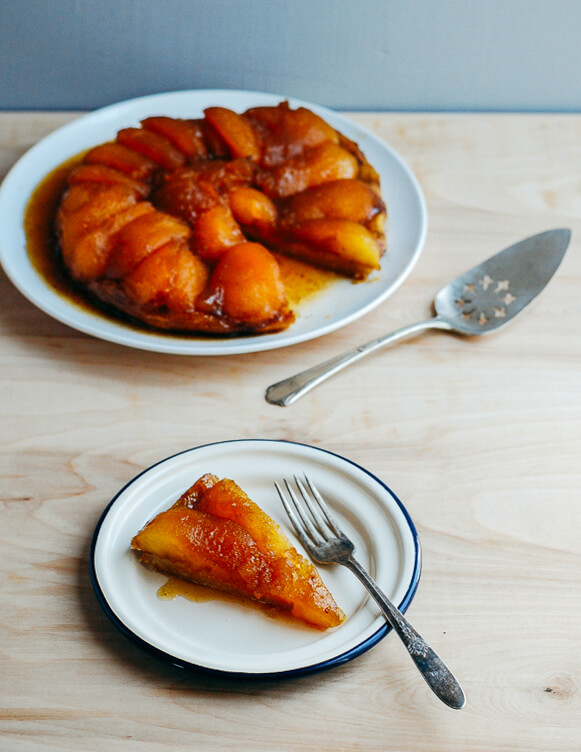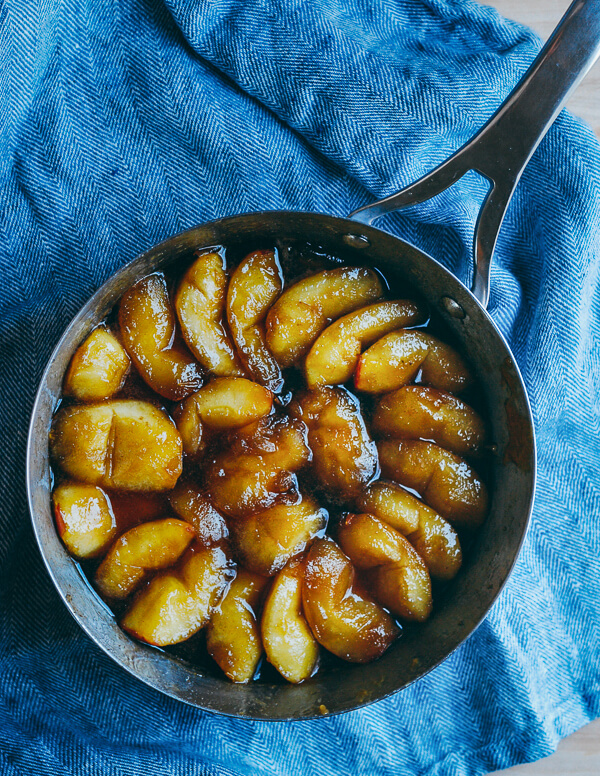 Updated: November 2023
Highlighting Simple Ingredients
The best desserts are the simplest desserts. A few flavors, choice ingredients, and enough finesse that everything together is so much better than any of the ingredients alone.
It took me a while to really understand the classic tarte tatin. For the longest time, it seemed to me it was just an upside down apple pie. Don't freak out – I've seen the error of my ways. A good tarte tatin is spare, with a deep caramel, pleasantly soft apples, and a dreamy puff of pastry to hold it all together. Here, I've swayed from tradition only slightly by adding a pinch of sea salt. And instead of store bought puff pastry, I went ahead and made my own rough puff pastry (which is, if you're worried, fairly simple to make.)
Start with a Flavorful Apple
I made the tarte tatin with crisp Jonagold apples, and loved how their toothsome texture and subtle sweetness baked up. Though some cooks may be very attached to certain varieties of apple, my preferences change with the season – no matter what time of year, I look for crisp, flavorful varieties.
Beautiful Flavor
Now, about that tarte. Deep caramel, big hunks of apple, and a pillowy, flaky pastry can all be yours. Though a tarte tatin isn't complicated to make, per se, I've written out detailed – possibly overly-detailed – instructions because I want your creation to be perfect. Don't be daunted – it's going to be great.
If you're looking for more dessert inspiration, check out the 'Dessert' page in my recipe index. Or follow Brooklyn Supper on Instagram for all kinds of seasonal recipe inspiration.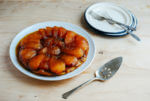 Tarte Tatin with Homemade Rough Puff Pastry
Ingredients
Rough Puff Pastry
1 1/4

cups

all-purpose flour

8

tablespoons

(1 stick) unsalted butter, frozen

1/4

teaspoon

fine grain sea salt

6

tablespoons

ice water
Tarte Tatin
6

medium apples

, peeled and quartered with cores cut out (go with a crisp, flavorful variety like Jonagold or MacIntosh)

1 1/4

cups

white granulated sugar

, divided

1

tablespoon

fresh squeezed lemon juice

6

tablespoons

unsalted butter

1/4

teaspoon

sea salt

1

recipe puff pastry (above)
Instructions
To make rough puff pastry dough, use a fork to blend flour and sea salt. Grate in frozen butter. Use fingertips to rub butter into flour, though not as thoroughly as you might for a traditional pie dough. Drizzle in half the ice water, turn dough until it's absorbed. Add remaining water, turning dough once more. Gather dough into a loose mound; there will be a few dry bits, but that's fine. Turn mound out onto a sheet of plastic, form a loose disc, and wrap tightly. Set in refrigerator and chill for 30 minutes.

On a very lightly floured sheet of parchment, roll the disc out into an 8 x 15-inch rectangle. Dough will still be quite crumbly; just do your best. Fold sheet of dough into thirds, folding each third into the center, so you have something resembling an envelope (pictured above). Press an indentation into the upper corner of envelope with your fingertip, to indicate one turn. Wrap tightly with plastic and chill 30 - 45 minutes.

Continue this process of rolling, folding into thirds, marking number of turns with a fingertip, wrapping, and chilling, for a total of 5 turns. As you can imagine, it's best to give yourself a day when you can make this ahead. When you've completed the fifth turn, wrap dough and chill until needed for the tarte.

Use a sharp knife to trim angled edges from the apple quarters, so they'll sit flat, with the rounded side facing up. Toss prepared apples with lemon juice and 1/4 cup sugar, and set aside to co-mingle for 20 – 30 minutes.

To make caramel, set a 9-inch, deep-sided heavy-bottomed skillet over medium heat. Add butter, and once melted, the remaining cup of sugar. Keep a close eye and stir constantly. First, things will hold together, then slowly, the mixture will darken and butter will begin to separate. Stay strong. Next, sugar mixture will bubble and spit a little. You may want to edge heat down slightly here, as you're going for a light caramel color and things still have a ways to cook. Finally, caramel will come back together, smooth out, and cook quickly. As soon as you have an even, light caramel, remove pan from heat, about 10 - 15 minutes total.

Preheat oven to 400 degrees F.

Toss apples one more time, and then carefully spoon into hot caramel. Things are going to spit and bubble a little, so go slowly. If there's a lot of excess juice (it varies according to the kinds of apples), leave it behind. Set caramel and apples back over medium, or slightly medium-low heat, and cook 15 minutes or so, stirring frequently to turn apples in the caramel mixture. Apples and caramel are ready when the apples have taken on color without being mushy and the caramel is a dark, golden brown.

Arrange apples with rounded sides facing down in a nice circle, with several apples more in center.

Roll the prepared puff pastry into a 10-inch circle, about 1/4-inch thick. Set on top of apples and tuck sides down into edges of the pan. Cut four 1-inch vents in center with a sharp knife.

Set pan on a rimmed baking sheet and slide into oven.

Cook tarte for about 25 minutes, or until the pastry has puffed up and is a nice golden brown.

Set tarte aside to cool for a minute, then cover with a large plate, and use two potholders to flip. Slice and serve immediately.