Simple, completely delicious summer cookout inspiration: teriyaki grilled salmon and bok choy.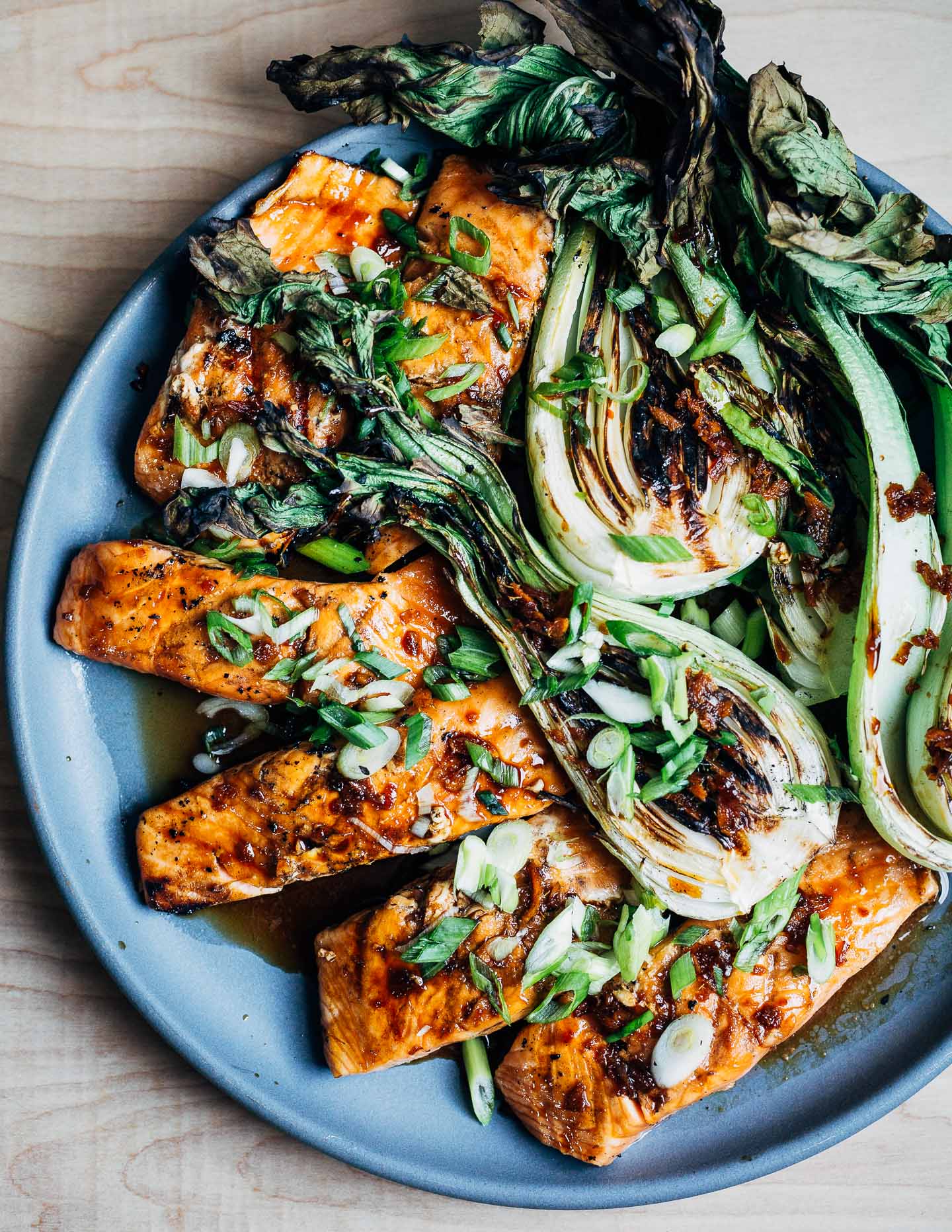 Like many of you, I'm struggling as I emerge into a post-quarantine world. I spent months (ok, more than a year actually!) dreaming of an epic dinner party. But now that I can have folks over, I haven't extended many invitations. I'm exhausted. I've cooked and cleaned the dishes for approximately one million meals since March of 2020 and I have no intention of adding any more than necessary to the tally.
So, I'm meeting my dear friends out for drinks or snacks instead.
I hope to shake off my bone tiredness soon and once again fill my home with laughter and good smells and the clink of wine glasses. I'll be thrilled to get back to my absolute favorite thing to do: cooking and sharing food with the people I love.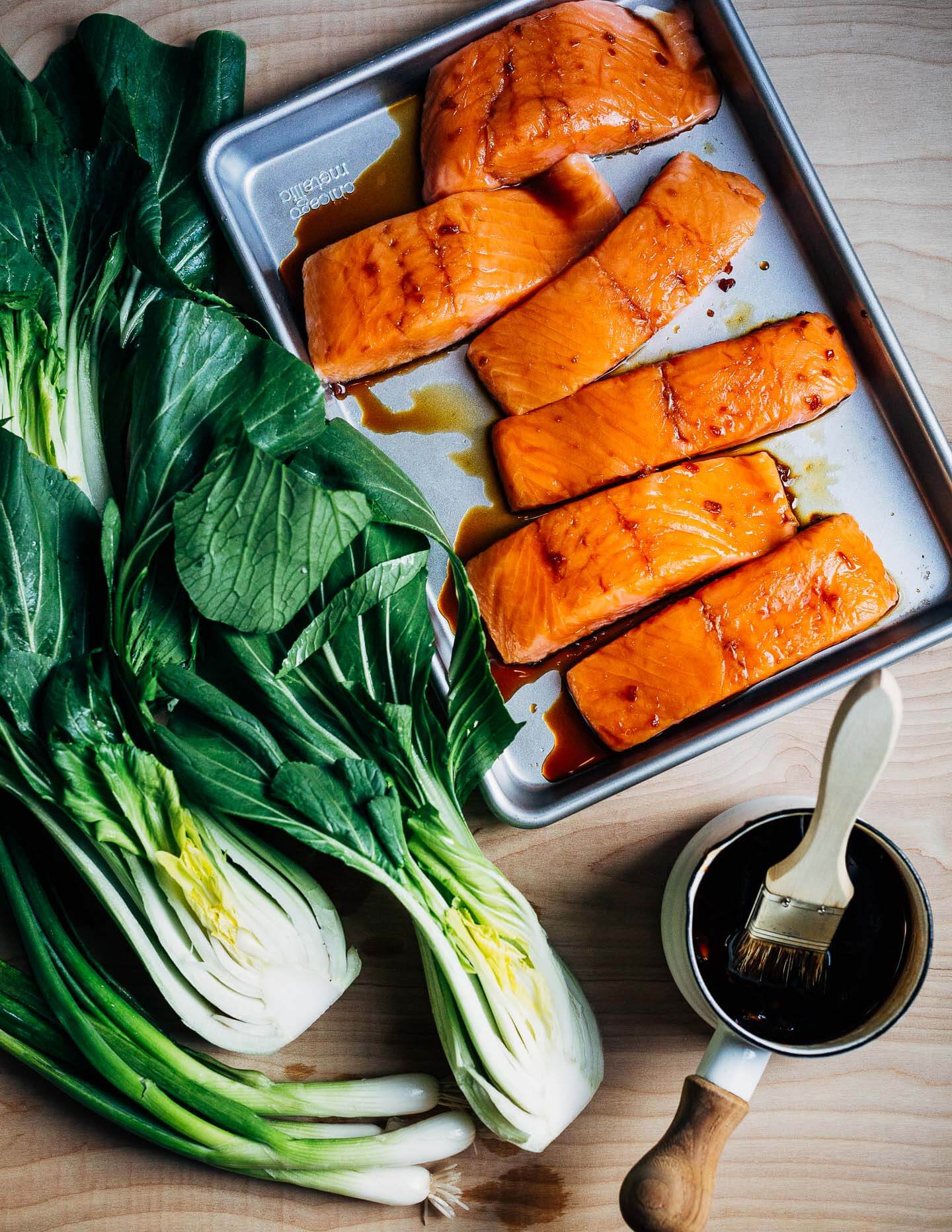 Grilled Teriyaki Salmon: Simple and Delicious
But whether I'm cooking for friends or just my family, I'll still want to keep things simple. Dishes like this grilled teriyaki salmon and bok choy are exactly what I have in mind.
Fire up the grill, make some rice, and you have a simple summer feast that's perfect for your next cookout.
Teriyaki, a savory-sweet sauce of Japanese origin, is made with soy sauce, sake or mirin, and sugar or honey. For this recipe, I started with a store bought teriyaki sauce and reduced it down with ginger and garlic. Teriyaki brings irresistible flavor to all kinds of grilled proteins, but I especially love the way the sweet and umami notes play on the richness of salmon.
Grilling Salmon
Teriyaki grilled salmon begins with a quick oil and teriyaki marinade that just needs to sit for as long as it takes to prep the grill. The grill itself should be medium-hot, with the hot coals banked to one side so you have an indirect heat zone. Start the salmon skin side down and cook for 6 – 8 minutes, the skin will stick at first and then crisp up (aka become completely charred) and release as it cooks. Next, flip the salmon and relocate over indirect heat for 1 – 2 minutes. Since the salmon starts over the hottest part of the grill and can be fragile to handle, the best way to get a sense of its doneness is to judge the color and firmness of the fish.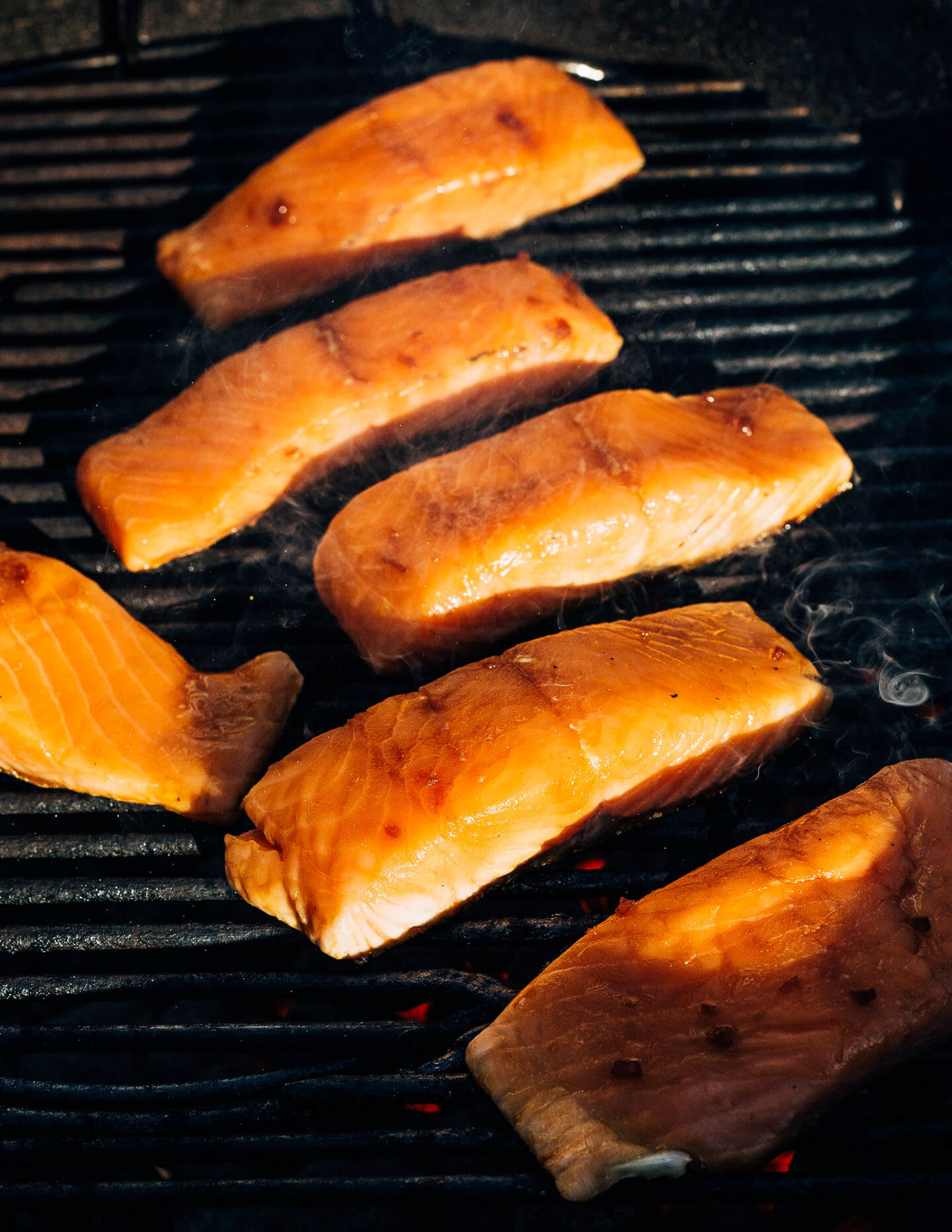 Grilled Bok Choy
Less glamorous than the salmon, but no less delicious, is the bok choy. A stint on the grill makes for tender, lightly caramelized bok choy and when drizzled with teriyaki, it shines. Because the bok choy is staying mostly intact, you'll want to diligently soak and clean it before serving. For me, this meant several soaks to loosen any sand, and then gently pulling back the leaves to thoroughly rinse any hidden crevices.
And finally, a confession: I had totally planned to serve this dish piled high with fresh peaches, but in the moment, I forgot to get the shot. So just know that this already savory-sweet dish is wonderful with peaches, nectarines, or plums. (No need to grill 'em – just slice and maybe drizzle with teriyaki.)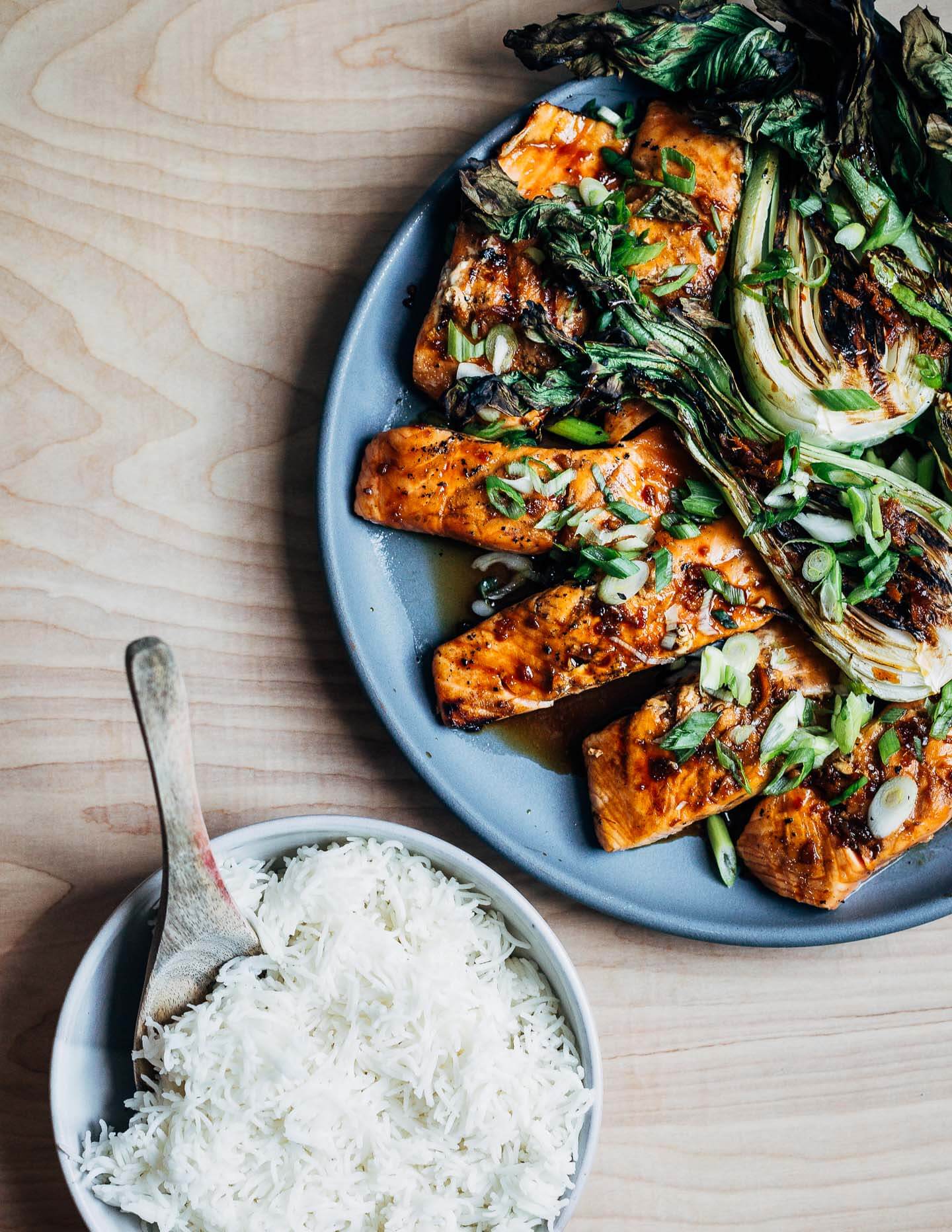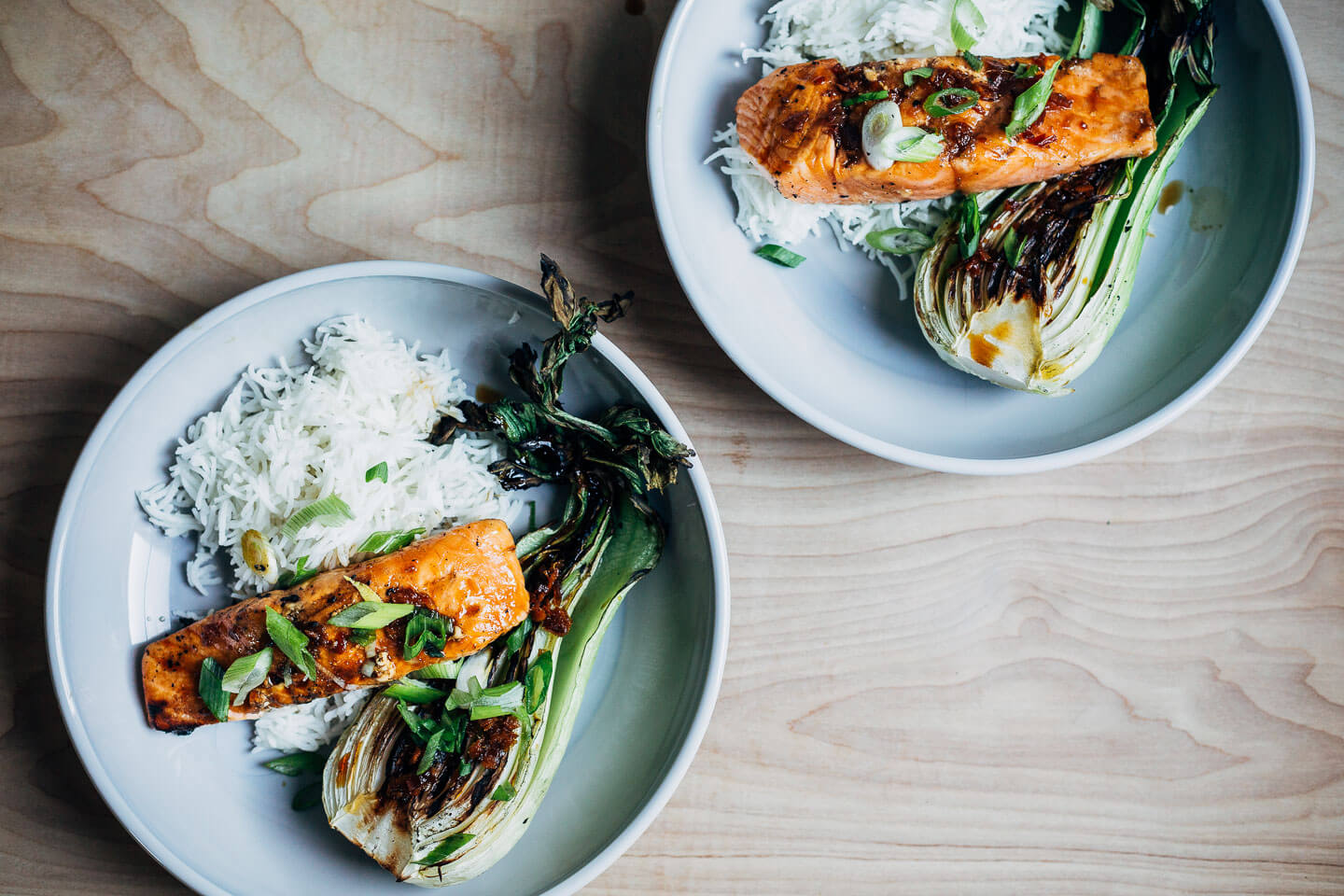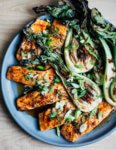 Teriyaki Grilled Salmon and Bok Choy
Simple, completely delicious summer cookout inspiration: teriyaki grilled salmon and bok choy. If making your own teriyaki sauce, I like this recipe.
Keyword:
grilled teriyaki salmon
Ingredients
1 ½

cup

teriyaki sauce

2

tablespoon

grated fresh ginger

1

tablespoon

minced garlic

2

tablespoon

olive oil

6 1 1/2-

inch

thick skin-on salmon filets,

rinsed and patted dry

2

large bok choy,

rinsed well and halved lengthwise

4

green onions,

thinly sliced

Cooked short grain white rice for serving
Instructions
Prepare a hot grill.

While coals heat up, prep the sauce and salmon.

Combine teriyaki, ginger, and garlic in a small saucepan over medium-high heat. Cook, stirring frequently, for 10 minutes or until sauce has thickened enough to coat the back of a wooden spoon. Edge heat down as needed. Set aside to cool briefly. Reserve 2/3 cup sauce for bok choy and serving; use the rest for the salmon.

Rinse and pat dry salmon fillets and arrange on a rimmed tray. Brush on both sides with olive oil. Then brush all over with teriyaki sauce. Let salmon sit in the sauce for 20 minutes – refrigerate if it's longer than that.

When the coals are ready, bank them to one side to create zones of direct and indirect heat. Set the bok choy cut side down over the center of the grill (halfway between the direct and indirect zones) with the leaves over the side without coals. Cook 3 - 4 minutes, or until bok choy is tender with deep golden edges. Flip and cook 2 minutes more. Remove to a platter and drizzle with 1/3 cup teriyaki sauce.

Set the salmon fillets skin side down over the center of the grill. Cook 6 - 8 minutes, or until the salmon starts to firm up. After 4 minutes, carefully brush the salmon with teriyaki, taking care to avoid drips and flare ups. Using tongs and a spatula, carefully dislodge the salmon skin from the grate, flip, and set over the indirect heat skin side up. Cook 1 - 2 minutes longer.

Arrange salmon and bok choy on a large platter. Drizzle with teriyaki sauce and sliced green onions. Serve with rice and extra teriyaki sauce on the side.