These vegetarian Tex-Mex potato skins are loaded with pinto beans, cheddar, green onions, herbs, jalapeños, avocado, and lime crema.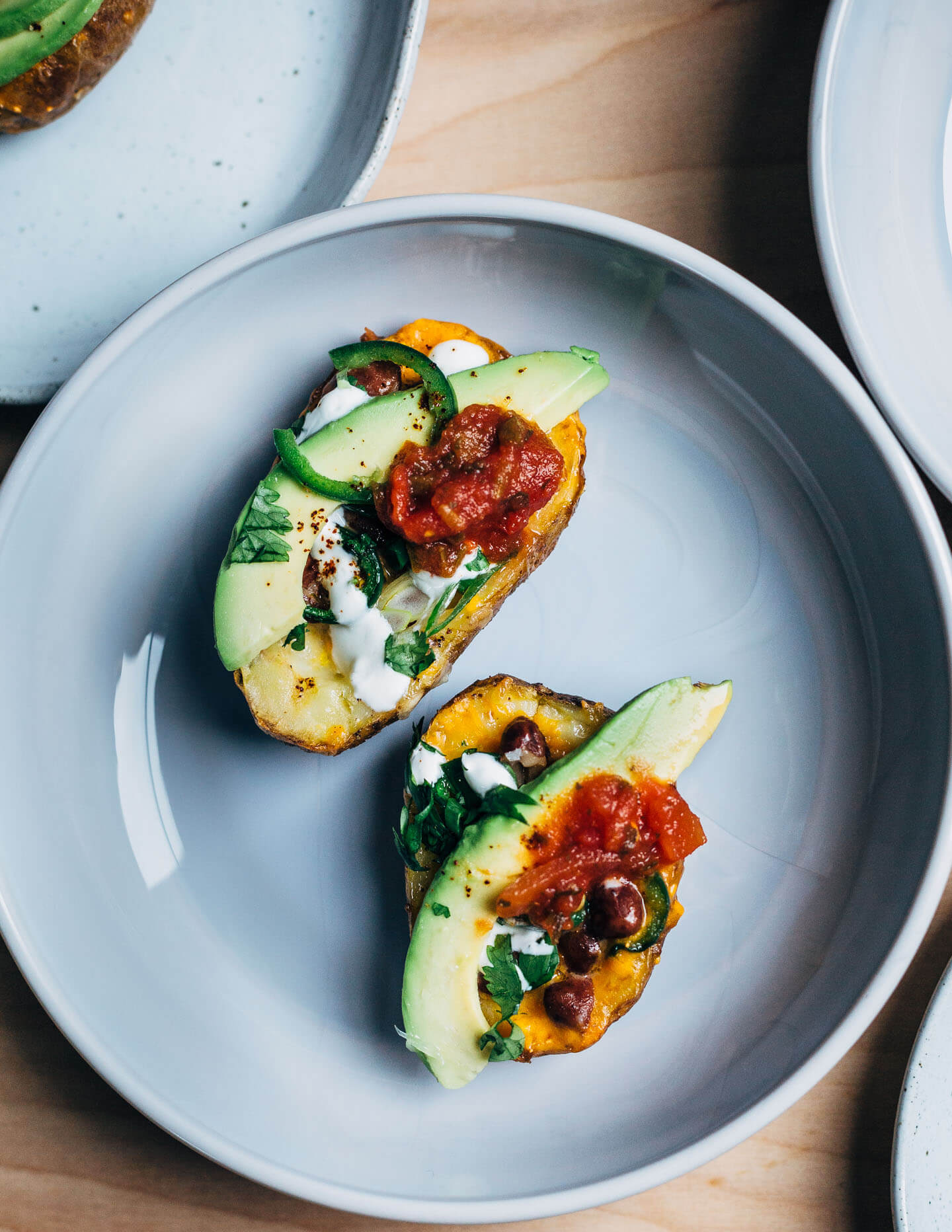 My preference is to introduce this very football-friendly snack without actually talking much about football. Especially since, for fear of a copyright suit, we all have to call it "the big game," which is a level of silliness that's hard to bear.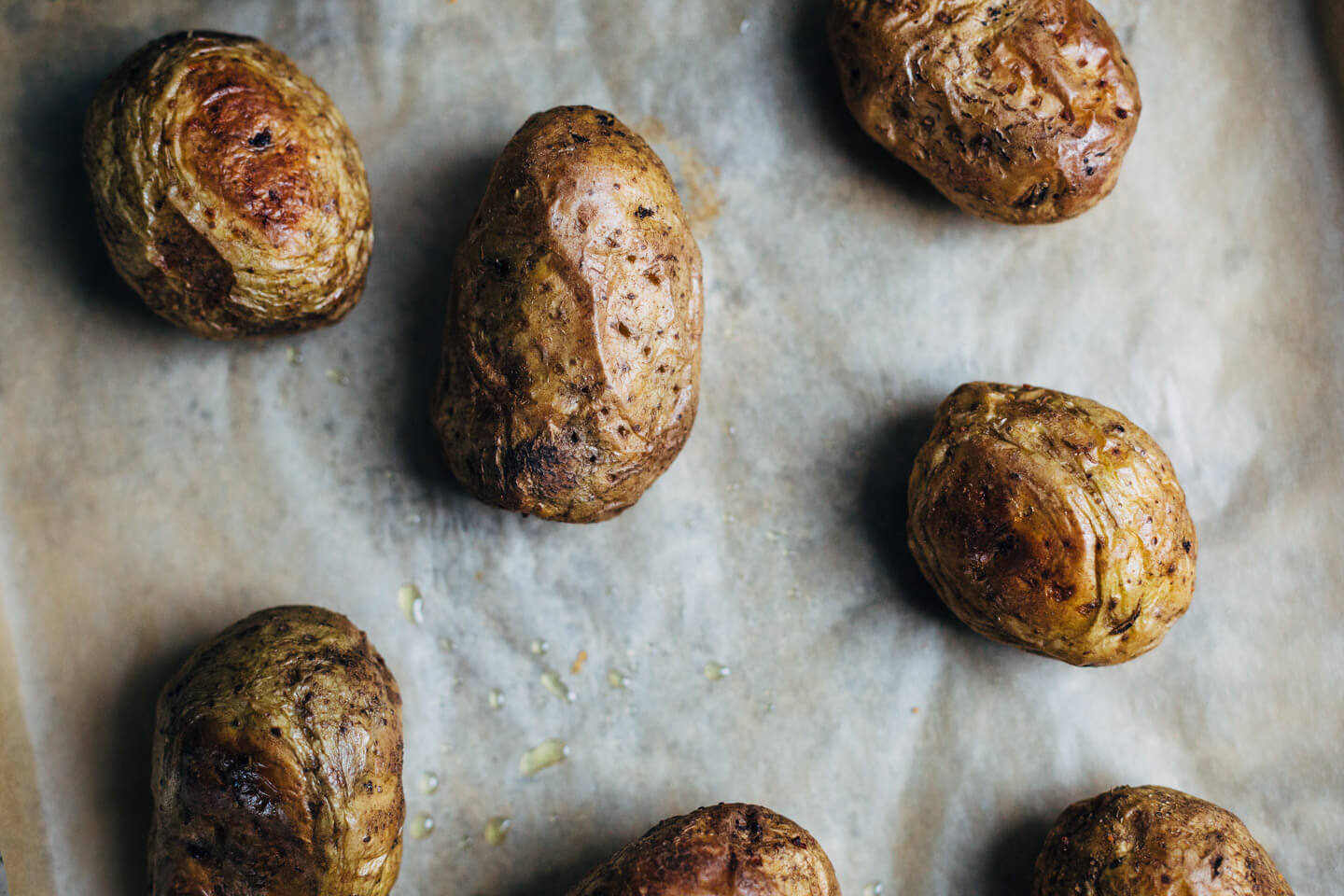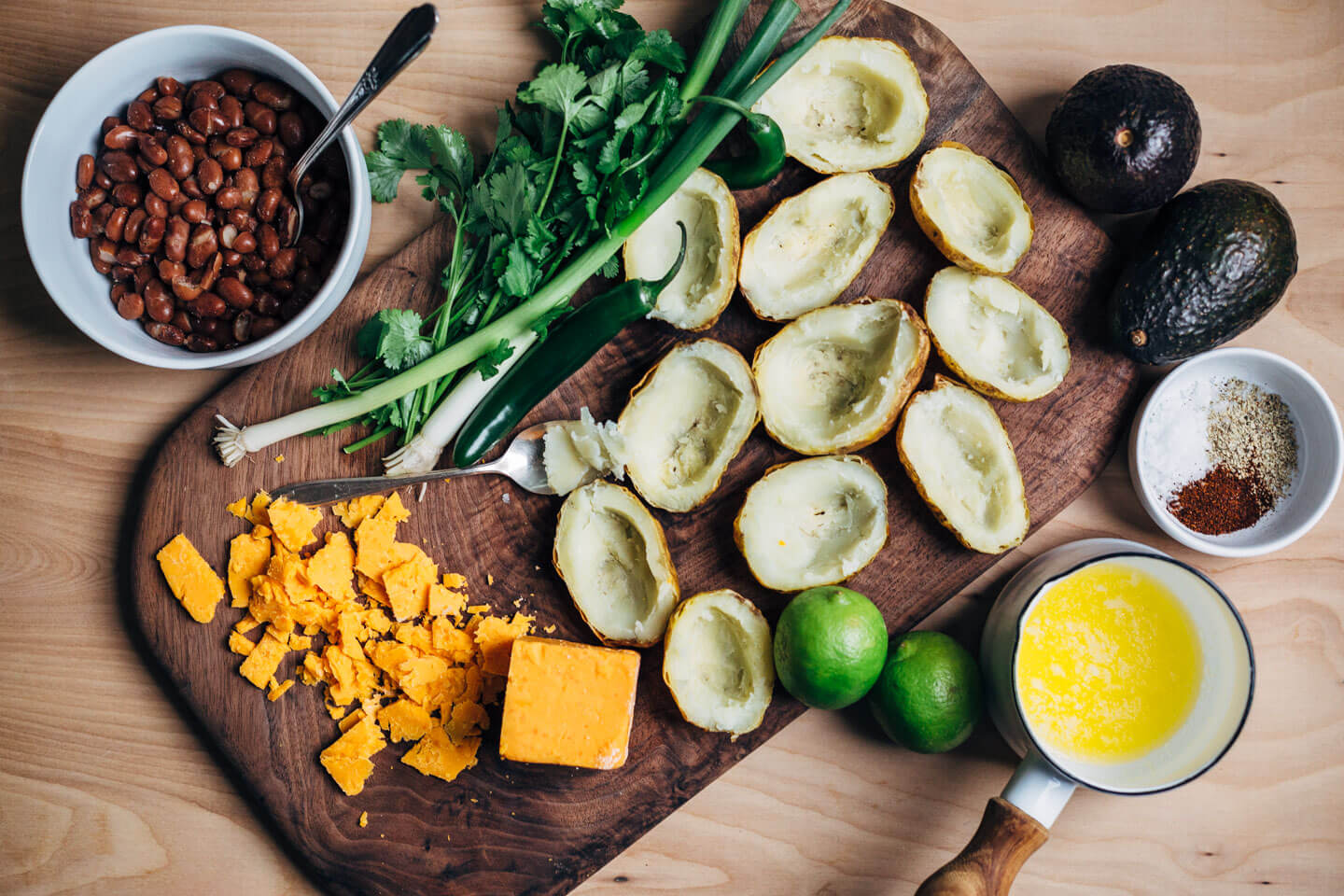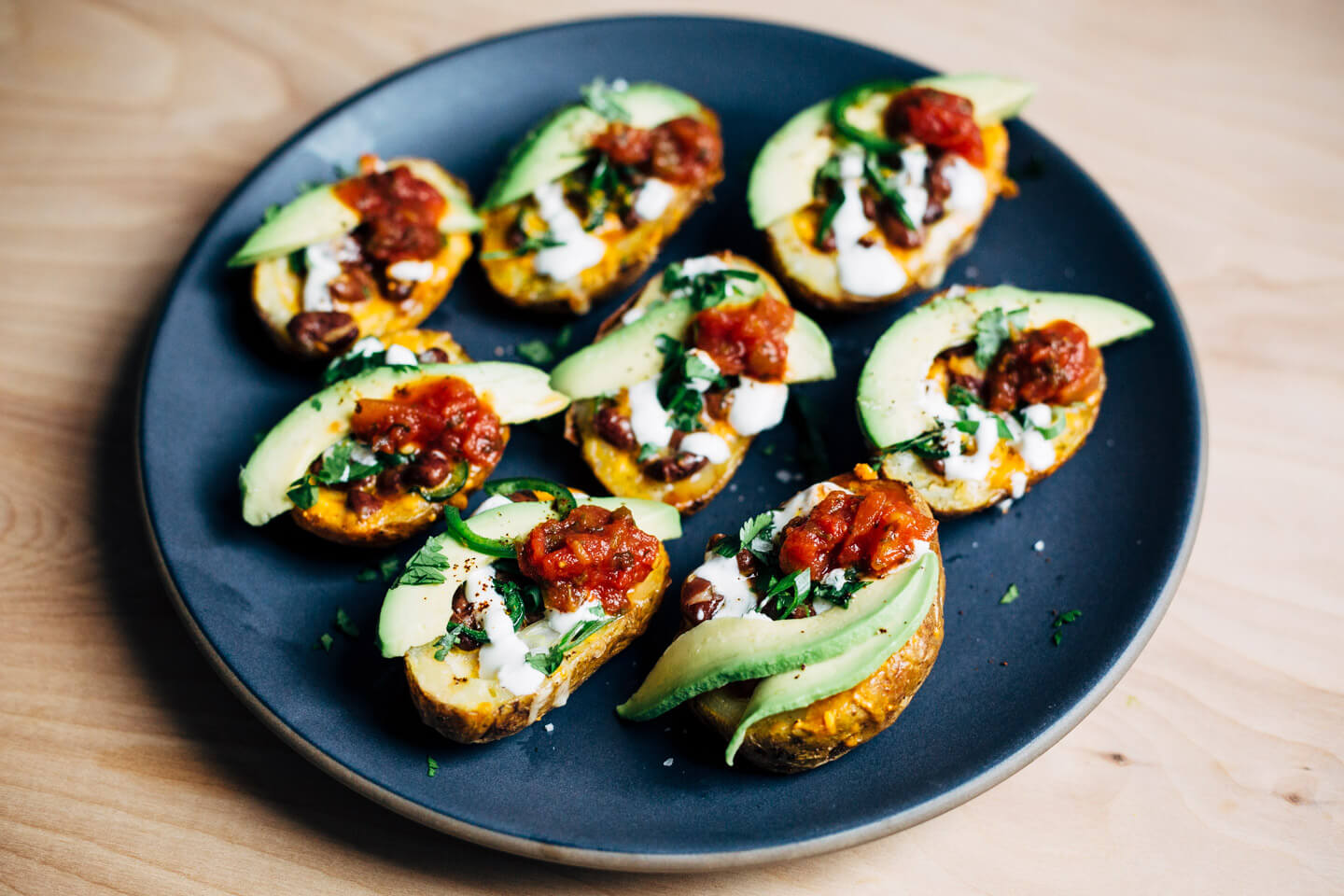 But, on a certain Sunday in early February, I definitely do want to eat various salty snacks smothered in melted cheese and sip a hoppy beer or two. That's where these Tex-Mex potato skins come in. Miraculously (and I don't think I'm overstating it), they manage to combine all the best parts of 7-layer dip, nachos, and potato skins IN ONE BITE. And they're much easier to share than nachos. The potato skins themselves are salty and buttery and crisp, while the filling – tender pinto beans smothered in cheese – is perfectly gooey. Potato skins are best with maximum toppings, and here, they're layered with avocado, jalapeños, green onions, cilantro, salsa, and lime crema.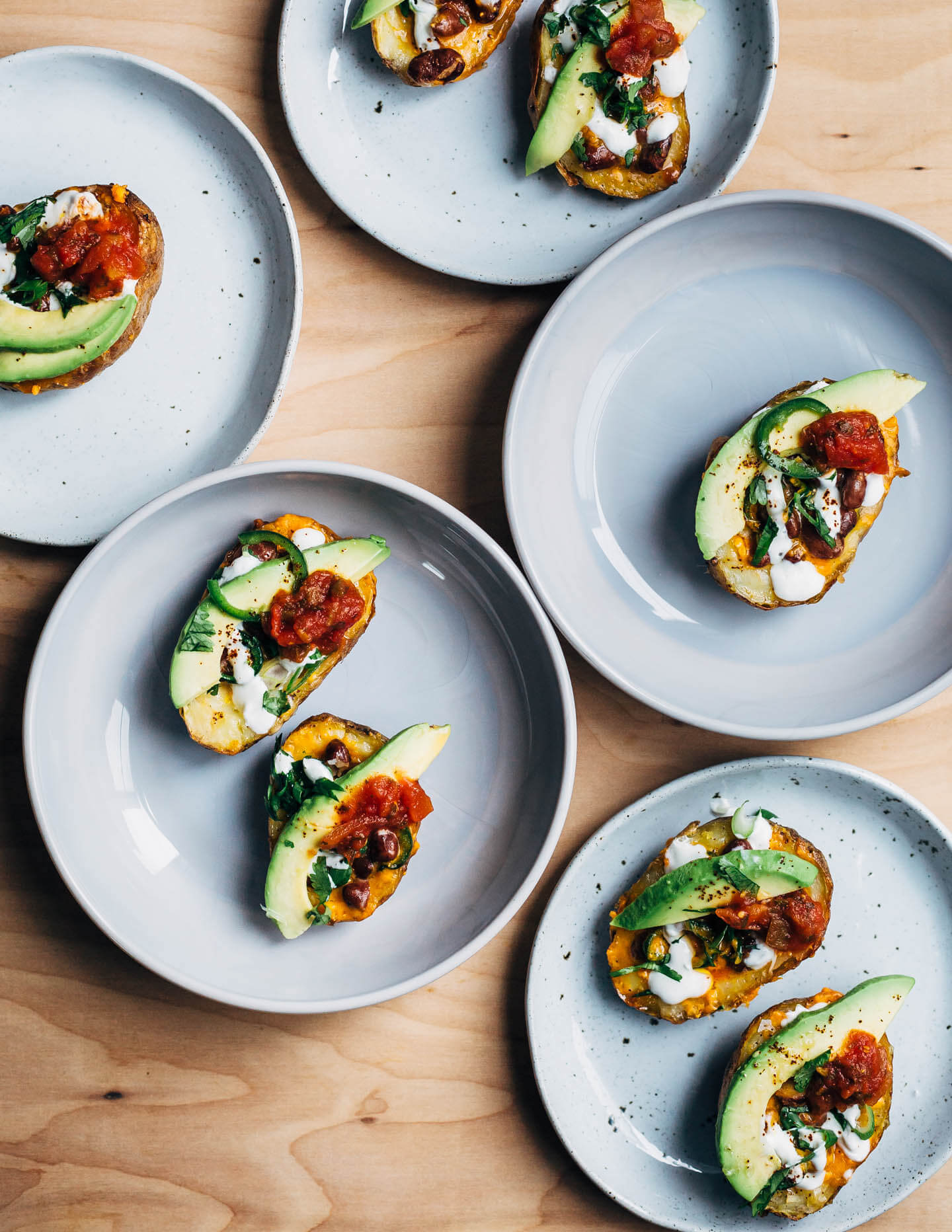 I've kept the recipe vegetarian, but if you miss the bacon bits from potato skins or the ground beef from nachos, feel free to layer either (or both?) into the mix.
And finally, a note on potatoes: I tested this recipe with russet, Yukon Gold, and sweet potatoes and they were all delicious. Russets have the sturdiest skins, for sure, so they're ideal if you're making a big batch and don't want a lot of fuss. Yukon Gold potatoes have superior flavor and texture, but cook up slightly flimsy, though they're still great finger foods. Lastly, the sweet potatoes also have a delicate skin, but one that's caramelized and crisp and delicious. If you go for sweet potatoes, just be sure to leave 1/4-inch of flesh to bolster the skins.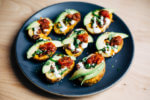 Tex-Mex Potato Skins
These vegetarian Tex-Mex potato skins are loaded with pinto beans, cheddar, green onions, herbs, jalapeños, avocado, and lime crema. Feel free to add bacon bits or a spoonful of seared ground beef, if that's your thing.
See above for notes on alternate potato varieties like Yukon Gold or sweet potatoes (both are delicious options!).
Potatoes can be roasted, halved, and hollowed up to 12 hours ahead of time. Wrap cooled potato skins tightly with plastic and keep in the fridge until needed.
Ingredients
Potato Skins
6

small russet potatoes

(select potatoes that are free of spots or bad spots), scrubbed

2

tablespoons

olive oil

sea salt

1

15-ounce can pinto beans, rinsed

2

tablespoon

apple cider vinegar

1

tablespoon

garlic powder

3

tablespoons

butter,

melted

1/2

teaspoon

fresh ground black pepper

1/2

teaspoon

chili powder

4

ounces

cheddar,

shredded

4

ounces

monetary or pepper jack,

shredded
Toppings
2

green onions,

sliced thin

1

jalapeño,

seeded and sliced thin

1/2

cup

minced cilantro leaves

1

avocado,

sliced thin

1/2

cup

salsa

1/2

cup

sour cream

juice of 1 lime,

plus more for garnish
Instructions
Preheat oven to 400 degrees F. Line a large baking sheet with foil. Prick potatoes all over with the tines of a fork and arrange on baking sheet. Brush potatoes with a light coating of olive oil. Bake 60 - 70 minutes, or until potatoes are cooked through, and the skin is puffed up and a rich golden hue. Set aside to cool.

When cool enough to handle, halve potatoes. Using a small spoon, score an oval into the flat side of the potato, leaving a 1/4-inch border. Carefully scoop out the centers, leaving border intact as best you can. Reserve scooped potato for another use (like mashed potatoes or soup). If desired, potatoes can be prepped up this point, cooled, wrapped, and refrigerated for up to 12 hours.

When ready to serve potato skins, preheat oven to 400 degrees F.

Spoon beans into a medium saucepan over medium heat. Add apple cider vinegar, garlic powder, and 1/2 teaspoon sea salt, plus more to taste. Cook, stirring often, until beans are warm and steamy, then set aside.

Melt butter, and brush all over potato skins on both sides. Combine 1/2 teaspoon sea salt, pepper, and chili powder; sprinkle mixture all over potato skins. With oven still at 400 degrees F, roast potatoes skin side up for 5 minutes. Flip potatoes, fill with 1 - 2 tablespoons each pinto beans and shredded cheese, and 1 - 2 jalapeño slices. Roast potato skins 5 - 7 minutes, or until cheese is melted and bubbly.

To make the lime crema, stir to combine sour cream and lime juice. If desired, spoon into a squeeze bottle.

Top potato skins with sliced jalapeños, green onions, cilantro, avocado slices, lime crema, and salsa. Serve immediately.