Turn springtime greens into a great dinner with this bright arugula pesto recipe served with toasted barley and sausage coins. This post is sponsored by Wolf. Jump to recipe.
We don't need to be saints about eating good food. In the past, I thought that eating kale meant going full-throttle healthy and serving it with just a squeeze of lemon and a side of filtered water. It's the same impulse that drives people to eat unseasoned steamed vegetables to make up for past indulgences. Sometimes, those things are good, but I think we should all be a little more comfortable making healthy food taste delicious. After all, it dramatically increases the chances that we'll actually eat our vegetables.
A desire to make healthy food taste wonderful is one of the driving forces behind this recipe for toasted barley with arugula pesto and sausage coins. Another, is the desire for simple, wholesome dinners that can be made start to finish on a Wednesday night.
This recipe offers up a more creative take on the typical pasta dinner – toasted barley stands in for pasta, adding nuttiness and a tender, chewy texture. The arugula pesto is mild with a big kick of lemon, while the sausage lends heartiness to the meal. This dish is also incredibly forgiving (as long as you don't overcook the sausage), so kids can process the pesto or mix it into the barley.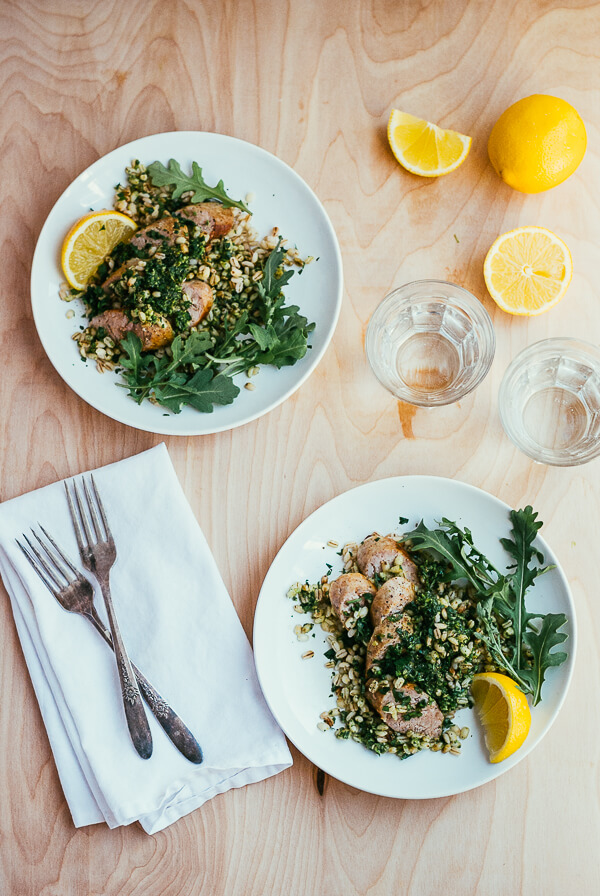 If all this talk of delicious, doable dinners has you ready to cook something great in your own kitchen, we hope you'll head over to ReclaimtheKitchen.com for inspiration and ideas. We're excited to be working with Wolf as they come up with smart ways to make getting into the kitchen and cooking work with contemporary lives. One of our main goals around here is to make good food approachable, and we're glad to have Wolf working toward that same objective.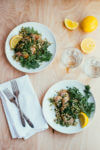 Toasted Barley with Arugula Pesto and Sausage Coins
Turn springtime greens into a great dinner with this bright arugula pesto recipe served with toasted barley and sausage coins.
Ingredients
For the Arugula Pesto
1/4

cup

toasted pepitas

4

packed cups arugula

(about 10 ounces)

4

cloves

garlic

, smashed and peeled

2

tablespoons

freshly squeezed lemon juice

1/4

cup

extra virgin olive oil

1/2

teaspoon

sea salt

, plus more to taste
For the Toasted Barley and Sausage Coins
2

tablespoons

extra virgin olive oil

1

cup

pearl barley

sea salt

4

large links mild Italian sausage

2

tablespoons

minced parsley

ground black pepper
Instructions
In a large skillet, toast pepitas for 1 - 2 minutes over medium heat. Spoon in to a bowl and set aside.

With heat still on medium, add 2 tablespoons olive oil to the same skillet used for the pepitas, then add barley, and, stirring often, toast for 5 minutes. Scrape toasted barley into a large pot of salted boiling water, boil 15 - 17 minutes or until al dente, strain, and set aside.

Meanwhile, in the same skillet used for toasting, sauté sausage over medium heat. Cook each side about 10 minutes, or until casing is a rich golden brown. Allow casings to set up over medium heat and edge the heat up as they cook (this helps prevent the casing from bursting). During the last two minutes or so, edge the heat back down, and cover until sausages have an internal temperature of 165 degrees F.

While sausage cooks, make pesto. In the bowl of a food processor, pulse 5 or 6 times to combine toasted pepitas, arugula, and garlic. With food processor running constantly, drizzle in lemon juice and olive oil, then salt, processing until mixture is smooth, but with a little texture. Taste, and adjust salt or acid levels as needed.

Rest the sausage for a couple of minutes, slice into coins, and serve with pesto, barley, minced parsley, and ground pepper.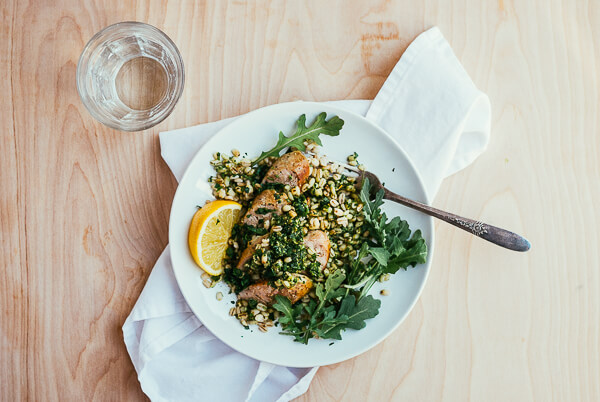 Disclosure: This is a sponsored post written in partnership with Wolf.