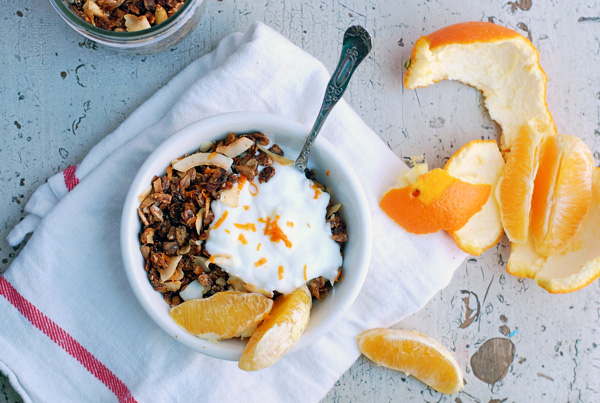 I hadn't meant to take such a long break from posting, but sometimes stuff happens. (Stuff is my kid-friendly version of a certain cuss. I have also been known to say "fudgesicles" in public, and though that can be embarrassing, it's not as bad as Brian's use of Yosemite Sam cuss words like "goldangit" and "consarn it.") OK, so now that I've kicked off this important post with a digression about swear words, we have some serious stuff to talk about.
Let's start with granola. I don't write much about it, but I have a long, long list of serious food allergies. Highlights of the list include nuts, peanuts, and almost all legumes. Somehow the coconut is still cool, though I've read it's a true nut. So if I want granola, I make my own, and I'm fine with that since homemade granola is really easy to make. I believe almost any combination of oats, seeds, nuts (for you), honey, and salt will taste really good when toasted for a while in the oven. But since this is a recipe blog, I went ahead and wrote this one down. The coco-nuttiness is pretty awesome. I can't really get enough of the creamy crunch of coconut flakes lately, and the salty sweet combination is spot on. (Note that you can taste the granola before it goes into the oven and adjust your flavors then. Like all recipes I post here, I want you to adapt things to suit your tastes.)
And, before we head to the recipe, there's one more important item of business (dum,dum,dum!)––sponsored posts. We really like writing here on Brooklyn Supper, and in order to further pursue our love of easygoing seasonal recipes, we've decided to occasionally partner with certain brands here on the blog. We'll let you know when you're seeing a sponsored post right in the post title, and will tag all our related social media posts too. Our readers are everything to Brian and me, and we promise to partner only with brands we trust and that we would use even if we weren't being paid, and to always keep you the reader front and center. We love hearing from you, so please comment or email if you have feelings about the change. Thanks for making the leap with us!
Toasted Coconut Granola (adapted from Orangette by way of Nekisia Davis, Early Bird Foods, and Food 52)
makes a lot
3 cups old fashioned rolled oats
1 cup raw hulled pumpkin seeds
1 cup raw hulled sunflower seeds
2/3 cup honey
1/2 cup cold pressed coconut oil
2 tablespoons brown sugar
1 1/2 teaspoons sea salt
1 1/2 cups unsweetened coconut flakes
1/4 cup fresh ground flax seeds
2 tablespoons sesame seeds
Update (10.7.13): I've tried this recipe a few times now, and have decided to reduce the cook time a bit, changing it from 45 minutes total to 35.
Preheat the oven to 300 degrees.
Combine all of the ingredients but the coconut flakes, flax seed, and sesame seeds. Stir well, and then spread everything out on a rimmed baking sheet.
Bake for 30 minutes, but remove baking sheet and stir the granola after 15. At the 25 minute mark, fold in the coconut and flax. Bake for another 10 minutes (for a grand total of 35), or until the granola is a light golden brown.
Remove from oven, and set the pan out to cool completely before storing. Spoon into several large jars and seal. Granola should keep well at room temperature for up to a month.
I served my granola up with yogurt and an orange, and found that a bit of fresh orange zest was kind of amazing on top.