Created in partnership with OXO, this nutty toasted farro salad features al dente farro tossed with massaged lacinato kale, ruby-hued fresh figs, creamy goat cheese crumbles, and fresh parsley.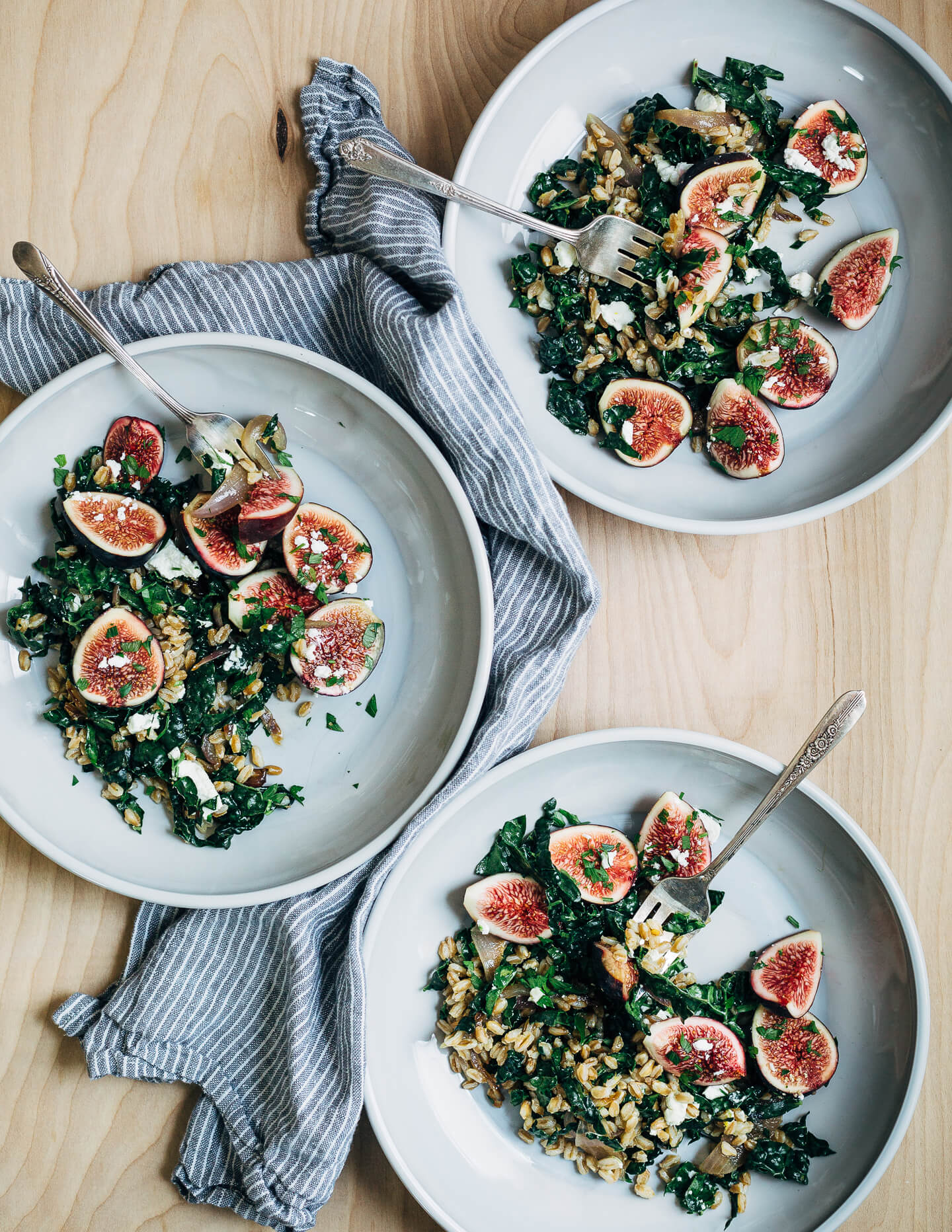 After a busy summer, my house has started to feel a little chaotic and so I've begun a massive tidying project. Because I spend most of my time there, I started in the kitchen with a small but important pantry reorganization. I'd attempted an organized pantry before, but always ended up with a jumble of jars either half filled or with the same ingredient spread over two or three jars, and a mess of odds and ends that wouldn't fit. So I'd cram it all back in, resigned to the state of things.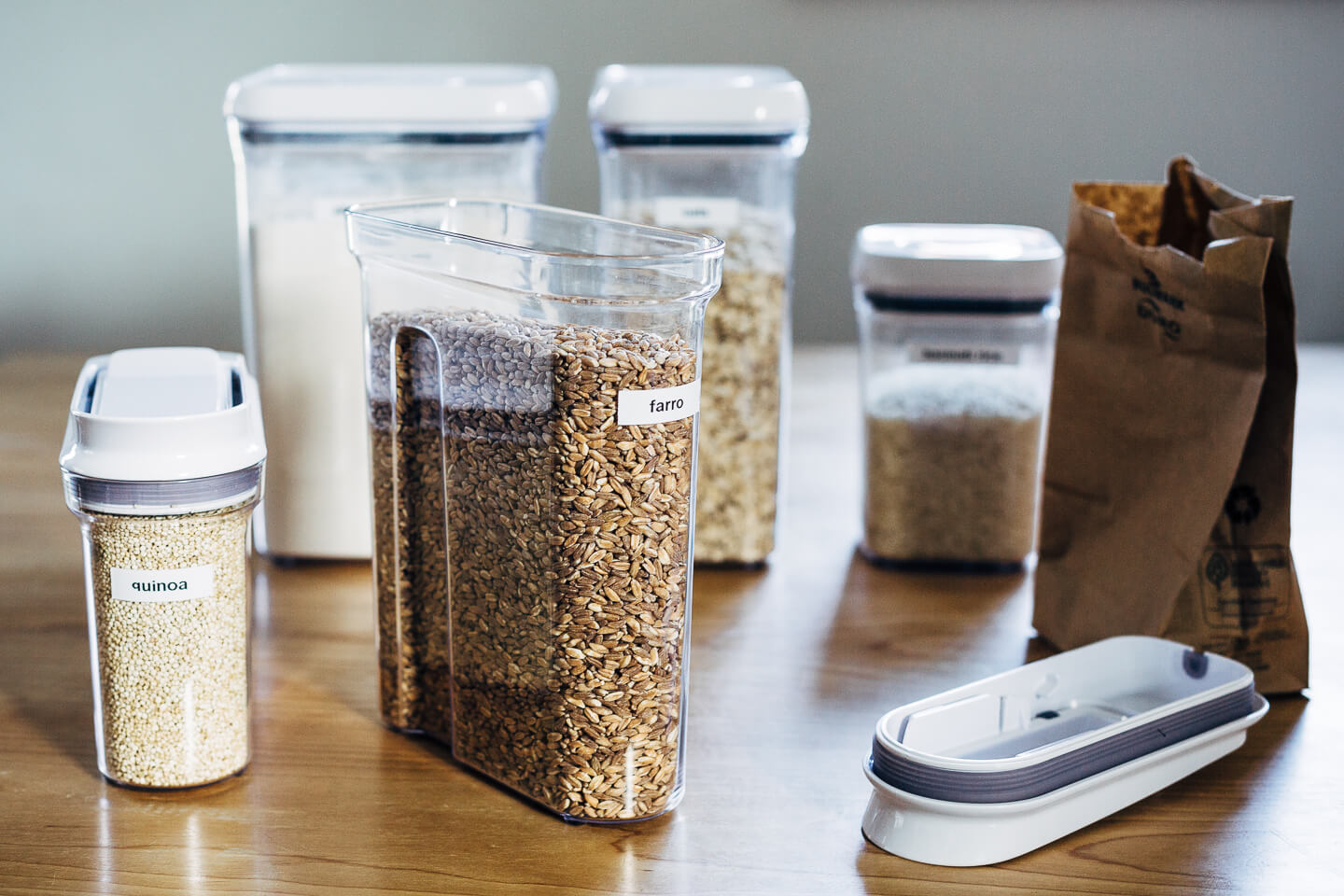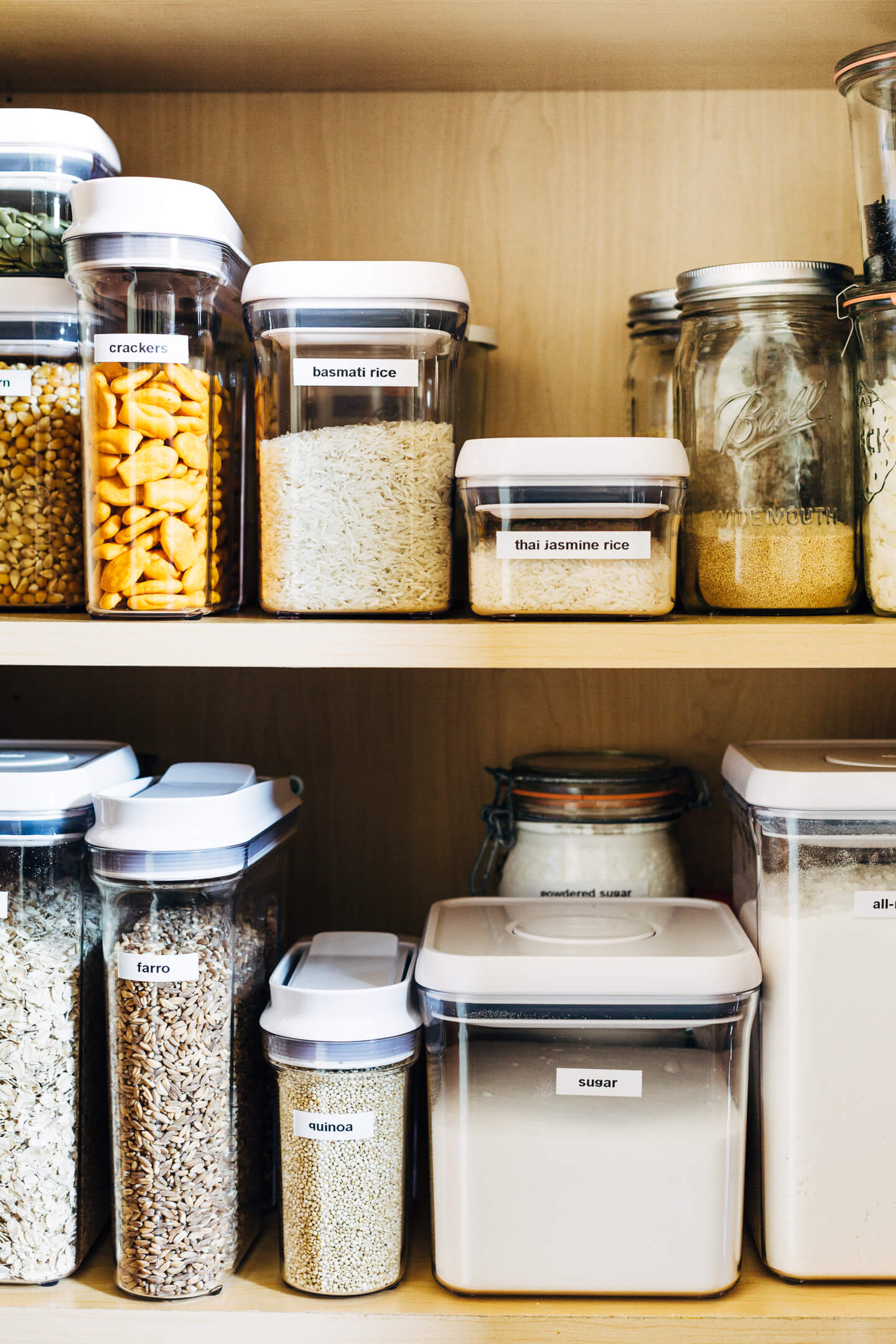 But now, with the OXO 10-Piece POP Container set and a set of POP All-Purpose Dispensers, I finally have exactly what I need. Suddenly, everything from big bags of flour to the loose-leaf tea I fumble with every morning has a place in my small pantry. The wide lid on the 4-quart container gives me (and my kids) room to easily measure and swipe flour. The airtight spouts on the POP All-Purpose Dispensers keep grains fresh and allow me to neatly pour out just what I need. And perhaps best of all, these containers help me to visualize what I have and what I need from a quick trip to the bulk aisle, minimizing both the waste of extra packaging and the excess of buying things I don't need.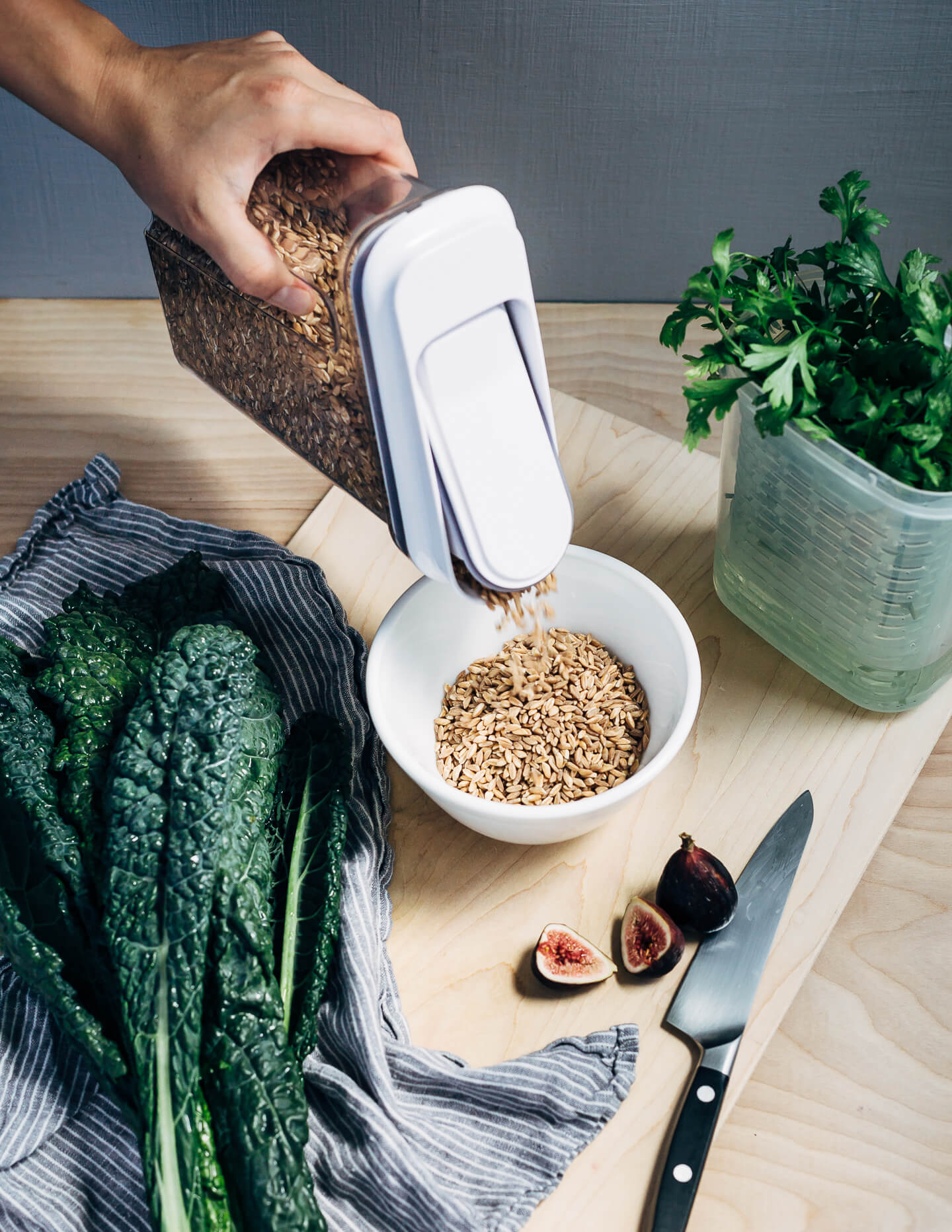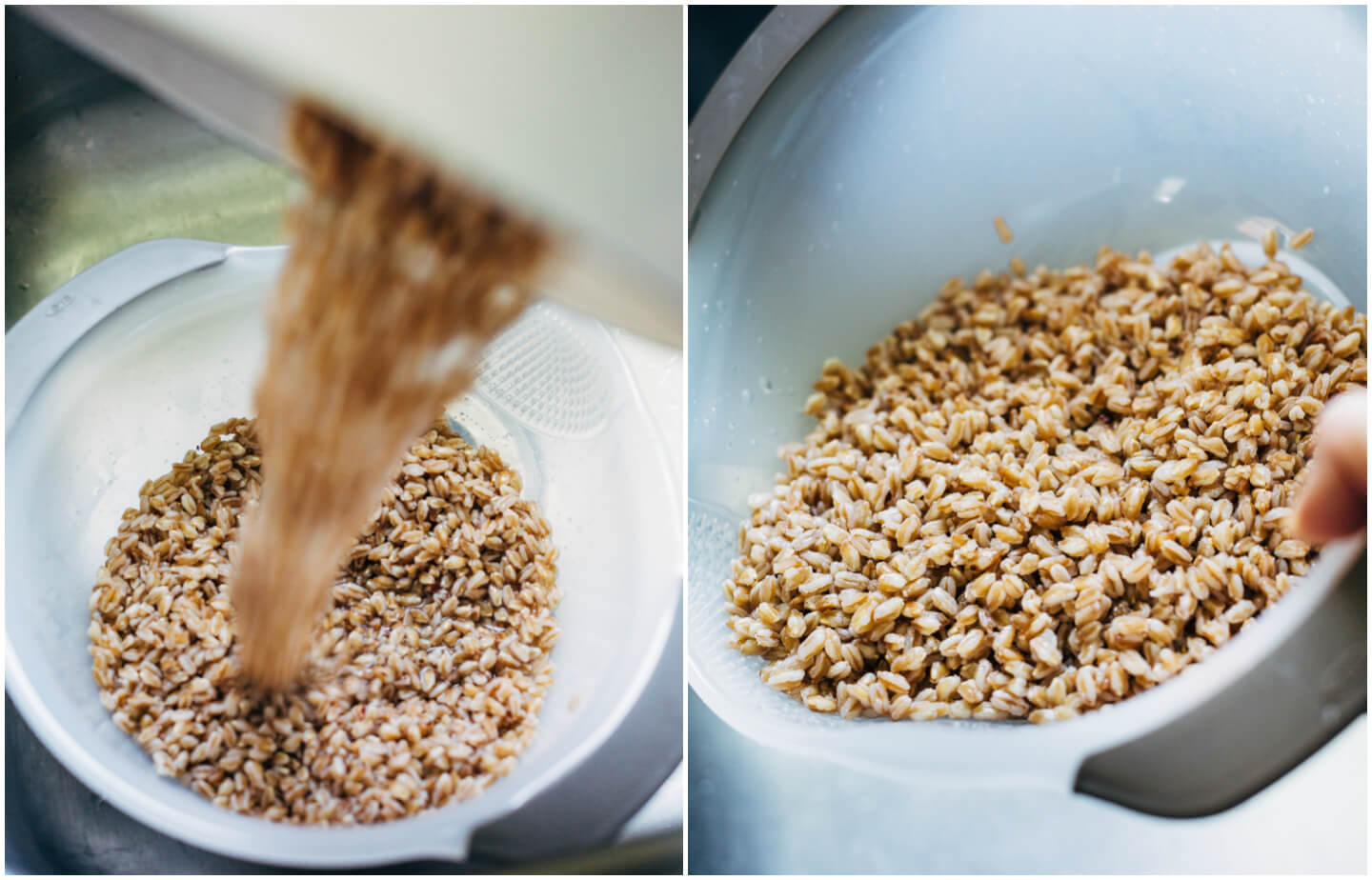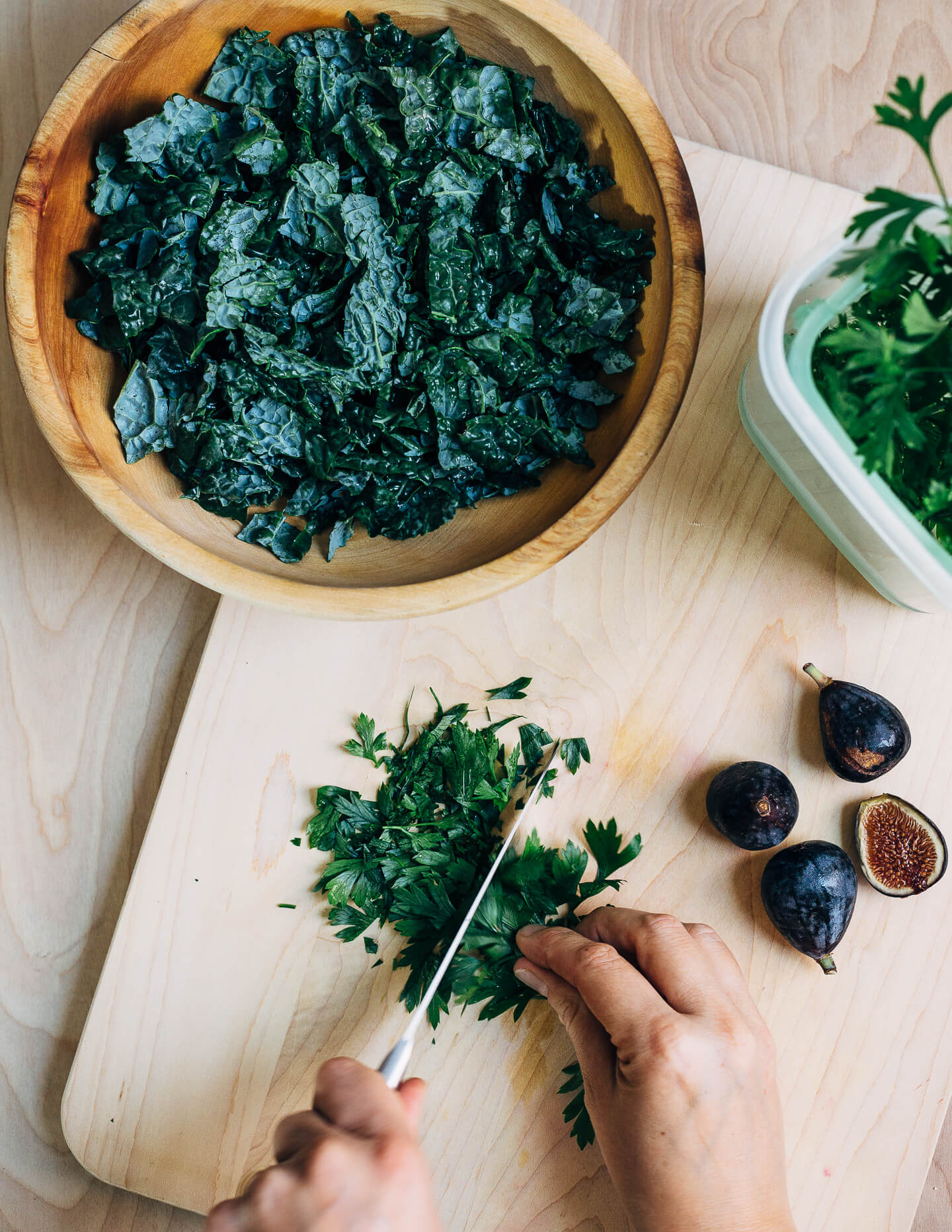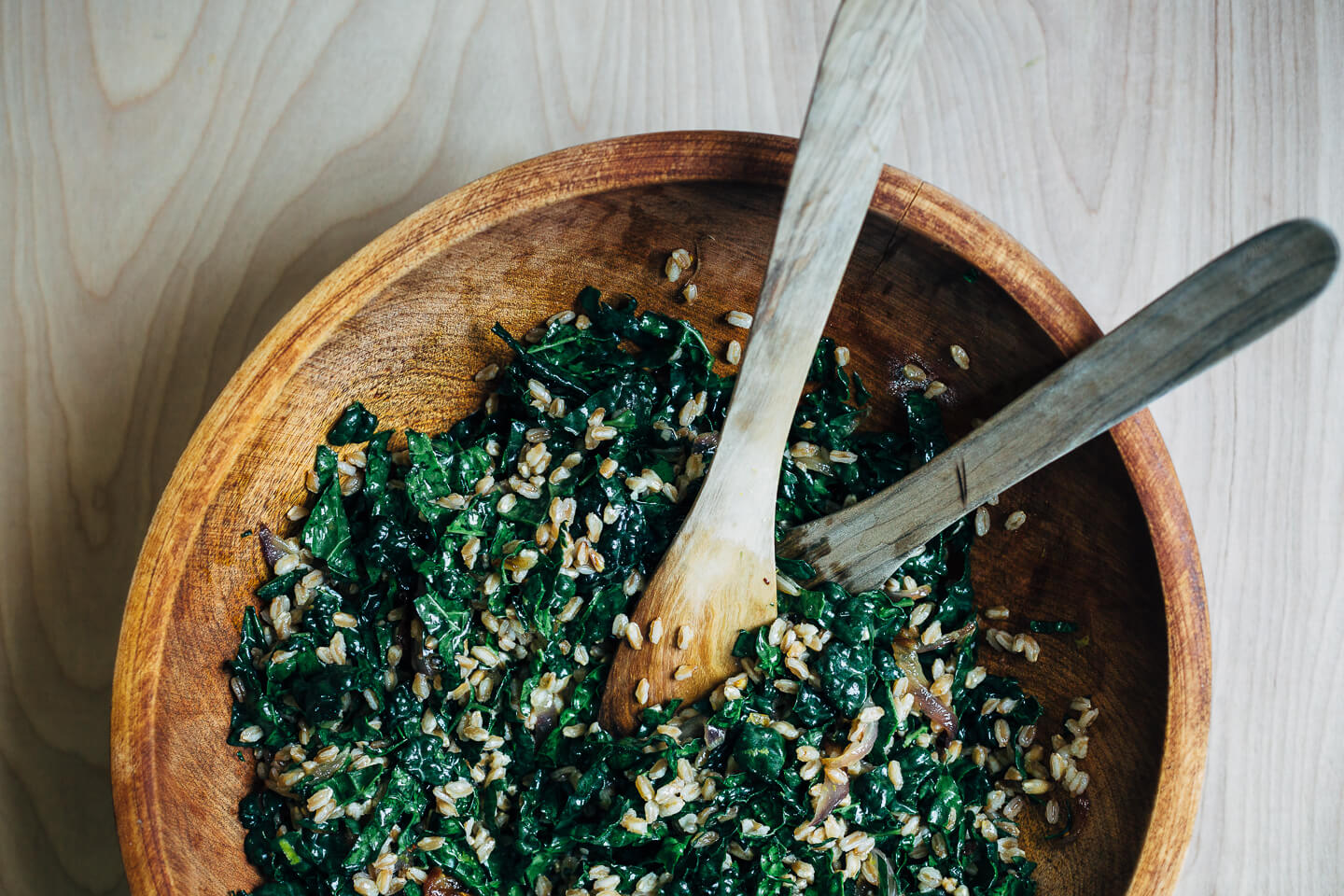 With the pantry at last neat, I set about cooking out of it.
Chewy, nutty farro is one of my favorite grains. I find it holds up beautifully, even after a few days in the fridge, so it's the ideal base for a hardy make-ahead fall salad. I cook farro just like pasta, tasting toward the end of cook time to ensure the perfect texture. The OXO Rice and Grains Washing Colander makes rinsing and straining a cinch – the small square holes prevent tiny grains from falling through and allow water to drain slowly.
To the farro, I added sautéed red onions and massaged lacinato kale. The farro salad is dressed in layers – a sprinkle of salt here, a dash of lemon there. It's topped with fresh figs, creamy goats milk chèvre, and parsley. Another kitchen addition, the OXO Herb Keeper has helped me get the most out of these herbs, keeping my garden bounty fresh for weeks.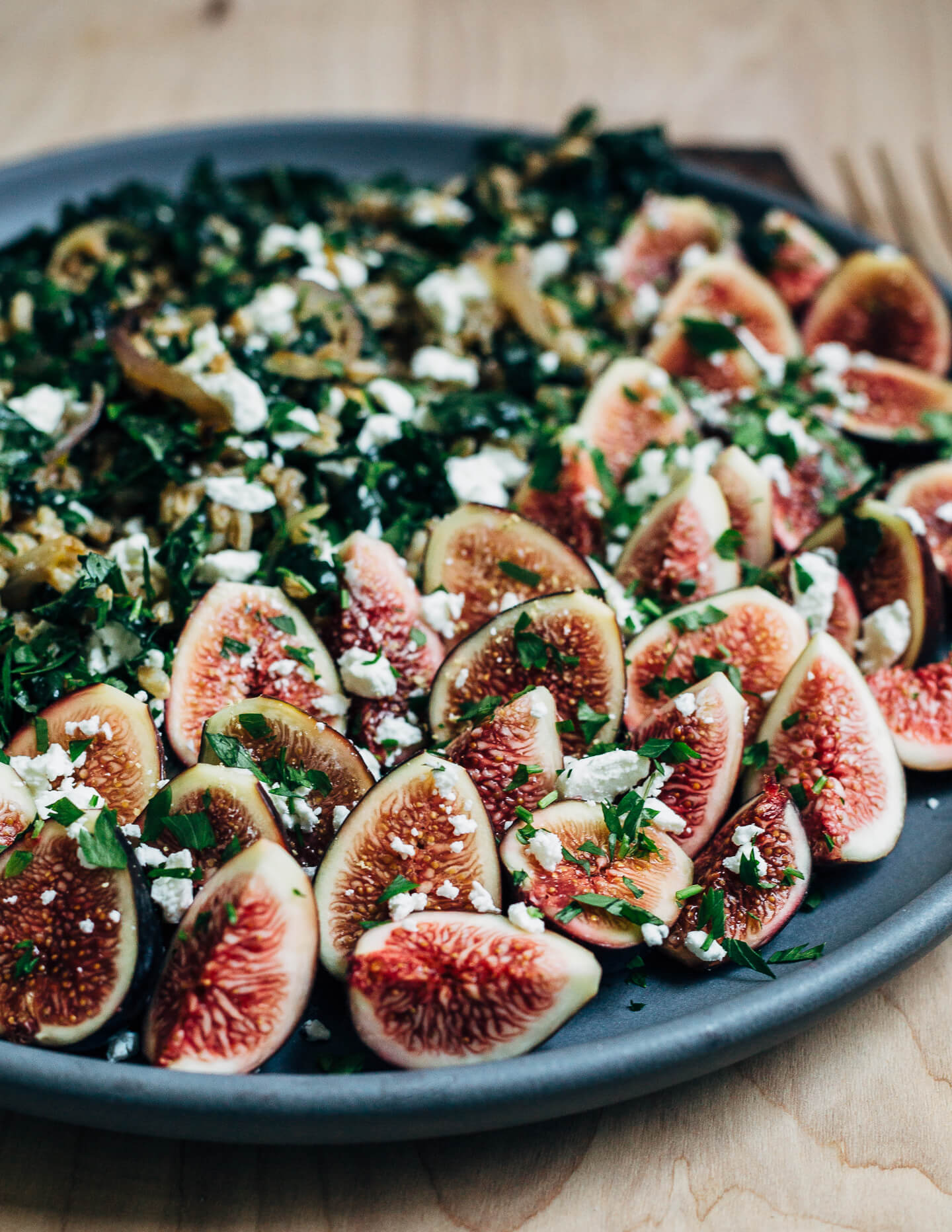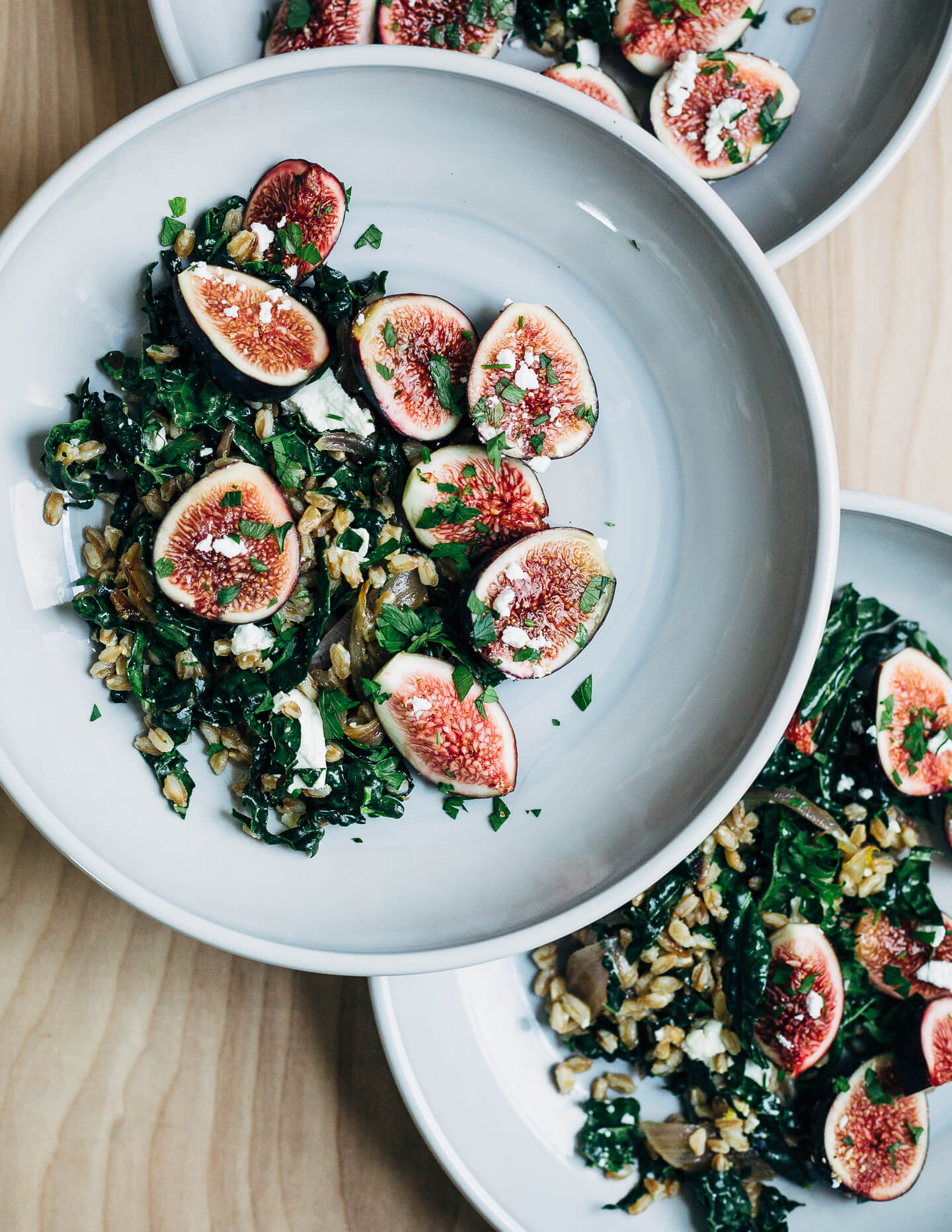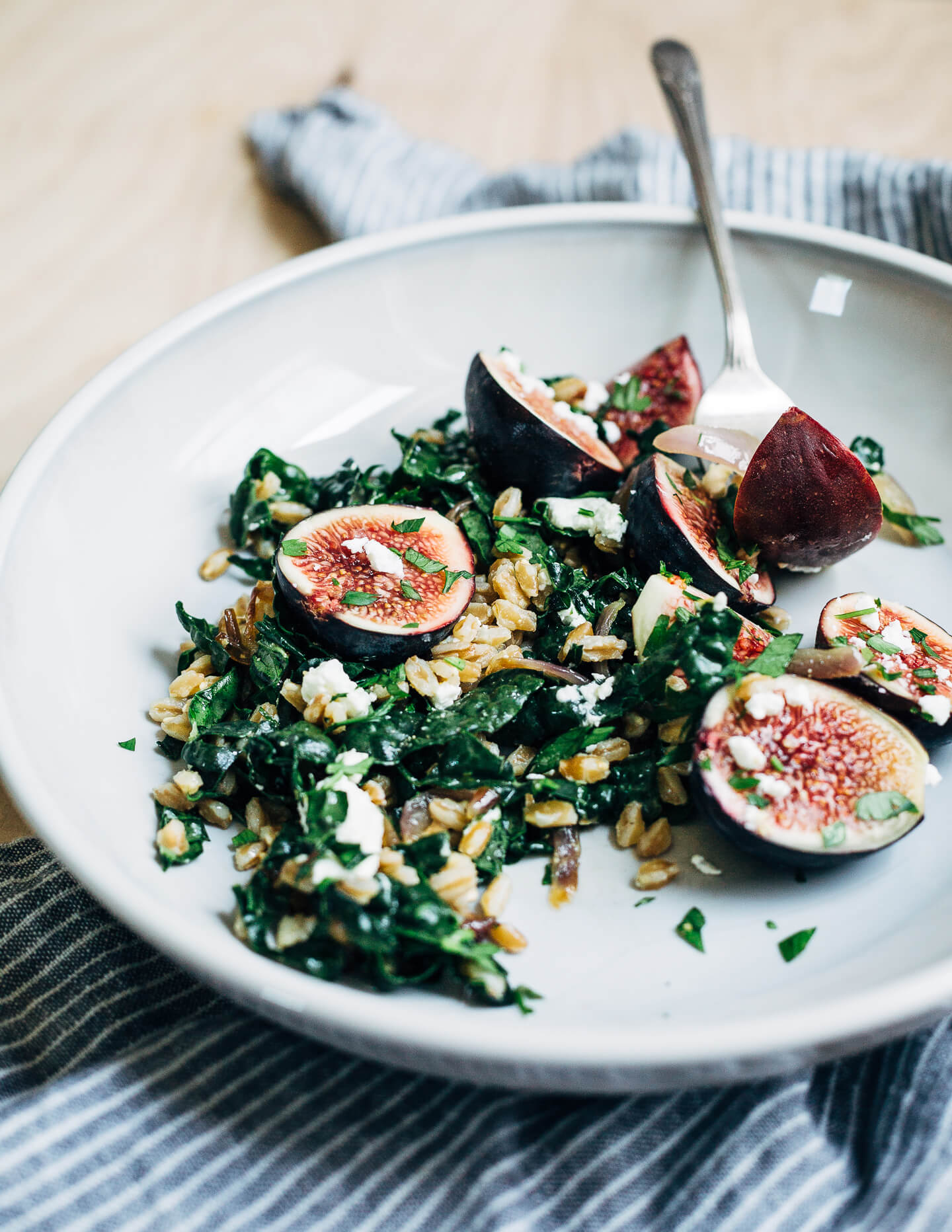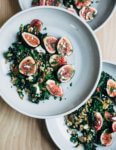 Toasted Farro Salad with Kale and Figs
A nutty toasted farro salad featuring al dente farro tossed with massaged kale, ruby-hued fresh figs, creamy goat cheese crumbles, and fresh parsley.
Ingredients
2 1/2

tablespoons

extra virgin olive oil,

plus more to taste

1

red onion,

sliced thin

1/2

teaspoon

red pepper flakes

1 1/2

teaspoons

sea salt,

divided

1/2

bunch lacinato kale,

stems removed and chopped

3/4

cup

farro

zest and juice of 1 lemon

(about 2 tablespoons juice)

1

tablespoon

honey

1/4

cup

minced parsley

1

pound

figs,

stems trimmed and halved or quartered

4

ounces

goat milk chèvre,

crumbled
Instructions
Heat 2 tablespoons olive oil in a medium-sized saucepan over medium heat. When oil is fragrant and glistening, add the onion, 1/4 teaspoon sea salt, and red pepper. Sauté, stirring often, 15 minutes, or until the edges have crisped and onions are supple. Edge heat down slightly if needed.

Meanwhile, set kale in a large bowl (you'll want room to toss things). Drizzle in 1/2 tablespoon olive oil and sprinkle with 1/4 teaspoon sea salt. Massage leaves with fingertips for about a minute. Set aside.

Spoon onions out of saucepan, taking care to leave to the oil behind. Set onions aside. Add farro to the saucepan, and toast, stirring constantly, until farro is just toasted and fragrant, 3 – 5 minutes. Pour in enough water to cover farro by 2 inches and bring to a boil. When water boils, stir in 1 teaspoon sea salt, and turn heat down to a bubbly simmer. Cook 20 – 25 minutes, or until farro is al dente. Strain and rinse with cold water.

Toss cooked farro and onions with massaged kale. Add lemon zest, lemon juice, and honey, and toss. Add sea salt to taste.

When ready to serve, tuck figs throughout salad or arrange on a platter. Top with crumbled cheese, parsley, a tiny pinch sea salt, and if desired, a drizzle of olive oil.