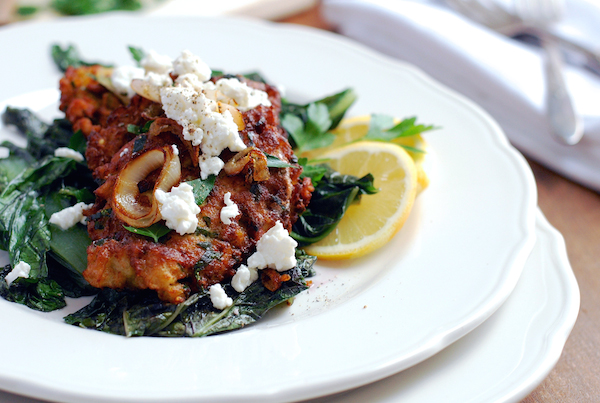 Yesterday we had our third March snowstorm. What was predicted to be a dusting, changed to an all day, several inches type of affair. And somehow, blessedly, school was not cancelled. With the house to myself, I spent the morning watching the snow fall and cooking up some spring comfort food (even if the weather begged to differ).
The first order of the day was to make toasted millet, some of which served as an excellent morning porridge. Then I boiled a heap of cauliflower florets, and chopped and minced all the ingredients for fritters. If you're new to fritters, think of them as savory vegetable donuts. They are an especially accommodating fried food, easily accepting whatever hodgepodge you have on hand –– whether it's leftovers like fish or herbs, vegetables of questionable freshness, or chunks from last night's stew. These particular fritters are light in texture with a golden crust and an almost creamy center dotted with flecks of millet. As you might have guessed, they are delicious.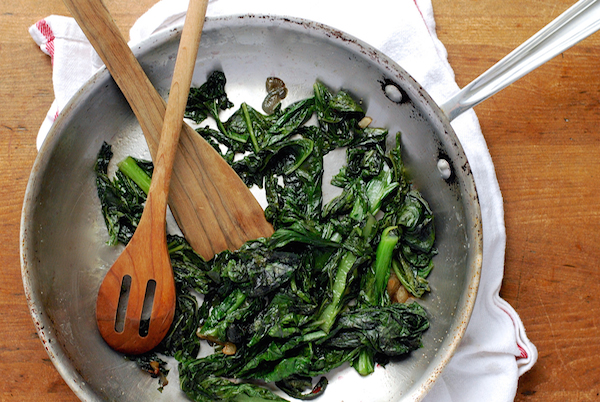 Pieced together in the produce aisle, this recipe was supposed to be all about bitter spring greens, and it still is, except I've decided that fritters are the perfect way to show off a well-cooked green. In the pan, spicy mustard greens go from mildly unpleasant, to supple and salty. They have a concentrated flavor and aroma, one that speaks of green-ness more than anything, but is also just bracing and right. It's spring, after all.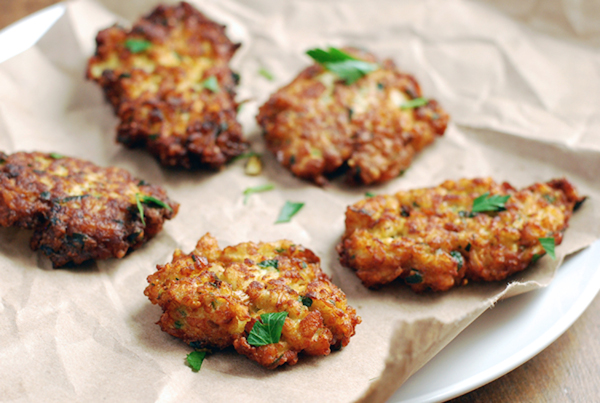 Toasted Millet and Cauliflower Fritters with Sautéed Mustard Greens (adapted from Ottolenghi the Cookbook by Yotam Ottolenghi and Sami Tamimi)
serves four to six
This recipe calls for cooked millet and a version of deep frying. If you have the time, cook the millet ahead of time. As for deep frying, if you don't have experience, read up. To avoid smoking oil and/or dangerous situations, I recommend having a clip-on candy thermometer handy so you can watch the temp.
for the fritters
1 cup cooked toasted millet
1 head cauliflower, core removed and cut into 1/2 inch florets
4 large eggs
2 large shallots, minced
2 cloves garlic, minced
1/4 cup minced parsley, plus more for garnish
1 tablespoon lemon zest
1 teaspoon each cumin and coriander seed, freshly ground
1 teaspoon sea salt, divided, plus more to taste
neutral oil for deep frying, such as safflower or canola
for the mustard greens
2 tablespoons extra virgin olive oil
3 shallots, sliced
1/4 teaspoon red pepper flakes
1 large bunch mustard greens, washed, tough stems removed, and rough chopped
1/4 – 1/2 teaspoon sea salt
1/4 teaspoon black pepper
1 teaspoon freshly squeezed lemon juice
to serve
feta cheese
lemon wedges
minced parsley
Bring a large stock pot of water to a boil. Add 1/2 teaspoon sea salt, and the cauliflower florets. Cook under cauliflower is very tender, about 15 minutes. Drain and set aside to cool.
Select a wide, heavy bottomed 3 inch deep skillet for frying the fritters. Pour enough of a neutral oil into the skillet to fill to 1/2 inch depth. Heat the oil over medium-high heat, so that the oil is quite hot, but not smoking. If you have a candy thermometer use it to keep an eye on the temp –– you should aim for the 325 – 350 degrees F range. Oil temp will likely fluctuate according to the quirks of your stove.
In a large bowl, combine 1 cup cooked millet, cooked cauliflower, eggs, shallots, garlic, parsley, zest, spices, and 1/2 teaspoon sea salt.
Prepare a platter lined with paper towels and set out a fish spatula, mesh spatula, or slotted spoon.
Gently tip a 2 – 3 tablespoon ball of fritter batter into the oil. Repeat so that 4 or so fritters are cooking at the same time. Cook each fritter for 2 – 4 minutes a side, just until light brown. The fritters are fragile, so try to let them be while they cook, and flip with care so as not to break them or splash hot oil. Remove cooked fritters to the paper towel-lined plate.
Meanwhile, cook the greens. Heat a large skillet over medium-high heat. Add 1 tablespoon olive oil. Next, add the shallots and red pepper flakes. Cook until shallots are crisp on the edges. Remove shallots. Add another tablespoon olive oil, and then gradually add the greens, sprinkling with sea salt as you go. Cover greens and cook until tender, 10 – 15 minutes. Finish greens with black pepper and lemon juice.
Serve fritters over a bed of cooked greens. Finish with minced parsley, feta cheese, and a squeeze of lemon.