A simple kale pesto recipe made with nutty toasted pepitas and creamy Asiago cheese.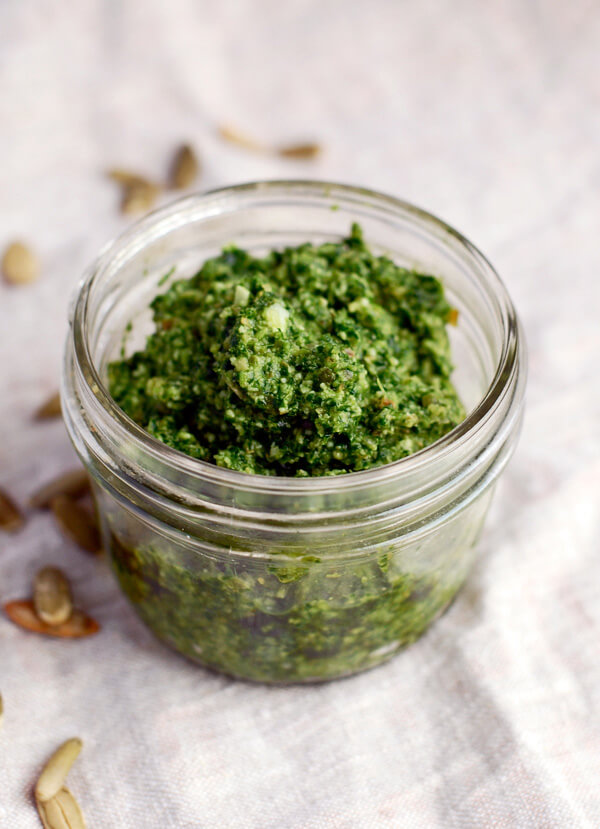 I had plans for this fall, grand plans. And then, life did what it does. More specifically, a toddler did what she does. A toddler who toddles everywhere and is in to absolutely everything, especially anything particularly dangerous, and likes to dump her milk and throw food on the floor, and we can barely wash the dishes once a day, let alone do big, important, perfect things. Last night, still attempting to put something decent together for dinner I had two sweet potatoes roasting (totally good), leftover beans (also good), one tortilla (not so good), and a half a sandwich (decidedly soggy). Brian talked some sense into me and we went for takeout, and beer. It's been that kind of a fall.
What I wish I'd had was this really delicious toasted pepita kale pesto; because really, it's the best. Unlike herbier pestos, it's emerald green to the very end. You need (good) food? There it is sitting beautifully in a little jar, ready for pasta or bread, to be smeared on eggs, or tossed with roasted vegetables.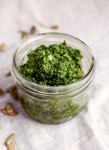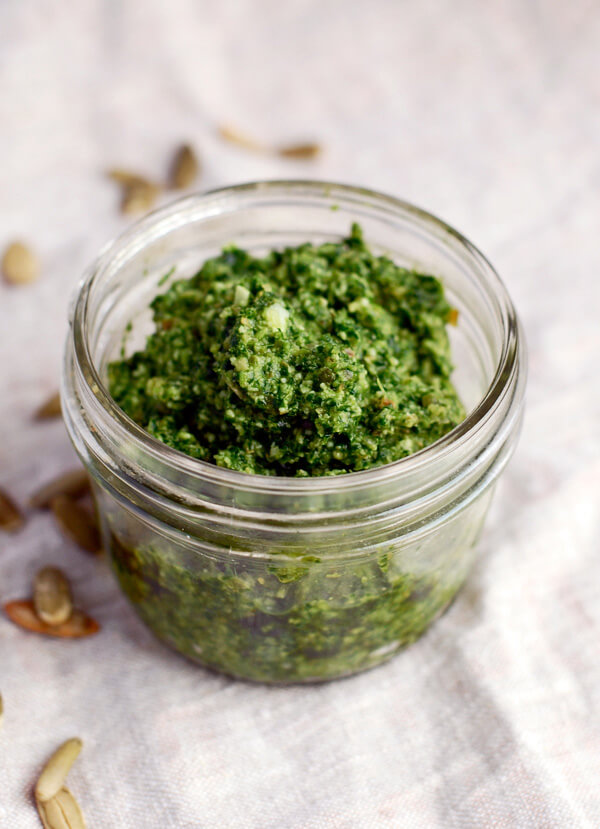 Toasted Pepita Kale Pesto
A simple kale pesto recipe made with nutty toasted pepitas and creamy Asiago cheese.
Ingredients
1/3

cup

raw, hulled pumpkin seeds

3

cups

kale leaves,

washed, dried, and chopped

1/3

cup

extra virgin olive oil

Zest of 1 lemon, plus 2 tablespoons juice

1/4

cup

shredded Asiago

2

large cloves garlic, smashed and peeled

1/2

teaspoon

sea salt, or more to taste

2 - 3

twists fresh ground black pepper
Instructions
In a small skillet, toast the pumpkin seeds over medium-high heat for 4 minutes.

Combine all of the ingredients in your food processor and process until ingredients have reduced and are smooth, but have a bit of texture left.

Scrape out of the food processor and serve. Leftovers will keep sealed in the fridge for about a week.