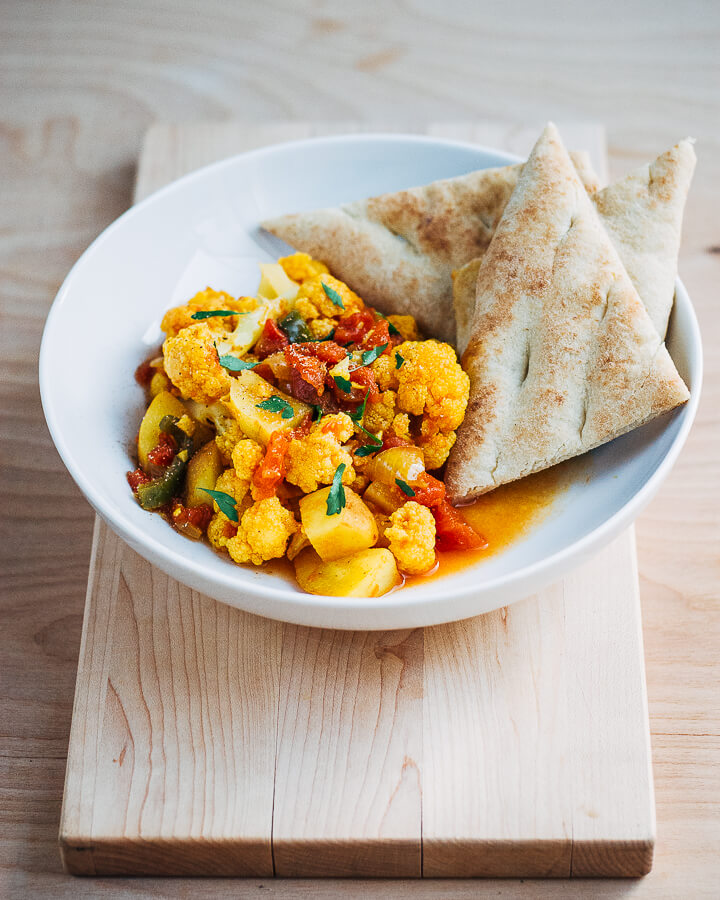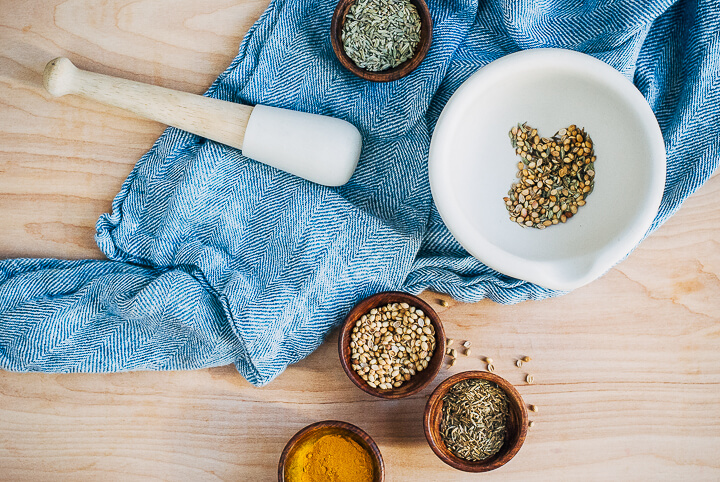 A simple tomato and cauliflower curry recipe that's perfect for a weeknight meal. This post is sponsored by Hunt's canned tomato products. Jump to recipe. 
In the kitchen, my second great love was Indian food. The first was muffins from a box, a love born of the fact that they were something my seven year-old self could make without a grown-up's help (that it was sweet was a bonus). After the thrill of muffins wore off, I moved on to trying to figure out Italian food and so-called hearty soup recipes dotted with undercooked bits of grain. For a long time after that, it was cans of pinto beans and boxed mac mostly. And then, Indian food.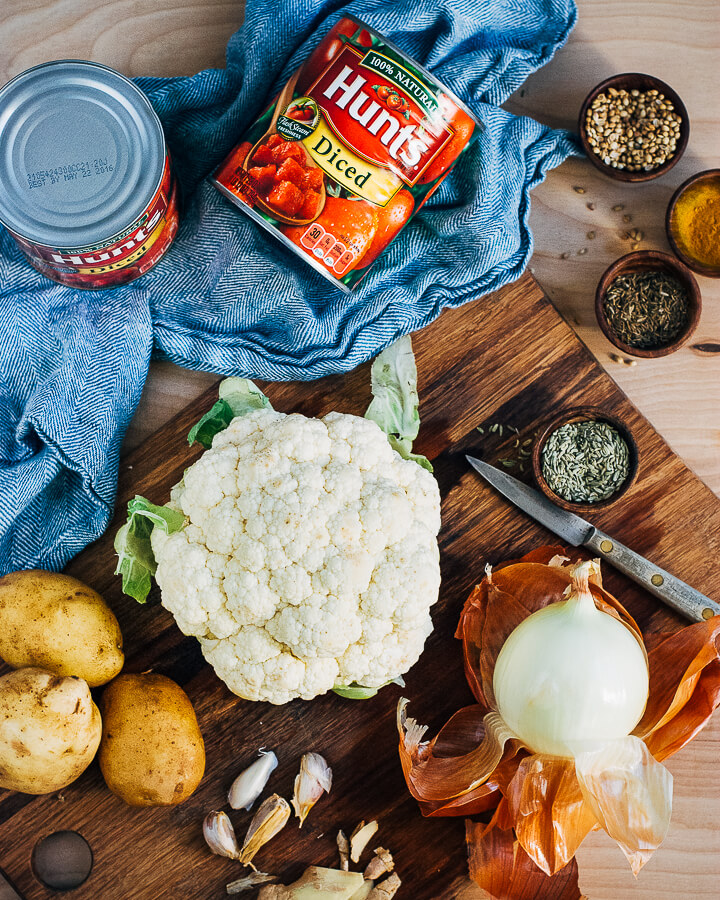 I still have the Indian cookbook I bought in college that taught me to julienne and to crack a coconut. With the book's urging, I bought a food processor and used it to turn fresh mangoes and dried papaya into an impossibly bright, tangy fresh chutney. Surprisingly, some of the least dog-eared pages of this beloved tome involve tomatoes. Back then, I just couldn't fathom tomatoes outside of their role in pasta sauce or chili. Recently, though, I've realized that tomatoes are actually the perfect conveyance for all kinds of rich spices and complex heat.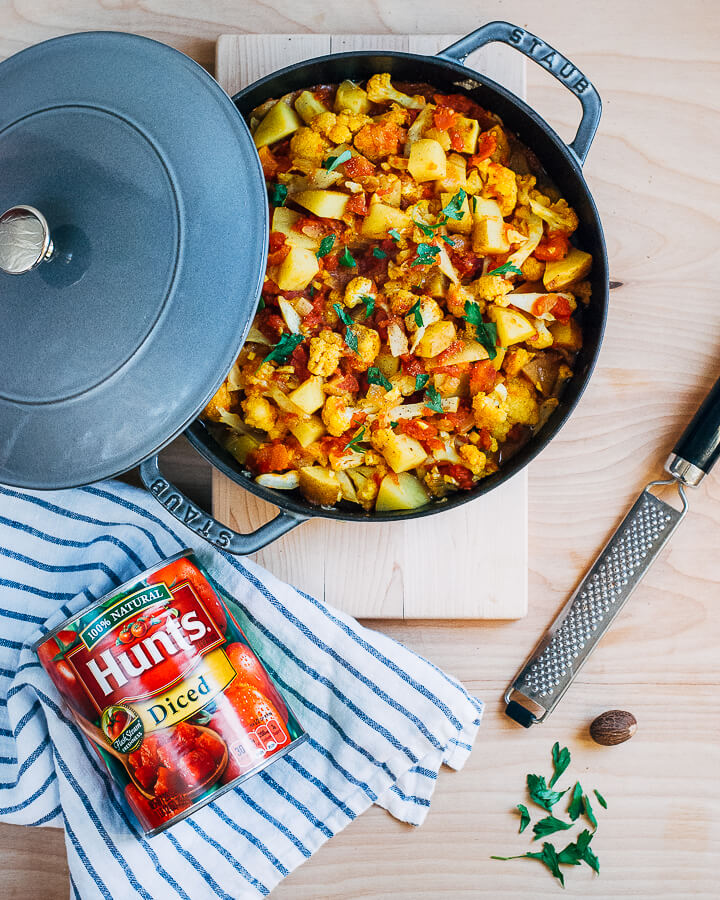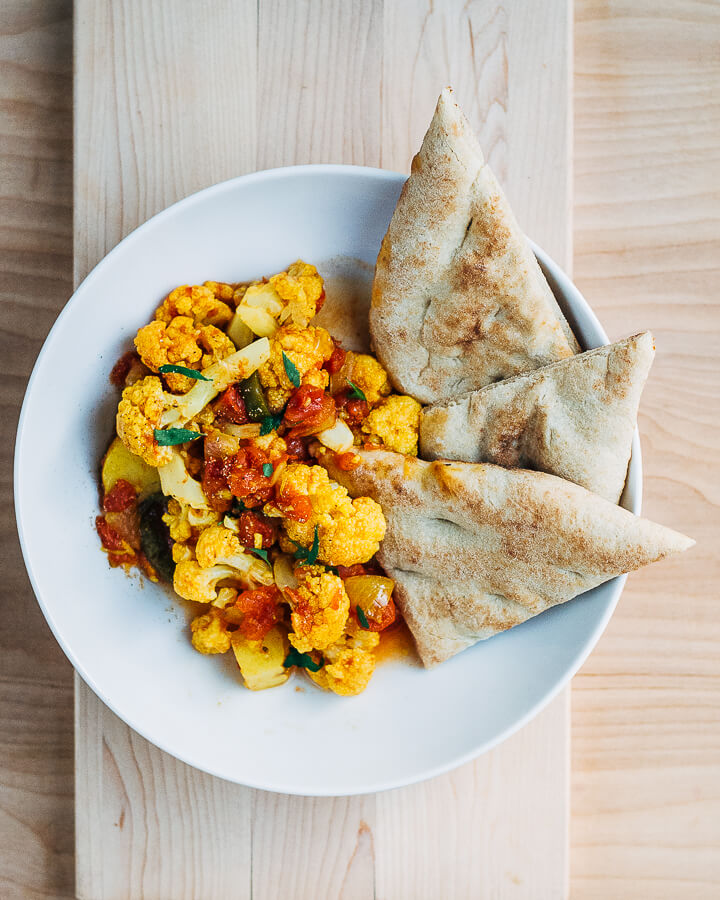 This dish isn't from that worn cookbook, but like many of the dishes I cook, it's the source of my inspiration. This simple curry recipe starts with freshly ground spices, plus onion, garlic, and fresh ginger. To that I added a green chili, cauliflower florets, and diced potatoes. Carrying the flavor and adding a delightful punch of color are Hunt's canned tomatoes. From the sunny fields of California, Hunt's vine-ripened canned tomatoes are wonderfully flavorful right out of the can, but they also cook up beautifully with a balanced acidity and robust texture. Besides great flavor, I like Hunt's canned tomatoes because they have no artificial ingredients or preservatives added.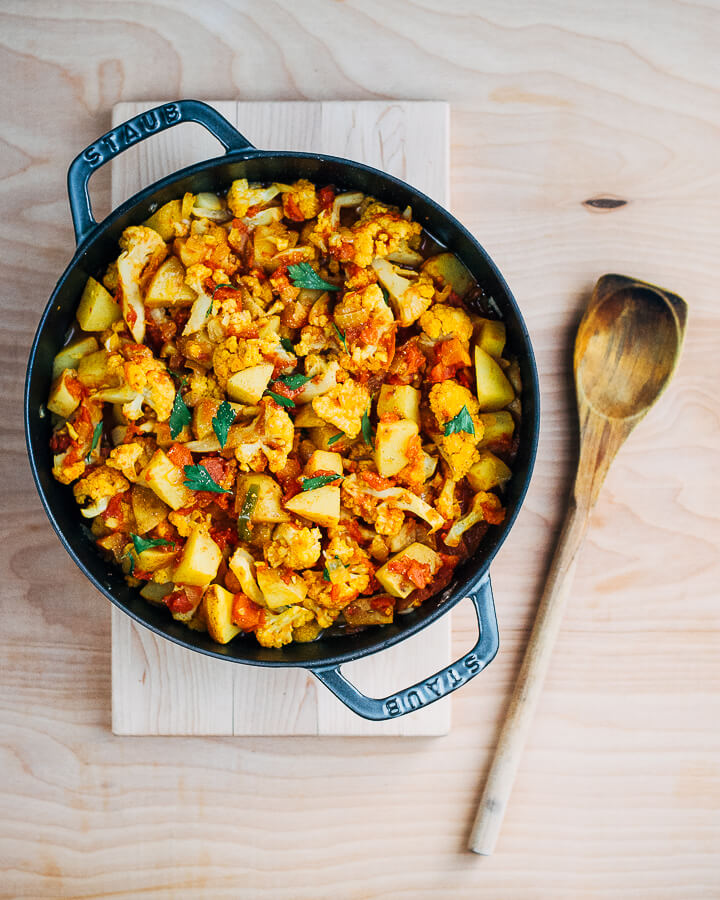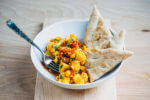 Tomato and Cauliflower Curry
A simple tomato and cauliflower curry recipe with big flavor.
Ingredients
1

teaspoon

cumin seed

1

teaspoon

coriander seed

1

teaspoon

fennel seed

3

tablespoons

ghee or neutral vegetable oil

1

large yellow onion

, trimmed, peeled, and diced

3/4

teaspoon

sea salt

, divided (or to taste)

4

cloves

garlic

, smashed and peeled

2-

inch

section of ginger

, peeled and minced (2 tablespoons)

1 - 2

green chilies

, seeded and sliced

1

teaspoon

ground turmeric

1/4

teaspoon

ground cayenne pepper

3

medium potatoes

, scrubbed and cut into a 1/2-inch dice

1 28-

ounce

can Hunt's diced tomatoes

1

medium head cauliflower

, cored and cut into 3/4-inch florets

2

tablespoons

minced cilantro leaves

freshly grated nutmeg
Instructions
Using a spice grinder or mortar and pestle, grind cumin, coriander, and fennel seed.

Set a deep 10- to 12-inch skillet over medium-high heat. Add the ghee or oil, and when hot, add onions and 1/2 teaspoon sea salt. Cook, stirring often, until onions are tender and translucent, about 7 minutes. Stir in garlic, ginger, chilies, and spices, and cook for 3 - 4 minutes more.

Add potatoes, Hunt's canned tomatoes, and 1/4 teaspoon sea salt, bring mixture to a boil, then turn down to a vigorous simmer, cover, and cook for 10 minutes. Add cauliflower, recover, and cook for 7 - 10 minutes more, or until potatoes and cauliflower are tender. Taste and add more sea salt as needed.

Spoon into bowls, garnish with cilantro leaves and a few grates of nutmeg. Serve with warm naan triangles.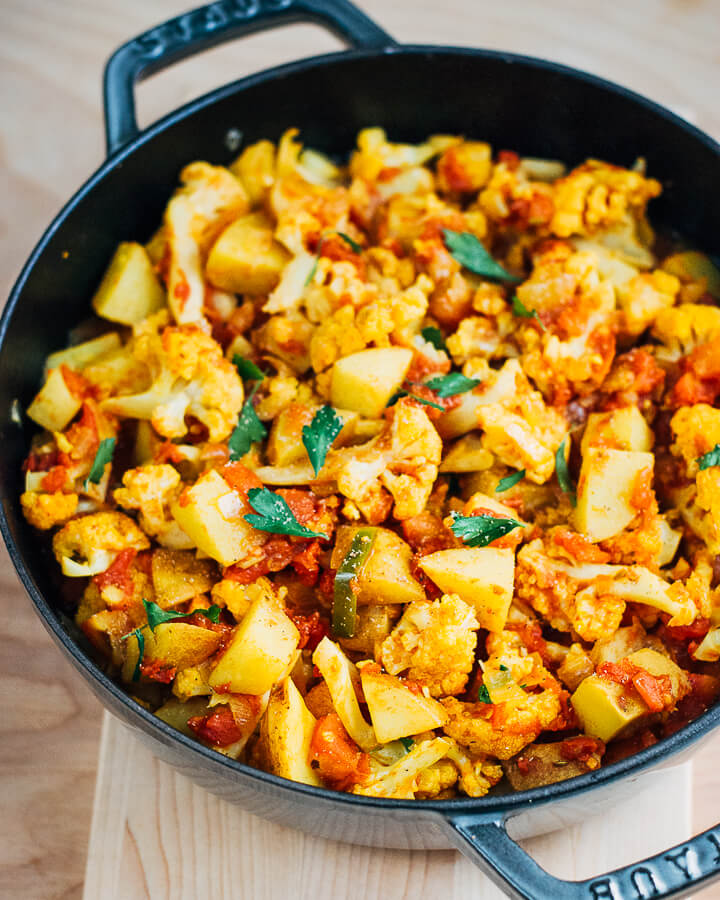 Disclosure: This is a sponsored post written by me on behalf of Hunt's canned tomato products.