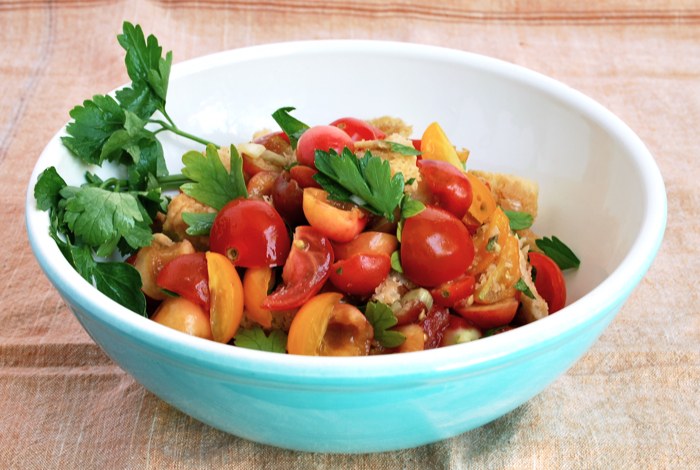 So, here we are nearly halfway through August. After spending so much time thinking of nothing but July! July! I am a little unsure of how to conduct myself in this post-July world (not to mention the whole newborn thing – though it's going pretty well). Time marches on, and the things we were waiting for, counting down to, somehow happen.
Happening also are all the tomatoes, cherries, plums, apricots, peaches, and corn I could want. I love that we can take produce for granted this time of year. Just grab a handful of fruit and eat it up, or pick the tomatoes right off the vine with no worries – there's more where that came from.
So, what to make? Salads for one thing. That's where this tomato panzanella with cherries comes in. A spin on the classic, the sweet cherries meld wonderfully with the tomatoes for a perfect salty/sweet summer meal. And, aside from toasting the bread, this is a no-cook recipe – just right for the steamy days of August.
Tomato and Cherry Panzanella
1/2 loaf stale bread, crusts removed and sliced
1 pint cherry tomatoes, seeded and halved
1 cup sweet cherries, pitted and halved
3 cloves garlic, smashed and minced, plus a whole clove for the bread
mixed fresh herbs such as oregano, basil, or tarragon, minced
2 teaspoons lemon juice
4 tablespoons olive oil
2 tablespoons balsamic vinegar
Rub each slice of bread with a clove of garlic, tear into 1″ cubes, and toast to a light golden brown.
In a large bowl, toss the tomatoes with a pinch of salt. Add the bread, cherries, garlic, and herbs.
In a small bowl combine the lemon juice and balsamic, and whisk in the olive oil. Drizzle the dressing over the panzanella, and toss. Let the bowl sit at room temperature for 20 minutes, toss, check salt and acid levels, and serve.