Give plums the savory treatment with this summery plum and tomato galette with buttery black pepper and Parmesan crust and fresh tarragon.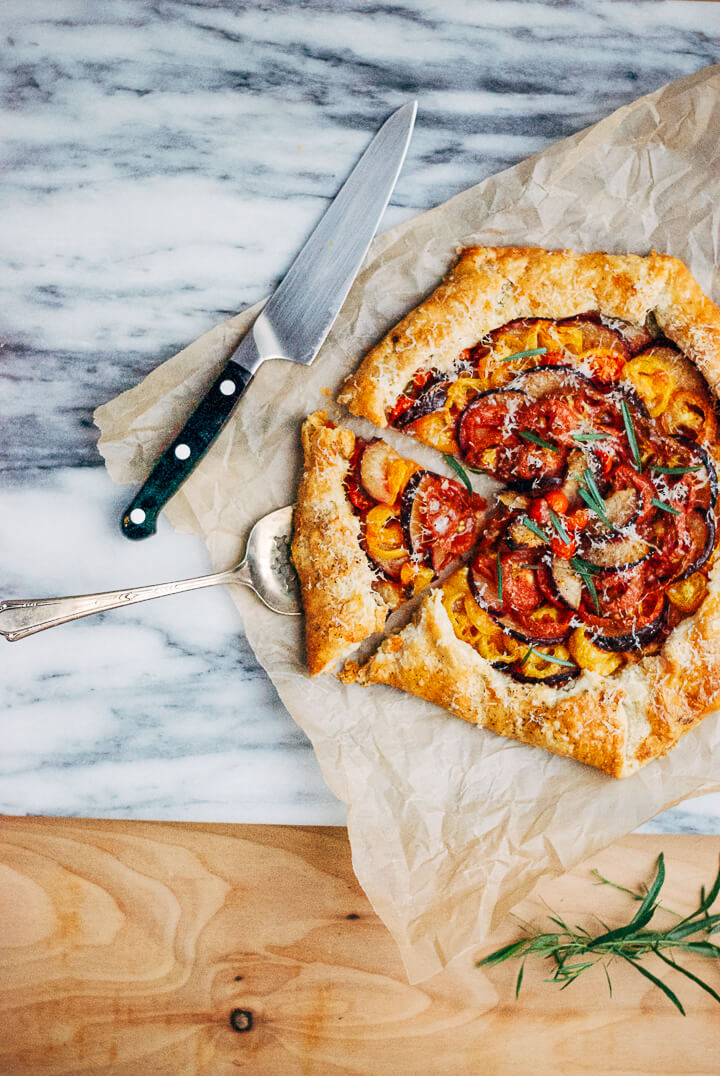 I was up late last night making a batch of nectarine rosemary jam. Earlier, I'd been out to a local low-spray orchard with a friend, and we came back with boxes of seconds for preserving. Though plenty sweet and flavorful, the seconds were between 50 and 75 percent cheaper than their unblemished cousins, making it far too easy to buy an amount of nectarines and peaches that can only be described as totally crazy (somewhere around a bushel and a half).
Please, send canning jars my way – I'm all out.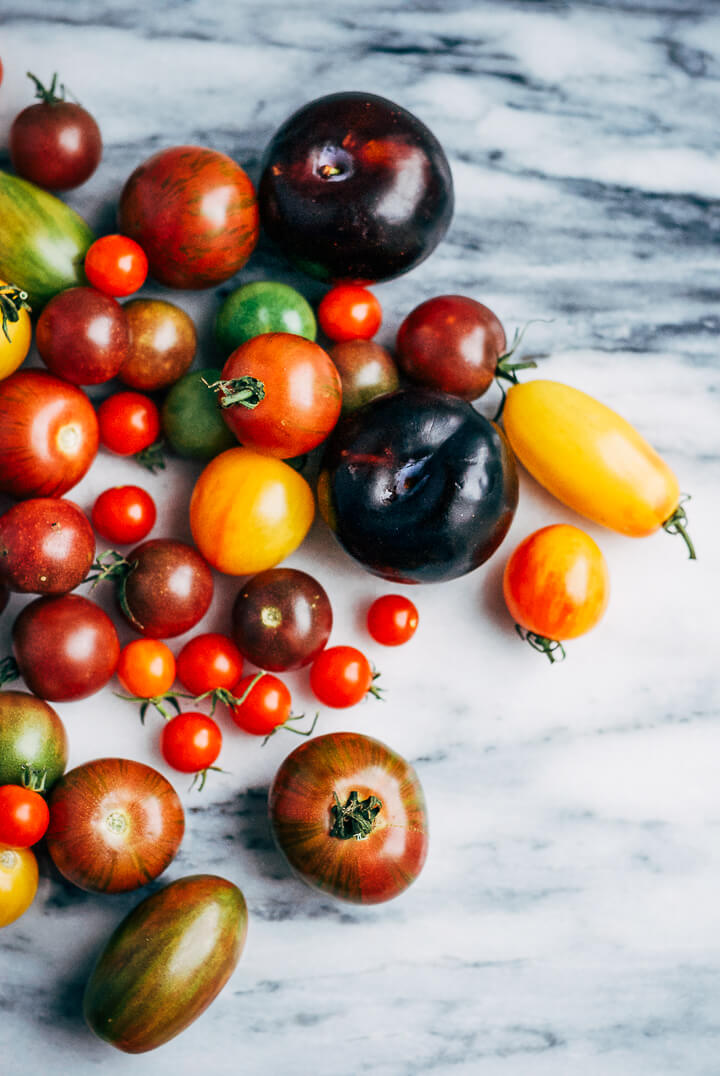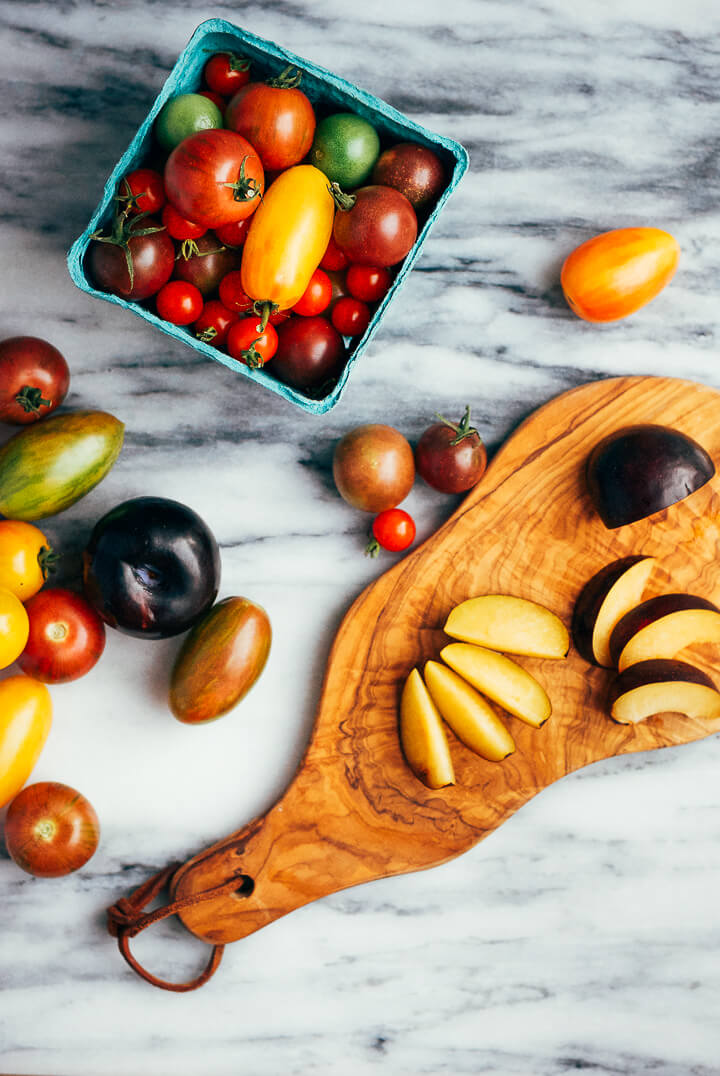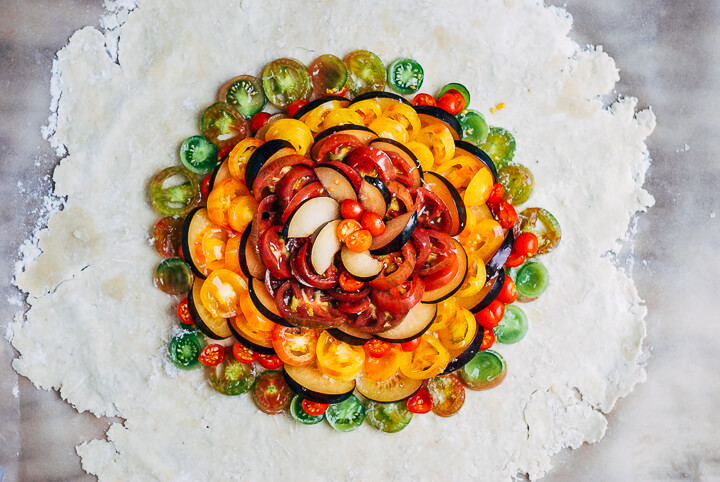 Besides my supply and demand problems, bringing home a box of seconds got me thinking about waste, and making the most of all the food available. Food writers, myself included, tend to play up the perfect and gloss over the soggy, bruised, mealy, or misshapen specimens that come our way. But this unfortunate produce makes its way through my kitchen daily. Jams, sauces, stews, sausage – these are all historical means of transforming homely produce or undesirable bits into something delicious. Last week, I added another method to my arsenal: baking.
I don't really love plums, even at their best. We had a plum tree in my yard growing up and I must have reached my lifetime limit for disappointingly sour bites. But I do enjoy baking them – plums have an accepting texture that bakes up both jammy and firm, and it turns out, slightly unripe (or un-sweet, anyway) plums are a wonderful counterpoint to the juicy acidity of tomatoes. They add notes of brightness and complexity to this savory plum and tomato galette.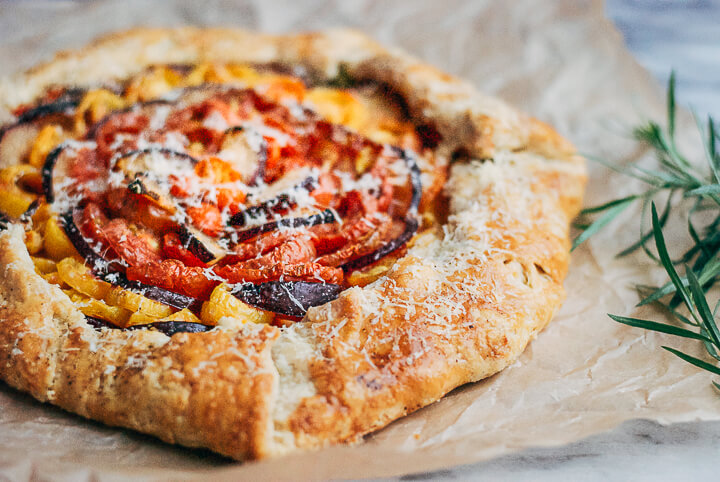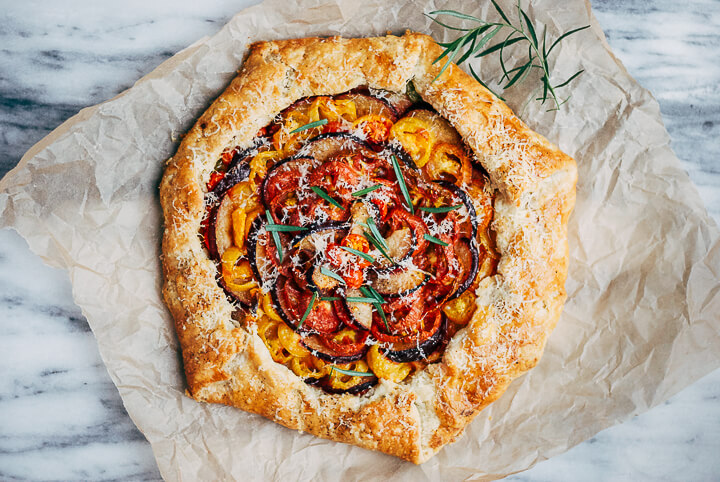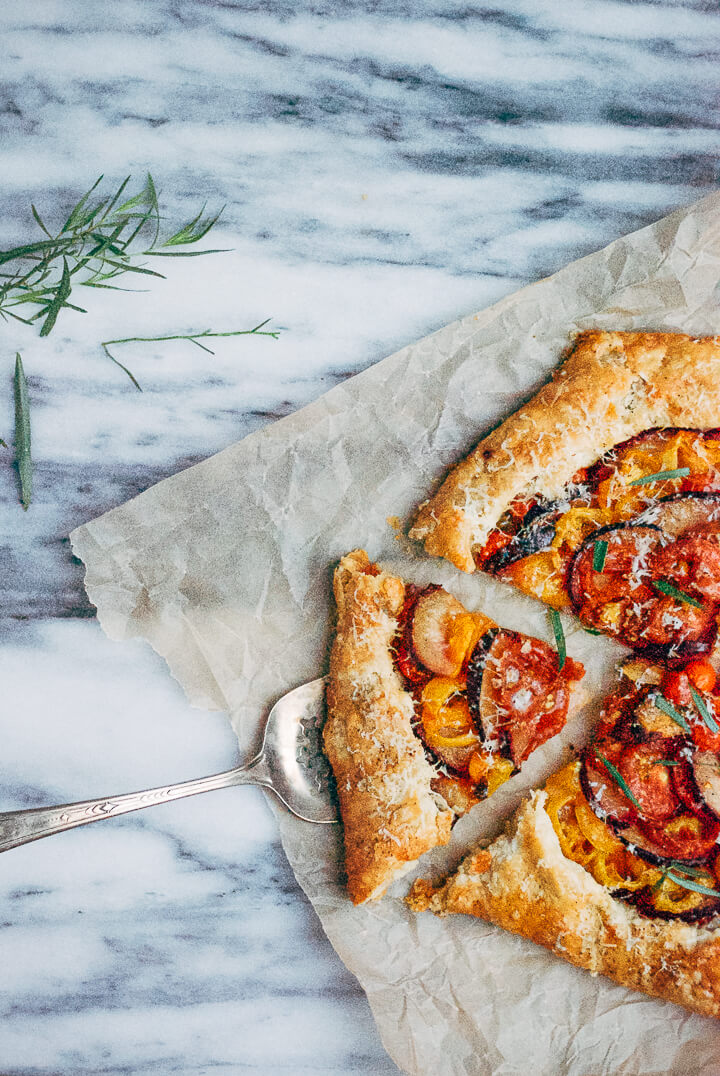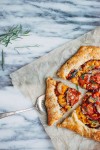 Plum and Tomato Galette with Black Pepper-Parmesan Crust
Give plums the savory treatment with this summery plum and tomato galette with buttery black pepper and Parmesan crust and fresh tarragon. Elizabeth's recipe originally appeared on Food52.
Ingredients
For the crust::
1 1/4

cup

unbleached all-purpose flour

2

tablespoons

finely grated Parmesan

1/2

teaspoon

freshly ground black pepper

1/2

teaspoon

sea salt

8

tablespoons

1 stick unsalted butter, cold

2

tablespoons

sour cream

, cold

5

tablespoons

ice water

, plus more as needed
For the filling::
3

cups

small heirloom tomatoes

(I used a mix of cherry, grape, and plum varieties)

sea salt

2 to 3

medium black plums

1/4

cup

finely grated Parmesan

, divided

1

egg

, lightly beaten

ground black pepper

1

tablespoon

torn tarragon leaves
Instructions
In a large mixing bowl, combine flour, Parmesan, black pepper, and sea salt. With a course grater, grate in butter, then mix it into the flour with your fingertips.

In a small bowl, combine sour cream and ice water. Drizzle over flour mixture, using a silicone spatula to fold in the liquid. Turn out onto a lightly floured surface, gather into a disc, and wrap tightly with plastic. Chill in refrigerator 30 minutes (or an hour or more if it's a hot, humid day).

Preheat oven to 425 degrees F. Set out a rimmed baking sheet.

Core and cut tomatoes into 1/4-inch slices. Use fingertips to scoop out all the seeds you can, then line a plate with paper towels, scatter the tomato slices over top, and sprinkle with sea salt. Cut plums into 1/4-inch slices.

On a lightly floured sheet of parchment, roll dough into a rough 14-inch circle. Brush any excess dough or flour from the parchment, reserving leftover dough. Scatter 2 tablespoons Parmesan in a 12-inch circle in the center of the dough circle. Next, arrange a band of tomatoes around this 12-inch circle. Working inwards, alternate circles of plums and tomatoes, tucking each layer against the other so they stand up at a diagonal. Working quickly, fold up the sides of galette, pressing along each seam. If needed, use any excess dough to patch holes. Lightly brush edges with egg and sprinkle with a generous pinch each sea salt and pepper.

Carefully lift parchment, galette and all, onto a rimmed baking sheet. Trim parchment as needed. Bake at 425° F for 10 minutes. Pull galette out of oven, sprinkle with remaining Parmesan, rotate pan, and slide back into oven. Lower heat to 375° F and bake until galette is a rich golden brown, 20 to 25 minutes more.

Cool for 15 to 20 minutes, scatter tarragon leaves over the top, and then serve warm.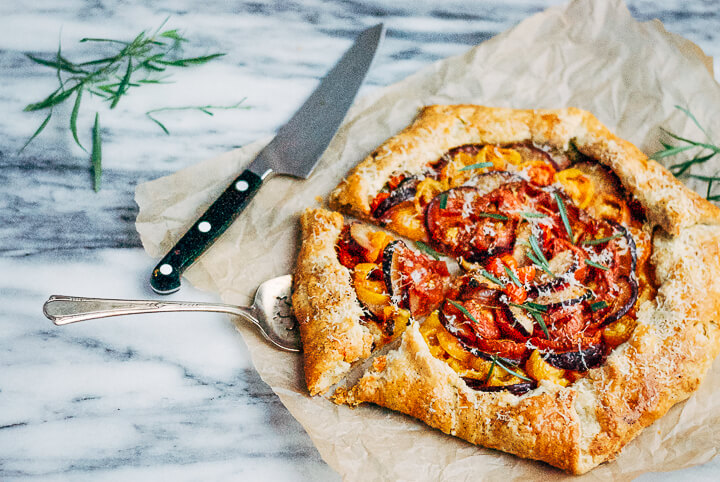 SaveSave
SaveSave
SaveSave
SaveSave