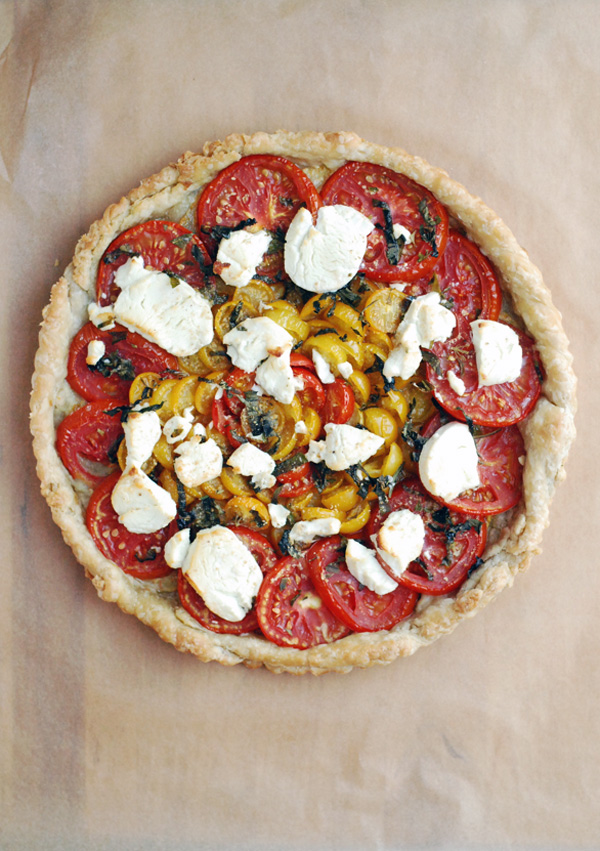 Summer's grace has descended here in Virginia. The seventeen-year cicadas are gone, but regular old ones hiss from the lush green trees, fireflies dot the evenings, and the first fruits and vegetables are ripening in our tiny garden. We've had a stretch of rainy days, and that's felt right––a sort of nature-imposed time of reflection just ahead of the season of sweltering abundance.
And the tomatoes have arrived. Whether it's the small cherries we have growing in the garden, or the dizzying array at the farmer's market, tomato season is on. I've written at length here about my love for tomatoes, and this year they're every bit as exciting. The larger varieties have yet to fully come into their summer-perfect flavor, but no matter, I'll gladly take what I can get.
To kick off tomato season, to embrace easy eating from here on out, I made a savory tomato tart. Dressed only in sea salt, pepper, and olive oil, I tucked a rainbow array of tomatoes into an all-butter crust and dotted it with sliced chevre and minced garden herbs. In the oven, the early tomatoes run together for a sweet and savory, nearly-jammy, intense tomato flavor. Browned along the edges, the tangy chevre sets all that big flavor off beautifully.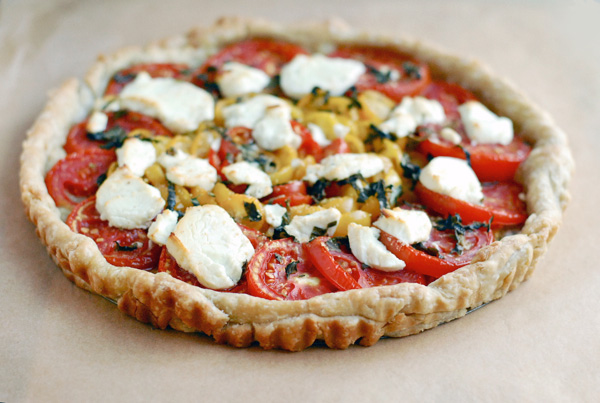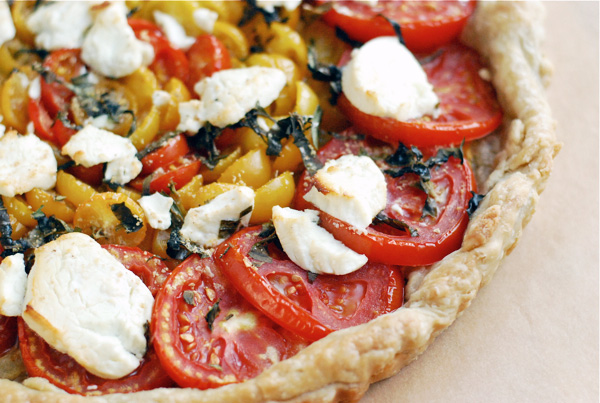 Before we head to the recipe, I wanted to thank all of you for your thoughtful comments last week. We said goodbye to Brian's beloved Aunt Becky on Monday and though it's been a very tough few weeks, your kind words and wishes have been so comforting to us. Thanks for being part of our joys and sadnesses. We're glad you're here.
Tomato Chevre Tart with Basil (adapted from David Lebovitz, via A Culinary Journey in Gascony)
serves four
1 recipe all-butter crust (I used this one, minus the sugar), chilled
2 medium red tomatoes, sliced
handful of sweet cherry tomatoes, sliced
2 tablespoons olive oil
generous sprinkling of sea salt
a few twists of fresh ground white pepper
2 tablespoons mixed herbs, minced (here basil, tarragon, and a few leaves of oregano)
8 ounces chevre, sliced into 1/4 inch coins
Preheat your oven to 425 degrees; place a rimmed baking sheet inside to preheat as well. Butter a 10 inch tart pan and set aside.
On a lightly floured surface, roll out your dough. Fold into quarters, and then unfold in the tart pan. Press into the sides, trimming off all but 1 inch of the crust. Tuck this overhanging dough into the sides of the tart pan. Set tart pan with dough in the freezer while you slice the tomatoes.
Slice the tomatoes into rounds and sprinkle with sea salt. Mince the herbs and slice the chevre.
Remove the tart shell from the freezer, and quickly arrange the largest tomatoes overlapping slightly along the outer edge, with the smaller ones in the center. Drizzle with the olive oil, and sprinkle on the fresh ground pepper and a bit more sea salt. Scatter the herbs, dot with chevre, and place on the heated baking sheet and into the oven.
Bake for 27 – 30 minutes, or until the crust is a light golden, the tomatoes are bubbling, and the chevre has browned just a touch along the edges.
Cool for 10 minutes or so, slice, and serve.