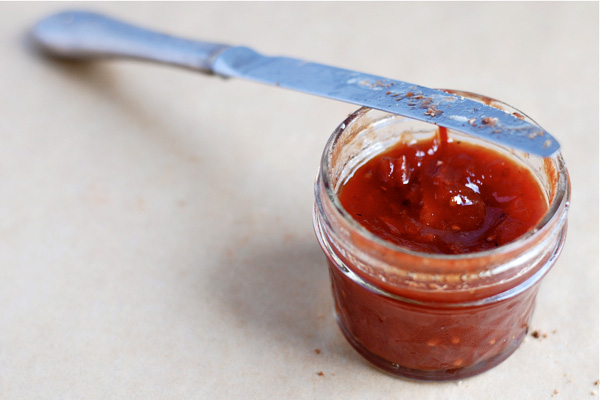 At last, fall has arrived in the city. For a procrastinator like me, that means it's time to put up the season's food. Last year, I was hampered by the new baby, a sick dog, and a hurricane. But this year, I was ready. Or so I thought. Brian went off the the Union Square Greenmarket in search of canning tomatoes. And when he called asking if he should get 25 or 50 pounds, we both thought 50 would be best.
We proceeded to spend the entire weekend canning the seemingly unending supply of San Marzanos. There were 8 pints of marinara, 13 quarts whole tomatoes, and 10 pints of tomato jam. Just for fun, we also whipped up 3 1/2 quarts of sweet pickles and 4 1/2 pints pickled watermelon rind. But now, aside from the fact that there's pretty much nowhere to put all this stuff, I'm glad to have so much deliciousness waiting in all those jars.
Ever impatient, I've already dug into the tomato jam. With an intense, bright tomato flavor, a little sweetness, and hints of spice and lime, this stuff will win you over. Perfect on toast, sandwiches, with eggs, or whipped into a basic vinaigrette, this jam walks a savory/sweet line that makes it much more versatile than the typical fruit jam. I've adapted the recipe slightly from Marisa McLellan's fantastic book, Food in Jars. In fact, I also made her whole tomatoes, marinara, and sweet pickles. The book is seriously one of the best canning resources I've ever had, and my copy, obtained in July, is already dog-eared and splattered from near continuous use.
Though I doubled the recipe, I suggest you go easy on yourself and stick with just 5 pounds of tomatoes. Look for a canning type like San Marzano or roma for best results. And keep in mind that this makes a relatively loose jam, if you want it on the thick side, cook longer or add a bit of pectin according to the instructions for whatever type you choose.
If you are new to canning, please refer to the Ball Canning site to learn the basics.
P.S. Later in the week I'll be recapping my truly life-changing trip to northern California for Mighty Summit. I met so many inspiring, awesome ladies there, and had an incredible time.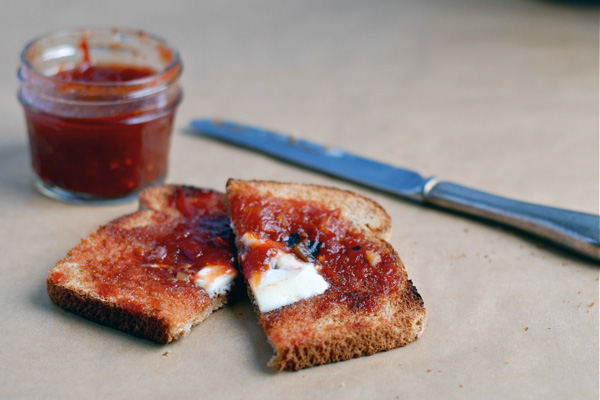 Tomato Lime Jam (adapted from Food in Jars by Marisa McLellan)
5 pounds roma or San Marzano tomatoes
3 1/2 cups sugar
zest of 5 – 6 limes
1/2 cup fresh-squeezed lime juice (about 5 whole limes)
1 tablespoon sea salt
1 tablespoon fresh ginger, peeled and finely minced
1/2 teaspoon red pepper flakes (more for a spicier jam)
1/2 teaspoon fresh-ground black pepper
pinch cumin seed
Thoroughly wash and clean your jars, rims, and lids. Set aside.
Core and chop the tomatoes.
In a large, non-reactive pot (a Dutch oven is perfect) combine the tomatoes, sugar, lime zest and juice, salt, ginger, red pepper flakes, pepper, and cumin. Bring the ingredients up to a rolling boil, and then turn heat down to medium-low, so that the mixture is bubbling, but not going crazy. Stirring often, cook down for 2 to 3 hours, or until the mixture has thickened considerably.
Meanwhile, fill a large pot with water, and along with the jars, lids, and rims, bring water up to a boil. Turn water off, and leave jars in the water until you're ready to fill them.
While the mixture is cooking, place several tablespoons in the freezer. When it's time to check for doneness, place about 1/2 teaspoon of jam on the spoon, allow it to cool for a minute, and then press the top with your finger. If it wrinkles up, your jam is ready. Otherwise, continue to cook jam for another 20 minutes, and test again.
Once your jam has reached the desired consistency (see headnote), remove the jars from the hot water, cover the pot, and bring the water back up to a boil so it will be ready when you go to process the jam. Ladle the jam into sterilized jars leaving 1/4 inch head space. Tap the jars on a cutting board and use a chop stick or knife to dislodge any remaining bubbles. Carefully wipe the jar rims, and put the lids and rims in place.
Return the jars to the hot water, bring to a boil, and process for 20 minutes.
Remove from water, and allow the jars to cool. After 24 hours, check that all of the jars have sealed, and store them in a cool, dark place. If any haven't sealed, place them in the fridge and use them up within ten days.