This creamy tomato soup with grilled cheese soldiers is an elevated version of the classic recipe combo and is perfect for hectic weeknights.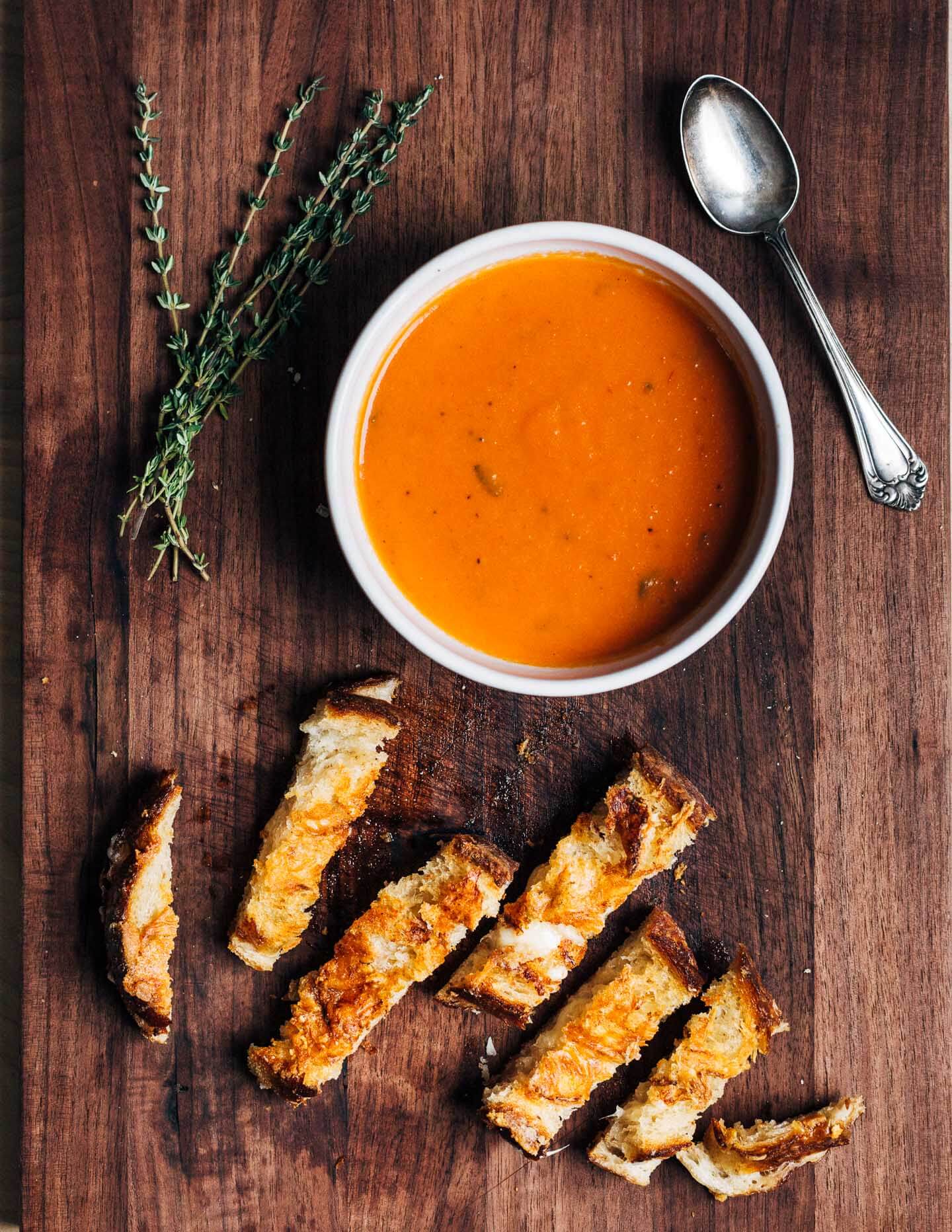 Growing up, tomato soup and grilled cheese night was always a favorite in our dinner rotation. And now, I love the continuity of making the same nostalgic, yet vibrant and flavorful, meal for my family. Soup and grilled cheese are excellent pretty much all the time and are especially great on a soggy, cold February night. (Or a snowy one, though I haven't seen a single flake this year.)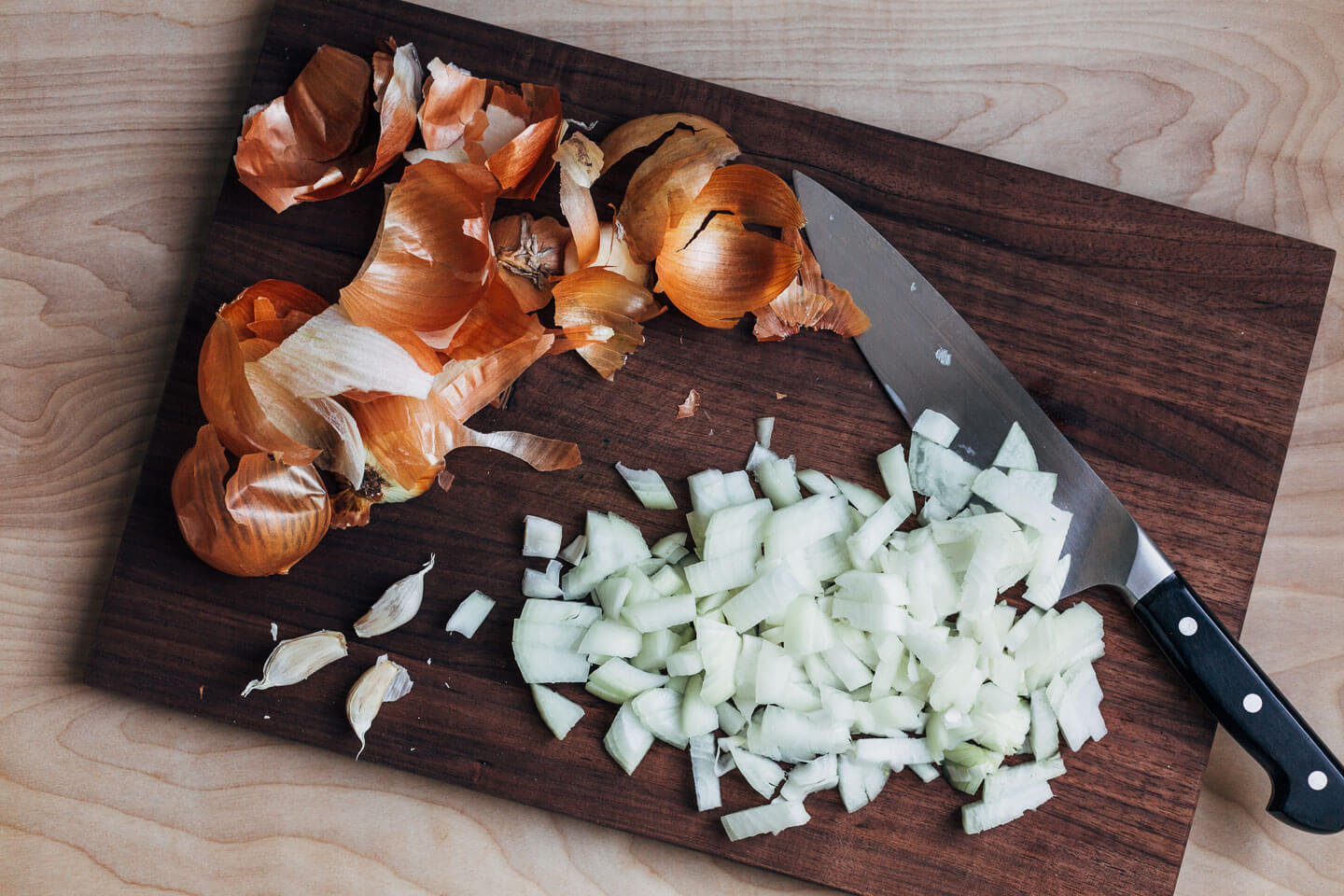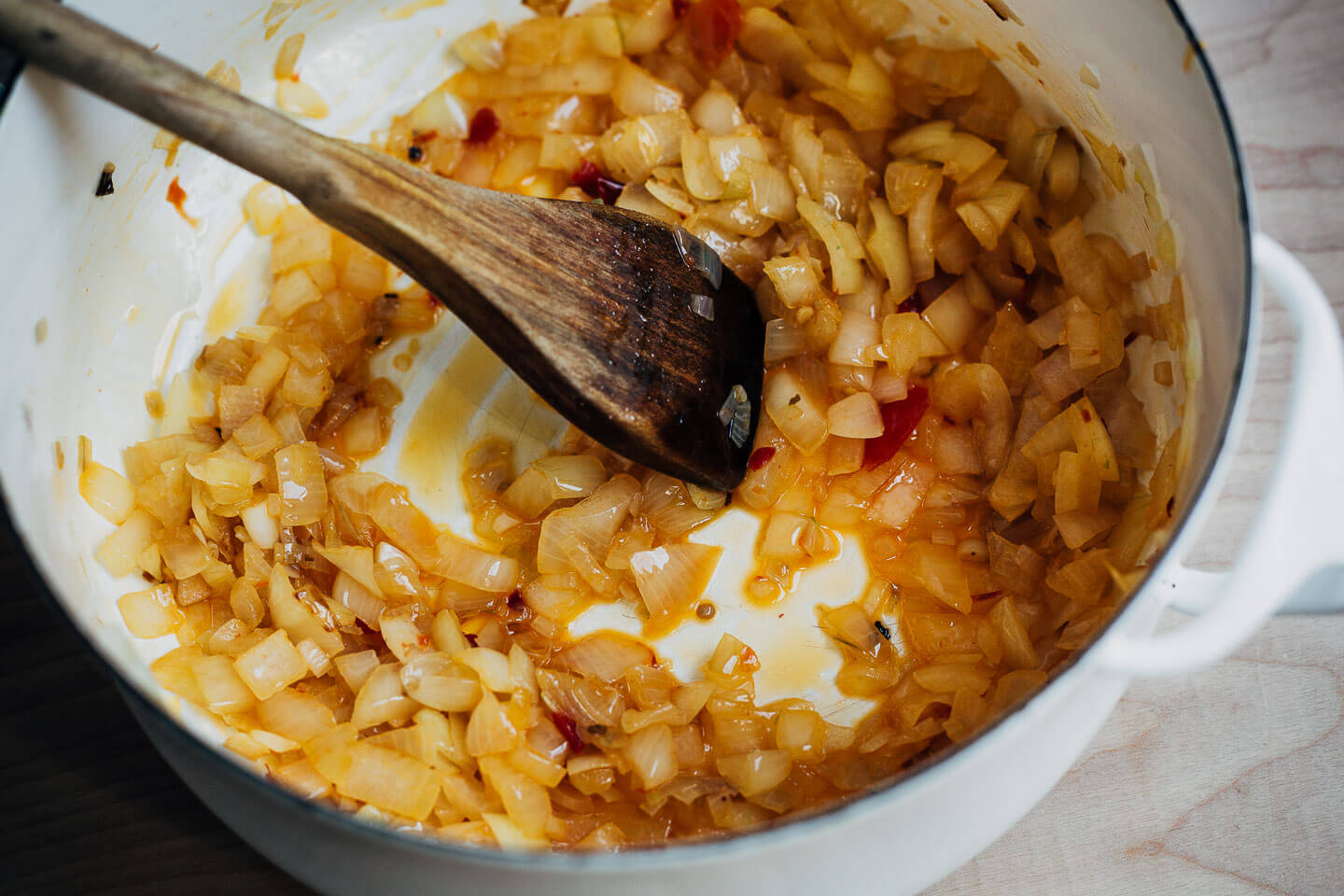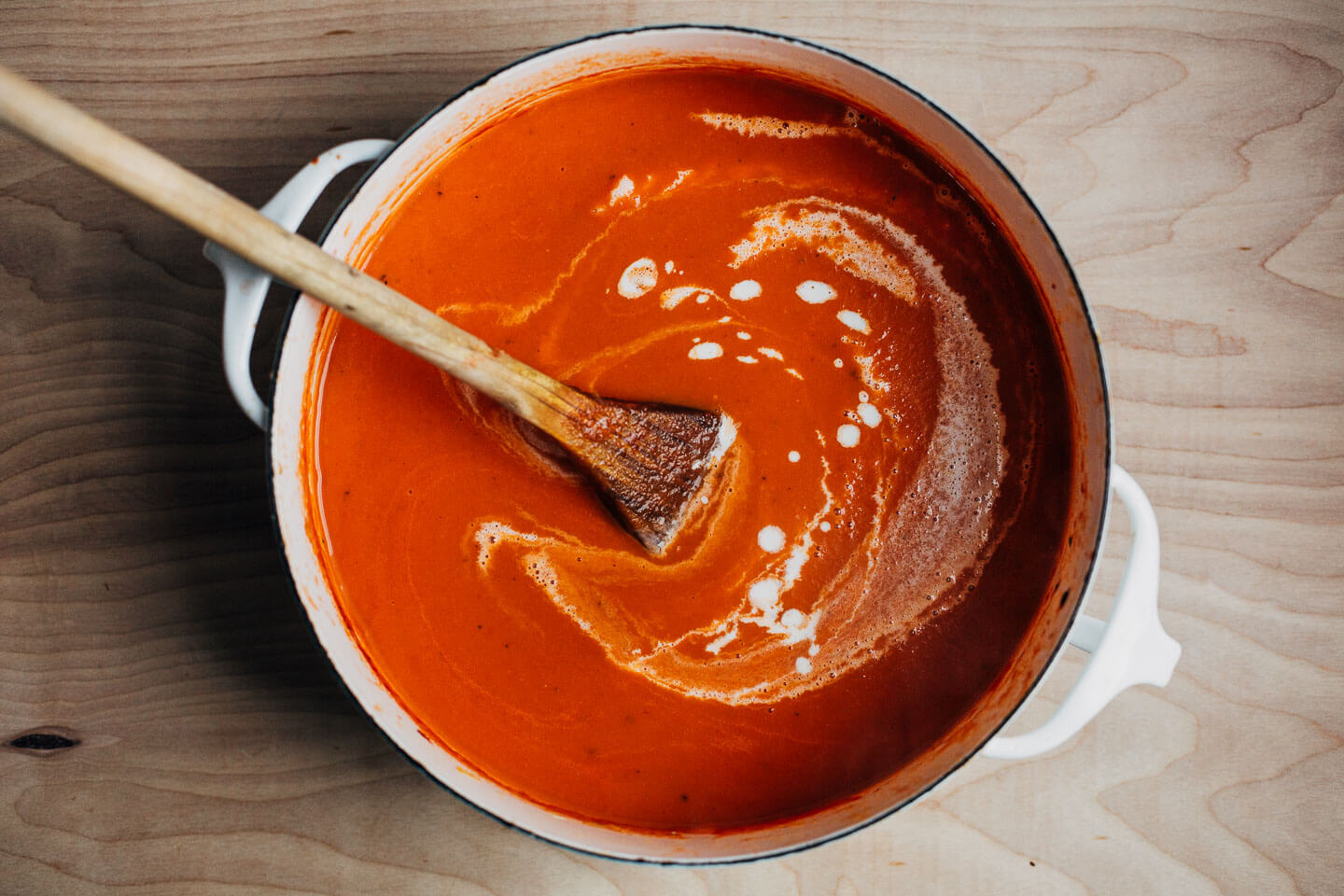 Creamy Tomato Soup and Grilled Cheese: Classic Every Time
The creamy tomato soup is a version of something I've been making since a friend shared it with me in grad school – just olive oil, onions and/or garlic, a can of tomatoes, and broth if you have it, water if you don't. A sprig of rosemary or thyme turn it into a proper soup, but it's still great without them. This soup has a couple more steps, plus a healthy dollop of spicy Calabrian chili, but is at it's essence a variation of my hectic weeknight go-to. I've made a few variations over the years so check out this fresh roasted tomato soup and this simple tomato soup with poached eggs.
My grilled cheese recipe differs from the one my mom made in a few ways – I trade sourdough for the white bread my mom loved, and use a mix of shredded cheddar and Parm instead of good old American cheese. Here, the grilled cheese is equal parts sandwich and dipping implement, so I went all out and added frico (fried cheese!) on the outside and sliced the finished sandwich into little soldiers for increased dip-ability. I know folks out there have opinions about how to cut a sandwich, so cut it up according to your preference!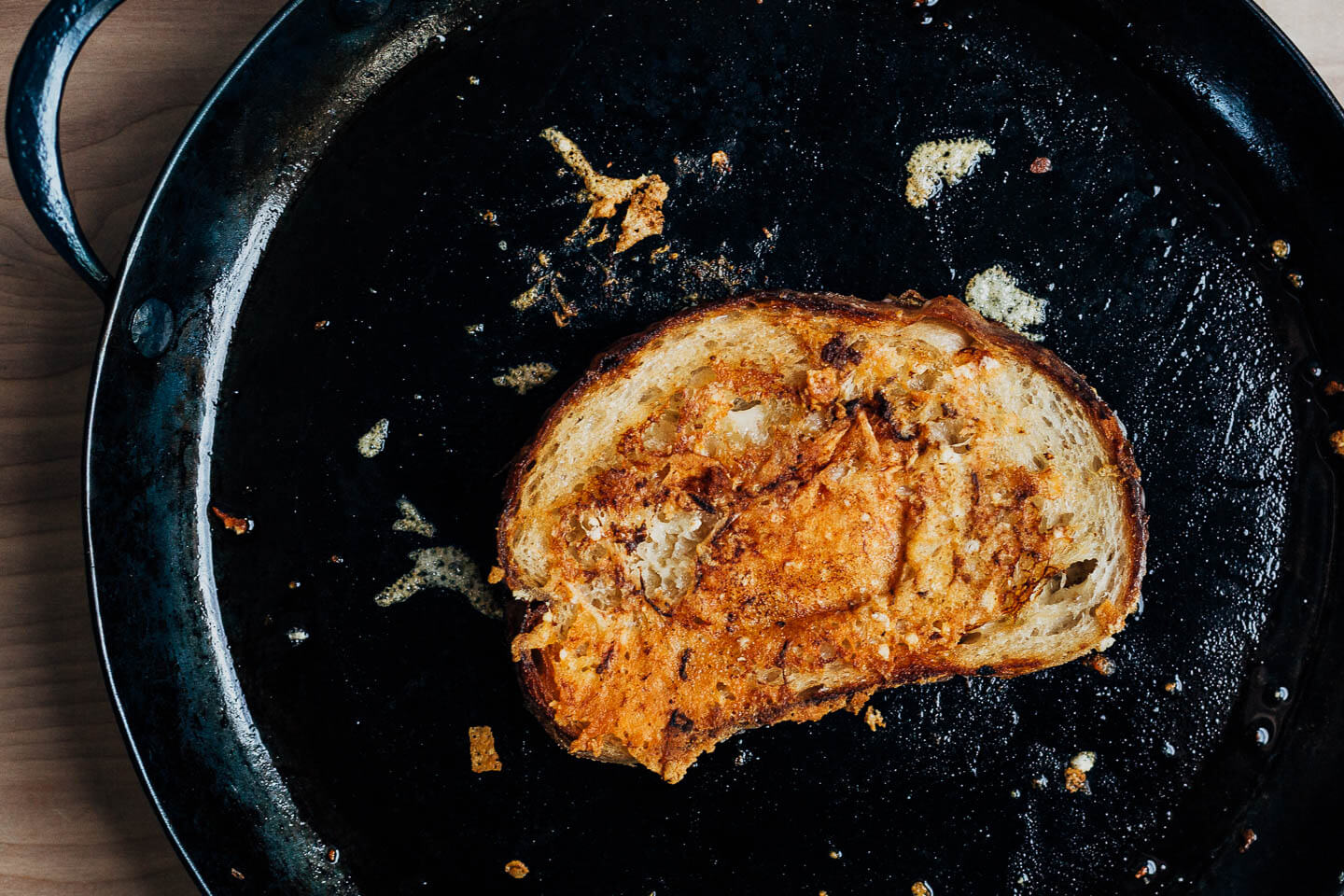 Frico?
The frico process involves putting the cheese directly on the surface of the skillet and then topping the cheese with a buttered slice of bread. After a few minutes, the cheese melds with the bread and forms a beautiful, delicious crust. The frico layer can be made with Comte, Gruyere, or cheddar, but I have the best luck with a harder cheese like Parm.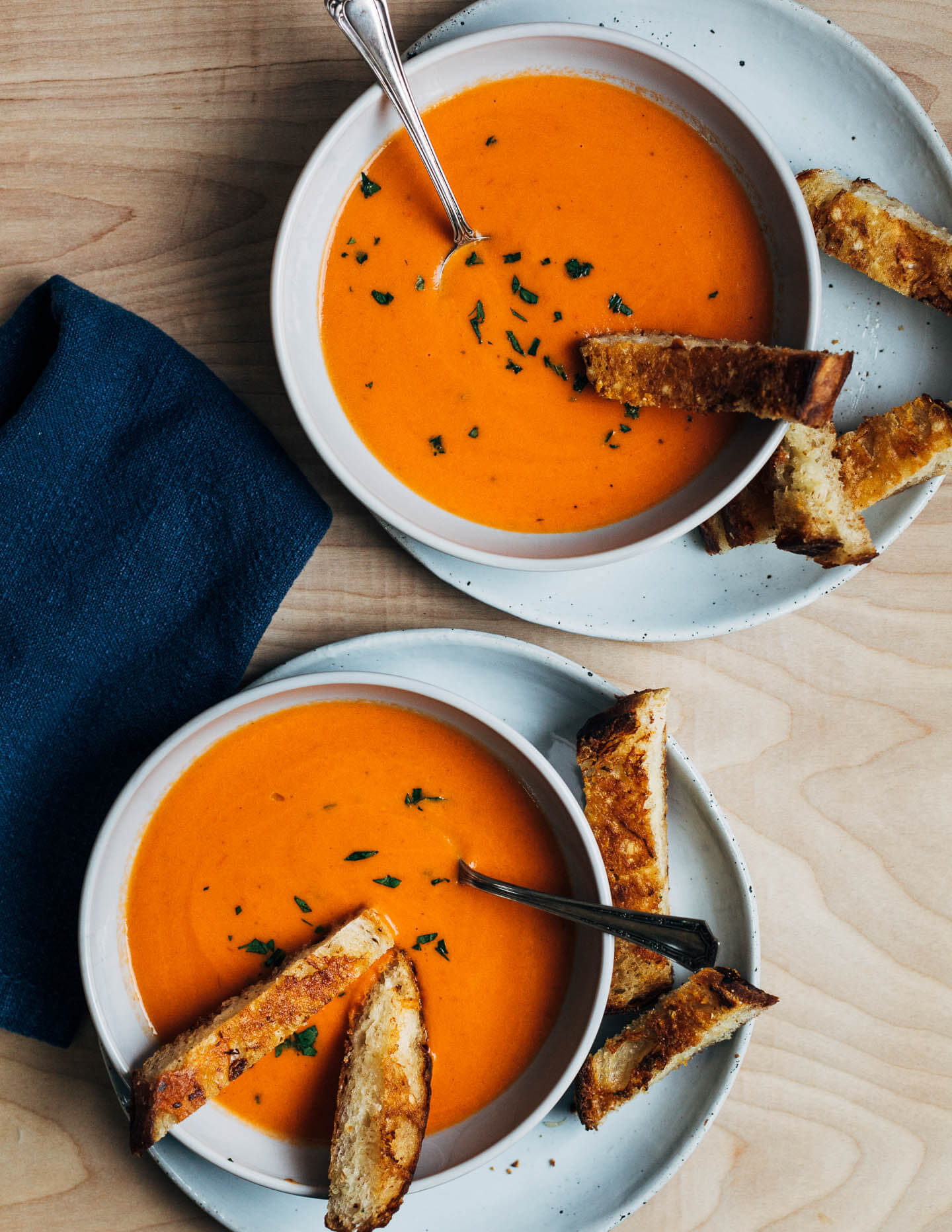 Make It Yours
Let's talk subs and swaps. Consider adding sautéed onions, greens, or thinly sliced (and well-blotted) canned red peppers to the grilled cheese. Just be sure not to overdo it.
The tomato soup is made with cream. Swap plant-based or whole cow's milk if you'd like. The usual herbs can all be swapped in for thyme – try fresh or dry bay, oregano, marjoram, or rosemary. if you have it, fresh basil would be amazing.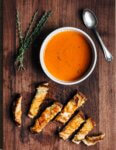 Creamy Tomato Soup with Grilled Cheese Soldiers
This creamy tomato soup with grilled cheese soldiers is an elevated version of the classic recipe combo and is perfect for hectic weeknights.
Keyword:
tomato soup and grilled cheese
Ingredients
Soup
1/4

cup

extra virgin olive oil

1

cup

diced yellow onion,

from 1 medium or 2 small

1

tablespoon

Calabrian chili paste

(or 1/2 teaspoon red pepper flakes)

Salt and pepper,

to taste

2 - 4

cloves

garlic,

smashed, peeled, and minced

26

ounce

canned crush tomatoes

2

cups

low-sodium chicken or vegetable broth

4

sprigs thyme

1/2

cup

heavy cream or milk
Grilled Cheese
8

slices

sourdough bread

2

cups

shredded Compte,

Gruyere, or aged cheddar (or a mix)

1/2

cup

grated Parmesan

4

tablespoons

unsalted butter,

plus more for frying

Salt

Black pepper
Instructions
To make the soup, set a 4-quart pot or Dutch oven over medium heat. Add the olive oil, and when hot and shimmering, the onions and chili paste or red pepper flakes. Add a pinch of salt. Stirring often, saute until onions are very tender, about 10 minutes. Add the garlic and cook 1 minute more. Add the canned tomatoes, broth, and 3 sprigs thyme. Bring to a boil and then simmer for 20 minutes.

Working carefully in batches with a regular or immersion blender, blend the soup until smooth and velvety. Return soup to the pot. Add salt and pepper to taste. Swirl in the cream and warm over low heat. (Soup can sputter and bubble, so place a lid slightly askew if needed.)

Meanwhile, to make the grilled cheese, heat a skillet over medium-low/medium heat. Let the skillet get nice and hot. Spread about 1/2 tablespoon butter on one side of 4 slices of bread. Working quickly, add a small knob of butter and sprinkle a tablespoon of Parmesan in two places on the pan, then top with a slice of bread, butter side down. Add 1/2 cup grated Comte, Gruyere, or cheddar, and then another slice of bread butter side up. Cook 3 - 4 minutes. Use a spatula to scrape up any cheese and pick up the sandwich. Add another small knob of butter and another tablespoon Parmesan to the pan. Set the uncooked side, butter side down on top. Cook 3 - 4 minutes more.

Repeat for the next two sandwiches.

Slice cooled grilled cheese into 1-inch strips. Ladle soup into bowls, garnish with remaining thyme leaves, and serve with grilled cheese soldiers alongside.