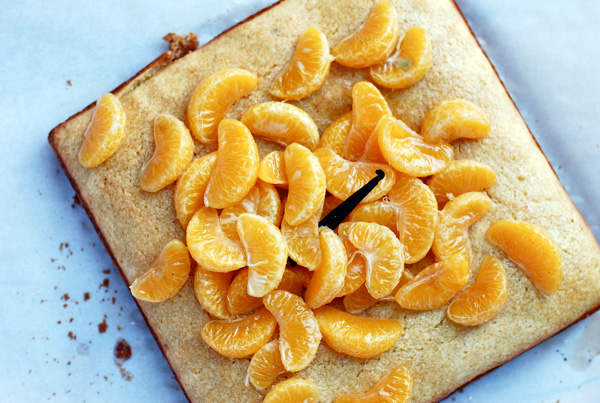 Observing a person's cake preferences is akin to peering into the very depths of their soul. Some people, for instance, appear to be impressed by a cake that is covered in impenetrable layers of marzipan has had the hands of about twenty bakers on it and looks very much like a 2013 Chevrolet Camaro. Some people will spend thousands of dollars on a cake like this and others will watch television shows about bakers who make such cakes. Those people–people who prefer the artifice of a well-decorated cake to the taste–are alien to me, not the least for the amount of time they have to waste. Spending hours making a cake look like a golf bag makes as much sense as spending the same time trying to make a golf bag taste like a cake. A cake is for eating, people!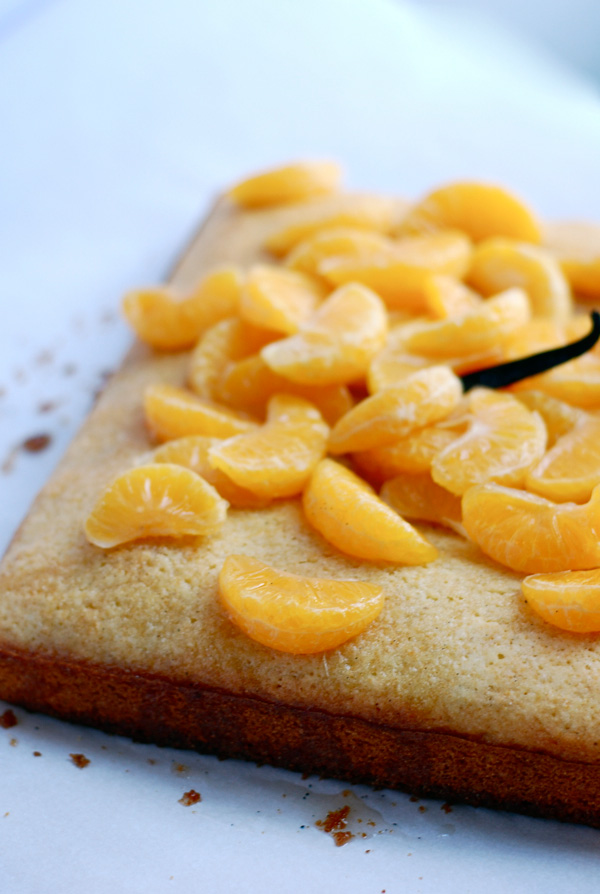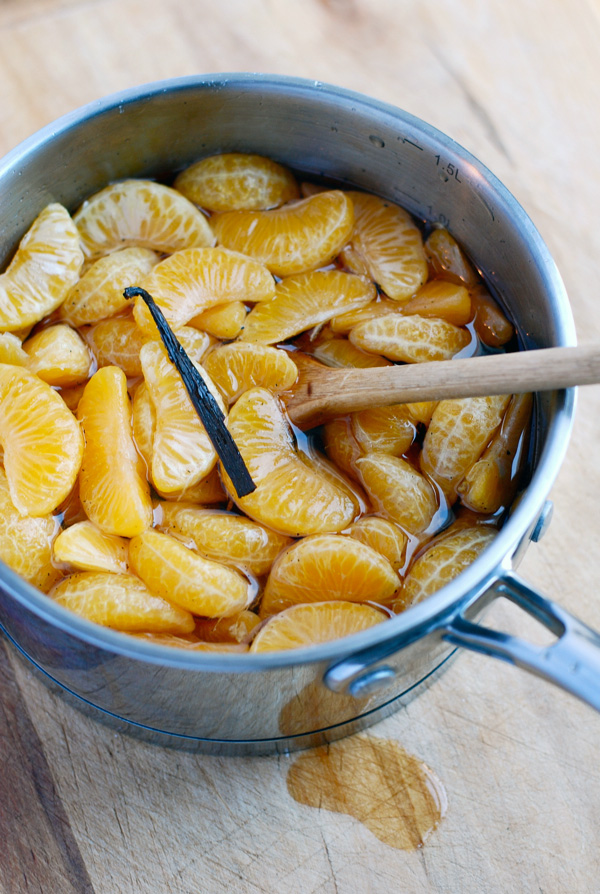 I hope my commitment to cake as first and foremost an object to be eaten will lead you to believe me when I say that this vanilla citrus cornmeal cake with poached clementines is a cake you will want to eat. Cornmeal cakes are a favorite of mine when I'm in the mood for something homey and simple. And that was a definitely the mood I was in Sunday when I'd just returned to my family from four days at a conference in chilly Salt Lake City. This humble cake was the perfect vehicle for the tang and sweetness of the poached clementines and vanilla, and absorbed the poaching liquid nicely for a texture that reminded me of a rum cake.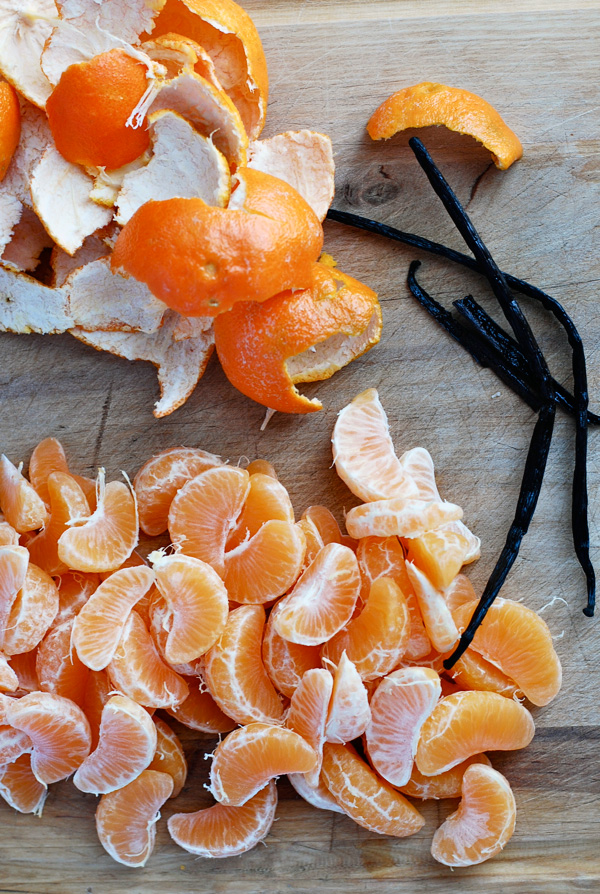 The recipe yields more poached clementines than you'll need, so save them in fridge to mix with yogurt or serve over ice cream later.
Vanilla Citrus Cornmeal Cake with Poached Clementines
for the vanilla poached clementines (adapted from Martha Stewart)
1 1/2 cups sugar
1 cup water
1 vanilla bean, split and seeds scraped
2 tablespoons balsamic vinegar
6 clementines, zested, peeled, and divided into segments
Heat the water and sugar over medium-high heat until the sugar has dissolved. Add the vanilla bean and seeds, balsamic, and clementine segments, turn heat to low, and simmer for 10 minutes.
Remove from heat and set aside while the liquid cools completely.
for the clementine cornmeal cake (adapted from Simply Recipes)
butter, for greasing the pan
3/4 cup sugar
4 inch segment of vanilla bean, split and seeds scraped
1/2 cup olive oil
2 eggs
1/2 cup dry white wine
1 1/4 cups all-purpose flour
1/2 cup finely-ground cornmeal
2 teaspoons baking powder
1 teaspoon sea salt
2 tablespoons reserved clementine zest
Preheat the oven to 375 degrees. Liberally butter a 9 inch square baking pan and set aside.
In a small bowl, rub the scraped vanilla seeds into the sugar so that the tiny seeds are well-distributed throughout the sugar.
In a large mixing bowl, whisk together the vanilla sugar, olive oil, eggs, and white wine. Fold in the flour, cornmeal, baking powder, sea salt, and zest.
Spoon batter into prepared baking pan. Slide into oven and bake for 20 – 25 minutes, or until the center is set, the edges are golden, and a toothpick inserted in the center comes out with just a few crumbs attached.
Cool cake for 20 minutes, run a knife around the edges, invert, and then invert again, so that the top of the cake faces up. Cool for 30 more minutes.
Before serving, spoon the clementine poaching liquid and poached clementines over the top, slice, and serve.