A simple recipe for loaded vegan nachos with a punchy butternut squash "queso," pinto beans, avocado, and all your favorite nacho toppings.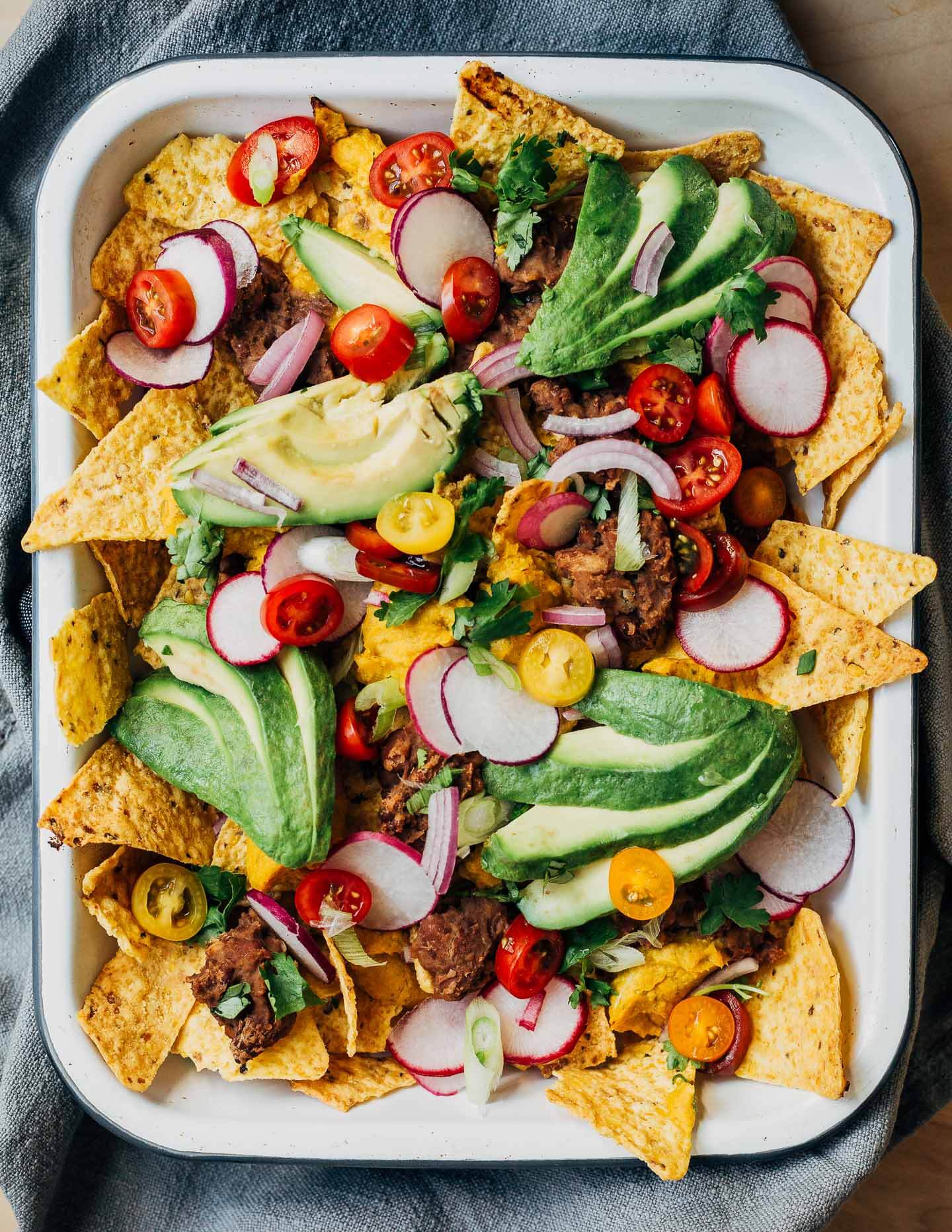 Last week, I figured out something I've probably known for a while but definitely didn't want to acknowledge: one of my daughters is lactose intolerant. My other daughter is a pescatarian. I'm allergic to peanuts, tree nuts, and most legumes. Cheese gets us through a lot of quick and easy meals and for a while there, I thought I might be making three different meals every night to get through.
Shuddering at that thought, I sat down and made plans for meals that everyone could eat. Our family has shifted to eating mostly vegetarian meals in the past few years (you may have noticed from the recipes I share here!), and this new twist will complicate that. But we're working our way through and doing the best we can.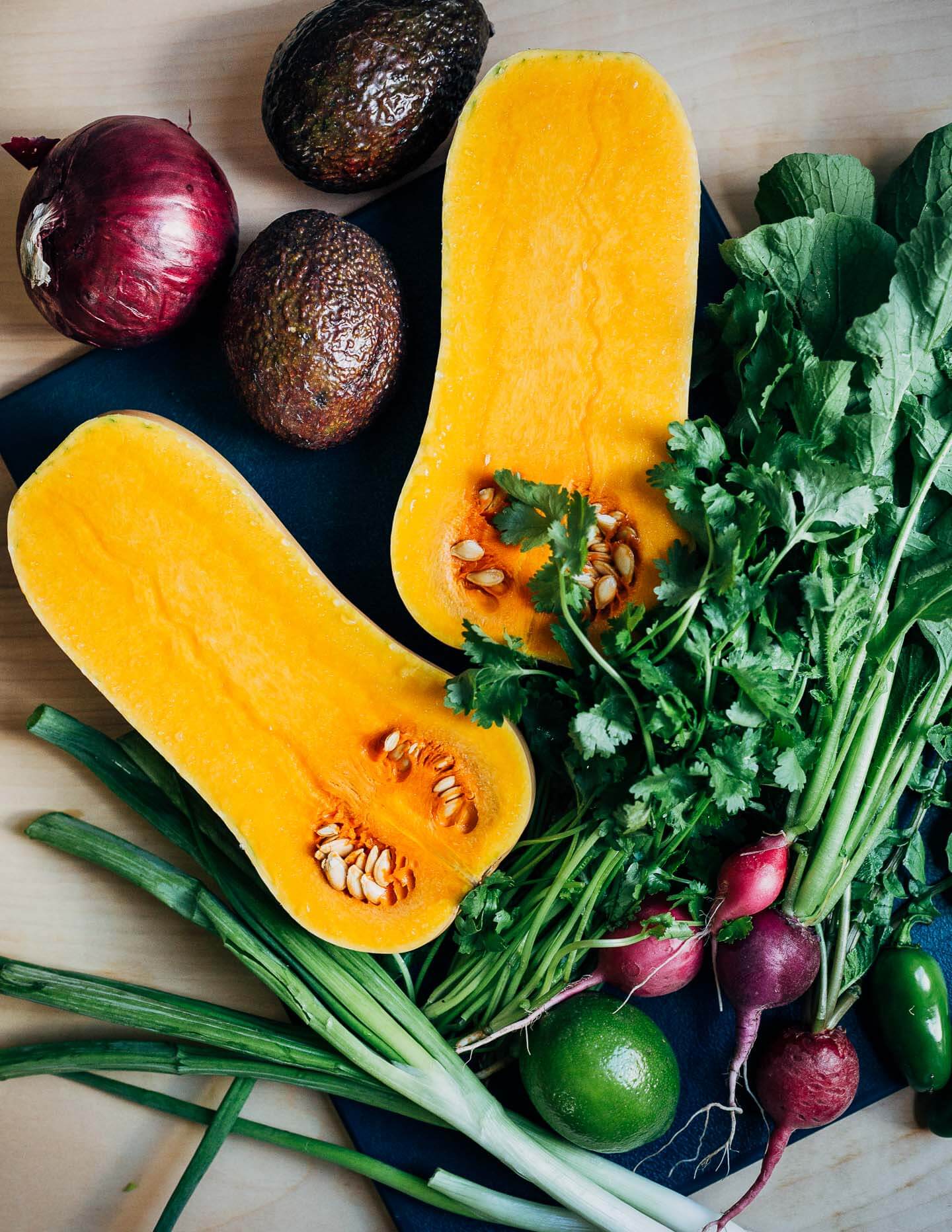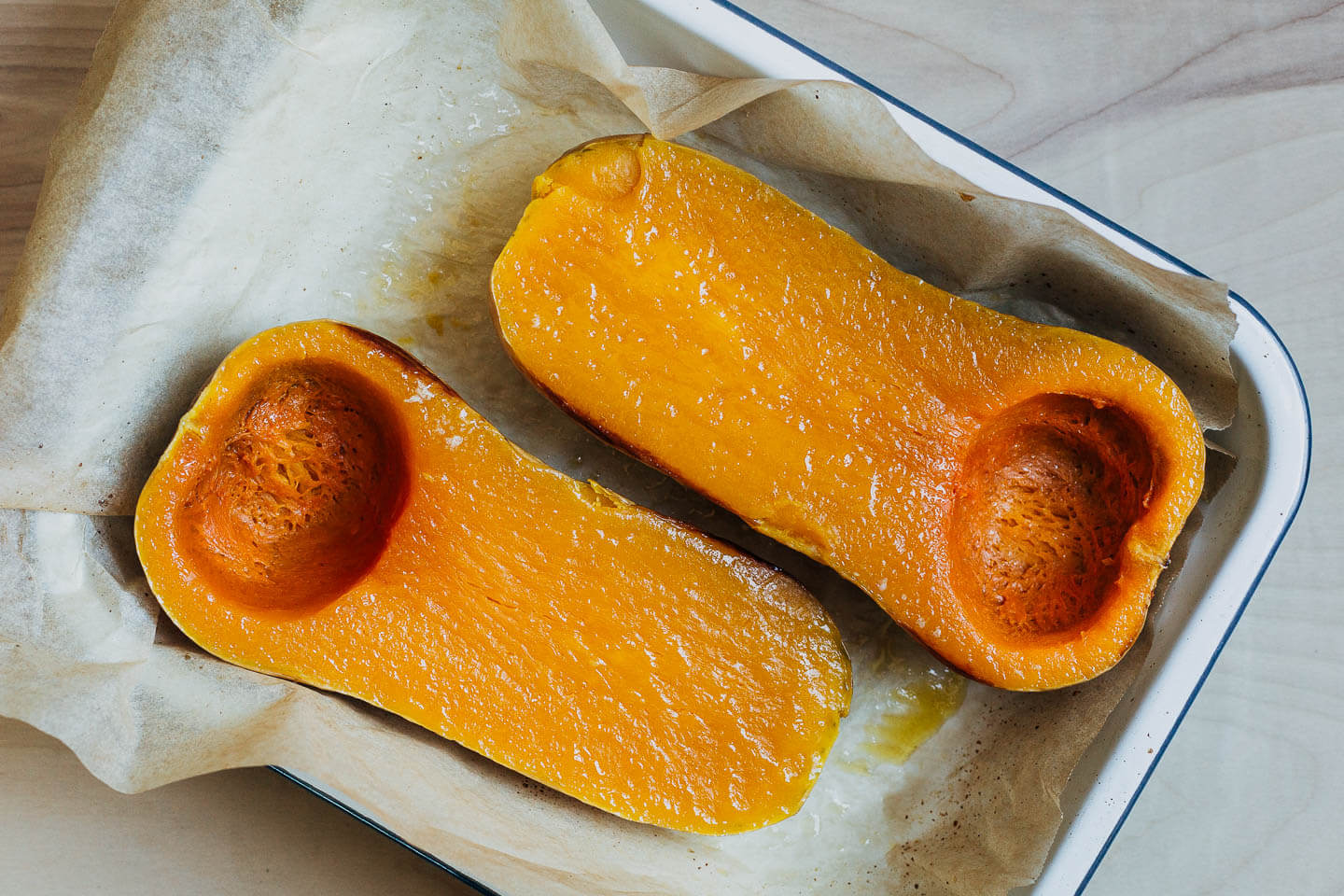 Vegan Nachos!
Happily for me, these loaded vegan nachos with butternut squash "queso" are a fun and delicious meal that everyone in my family can enjoy. If you're a cheese-eater, the idea of a vegan queso may sound silly or unnecessary, but this simple recipe is super delicious, sating, and yes, surprisingly cheesy. It's made with fresh butternut squash puree, (a lot of) nutritional yeast, soaked pumpkin seeds, and pickled jalapeños, and is wonderfully smoky and spicy with a big umami punch. I'm not trying to make these nachos seem more virtuous than they are, but they do prominently feature multiple vegetables and pinto beans.
All the Toppings
We all know that nachos are all about the toppings. Here, I went with the queso, pinto beans, thinly sliced red onions, sliced avocado, radishes, cherry tomatoes, green onions, and cilantro. Feel free to sub and swap your favorite toppings here. Guacamole, (more) pickled jalapeños, sliced olives, and various salsas would all be fantastic.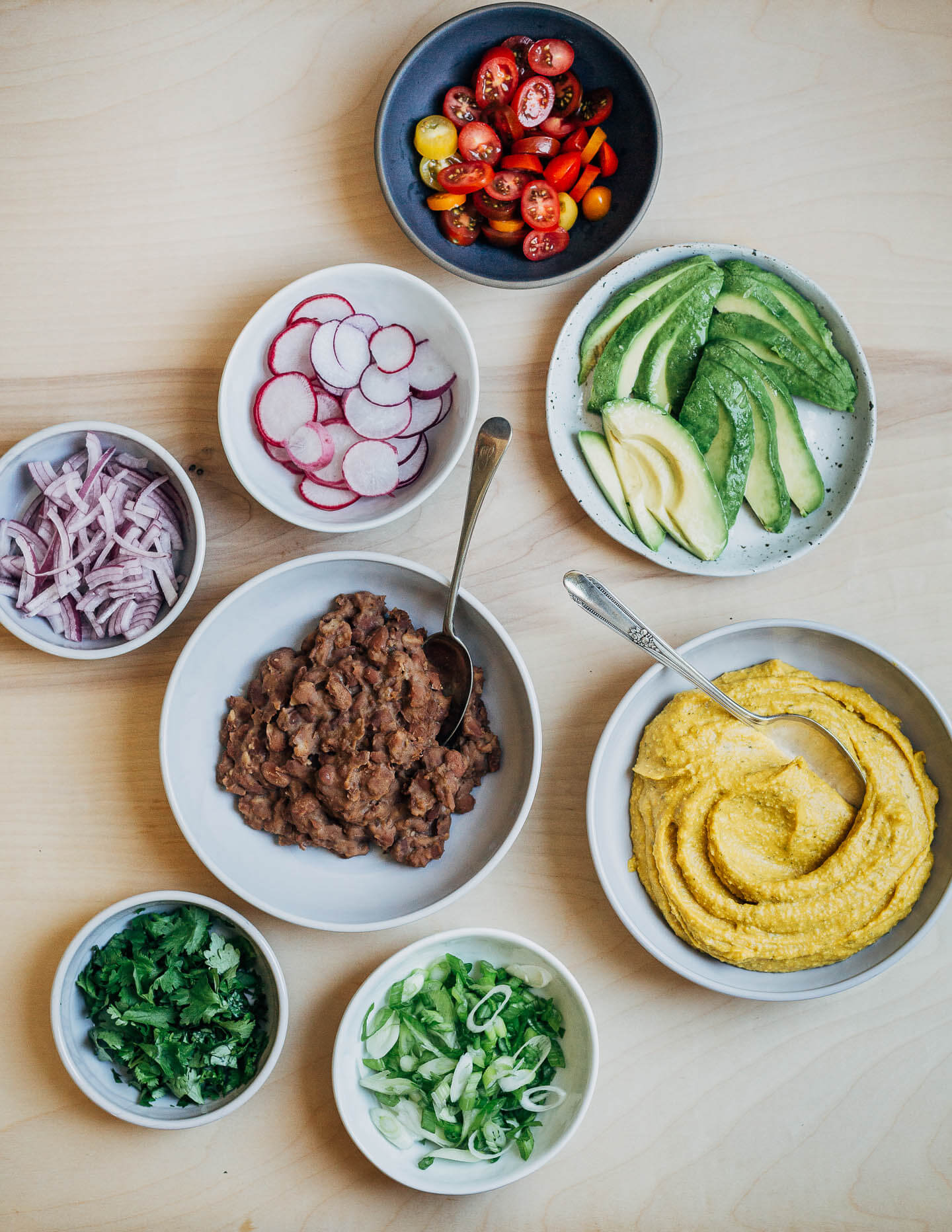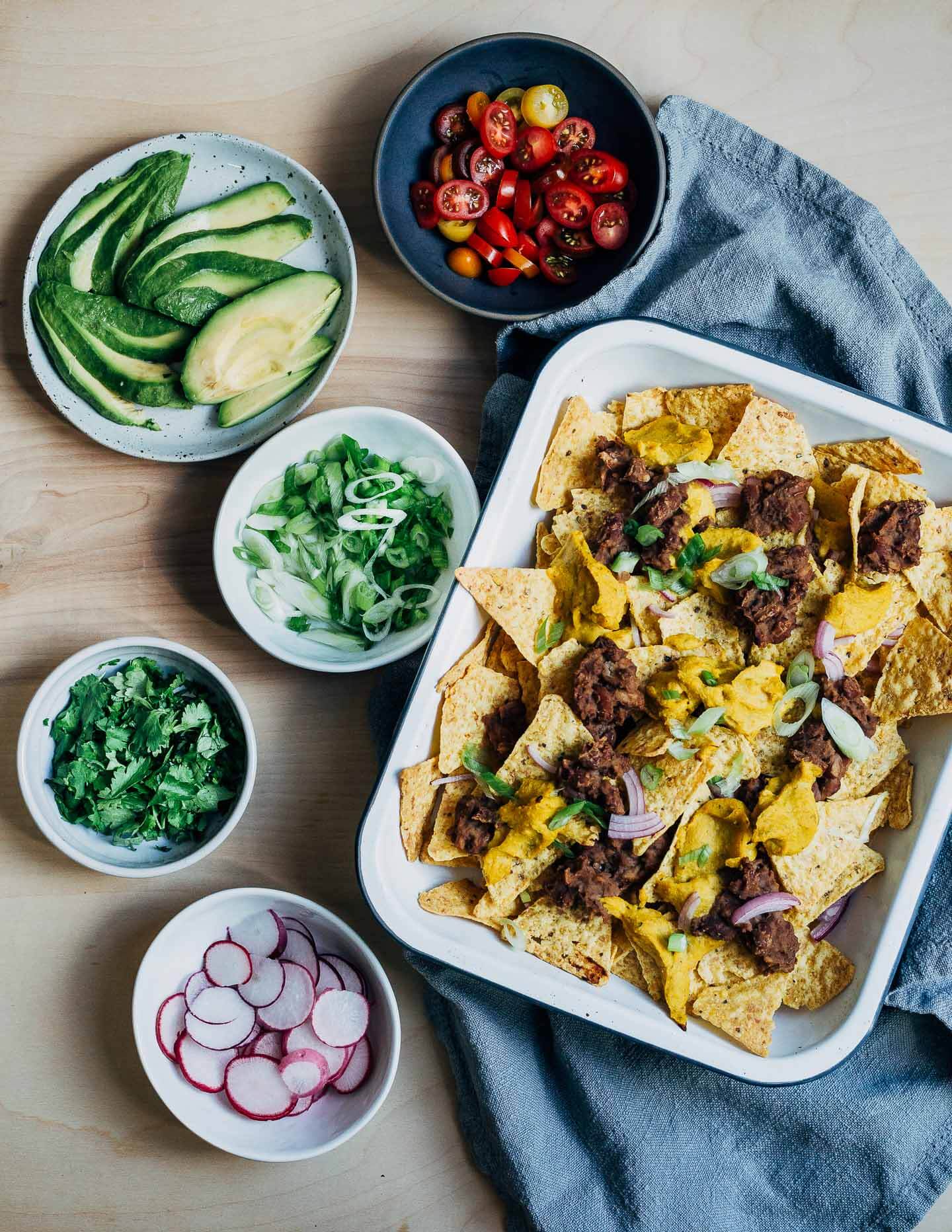 Vegan Nacho Basics
Because you're not melting the cheese, you won't need to cook your nachos for very long. Set the nachos, loaded with butternut squash queso, beans, and red onions, on the middle rack of a 400 degree F oven and cook for about 5 minutes. Have all your toppings ready to go, and as soon as the nachos are out of the oven, add the toppings and dig in.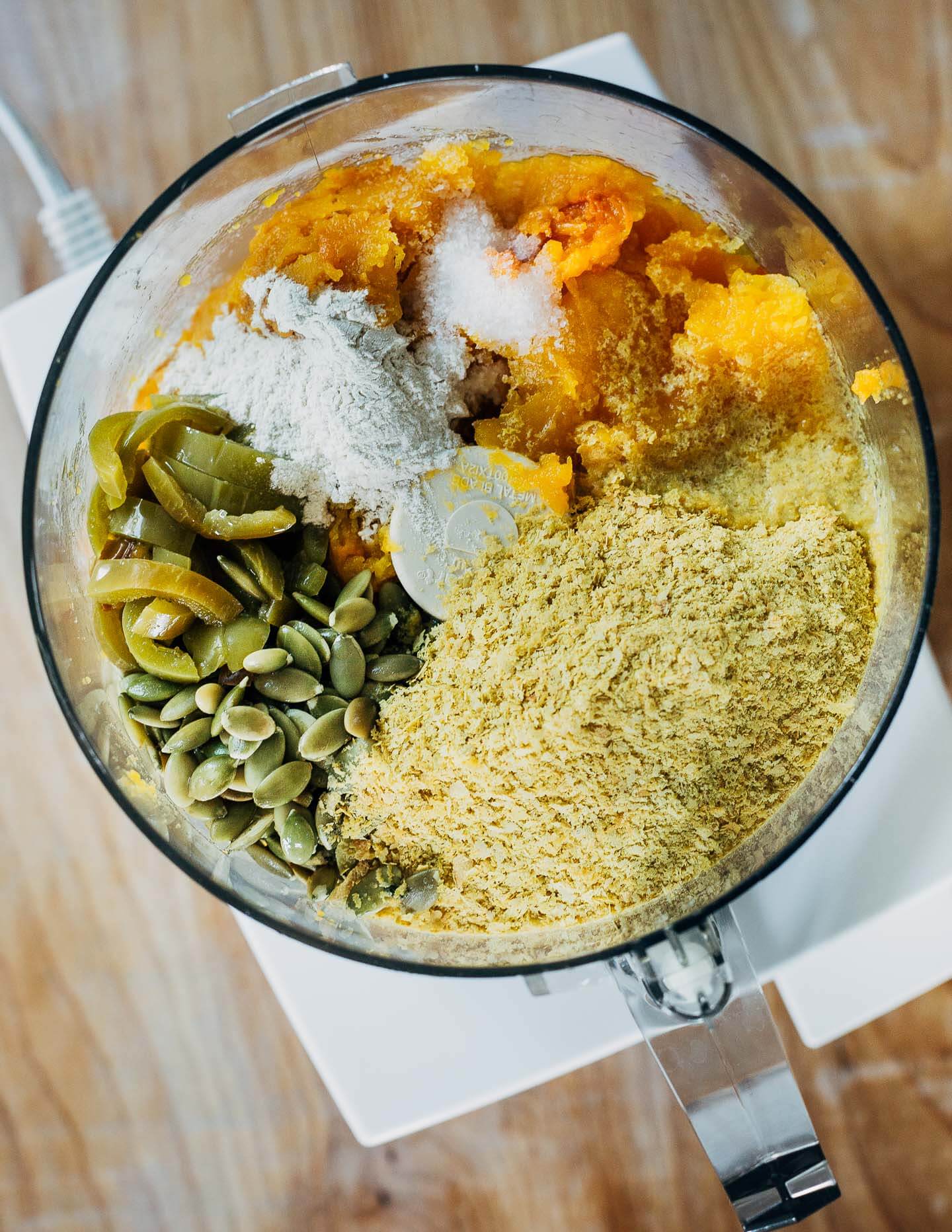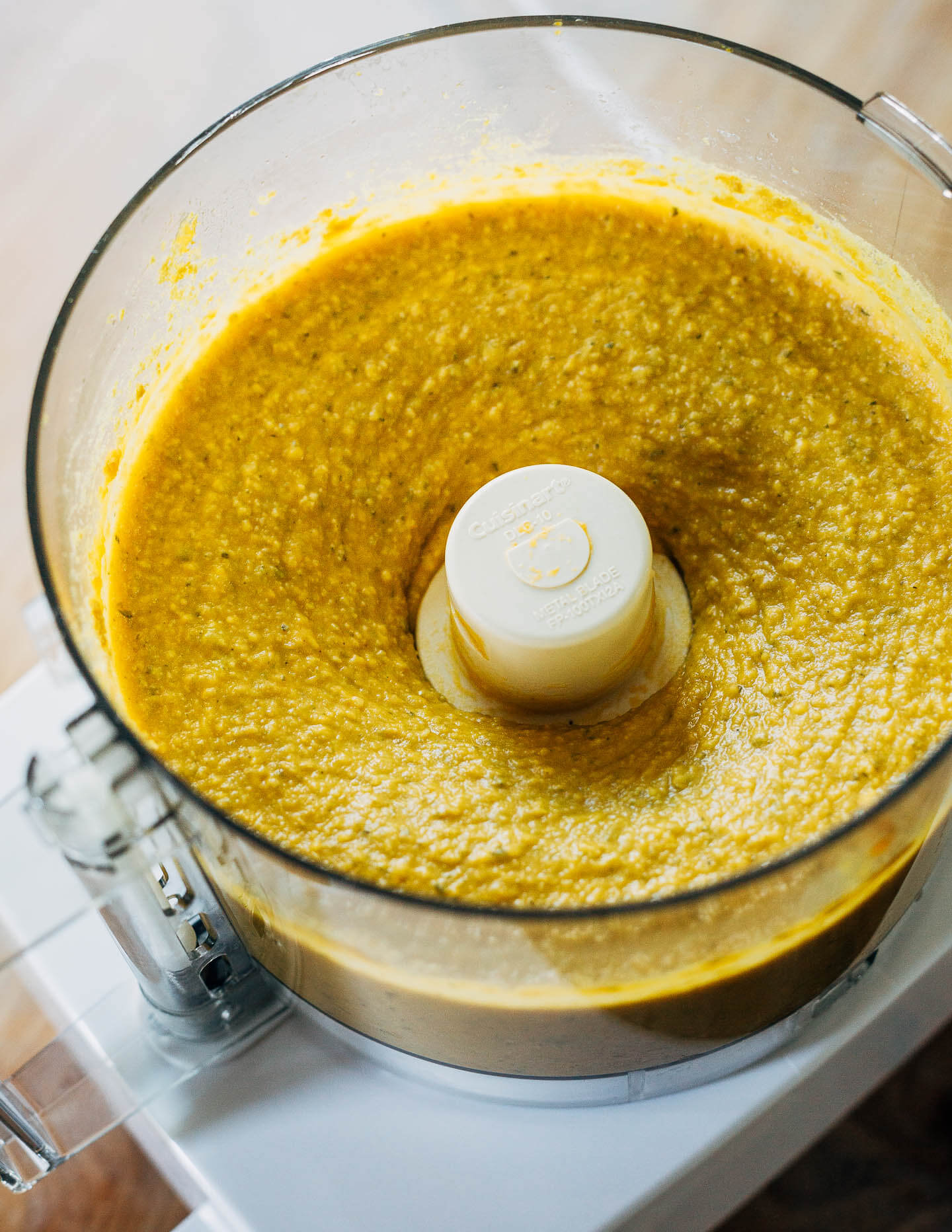 Butternut Squash Queso
The main flavors in this vegan queso come together to create a really delicious cheese substitute. The butternut squash lends a creamy richness to the queso, but isn't overly sweet. Nutritional yeast brings a lot of umami punch and that distinctive cheesy flavor. 

I'm allergic to nuts, so I use seeds in my pesto and purees. Here, I went with raw, hulled pepitas that had been soaked. Cover the seeds with boiling water and let them sit for 20 minutes or longer.
I got the tip for using pickled jalapeños and their pickling juice from Ali Slagle's cauliflower-based vegan nachos recipe in The Times. The pickles and juice add a briny underpinning to the queso, but also a smoky, spicy depth. Add as much pickle juice as you need to make the queso smooth and creamy. You want an easily spreadable puree – soft enough to easily cover the chips easily, but not runny. This recipe makes quite a bit of queso, so you'll have a bit leftover for late night snacking.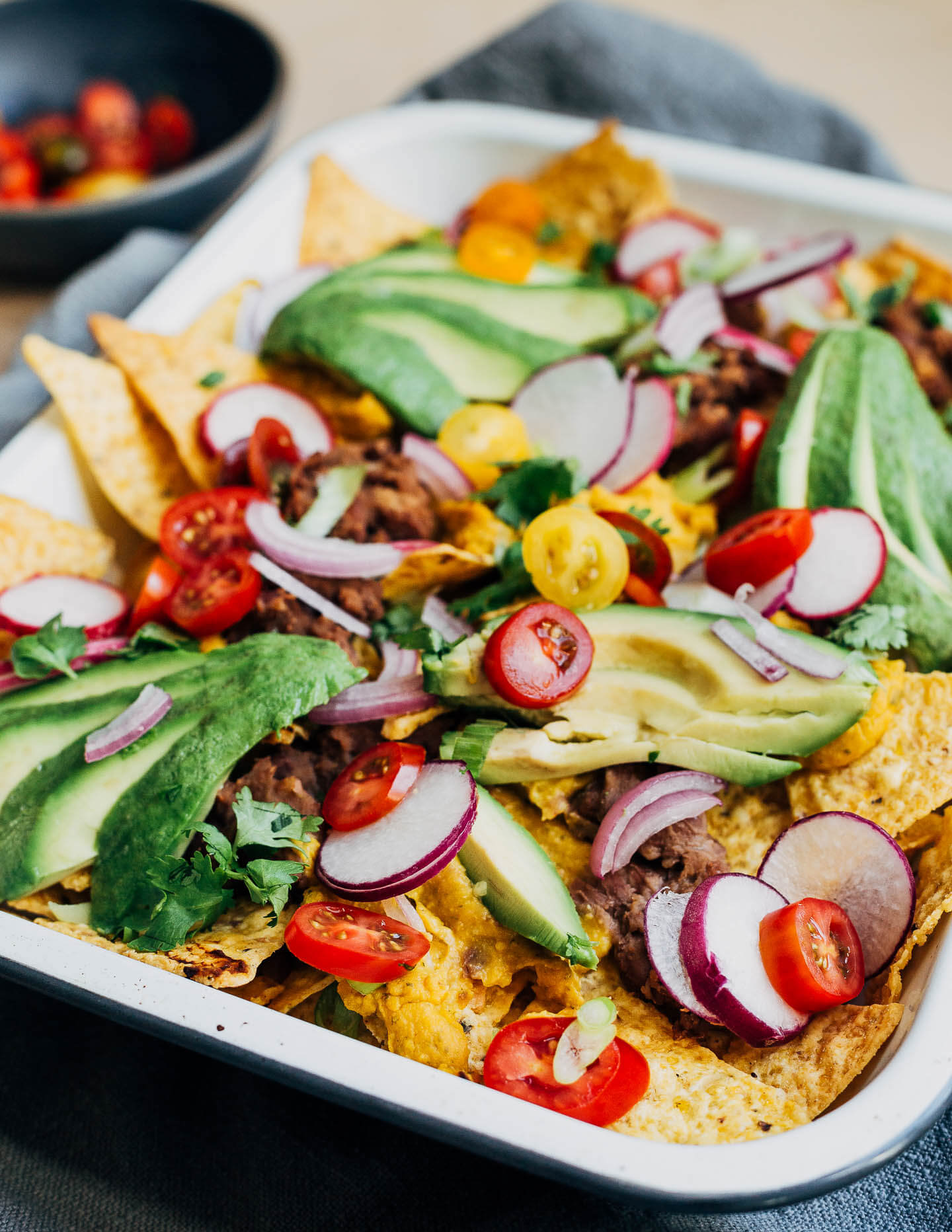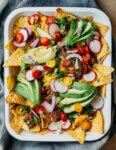 Vegan Nachos with Butternut Squash Queso
A simple recipe for loaded vegan nachos with a punchy butternut squash queso, pinto beans, avocado, and all your favorite nacho toppings.
Ingredients
Queso
1

medium butternut squash

Olive oil

Sea salt

1/2

cup

raw,

hulled pepitas (aka pumpkin seeds), covered with boiling water and soaked for 20 minutes

1/2

cup

nutritional yeast

2 - 4

tablespoons

pickled jalapeños plus 1/4 cup juice

1

tablespoon

garlic granules

1/2

sea salt
Nachos and Toppings
1 16-

ounce

can pinto beans

1/2

a red onion

2

tablespoons

oilve oil

1

teaspoon

cumin seed

1

teaspoon

chipotle chili powder

11

ounces

corn tortilla chips

2

avocados,

sliced

4

radishes,

thinly sliced

3

green onions,

sliced

1/2

cup

sliced cherry tomatoes

1/4

cup

chopped cilantro leaves

Pico de gallo or other salsa

Lime wedges, for serving
Instructions
To make the queso, heat the over to 350 degrees F and line a rimmed baking sheet with parchment. Halve the squash and removed the seeds. Rub the squash all over with olive oil and sprinkle with sea salt. Place squash cut side down on the baking sheet and bake until very tender, about 60 minutes. Set aside until cool enough to handle then scoop the squash out, leaving the skin behind. You'll need 2 cups of the squash puree.

In the bowl of a food processor, pulse to combine 2 cups squash, strained pumpkin seeds, nutritional yeast, pickled jalapeños, garlic granules, and sea salt. With food processor running, drizzle in jalapeño pickle juice a little at a time, adding enough to give you a pillowy, spreadable texture. Add more salt, jalapenos, or garlic powder to taste. Scrape queso out of the food processor.

Meanwhile, prep the rest of the ingredients.

 Cut the onion half into two sections. Mince enough of one section to give you 1/4 cup. Slice the rest of the onion into paper thin slices. Then cut those into 1-inch segments.

Set a medium saucepan over medium heat. When hot, add the oil and 1/4 cup minced onions. Cook 5 - 7 minutes, then add the cumin, chili powder and cook 1 minute more. Add beans and their liquid. Bring to a gentle simmer, then turn heat to low and cook, stirring occasionally and smashing some of the beans against the side of the pan, for 20 minutes.

To assemble the nachos, with oven still at 400 degrees F, set out a 9 x 13-inch baking dish. Cover the bottom with half the tortilla chips. Add swoops of queso and half the beans, and scatter some of the sliced red onions. Add remaining chips, another layer of queso, the remaining beans, and some of the red onions. Set nachos on the middle rack in the oven, and bake for 4 - 6 minutes, or just until everything is hot and the chips are starting to edge golden.

Finish nachos with remaining fixings: sliced avocados, radishes, green onions, tomatoes, cilantro, and lime wedges. Serve right away with pice de gallo or the salsa of your choice.