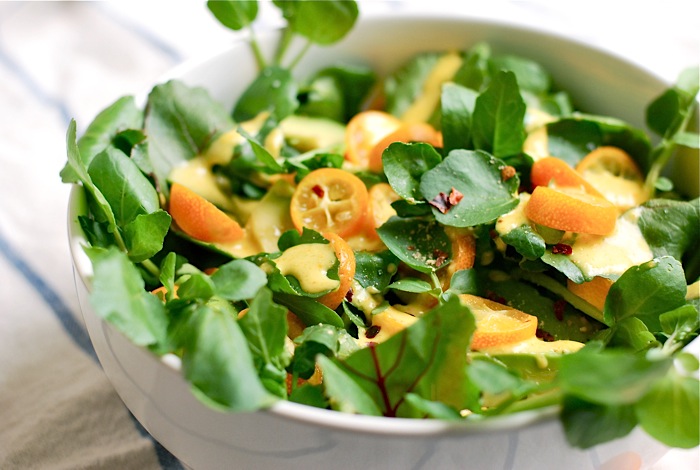 A colorful watercress and avocado salad with beet greens and kumquat slices, tossed with a punchy kumquat dressing. Jump to recipe.
Food blogging is largely about pictures and recipes. But somewhere between a gorgeous photo and a tasty recipe, real life can fall by the wayside. Inspired by this conversation about motherhood, and this one on food photos, I'm taking the challenge and am going to try to keep things real around here, and perhaps even start to document the swirling chaos and full sink of dishes that accompanies each recipe.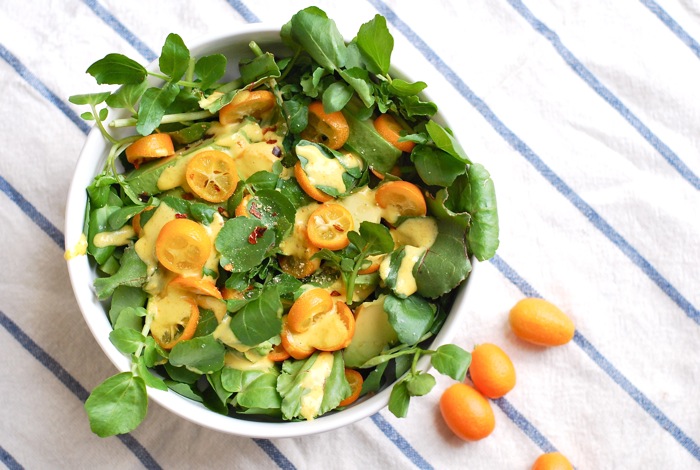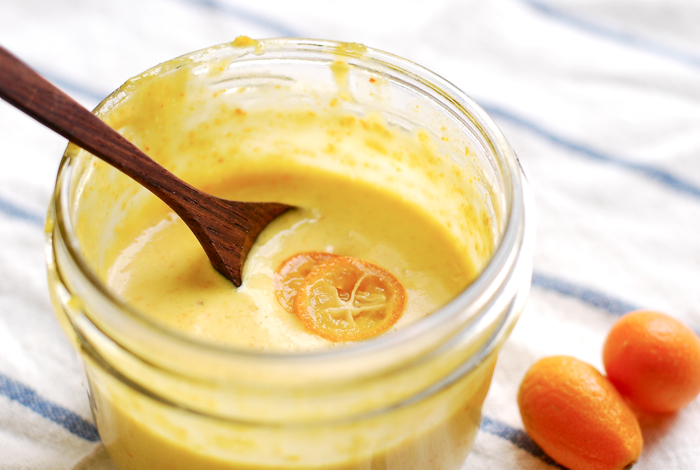 Of course, from house fires, to babies, to losing our dog, I've hardly held back; I just want to renew my effort to balance out the lacy leaves of watercress with the stuff of real life. So what's up these days? We're exhausted. Whether seasonal sniffles, a still-waking-twice-a-night baby, feeding two kids with no dishwasher, the endless piles of laundry, or our beloved but ramshackle third-floor walk up–it's all starting to get to Brian and me. To counter the day-to-day drudgery, we've been planning an exciting summer complete with a real vacation and a trip to the west coast (sans kids–hello!). On the home front I've been craving colorful vegetables and healthy meals, and planning an awesome garden.
With healthier eating in mind, I picked up a few kumquats last week and was determined to figure them out. Have you ever had one? They're tiny citrus-y fruits that have a bold sour flavor and plenty of citrus bite. Since I was feeling the need to cleanse, a salad was a great choice. First, I made a tangy, creamy kumquat salad dressing using my blender. Then, I threw a few sliced kumquats and avocados, beet greens, and watercress together for a really fantastic salad that was at once bitter, bracing, and creamy. Though I had this for a quiet lunch, it's really too good not to share–I suggest you make this for your next party or fancy dinner.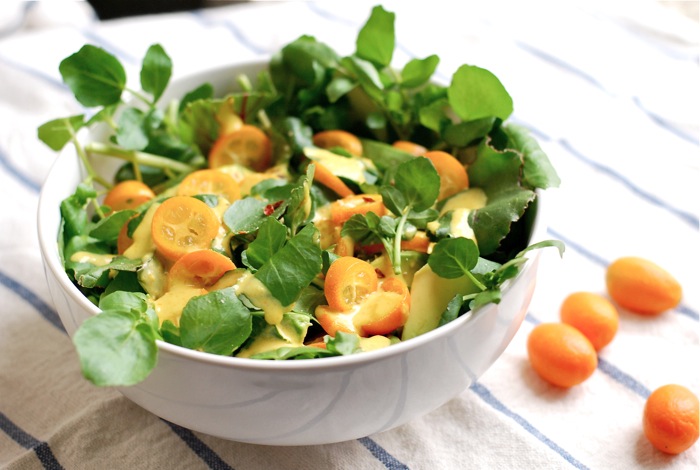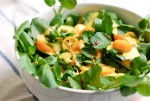 Watercress Salad with Kumquat Dressing
A colorful watercress and avocado salad with beet greens and kumquat slices, tossed with a punchy kumquat dressing.
Ingredients
Dressing
1/2

cup

kumquats

, rinsed

1

large clove garlic

, crushed

1/4

cup

water

or more if needed

1/3

cup

olive oil

2

tablespoons

apple cider vinegar

1/2

teaspoon

sea salt

1/2

teaspoon

fresh ground white pepper

1/2

teaspoon

sriracha or gochujang*
Salad
1

lb.

watercress

, with any large stems removed

2

cups

beet greens

, torn

1/2

cup

kumquats

, sliced thin and seeded

1

avocado

, sliced

1/2

teaspoon

sea salt

fresh ground pepper

red pepper flakes
Instructions
Combine kumquats and water in a blender. Blend until smooth. With blender running, add olive oil, apple cider vinegar, garlic, sea salt, pepper, and sriracha. Scrape down sides and check consistency – add more water if needed. Taste for salt and acid levels; adjust accordingly.

In a large bowl, toss watercress and beet greens with dressing. Layer on slices of avocado and kumquat. Sprinkle with sea salt, pepper, and red pepper flakes. Drizzle with another few tablespoons of dressing, and serve.

Any leftover dressing should keep well in the fridge for a few days.
Recipe Notes
*To make recipe Whole30 compliant, sub gochujang for sriracha. 
SaveSave
SaveSave