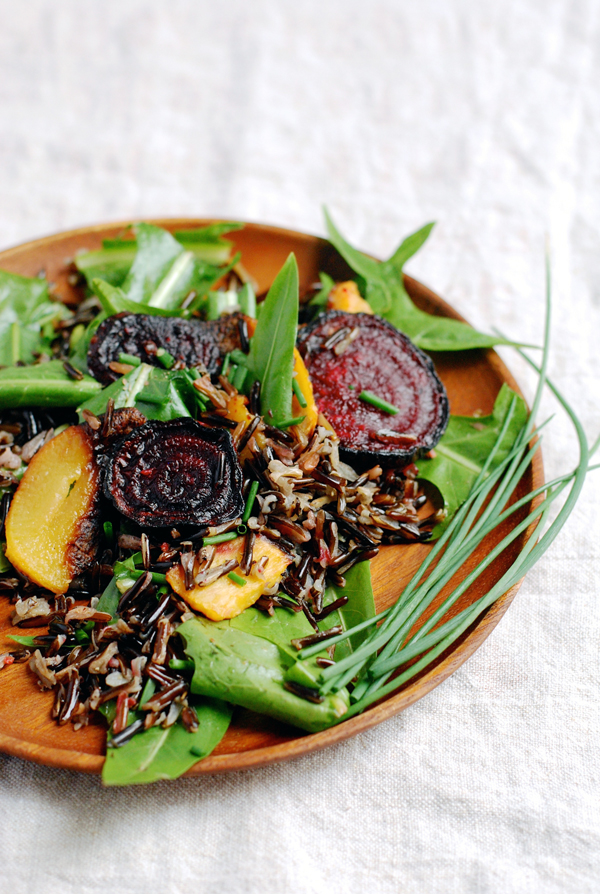 I once saw spring as a season to be suffered through. Sure, I was happy to have something new to eat after all the heavy foods of winter, but the torture of waiting for summer's cherries and tomatoes was just too much. Last year, though, something changed – the arrival of spring foods started to feel like an event in and of itself. It seems so appropriate that a season dedicated to new life, growth, and planting should produce so much in the way of earthy, grassy flavors. After all the rich stews and chewy brassicas, I'm in love with bitter greens and bracing flavors.
This salad has a little of all the best flavors of early spring: nutty black wild rice, roasted rutabagas and beets for a grounded kind of sweetness, and dandelion greens, just bitter enough to finish with a delightful shiver. I married the flavors with a slightly sweet, mustard- and horseradish-infused dressing, resulting in a robust salad that's just right as a light dinner, a hearty side, or just a really good desk lunch.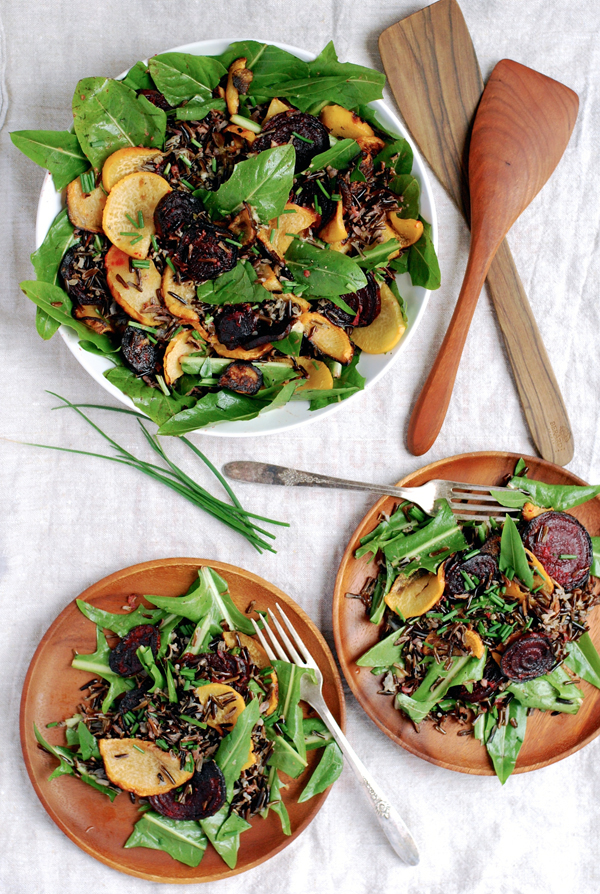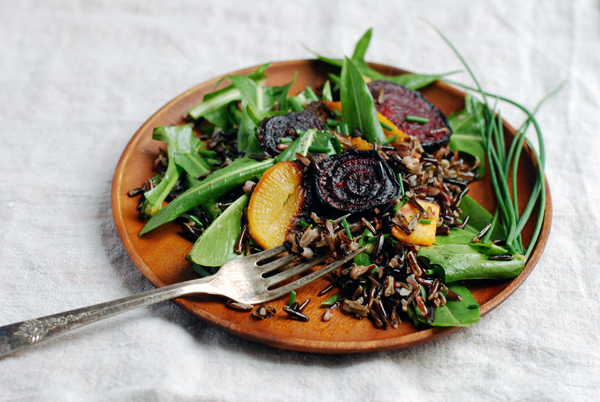 Wild Rice Salad with Roasted Beets and Rutabagas, and Dandelion Greens
serves six as a side dish
Dandelion greens can vary in quality and flavor. Generally speaking, older leaves will be among the most bitter, so look for unblemished, tender leaves to ensure a bunch that's palatable. You'll also want to use them as soon as possible, since they seem to increase in bitterness by the day.
I like all the ingredients in this salad tossed together warm. The warm rice and vegetables, along with the creamy dressing, wilt and mediate the intensity of the dandelion greens. Once everything's commingled for a while, you can slide the bowl into the refrigerator to keep until it's needed.
for the salad
3 cups cooked wild rice
1 bunch dandelion greens, washed, ends trimmed, and rough chopped
4 beets, peeled, trimmed, and cut into 1/4 inch thick rounds
2 large rutabagas, peeled, trimmed, and cut into 1/4 inch thick half moons
2 tablespoons extra virgin olive oil
1/4 cup minced chives
sea salt and pepper to taste
Preheat the oven to 425 degrees F.
In separate bowls, toss the beets and rutabagas with 1 tablespoon olive oil each. Sprinkle with sea salt. Fan the beets and rutabagas out on separate baking sheets and slide in to the oven. Bake for 20 – 25 minutes, flipping halfway through. Keep an eye out toward the end of cook time, as the pieces on the edge can burn quickly.
for the dressing
2 cloves garlic, minced
2 tablespoons prepared horseradish
2 tablespoons extra virgin olive oil
1 tablespoon fresh squeezed lemon juice
1 tablespoon süßer senf or other sweet mustard
1 teaspoon honey
1/4 teaspoon sea salt
1/4 teaspoon black pepper
Whisk together the dressing ingredients and puree in a blender until smooth.
In a large bowl, combine the dandelion greens and rice, along with two-thirds of the dressing. Toss gently. Next, fold in the rutabagas, beets, and remaining dressing. Finish with the minced chives and several twists of pepper.