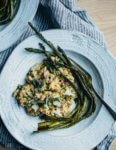 Creamy farro risotto (aka farrotto) with all the best spring things like ramps, young garlic, chives, and roasted asparagus.

Because the saltiness of broths can vary, salt the farrotto lightly to begin. Toward the end of cook time, after adding the Parmesan, add sea salt and pepper to taste.
Asparagus
1

pound

asparagus,

woody ends snapped off

1

tablespoon

extra virgin olive oil

sea salt

pepper
Preheat oven to 400 degrees F.

Set a 3-quart pot or Dutch oven over medium heat and melt butter. Add garlic and ramps, sprinkle with 1/2 teaspoon each sea salt and pepper, and sauté until both are fragrant and tender, about 3 minutes. Add farro and, stirring frequently, toast 3 minutes. Stir in white wine, scraping up any brown bits with a wooden spoon. Stir in 2 cups broth. Keep an eye on farrotto as it cooks down and stir frequently. Add remaining 2 - 3 cups broth 1 cup at a time, waiting until farro has cooked down before adding more. Cook for a total of 30 minutes, or until farro is creamy and tender but still has a bit of chew. Fold in Parmesan and herbs. Taste and add sea salt and pepper to taste. Farrotto can be kept warm over low heat for 20 minutes or so. If mixture firms up, add wine, broth, or water as needed.

While farotto cooks, swish asparagus tips in a big bowl of cold water to dislodge any sand. Pat dry. Toss asparagus with olive oil, and sprinkle with sea salt and pepper. Roast 20 minutes, shaking pan halfway through.

To serve, spoon farrotto into shallow bowls and top with roasted asparagus, fresh herbs, and a few crumbles of Parmesan.