Creamy farro risotto (aka farrotto) with all the best spring things like ramps, young garlic, chives, and roasted asparagus.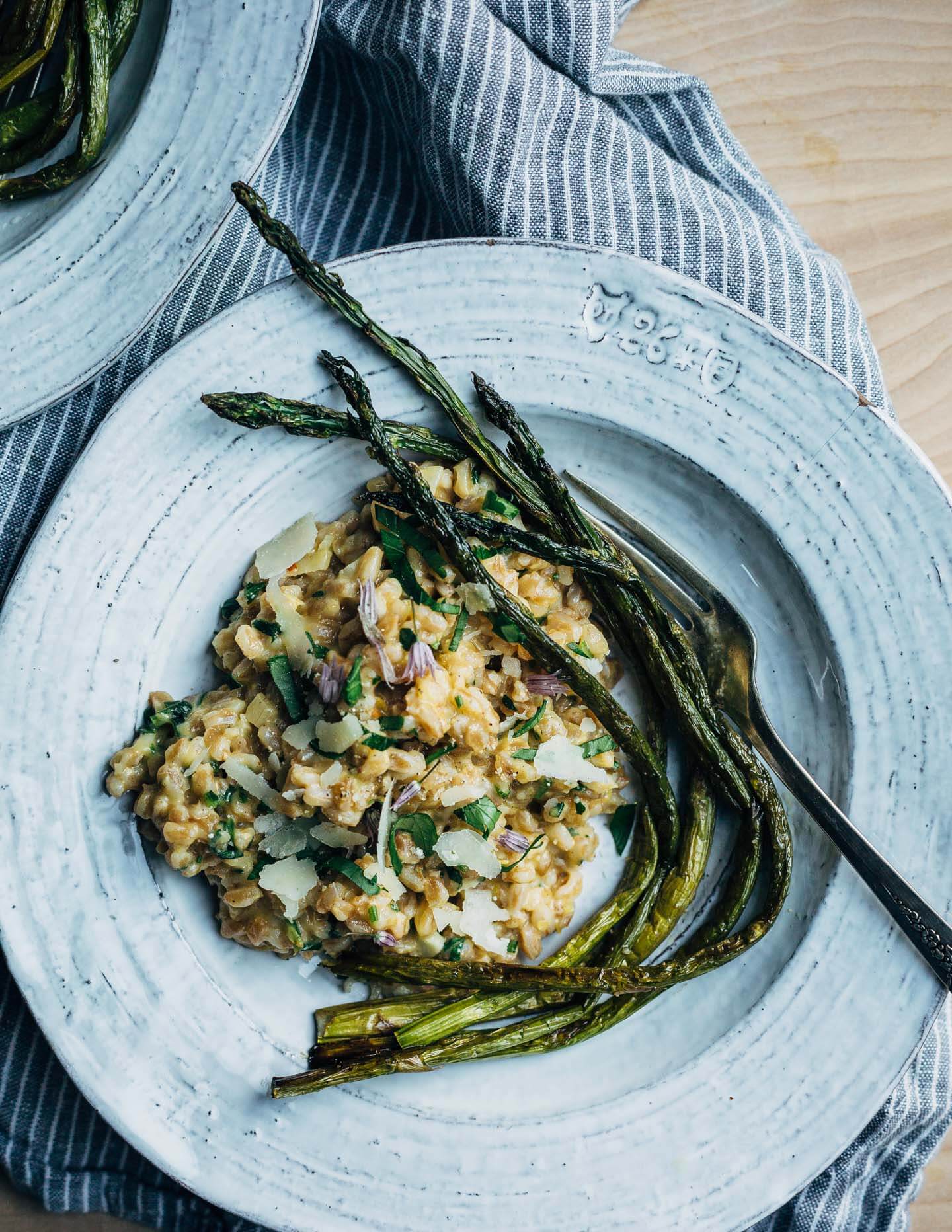 If, before scrolling down, you closed your eyes and guessed what the ingredients in this farro risotto (also know as farrotto) are, I bet you'd hit nearly all of them: butter, white wine, broth, herbs, alliums, Parmesan, a hint of lemon zest. Usual suspects or no, the resulting farro risotto, which we'll just call farrotto from here on out, is so much more than the sum of its parts.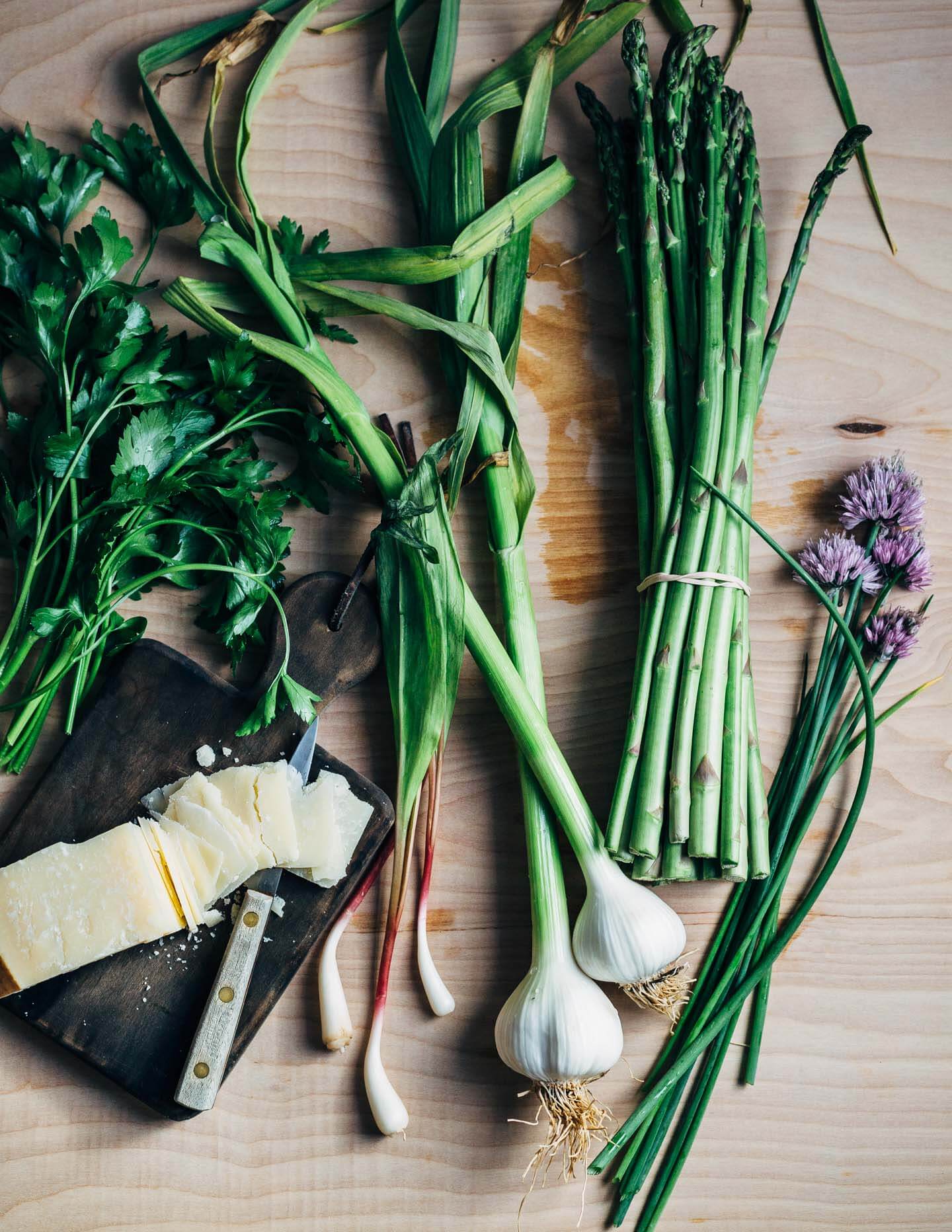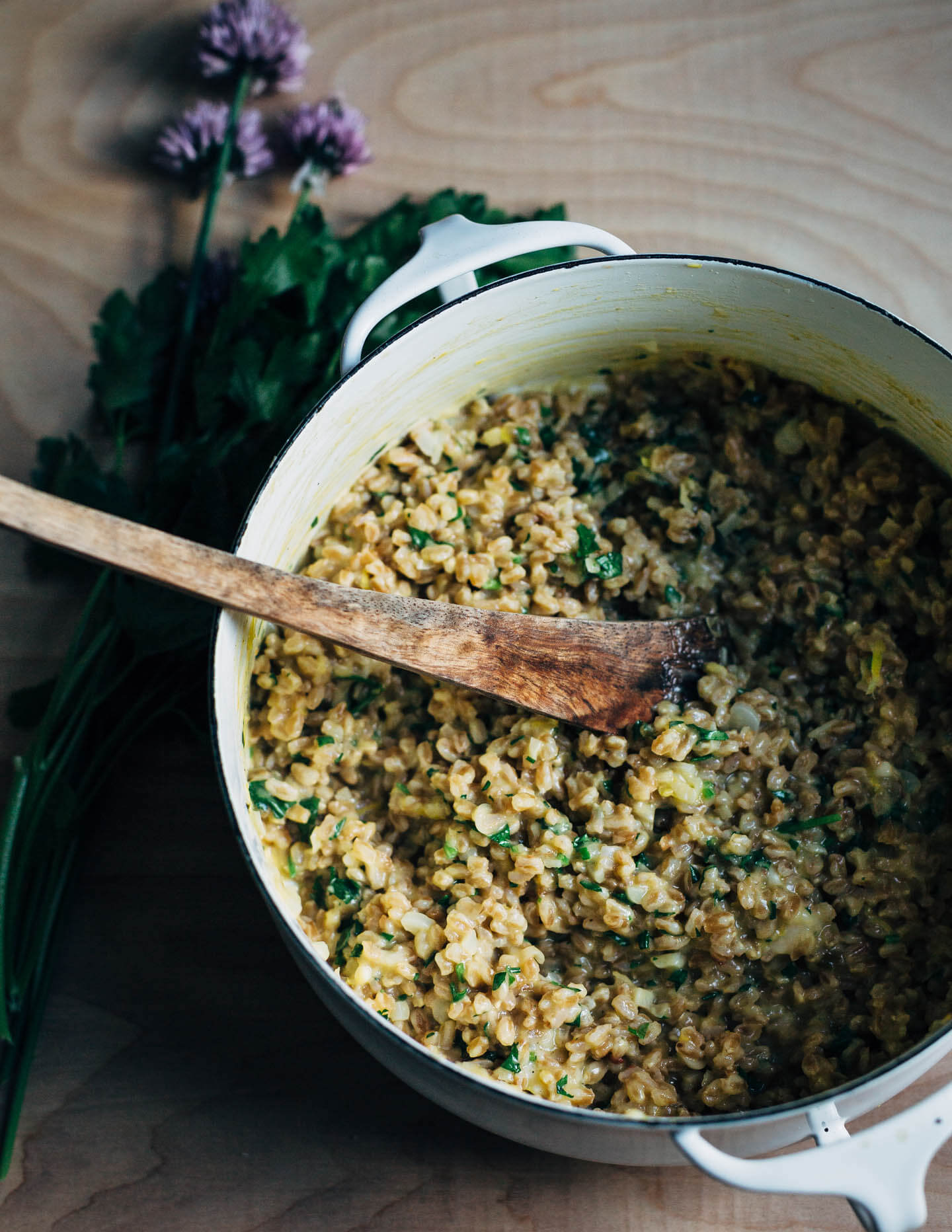 I use the word punchy a lot, because I like flavors that hit back and just can't bring myself to write unctuous. Even so, it should be said that farrotto is wonderfully rich and the punch of layered spring alliums – ramps, young hardneck garlic, chives – mellows with plenty of butter and broth. Garlic breath notwithstanding, this springy farro risotto is well worth making, for the delightful flavors, sure, but also for the sheer joy that comes in packing all your most favorite spring produce into a single dish.
In talking about farrotto, many folks will emphasize that it's not as creamy as more traditional risotto, but the semi-pearled farro I used cooked up beautifully with a perfectly velvety texture and finished with a proper al dente bite.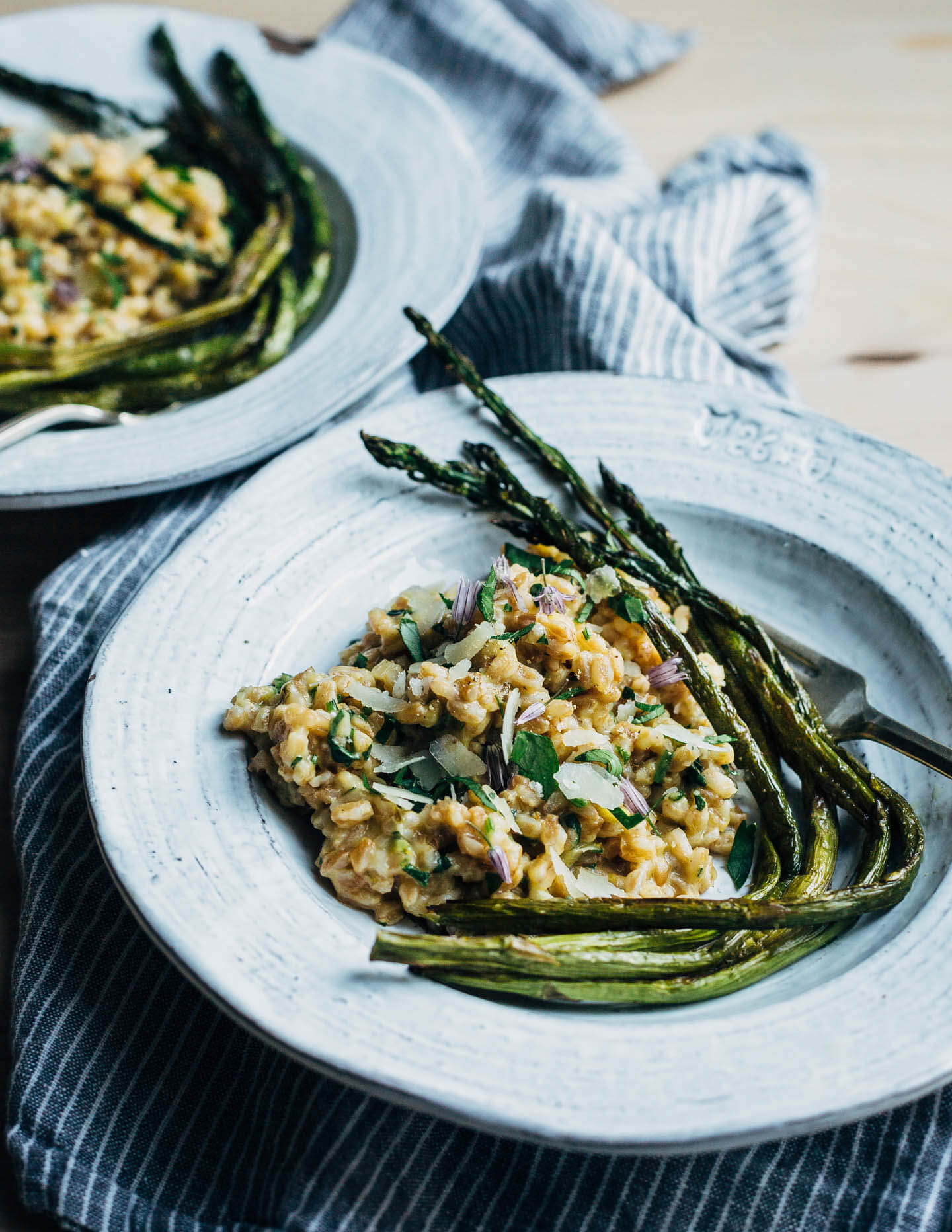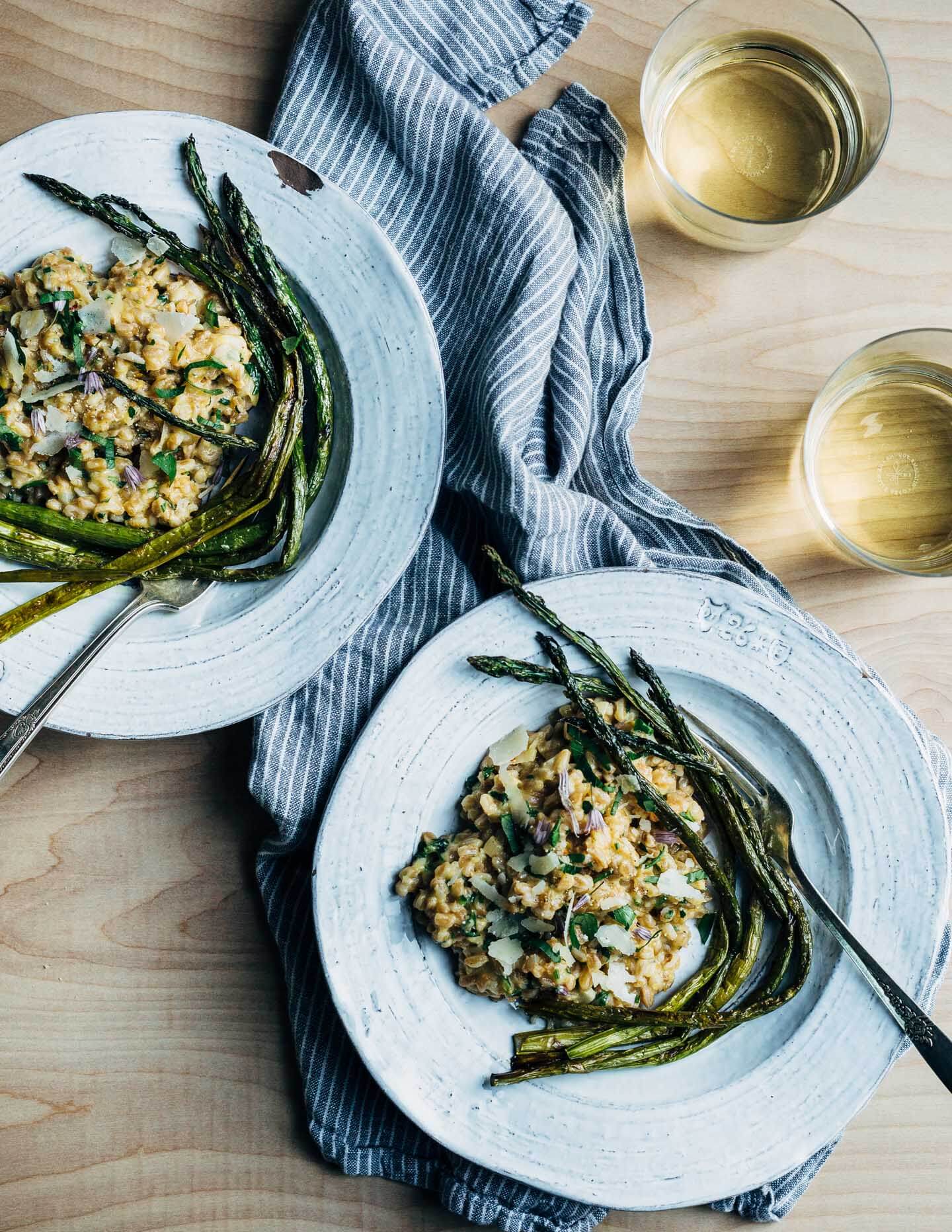 Because I happened to be in possession of a perfect bunch of local asparagus, I roasted it and served it tucked alongside the farrotto. You should add whatever market treasures you have on hand. I think roasted hakurei turnips in particular with be fantastic, as would radishes. Also: sautéed spring greens, roasted cherry tomatoes, poached eggs, bok choy, or golden beets. What's more, there's plenty of room for improvisation with the mix of alliums. Green garlic, garlic scapes, regular garlic, spring onions, salad onions, shallots, leeks – it will all be spectacular.
For best results, use homemade vegetable broth. For a store-bought vegetarian option, I really like the flavor of Imagine's Vegetarian No-Chicken Broth. (You could also use your favorite chicken broth.)
Don't miss a recipe! Follow Brooklyn Supper on Instagram, Facebook, and Pinterest.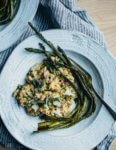 Farro Risotto (Farrotto) with Ramps and Roasted Asparagus
Creamy farro risotto (aka farrotto) with all the best spring things like ramps, young garlic, chives, and roasted asparagus.

Because the saltiness of broths can vary, salt the farrotto lightly to begin. Toward the end of cook time, after adding the Parmesan, add sea salt and pepper to taste.
Ingredients
Farrotto
4

tablespoons

unsalted butter

1

head young garlic or 5 cloves garlic

4

ramps,

chopped

sea salt

pepper

1 1/2

cups

semi-pearled farro

3/4

cup

white wine

4 - 5

cups

rich vegetable broth

1

tablespoon

grated lemon zest

3

tablespoons

minced parsley,

plus more for garnish

1

tablespoon

minced chives,

plus more for garnish

1/2

cup

crumbled Parmesan,

plus more for garnish
Asparagus
1

pound

asparagus,

woody ends snapped off

1

tablespoon

extra virgin olive oil

sea salt

pepper
Instructions
Preheat oven to 400 degrees F.

Set a 3-quart pot or Dutch oven over medium heat and melt butter. Add garlic and ramps, sprinkle with 1/2 teaspoon each sea salt and pepper, and sauté until both are fragrant and tender, about 3 minutes. Add farro and, stirring frequently, toast 3 minutes. Stir in white wine, scraping up any brown bits with a wooden spoon. Stir in 2 cups broth. Keep an eye on farrotto as it cooks down and stir frequently. Add remaining 2 - 3 cups broth 1 cup at a time, waiting until farro has cooked down before adding more. Cook for a total of 30 minutes, or until farro is creamy and tender but still has a bit of chew. Fold in Parmesan and herbs. Taste and add sea salt and pepper to taste. Farrotto can be kept warm over low heat for 20 minutes or so. If mixture firms up, add wine, broth, or water as needed.

While farotto cooks, swish asparagus tips in a big bowl of cold water to dislodge any sand. Pat dry. Toss asparagus with olive oil, and sprinkle with sea salt and pepper. Roast 20 minutes, shaking pan halfway through.

To serve, spoon farrotto into shallow bowls and top with roasted asparagus, fresh herbs, and a few crumbles of Parmesan.