A weekly spring produce guide to what's in season right now based on the contents of our CSA share, with CSA and farmer's market recipes and inspiration.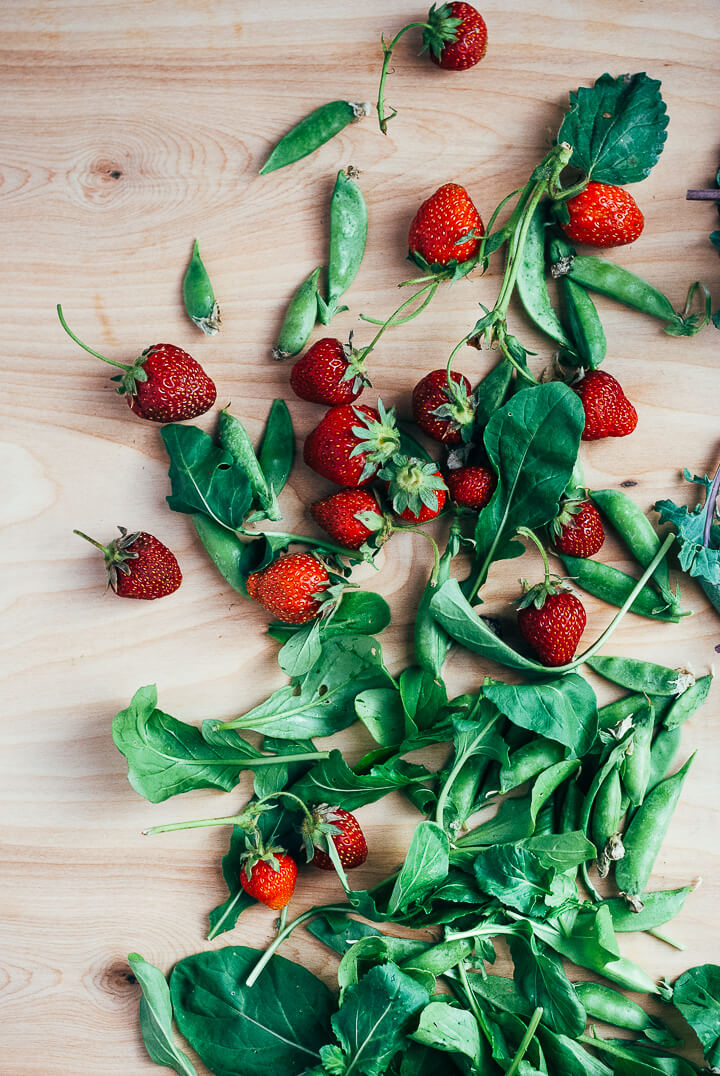 On Wednesdays, we head out to Bellair Farm for our CSA pickup. The girls and I head south on a winding two lane road with sweeping views of the verdant rolling terrain right along the Southwest Mountains (which are technically a mountain range, even if the range is mostly comprised of very large hills). By the time we turn off the main road the radio has started to fade out. We switch it off, roll down the windows, and search for wildlife as we wind our way out to the farm; spotted this week: a giant wild turkey.
Once there, the girls abandon me to play with the bunnies. I head to the big barn to select our weekly share of produce, buy eggs if I have the cash, and go to the fields to pick whatever's fresh. This week, there were still plenty of strawberries, though filling my basket took a little more searching than last week, and sugar snap peas.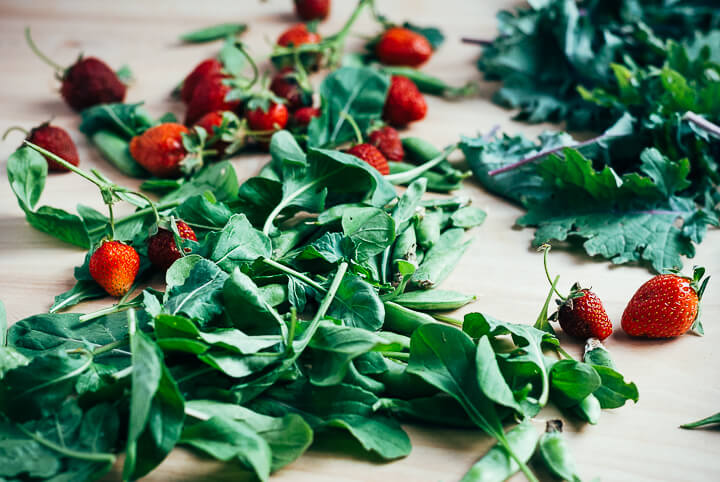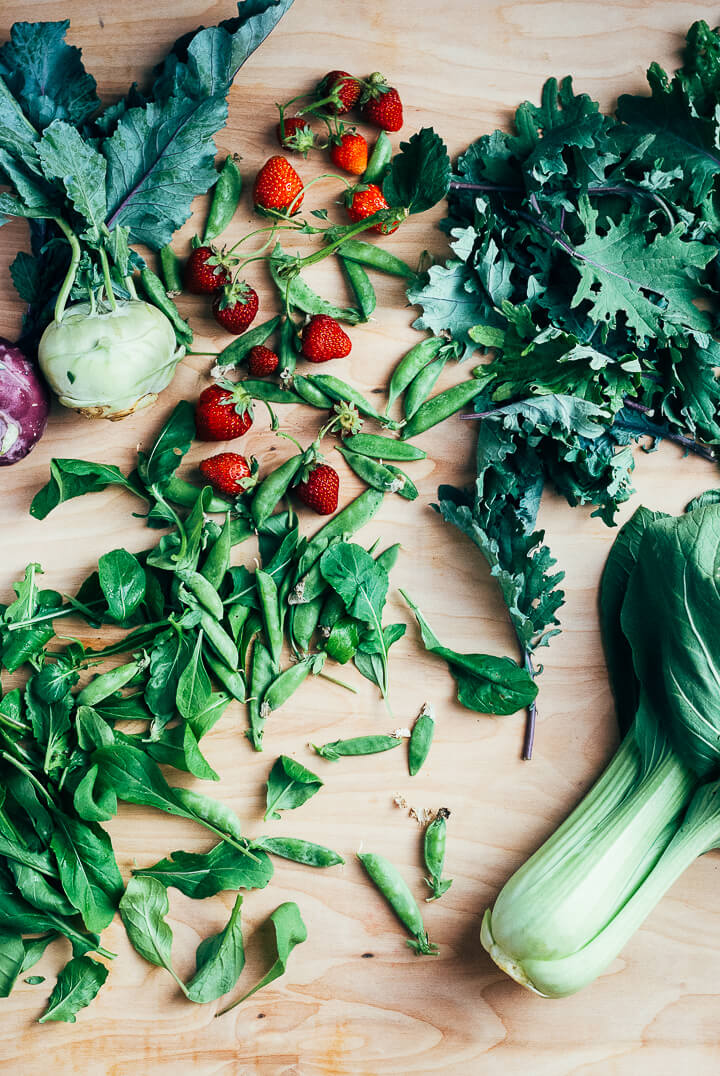 Hot, muggy days have started up, and this means the produce is transitioning from the cool weather spring crops to summer ones. Here in Virginia, strawberries are probably a little past peak, but when you get a good one, it's sublime – crazy juicy, bright red, and perfectly sweet. There's also plenty of kohlrabi, radishes, salad turnips, and greens. New this week was bok choy, red Russian kale, and super fragrant arugula.
Out in my garden, things are getting way too crowded, so this week I plan to pull up my kale and collards to give the other plants a little room.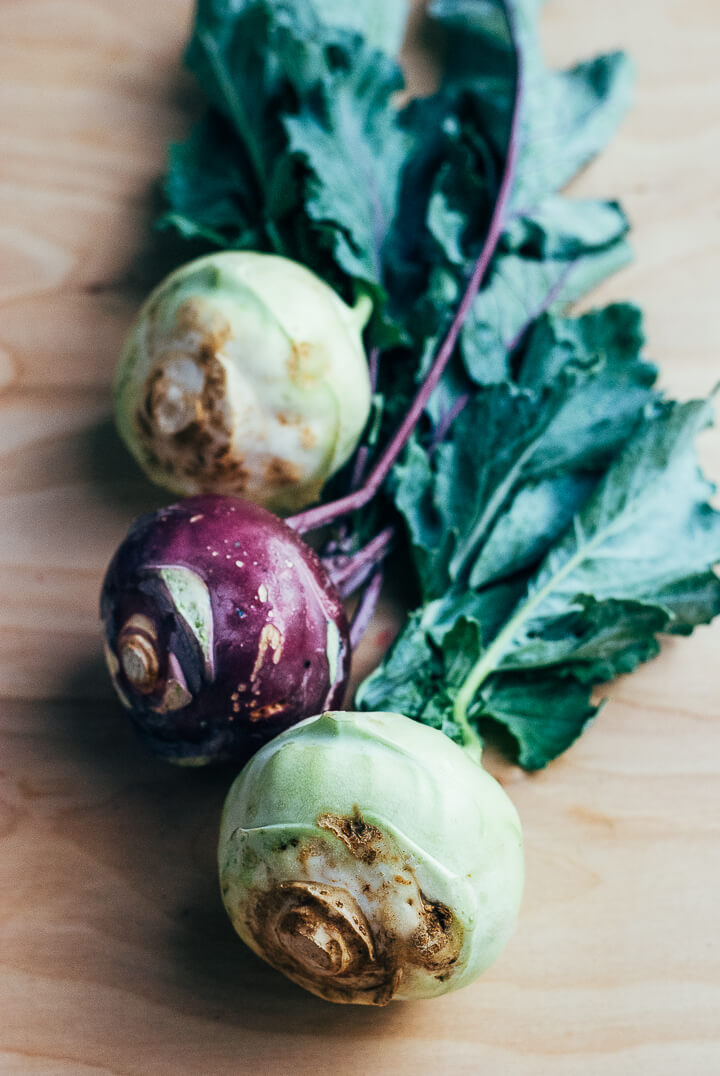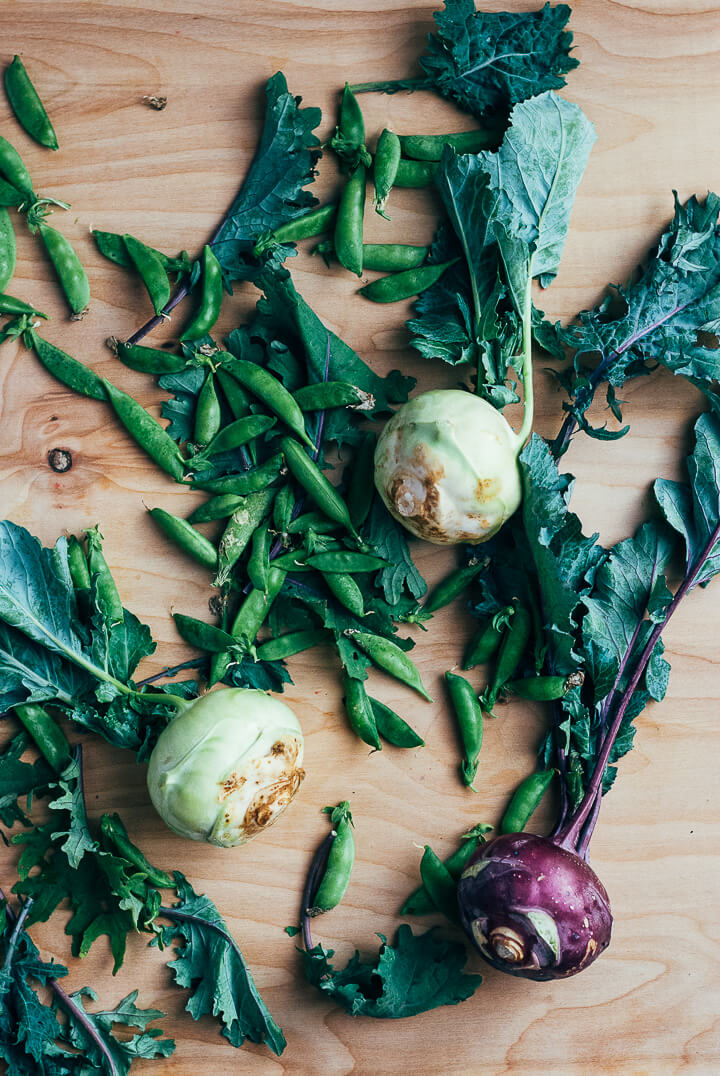 I've got a lot of kohlrabi on my hands these days, so I asked the smart folks of Instagram for their favorite recipes. I've included a few unique preparations below, and for more inspiration, check out this post. And just this morning, I had a lovely kohlrabi salad – julienned with chopped kohlrabi greens, lots of sea salt, plus a squeeze of lemon and a drizzle of olive oil.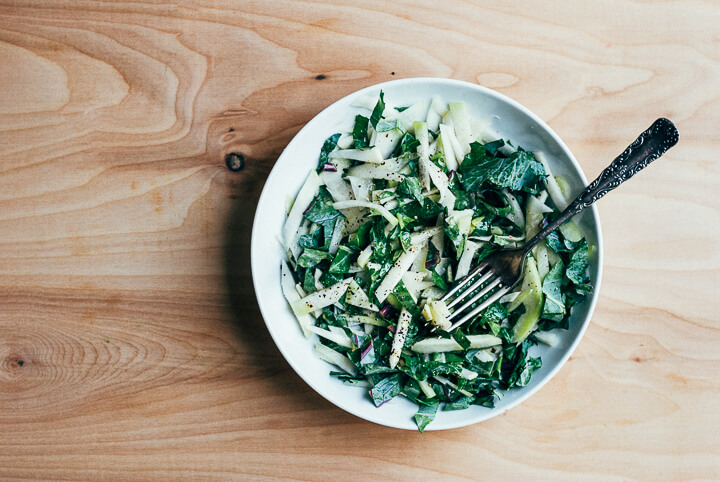 Strawberries
Strawberry Vanilla Bean Jam // Brooklyn Supper
Tarragon Strawberry Smash // Brooklyn Supper
Strawberry Lime Layer Cake // Brooklyn Supper
Strawberry Basil Hand Pies // Brooklyn Supper
Red Russian Kale
Lemon Parmesan Red Russian Kale Salad // Brooklyn Supper
Baked Salmon with Ginger and Sesame Kale Quinoa Salad // Adventures in Cooking
Arugula
Toasted Barley with Arugula Pesto and Sausage Coins // Brooklyn Supper
Chimichurri Roast Pork Sandwiches with Arugula // Brooklyn Supper
Bok Choy
Bok Choy and Kimchi Pancakes // Wild Greens and Sardines
Udon Noodle Soup with Bok Choy and a Poached Egg // The Kitchn
Kohlrabi
Chili-Dusted Kohlrabi Fries // Five and Spice
Kohlrabi-Carrot Fritters // A Couple Cooks
Cilantro-Lime Kohlrabi Salad // Feasting at Home
Sugar Snap Peas
Pickled Sugar Snap Peas // Rosemarried
Roasted Sugar Snap Peas with Mint // With Food + Love
Sugar Snap Pea Salad // The Parsley Thief