Heralding the arrival of spring produce with a vibrant green spring onion soup. This simple soup comes together quickly and captures the best flavors of early spring, from the sweet pungency of young onions to the punchy pop of tender spring greens.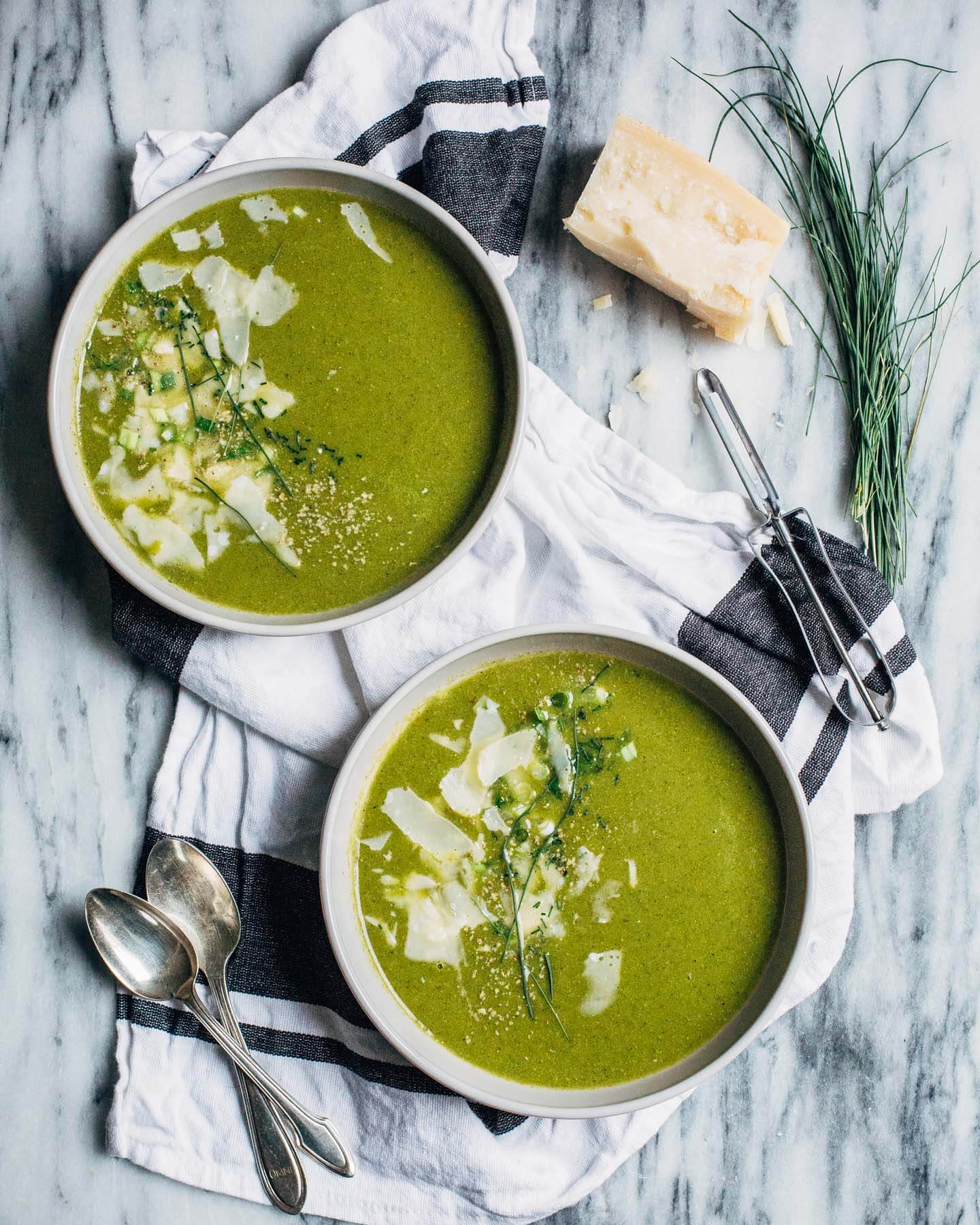 Early spring was a terrible time for onions in the produce aisle of the Grand Street C-Town. Either because the produce manager hated onions or because of a glaring oversight, the onions would be tucked in among the greens and other vegetables and every 15 minutes they'd get a nice spritz of water from overhead nozzles. Since late season onions tend to be on the tipping point of expiration in the best of circumstances, these saturated onions never stood a chance. After bringing home what was likely our twentieth rotten onion, Brian and I swore off C-Town onions in the late winter and spring entirely, relying instead on onions imported from somewhere beyond a four-block radius of our apartment.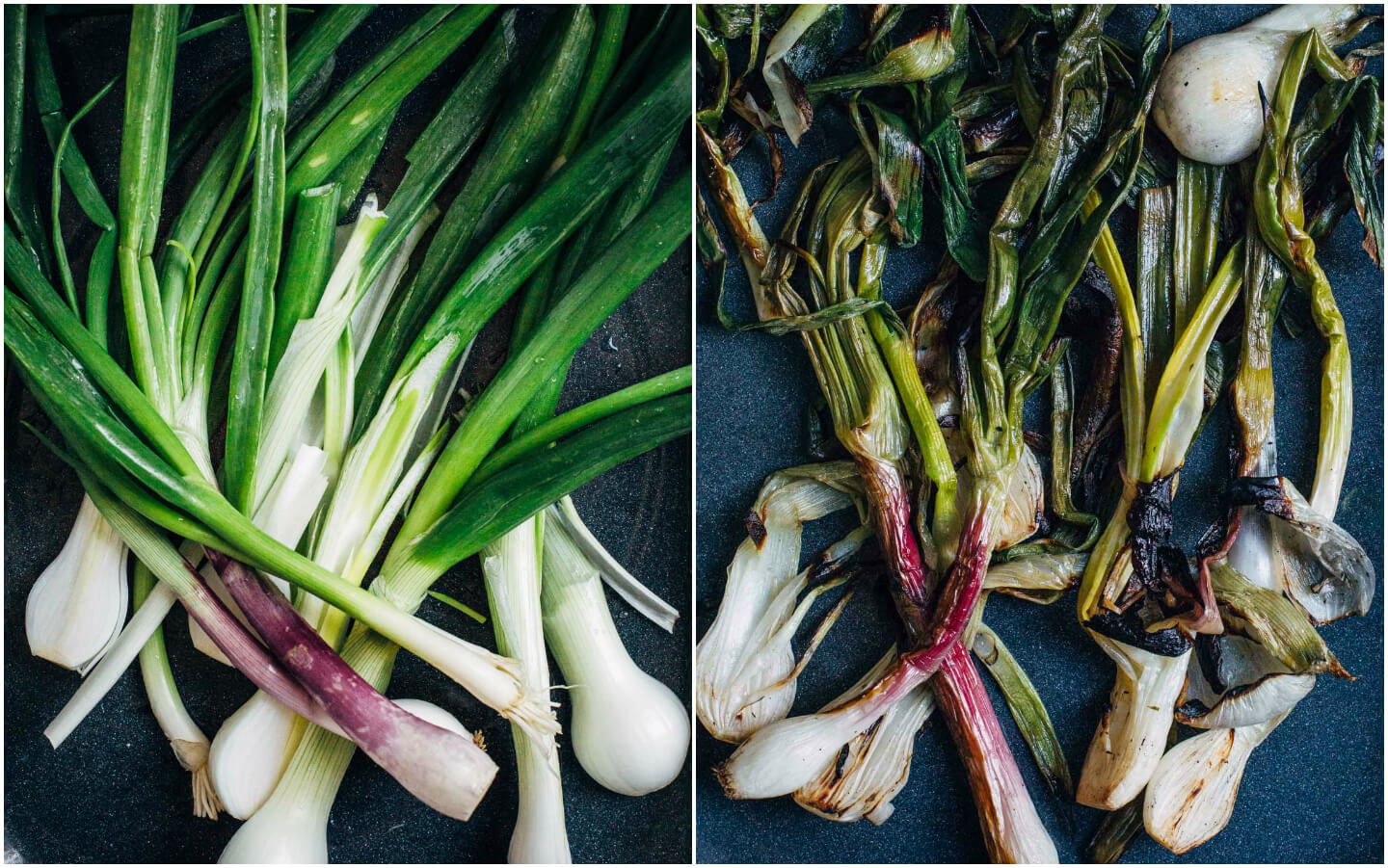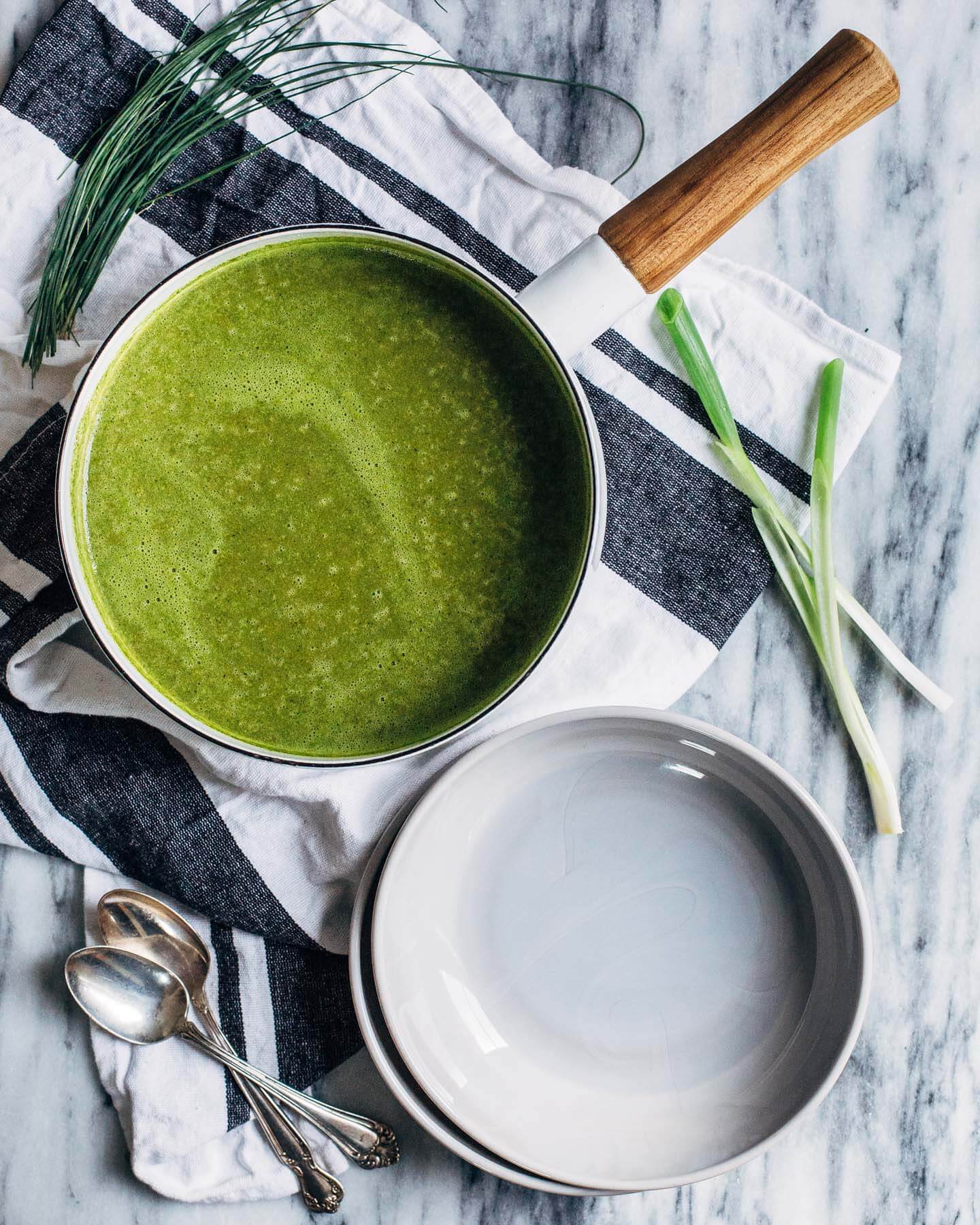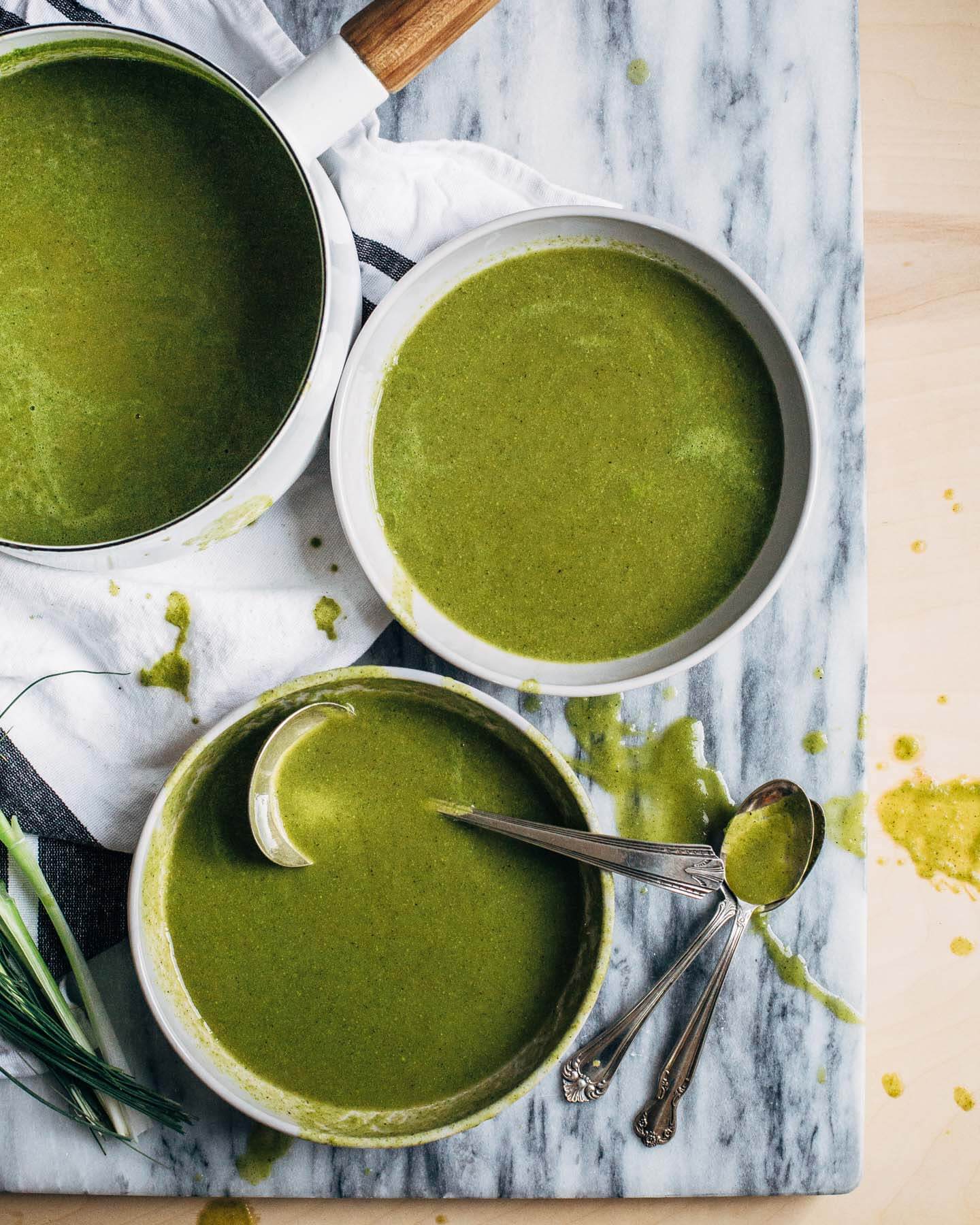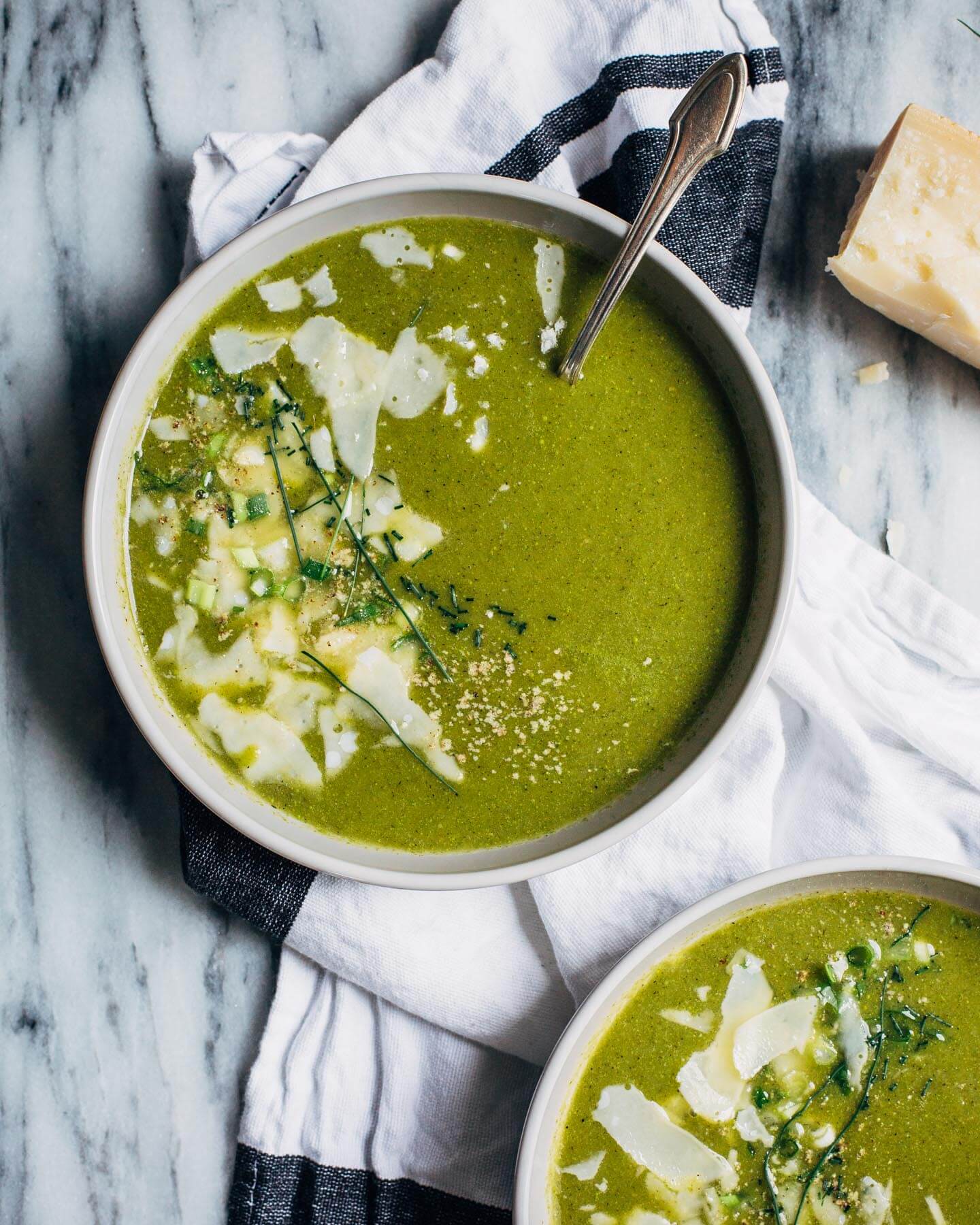 Cooking with Spring Onions
Because of this, the arrival of new onions is a moment I look forward to every spring. Crisp, faintly sweet spring onions with their not so bracing greens are always a welcome sight. To celebrate a brand new crop of onions and their scrappy wild counterparts onion grass (from the yard), I made a big batch of spring onion soup.
The base of my onion soup is a mix of spring onions with greens attached, including young Vidalia onions, young red onions, and regular green onions (aka scallions). Note that spring onions are sometimes also called salad onions – red or white, these are the same as spring onions. The onions are dry roasted under the broiler for a bit of char and depth, and then blended with tender potatoes, stock, white wine, and a few handfuls of greens. The resulting soup is every bit as verdant as a spring morning – deeply green, with a hint of pungency from the onions along with a nice, faintly grassy punch from the greens.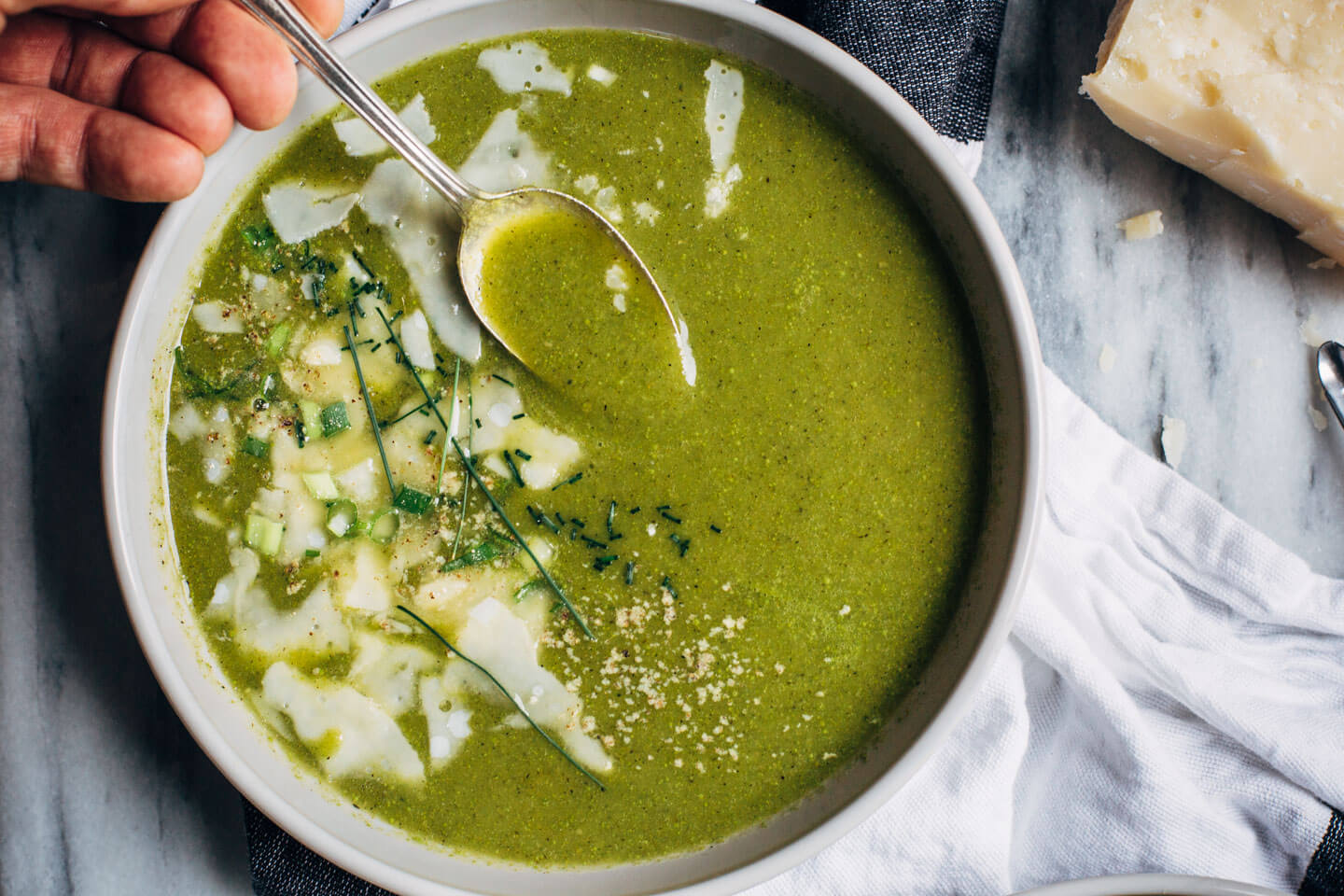 If you're looking for other ways to enjoy spring onions, chives, or green onions, try this recipe for spring onion and chive pesto pasta with shrimp. Or, make a garden-inspired quiche!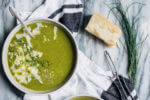 Spring Onion Soup
This soup celebrates the first onions of spring and is made with a mix of young spring onions (sometimes called salad onions) with greens attached and everyday green onions. The onions are roasted under the broiler and blended with tender Yukon Gold potatoes, rich stock, white wine, and young greens. 


This recipe is incredibly versatile and other spring ingredients like green garlic, garlic scapes, or ramps can easily be swapped in.
Makes
:
4
generous servings
Ingredients
1

pound

spring onions

(a mix of spring or salad onions and green onions), greens attached

2

tablespoons

extra virgin olive oil

1/2

teaspoon

sea salt,

plus more to taste

fresh ground white pepper

1

medium Yukon Gold potato chopped into 1/4-inch pieces

(1 heaping cup)

1/2

cup

dry white wine

1

quart

low-sodium vegetable or chicken broth

3

cups

young leafy greens

(I used a mix of kale and arugula)

1/4

cup

shaved Parmesan

4 - 5

chives or blades of onion grass,

minced

1

green onion,

sliced thin, for garnish
Instructions
Move rack to top of oven and set broiler to high. Shave just the roots from onions, leaving core intact so that onion layers stay in place. Halve or quarter any larger onions. Arrange on a broiler pan and slide into oven. Broil until edges begin to char and onions are tender but still have some bite, about 10 minutes.

Meanwhile, set a Dutch oven or small stock pot over medium heat. Add olive oil, and when hot, add potatoes, 1/2 teaspoon sea salt, and a few twists pepper. Sauté potatoes until tender with crisp edges, about 7 - 10 minutes. Add white wine, stir 1 minute, and then add broth. Bring mixture to a boil, then turn heat to low. Taste and add sea salt as needed.

Working carefully in batches, blend charred onions, broth and potato mixture, and greens until smooth. (I like this soup with some texture, so I blend until the texture is smooth but still flecked with bits of char.)

Pour back into soup pot and warm over medium-low heat just until mixture starts to steam. Heating soup gently is the best way to maintain its emerald green hue.

Ladle into bowls and garnish with shaved Parmesan, minced onion grass or chives, thinly slice green onions, and several twists white pepper.