An ode to early spring, this weeknight dinner recipe features crispy smashed potatoes, flaky cod, and a dollop of punchy wild chive crème fraîche.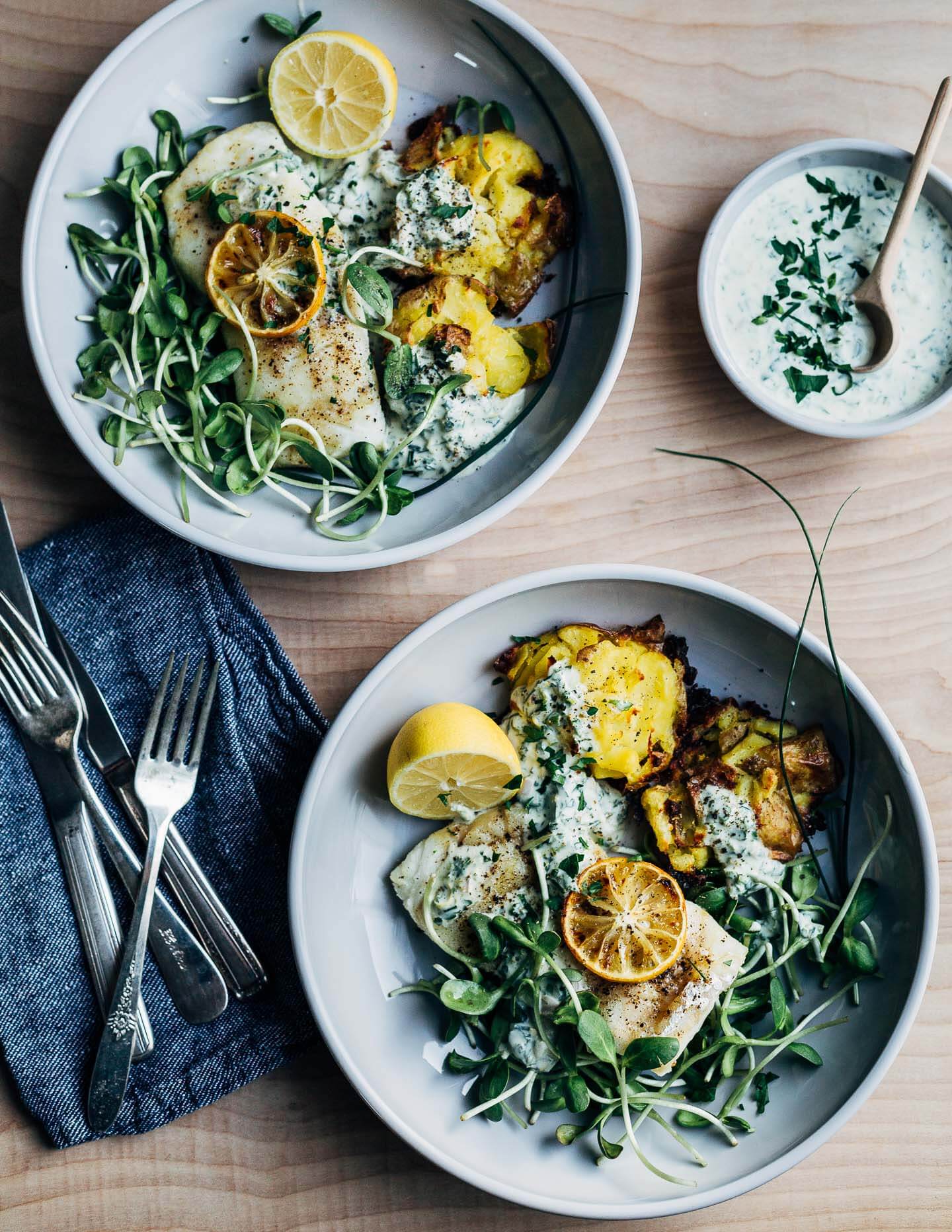 On Ukraine
Like you, I've spent the past five days glued to the radio, the internet , the television – wherever I can get info about what's happening in Ukraine. The level of devastation and the prospect of continued war is overwhelming. There's little we can do for the people of Ukraine, even as the war worsens by the day. I hope that all who wish to flee are able to and that our country and many others open the doors wide to these refugees and all refugees fleeing war and famine and other kinds of terror. The International Rescue Committee has always done the important work of supporting refugees. Please consider connecting with them, donating, and doing what you can to welcome refugees in your community.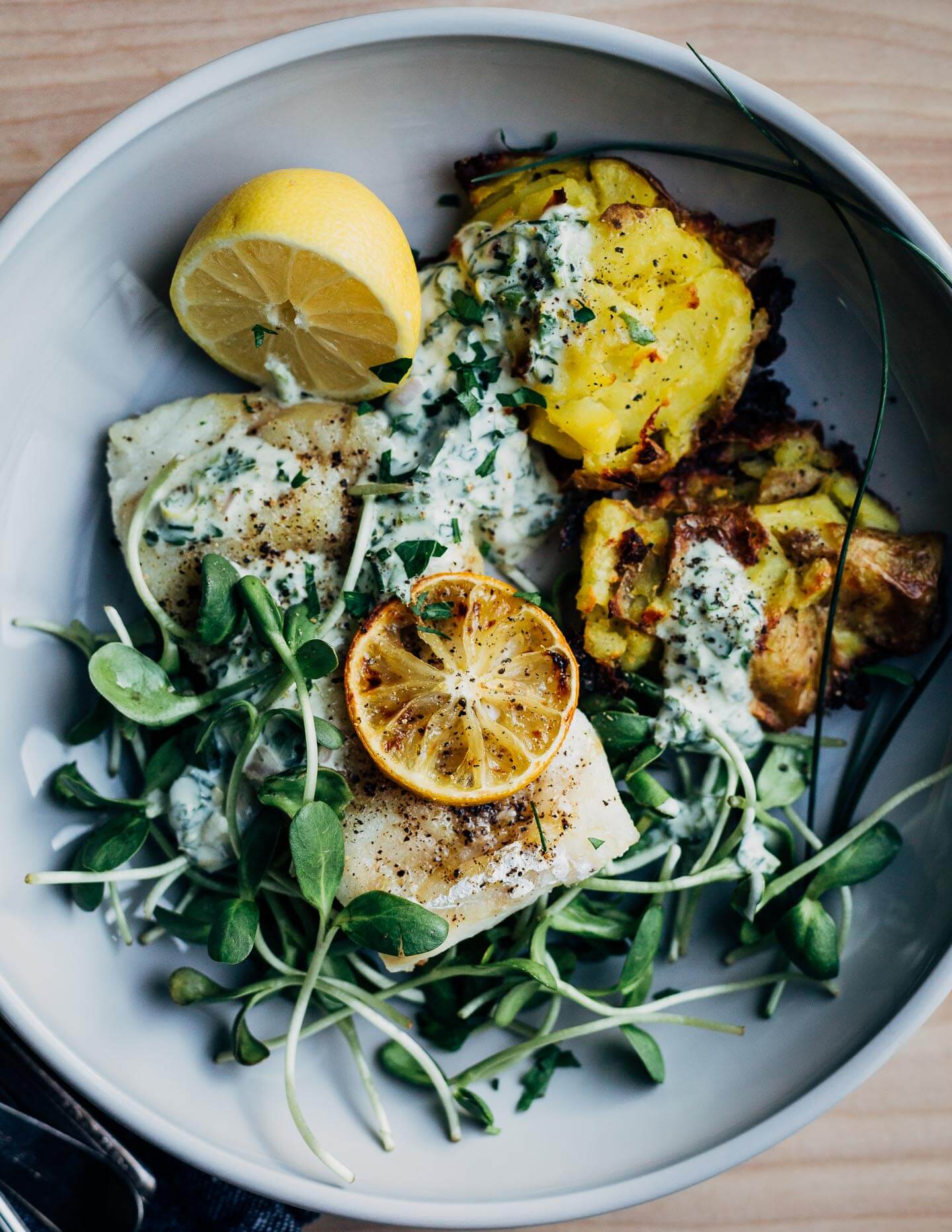 This meal, crispy smashed potatoes with broiled cod and a wild chive crème fraîche, plays with the fresh ingredients we have at hand like earthy wild chives (straight from the yard!), little potatoes, and an assortment of hothouse herbs from the grocery. It's the perfect almost spring meal, with a hint of punchy green flavor to remind us that soon new green leaves and shoots will emerge from the cold ground.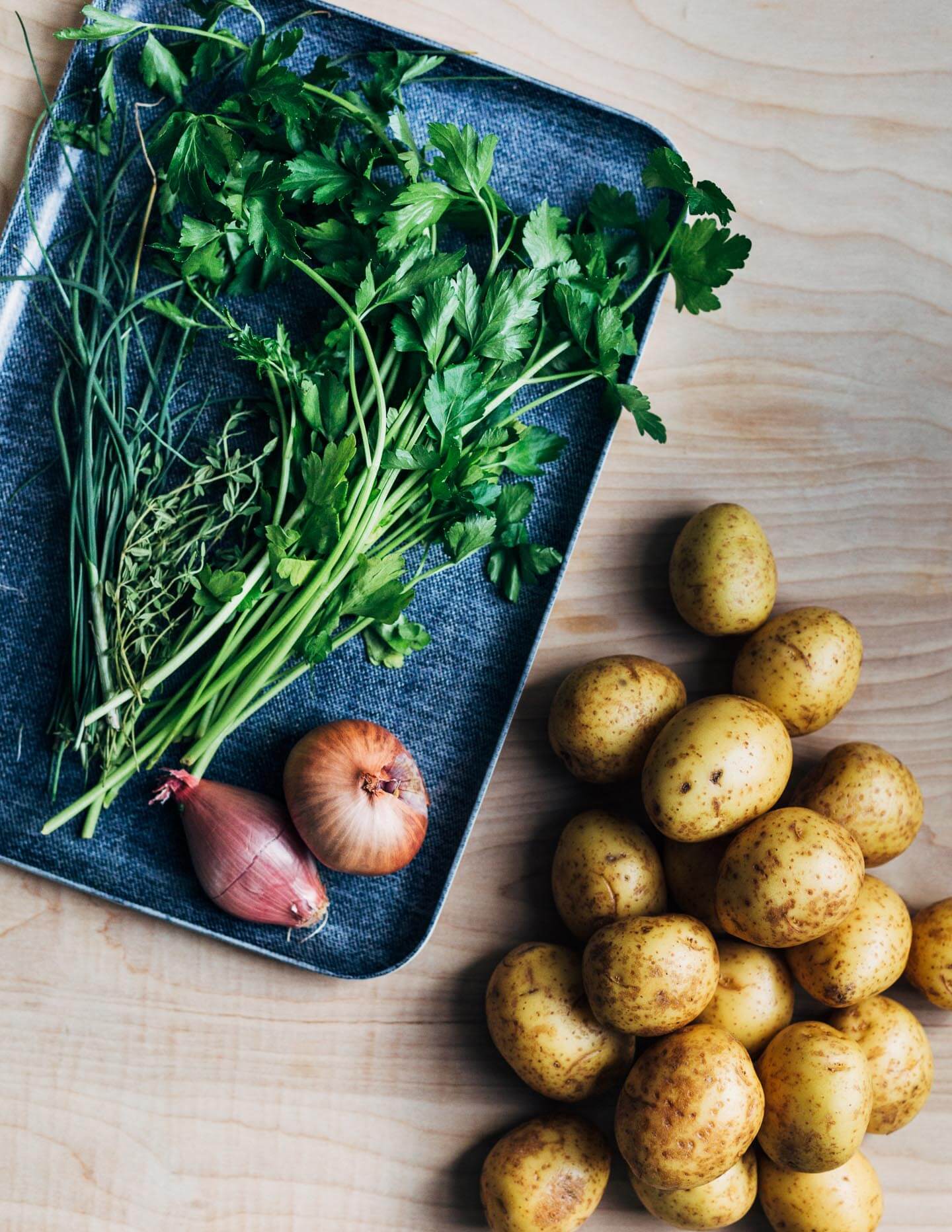 On Wild Chives
If you've never cooked with wild chives before, you should try them! Look for chives growing off the beaten path and away from areas where lots of dogs are walked. Backyards, hillsides, and the woods are all good options. Wild chives are earthier than cultivated chives, and can be something of an acquired taste, but I love them for their general abundance and unctuous flavor. And for reliably being the first new and delicious thing of the spring season.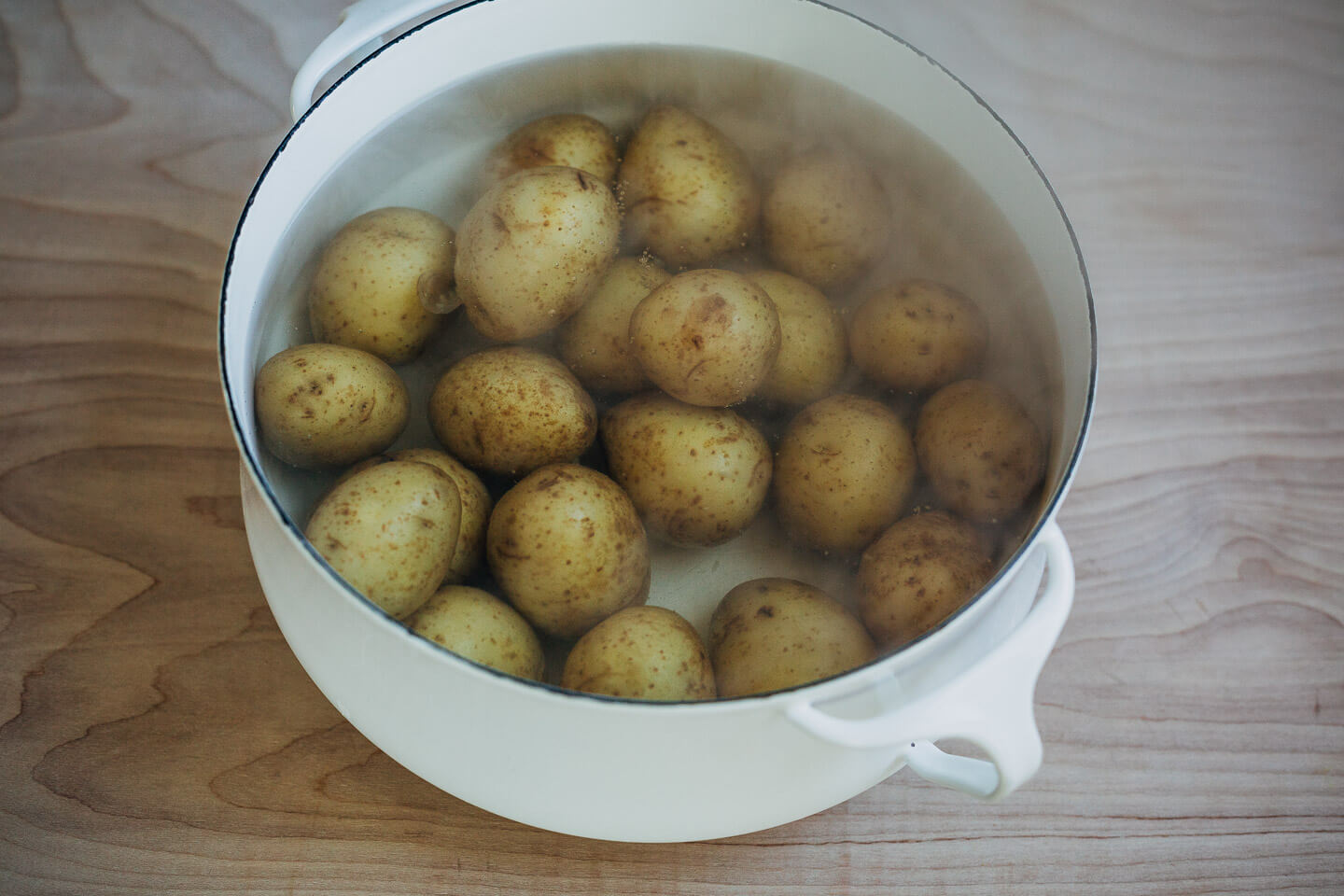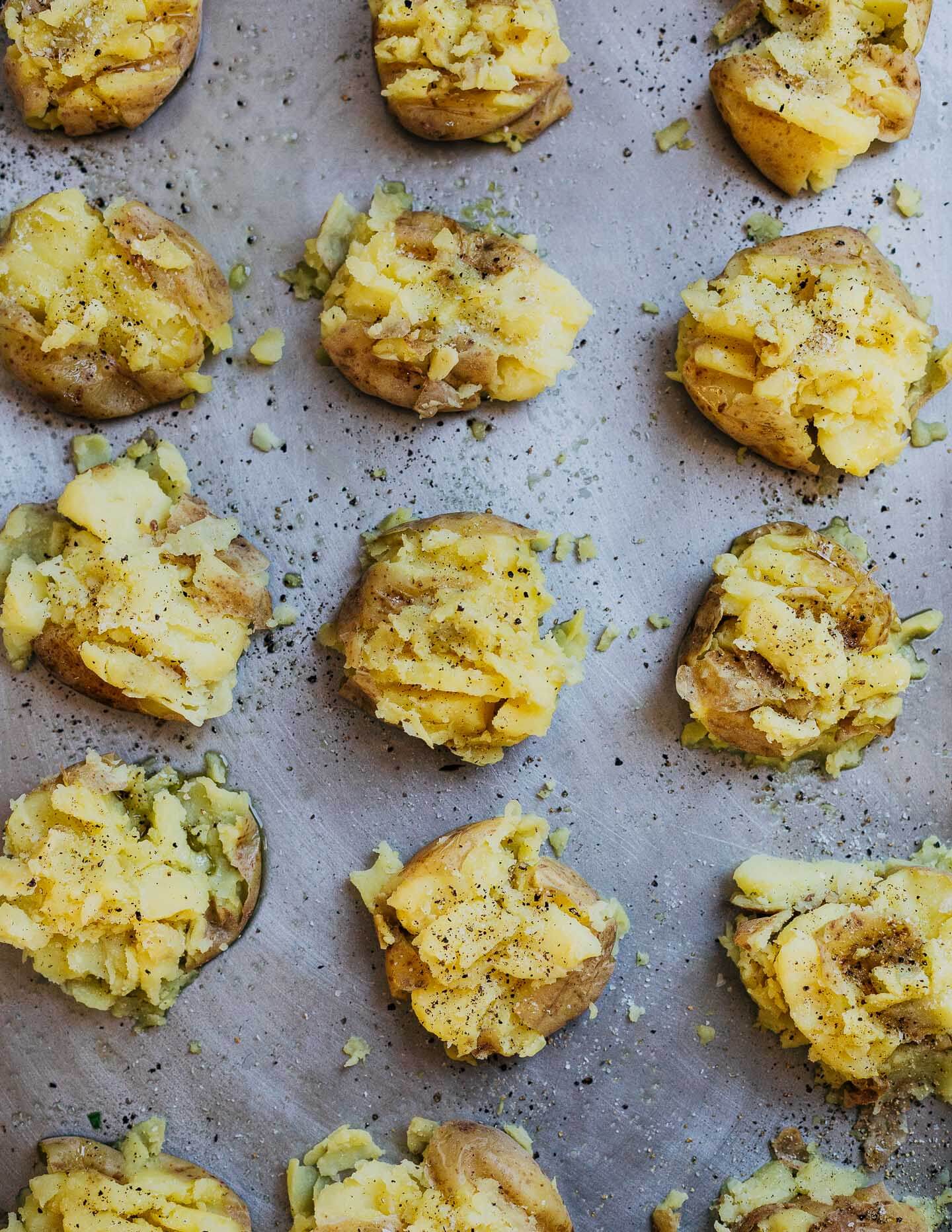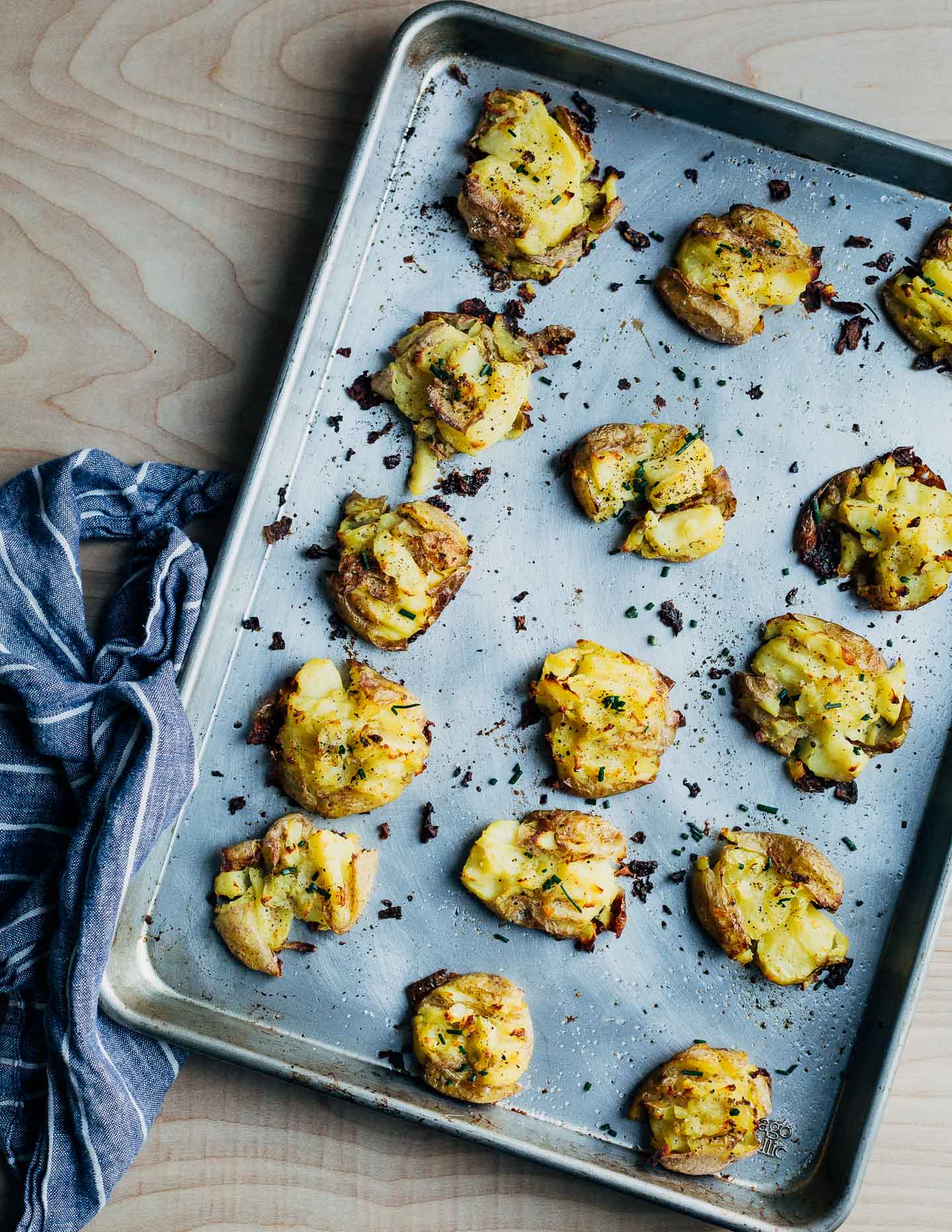 Super Crispy Smashed Potatoes
I've written about smashed potatoes several times here. It's my special occasion potato recipe. This version, made with smaller Yukon Gold potatoes, is more smashed and crispier than usual. They come together in about 40 minutes of mostly hands-off cook time. While they boil and roast, you can make the chive crème fraîche, and prep the cod. As soon as the potatoes come out of the oven, you'll want to switch the broiler to high and roast the fish for 6 – 10 minutes, until it's opaque on the inside and the flesh flakes easily. Plate the potatoes and fish, add a few dollops of chive crème fraîche, and top with sprouts or arugula for a little crunch and color.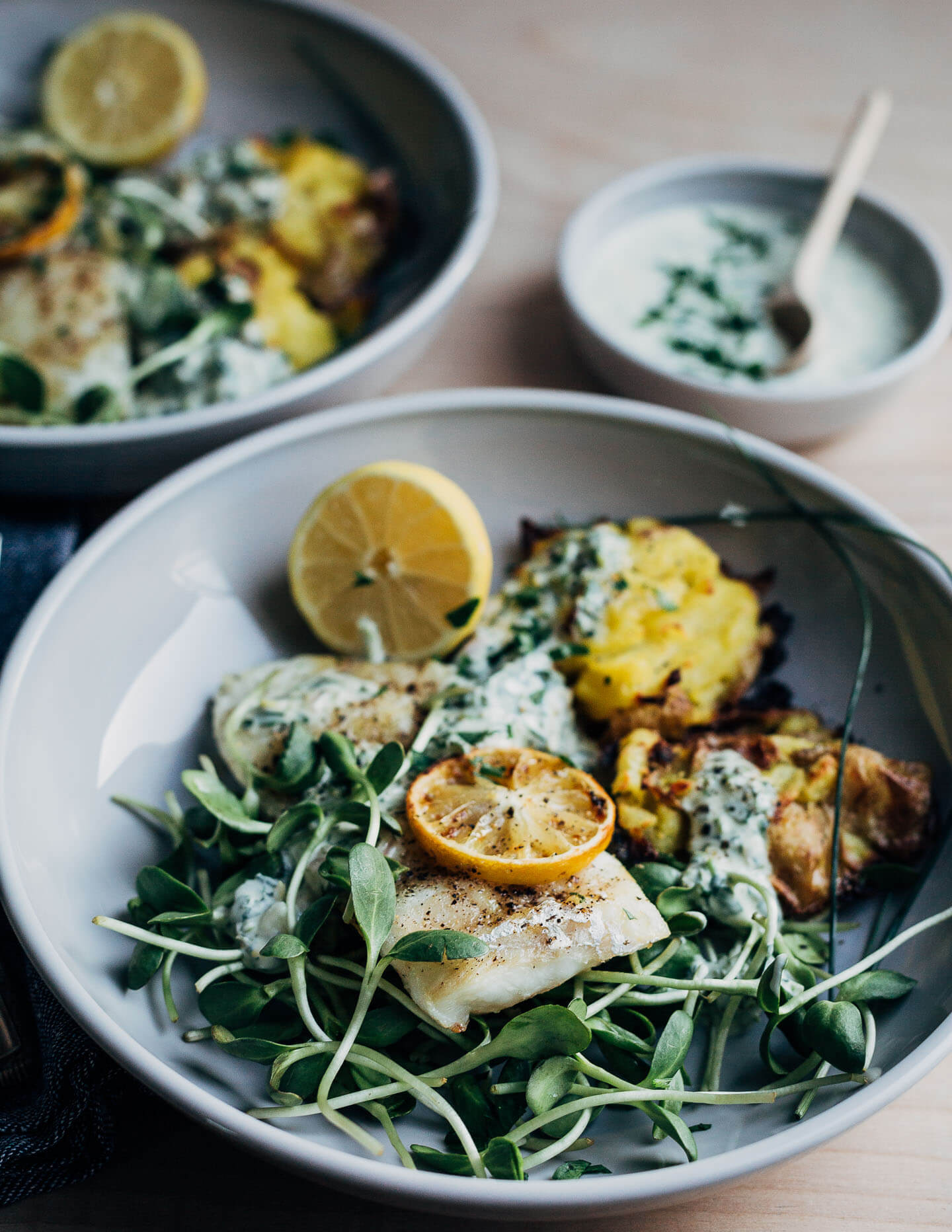 Because they're first, I love chives. If you do too, check out this recipe for spring onion soup or the recipe for spring onion and chive pesto pasta.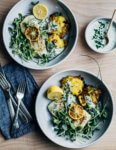 Crispy Smashed Potatoes with Cod and Wild Chive Crème Fraîche
An ode to early spring, this weeknight dinner recipe features crispy smashed potatoes, flaky cod, and a dollop of punchy wild chive crème fraîche.
Keyword:
crispy smashed potatoes
Ingredients
Crème Fraîche
2

tablespoons

minced shallot

Zest of 1 lemon plus 1 - 2 tablespoons juice

1

cup

crème fraîche

¼

teaspoon

sea salt

½

cup

minced parsley

2

tablespoons

minced chives,

wild or cultivated

2

tablespoons

minced thyme leaves

Black pepper
Potatoes
2

pounds

small Yukon Gold potatoes

(2-inch potatoes are ideal), scrubbed

Sea salt

3

tablespoons

extra virgin olive oil or melted butter

Black pepper

Minced herbs for serving
Cod
4

5- or 6-ounce cod filets, about 3/4 - 1-inch thick

Extra virgin olive oil

Sea salt and black pepper

1

lemon,

sliced into rounds
To serve
1

lemon,

sliced into wedges

2

cups

microgreens or arugula
Instructions
The wild chive crème fraîche can be made ahead or in the moment. In a medium bowl, combine the shallot, lemon zest and juice, and sea salt, and set aside for 5 minutes. Then, mix in the crème fraîche, herbs, and black pepper to taste. If needed, add the remaining tablespoon of lemon juice. Mixture should be thick enough to just drip off a spoon.

Preheat the oven to 425 degrees. Place the whole, scrubbed potatoes in a large pot and add enough cold water to cover the potatoes by 2 inches. Bring water to a boil. When water boils, add 1 tablespoon sea salt. Boil potatoes 10 - 14 minutes or until they are tender enough that a fork can easily pierce them. Drain and set aside to cool.

Set out a large rimmed baking sheet. Drizzle the pan with 1 tablespoon oil. Add the potatoes and toss to coat with the oil. Using a flat bottomed glass or a potato masher, smash the potatoes. If the potatoes crumble or break up, just use your hands to smush them back together. Brush potatoes with remaining oil or butter. Sprinkle each potato with a pinch of sea salt and pepper. Slide into the oven and roast 20 - 25 minutes, or until potatoes are crispy and golden on the edges.

Meanwhile, rinse and pat the fish dry. Arrange on a baking sheet. Drizzle each filet with olive oil, and a pinch each sea salt and pepper. Arrange the lemon slices around the fish. Set aside until ready to cook.

Just as the potatoes come out of the oven, set the broiler to high heat. When hot, slide the fish under the broiler and cook for 7 - 10 minutes, or until fish is just opaque and flakes easily. As fish cooks, keep a close eye as broilers can vary in intensity. If needed, cracking the oven door slightly can help to ensure the broiler stays at full power.

Arrange the potatoes, fish, and roasted lemons on warm plates. Add a lemon wedge and top with wild chive crème fraîche and a handful of microgreens or arugula.